Have you ever dreamed of cruising to Alaska? The last frontier! A pristine wilderness of mountains, rivers, fjords, glaciers and wildlife.
Don't miss out, get ready to be blown away, and embark on the ultimate luxury adventure. This post contains details of how you could WIN a cruise for 2 people, along with tons of tips about a Princess Cruises Alaska cruise on Discovery Princess. Then why not pop over to Princess Cruises and check out the latest cruise deals – and get ready to explore the wild wonders of Alaska.
Win a Princess Cruises Alaska Cruise!
If you'd like to have a chance to WIN a cruise to Alaska for 2 people – scroll down to the end of this post for details!
Discover Paradise on a Dreamy Voyage
For a long time an Alaskan cruise with Princess Cruises has been at the top of my bucket list. I'd heard so many things about Alaska, and wanted to discover its wild beauty and stunning landscapes for myself. Importantly, I didn't have much time available, so a 7-day cruise to get a taste of the region sailing on a dreamy luxury ship was at the top of my agenda.
Recently, I was thrilled to have the opportunity to realise this dream when I was hosted as a guest on The Discovery Princess on a seven day cruise in and out of Seattle (United States).
Princess Cruise to Alaska : A Behind The Scenes Look
Let me take you behind the scenes, to find out what it's really like on an Alaskan cruise with Princess Cruises.
First of all you should know that Discovery Princess is currently the newest luxury ship in the Princess fleet and is only just over 1 year old (2023).
It boasts the latest in comfort and technology, and offers some fantastic onboard experiences. It has 19 decks that house spacious, and luxurious staterooms as well as all the entertainment and dining options you could ask for.
I've cruised more than a hundred days with Princess Cruises, including a circumnavigation around the world. But now, I've just disembarked from an Alaskan adventure to the last frontier, which I can definitely confirm has been one of my most memorable travel experiences ever.
On this Alaskan cruise the land tour options are fabulous, and the glacier viewing experiences absolutely mesmeric. I also loved how the cruise took us to places deeply embedded in history, as well as giving us an insight into native culture.
In this article you'll discover the best time to cruise to Alaska, some of the must-see destinations, the thrilling excursions I went on, packing tips, what it's like aboard Discovery Princess, and some of the delectable dining options available on this unforgettable cruise.
So embark on a royal adventure! Read on for an insider, behind-the-scenes look at a cruise to Alaska on the Discovery Princess. Don't miss out on this majestic journey to discover glaciers, wildlife and enchanting landscapes.
Why Embark on a Remarkable Journey with Princess Cruises to Alaska?
The Inside Passage and south east Alaska is a spectacular region.
Until you've been there you can barely imagine how enormous are the glacier cut fjords, how iridescent are the sparkling glaciers, how vast are the reflective lakes, and just how mind blowing is the snowy wilderness.
Alaska is the most sparsely populated US State and once there you are acutely aware of how remote the towns are.
Juneau, the capital of Alaska, is only accessible by air or ship, and has a population of around 32,000 people, while Skagway has only around 1000 people calling the town home year-round (except for when tourists descend).
I learned that the main industries in the region are tourism, fishing and logging, and most villages or towns that dot the coastline are accessed mostly by boats, ferries and float plane, because there are very few roads.
This is one of the reasons why a cruise is not only a spectacular way to see the region but also provides a much quicker way of getting to remote towns and villages.
South East Alaska is home to the Tlingit and Haida natives, famous for their totem poles, and in Ketchikan, the first city we visited when travelling north through the Inside Passage, you can discover the largest collection of standing Native American totem poles in the world.
Princess Cruise to Alaska Review: A Guide to the Ultimate Alaskan Adventure
​A cruise to Alaska with Princess Cruises is a remarkable journey.
Let's start with a few must-know facts:
Princess Cruises is a leading cruise line that offers several cruise itineraries to Alaska.
The start of the Alaska season is generally in April and the end is around September.
You can expect to explore glaciers, spot wildlife, and travel through gorgeous national parks. You can find out more here : Alaska Cruises
Some of the Alaska cruise ports of call include : College Ford, Endicott Arm, Glacier Bay National Park, Hubbard Glacier, Icy Strait Point, Juneau, Ketchikan, Sitka, Skagway and Victoria B.C.
You can book cruises from 7 to 11 days departing from San Francisco, Seattle, Vancouver, B.C. and Anchorage (Whittier) as well as Cruise Tours which take guest 500 miles into the heart of Alaska to five Princess lodges deep in the Alaskan wilderness.
There are different itineraries, and different ships that sail north to Alaska from 4 departure ports. They include the Discovery Princess, Majestic Princess, Grand Princess, Crown Princess, Sapphire Princess, Royal Princess, and Ruby Princess.
Guests dreaming of snow topped mountains and glaciers won't be disappointed because every Princess Cruises Alaska cruise features at least one glacier-viewing experience, such as; Glacier Bay National Park, College Fjord, Hubbard Glacier, Endicott Arm and Dawes Glacier or Tracy Arm Fjord.
Cruise Dreams Unveiled
We flew from Western Australia to Seattle and joined a 7 day cruise aboard the Discovery Princess.
Although the journey to get to Seattle was long, we managed the overwhelm by overnighting in Sydney, booking a day pass for the business lounge at LAX airport in Los Angelas, and then we had a couple of days in Seattle to explore and acclimatise before the cruise. Perfect!
Soon we were aboard the fabulous Discovery Princess and able to explore the ship and relax.
Discovery Princess – Our 7 Day Alaska Itinerary
Sunday – Discovery Princess Embarkation and Sailaway from Seattle
Monday – Sea Day – Champagne breakfast delivered to our balcony.
Tuesday – Ketchikan – (Shore Excursion – Great Alaskan Lumberjack Show and Crab Feast)
Wednesday – Endicott Arm and Juneau – (Shore excursion – Endicott Arm Fjord & Glacier Explorer to Dawes Glacier)
Thursday – Skagway – (Shore excursion – Yukon Expedition & White Pass Scenic Railway)
Friday – Sea day and Scenic Cruising
Saturday – Victoria Vancouver Island, Canada – (Shore Excursion – Butchart Gardens)
Sunday – Disembark
Choosing the Right Time for Your Princess Cruise to Alaska
We cruised to Alaska in May and had the most amazing weather. In fact we didn't get to wear our winter weather or rain-gear, and ended up mostly in T shirts and light sweaters.
Occasionally we wore our warm fleecy jumpers and windproof jackets – when we sailed close to the Dawes Glacier during a shore excursion …
… and we also needed our warm windproof gear when we stood outside on the viewing carriage on the train travelling up the White Pass from Skagway, for example.
However, the warm weather we encountered is not the norm, and you should research the seasons and weather patterns in Alaska to determine the ideal time for you to cruise.
When choosing the right time for your cruise you'll need to consider the wildlife and natural phenomena you want to witness during your cruise, as well as evaluate your preferred level of activity and the availability of specific excursions during the various seasons.
For instance the best time to see the Northern Lights is from late August to late April, while the best time to visit Alaska is in either July or August because these months can offer warm sunny, long days, and abundant wildlife.
However, if you want to see more snow then it's best to go at the beginning of the season in April or May before the snow has melted.
I suggest consulting a Princess travel consultant for the most up to date personalised information regarding dates, what you'll see, and the weather conditions.
Exploring Alaska with Princess Cruises
My cruise itinerary was fast and exciting, a wow a minute, with so many new sights and places unfolding before our eyes.
Unforgettable Experiences Await
I loved the laughter, frivolity and sheer skill displayed at a lumberjack show in Ketchikan.
During one shore excursion from Ketchikan, after a beautiful drive, we alighted at a remote restaurant where we dined on fresh Dungeness crabs, as many as we could possibly eat!
One of the (many) highlights of the cruise for me was when we sailed right up close to Dawes glacier on a small catamaran, and watched a tower of ice 'calf' away from the glacier.
I absolutely loved the exciting shore excursion from Skagway which took us on a scenic train-ride up the snowy and historic White Pass into the Yukon.
Then there were the amazing lakes we saw during the Yukon expedition.
On a whale watching tour out of Juneau, we were lucky to see 3 whales whilst sailing onboard a luxury yacht (complete with champagne and canapes).
We whizzed off on a dog-sled ride in the Yukon, and learnt all about the 'dog-mushing' life, and how the Alaskan Huskies are trained.
When we arrived in Canada we were mesmerised by the fairytale (lit-up) Butchart Gardens on an evening shore excursion in Victoria, B.C.
We never took for granted the snow capped mountains and gorgeous scenery floating serenely past us on the 'scenic cruising' sea days.
I think that sailing away from Skagway is one of the most gorgeous sail-aways I've ever encountered.
During the cruise we learnt a lot about the Klondike gold rush, native culture, bears and glaciers. Plus it was fabulous to learn about people, towns, and a way of life of which we had little knowledge prior to the cruise.
And throughout the cruise I was reminded of the vastness and remoteness of this vast area, how difficult it is to get to unless you are on a ship.
Every now and then the poems of Robert W Service (who wrote extensively about the Yukon) came to mind, and this quote kept surfacing in my mind especially on our day trip into the Yukon.
"This is the law of the Yukon, that only the strong shall thrive; that surely the weak shall perish, and only the fit survive." Robert W Service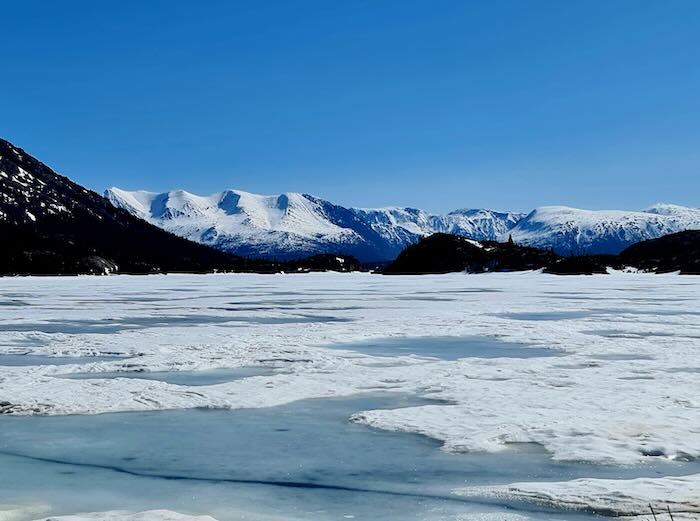 Alaska Cruise Itinerary Highlights
To give you a brief overview, these are some of the must-visit destinations and attractions you should look for on when you're deciding on your Alaska cruise itinerary:
The captivating Inside Passage, with its scenic fjords and diverse wildlife.
Iconic ports of call like Juneau, Skagway, and Ketchikan, each one offers unique experiences.
The majestic Dawes Glacier, and its awe-inspiring calving events.
Glacier Bay National Park, a UNESCO World Heritage Site renowned for its glaciers and marine life.
Excursions and Activities in Alaska
Alaska cruise excursions and activities can range from the reasonably sedentary to the wildly exciting and active.
Obviously you can't do them all, and the choice is really comprehensive. Do book cruise excursions early if you want to be assured of a place on a Princess Cruises' excursion.
And do remember, if you book a Princess excursion you are guaranteed not to be left standing behind at the dock when the ship sails if the excursion runs late! Believe me, this is great peace of mind when you're travelling in an area that is so remote and inacessible.
Here are just some ideas:
Go on a 'flightseeing' adventure.
Book a catamaran cruise that takes you up close and personal to Dawes Glacier.
In Skagway, known as The Klondike Boom Town, book a shore excursion to take you on one of the most scenic railway journeys of the world : The White Pass and Yukon Route which traverses a snowy route (in season) that takes you to the top of the historic White Pass.
Opt for a whale watching tour to witness these magnificent creatures up close in Juneau.
Embark on a helicopter ride to experience the stunning aerial views of glaciers.
Go dog sledding on the Mendenhall Glacier or enjoy a thrilling ziplining adventure.
Explore native cultures through cultural tours and traditional performances.
Investigate the Princess signature wilderness lodges for a super luxury experience.
Book a tour that takes you into the Yukon.
What is the MedallionClass Device?
As cruise lines strive for continuous improvement and innovate Princess has focussed on enhancing and personalising customer experience and comfort . Their introduction of MedallionClass has been a step change in this regard.
The free Medallion device you're provided with on embarkation (sometimes beforehand) is the size of a dollar coin and is your passport to enjoy and explore your Princess Cruise experience to its fullest. You can hang the Medallion around your neck, or purchase an accessory such as a watchband so that you can wear it on your wrist.
This small device 'talks' to 7k+ sensors around the ship that can detect you and your Medallion, and it interacts with every stateroom TV.
Princess Cruises' MedallionClass technology actually provides a highly personalised and hassle-free service, including touchless check-in and keyless stateroom access to on-demand food and drinks delivery.
It literally tells the crew who you are, lets you know where you are on the ship, unlocks your stateroom door as you approach, tells you what's on around the ship and at what time, and a screen will show Happy Birthday if you walk by (if it's your birthday)!
Your introduction to MedallionClass begins before you even board the ship, when you download the app to your smartphone, when you use it to do all your pre-cruise preparation.
You need never lose anyone ever again! Dave could track exactly where I was on the ship, and I could track him down too! No more arguments about where to meet-up, or not being on time! This part of the app's function is especially useful if you are travelling with children, or perhaps elderly parents (whom you may need to keep a supporting eye on) who might forget where on the ship they actually are.
You can also find out about, and book your shore excursions using the app.
With the app on your wrist, or hung around your neck as you approach your stateroom, your door magically unlocks!
Amazingly you can order food and beverages from anywhere on the ship, and the crew know excatly where you are and deliver straight to you.
You can list and make known your dietary requirements when you set up and personalise the app for your own preferences.
You'll find over 100 touchscreen electronic portals around the ship which not only show you where you are and provide various other information, but they also offer various games to play around the ship (great for children)
What to Pack for an Alaska Cruise with Princess Cruises
My next blog post will provide an indepth packing list, and I'll share what I packed to for an Alaskan cruise with Princess Cruises in May. I'll also tell you what worked, what didn't work and share my best packing tips with you.
For now, in brief, the most essential things to remember are:
Pack layers of clothing to accommodate varying temperatures and weather conditions.
Bring sturdy, comfortable shoes for shore excursions and outdoor activities.
You'll need resort casual attire during the day, and dinner or smart casual clothing during the evening.
Don't forget essentials like rain gear, sunscreen, binoculars.
On a formal night you might like to dress up in evening chic clothes, or cocktail dress. Men might wear a jacket and tie, or bow tie.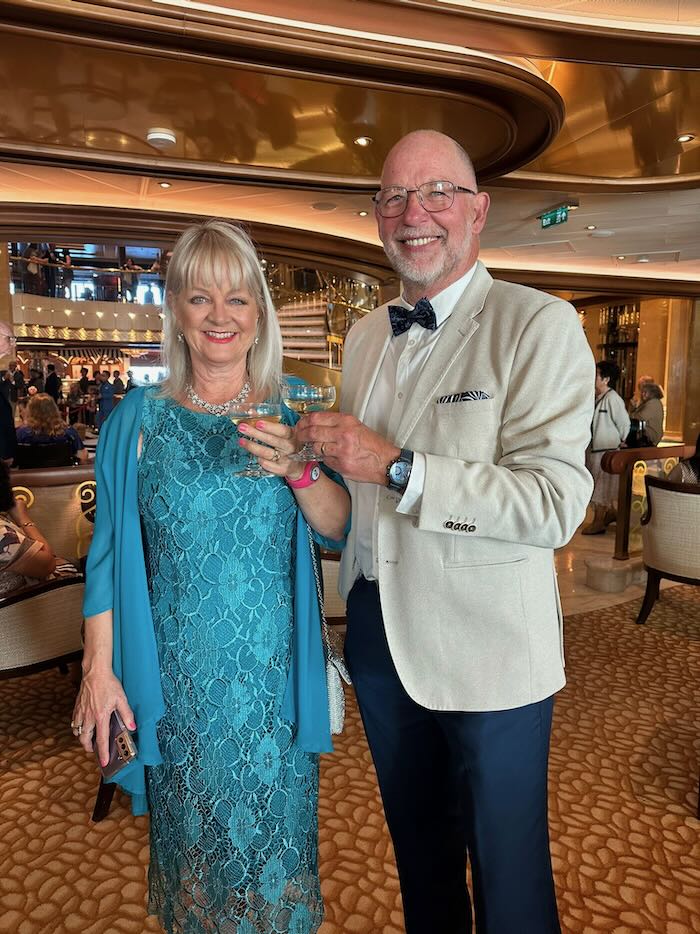 Onboard Dining Options
Dining options on Discovery Princess Cruises to Alaska are many and varied.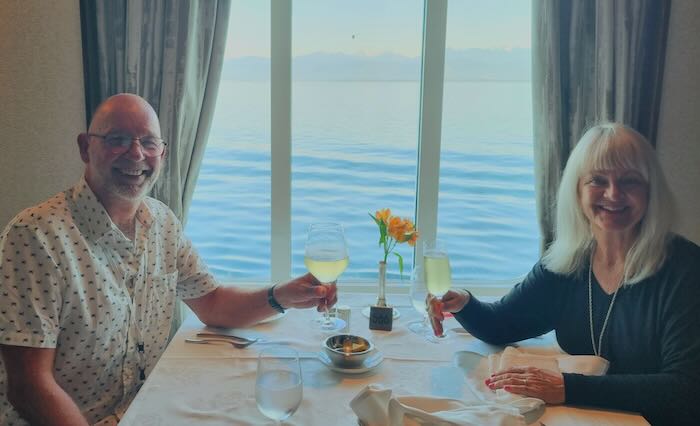 Apart from 24-hour room service there are 21 different culinary experiences to enjoy. The range and diversity is astonishing, and you will never go short of choice.
Some dining options are specialty dining restaurants where you'll pay extra to dine, but mostly the restaurants and the menu choices are included in your overall cruising package.
From seafood, to Italian, to pizzas, and grills and a bistro and a gastropub there is so much to sample onboard.
Highlights for us were the Crown Grill and Bar (where we loved the lobster tails) and 360 (an invitation only, other worldly experience, if you have booked a full suite stateroom).
We dined at The Ketchikan Restaurant most nights, where the food, the service and our window seat views were all equally memorable. Among many other dishes I loved the authentic Alaskan crab cake we were offered one night.
What I loved is that when it comes to food everything is made from scratch (right down to the fresh bread rolls) plus for those of you who think a cruise is all about cake and cocktails, you can be assured that there are lots of healthy food options to choose from as well as lots of treats.
I also loved the fact that at no time in the 3 main dining rooms did we ever have to queu, and we never felt squashed or hurried, even at the popular World Fresh Marketplace (the buffet). If we picked our times right and avoided the most popular dining times, we could always get a seat, and we never had to queu up.
Dave really enjoyed lunch at the World Fresh Marketplace – especially for the choice of lunchtime curries, while I enjoyed the fabulous choices of salads.
360 Restaurant
I have to mention this incredible dining option. Yes it is by invitation only, and yes you need to book a full suite to qualify. But ohmigosh it is amazing!
You are taken to a designated spot to meet the Maitre'D where you are served creative cocktails. But where is the restaurant you wonder!
From here you are escorted by violinists to a secret place behind the scenes where 20 guests are seated behind a black curtain in a circle surrounded by a circular screen showing travel videos. If feels like another world where everything is real but not real, and you are fully immersed within it.
The Maitre'D curates a menu from centre stage as you travel the world via culinary highlights and exciting cruise destinations that are projected on the circular wall around you.
The video tells a creative story of produce to plate as you get to know the food producers, hear more about the food they grow, and listen to their personal stories.
It's a very creative way to give the story of produce to plate, and it's further enhanced by the Maitre'D and his ensemble of trained waiters who are essentially actors in this dream like world you've entered.
It's a fusion of cutting edge technology and culinary creativity. You are swept onto a world where anything feels possible, where things are constantly changing.
As the evening progresses you're led through the menu in a really theatrical way, and the waiters and waitresses are rehearsed and co-ordinated as if in a stage play.
As we were taken to Greece we were served olives and a delicious yoghurt dip with tiny bread rolls and olive oil, followed by octopus served with a traditional cocktail made with liquorice liqueur.
Our waiter said, "Swipe your plate!" We did, and the plate projected onto the table appeared to shatter into pieces.
As we were taken to Pompeii the table cloth appeared to turn into stone!
Bees appeared (projected) onto the tablecloth on our plates as we were served the French course – a delicious lavender and honey bomb served with Champagne.
In Spain the wine had it's own story – the limited edition Grenache we sipped had been matured for 6 months under the sea.
Tap a bell on the table cloth, and it rings. Watch the lady on a Vespa motor around the table as you are served lemon pasta from Italy.
Then dine in a field of flowers!
Watch the video about Capri as you eat lemon pasta, and smell the lemons … yes really! Lemon fragrance infuses the air.
Our waiter was lovely and kept pointing things out to us that we may not notice. He gave service with such a big smile, and we had a delightful chat with him after the meal.
It was for me an emotional evening.
It was a night that touched my heartstrings and brought tears of happiness to my eyes.
I'll remember it forever!
Onboard Activities and Experiences
I've always found the production shows in the Princess Theatre to be professional and riveting.
Sometimes there might be a show with sing-along songs, great dancing and amazing costumes, other times a fabulous show with a storyline.
On our Alaskan cruise we enjoyed two productions: The Spotlight Bar and a Broadway-style Rock Opera, both of which were fabulous.
But that's not all … at Crooners bar you'll find a pianist, a grand piano, big squishy armchairs and of course an amazing sea view!
Then there's Take Five, a jazz lounge, and the Vista Lounge where you may find an enrichment lecture taking place or perhaps a comedien telling jokes.
Of course cocktails are a wonderful cruising treat!
When it comes to relaxation, health and wellness there's the adults only retreat The Sanctuary, the Lotus Spa with the Enclave and Salon, the Lotus Spa Fitness Centre (offering both fitness machines, and yoga or pilates classes).
Why not try Zumba and work up a sweat every morning before breakfast?
On top of that there's a designated jogging track on deck and if you do 7 laps you will have completed 2 miles.
If you have a head for heights you'll enjoy the amazing sea walk, a sky walk where there's not much except a pane of glass between you and the sea!
There are shops, and a wedding chapel (perhaps you'd like to renew your vows or get married?)
When you want to lie back and relax on deck with a snuggly blanket you can just look up and be entertained – watch Movies Under the Stars at the poolside and order a cocktail, why not?
There's MedallionNet WiFi, a vast improvement on the previous wi-fi onboard Princess ships, plus there's an Internet Cafe for you to use if you wish.
There's a greens mini golf area, a photo gallery, a fine arts gallery (and art auction), a basketball courts, table tennis tables, and areas for kids and teens to hang out too.
Service Excellence
There were 68 nationalities of crew on the Discovery Princess, more than 900 of them working in the food and beverage department, but without exception there was a consistently high level of personalised service leaving you with a feel good feeling.
No request was fobbed off or taken lightly and we found that the crew would go out of the way to make sure our concerns were met, going way beyond our expectations.
For example, on the first night we experienced a creaking, tapping sound in our stateroom.
The next day it was investigated, and we were immediately offered a different stateroom and a bottle of wine for our inconvenience.
This also demonstrated how well the crew communicate with each other to resolve issues, in fact they refer to each other as team mates rather than just crew and look at themselves as one big family. Ultimately it's this ethos that demonstrates the success of the overall service.
Navigation and Safety
Valerio, the senior safety officer hails from Italy. He went to naval school in Rome at the age of 17.
Valerio gave us an informed, and humorous tour of the bridge and definitely put everyone's minds at ease regarding the safety of the guests, the crew and the ship.
Just some of the facts Valerio told us:
On the bridge there are 'watch' teams consisting of 4 people, who are on watch for 4 hours each, 24 hours of the day.
The highly trained crew on the bridge are in charge of safety and navigation, and are representative of the captain when he's not on the bridge.
There's always a navigator and co-navigator on the bridge.
Cruises are still rooted in ancient seafaring tradition, Valerio told us: "For instance various country flags are still used to signal to other ships what we are up to . We fly the flags of the country we are visiting ro say we respect and will follow your rules."
There are 3 gps systems onboard all linked to a main computer to show where the ship is, and how fast it's going.
"There are 5 radars around the ship which give a 360 degree view to determine what is out there, but still you need sailors on lookout to identify what the object is," Valerio told us.
Powerful long range radios help with communication.
There are TV cameras around the ship to assist with its moveability, especially when manoevering in and out of dock.
There is a an old style compass for navigation in case the systems break down.
The cruise industry is as regulated as the airline industry.
There is no big steering wheel on the bridge, and no Captain Jack Sparrow! In fact there is no Captain's seat anymore. Princess Cruises are leading the way for crew to be non-rank based.
It will always be the Captain's intention to drive the ship away from bad weather, tall waves, winds, hurricanes, cyclones and tropical storms. "We don't want to run into high waves if they are forecast. Sometimes our itinerary will change rather than test the ship with bad weather conditions. And we check lots of websites for the weather. Sometimes we can detect bad weather days in advance, and then make a plan about what we course we will take," Valerio told us.
It takes about 20 years to become a ship's Captain.
Responsible Tourism Practices
I am obviously aware of the impact that cruise ships could be having on remote communities and pristine environments, and I was keen to know more about how Princess Cruises is approaching responsible tourism.
I was heartened to hear about the way Discovery Princess is addressing some of these issues, and I was further provided with the following information:
"The Discovery Princess uses the latest technologies to reduce fuel consumption, treat wastewater and support environmental compliance efforts and is committed to reduce its carbon footprint.
All PCL ships are equipped with Advanced Air Quality Systems/Exhaust Gas Cleaning systems designed to improve air emissions, meet and exceed environmental regulatory standards and support sustainable operations. Princess' state-of-the-art AAQS uses salt water to "scrub" 99 percent of sulfur from the ships' exhaust and ships strictly follow all Canadian and International regulations to meet emission control area requirements as well as local and regional restrictions that may exist. Princess' parent company, Carnival Corporation, the world's largest cruise operator, is the only company in the world to produce less greenhouse gasses versus 2011 with a 15% reduction in CO2 intensity compared to 2019.
There's an extensive recycling and waste management program: On just Discovery Princess alone the ship recycles nearly 15,000 pounds of glass, 3,300 pounds of cardboard, 8,800 pounds of plastic and 132 gallons of cooking oil each week. Additionally, compressing aluminum cans reduce their volume of 80-85 percent, conserving space and energy. As part of a corporate-wide initiative, Princess in recent years has reduced 50 percent of single use plastics and 30 percent in food waste utilizing innovative technology like food biodigesters and dehydrators.
Shore power: Princess Cruises pioneered "plug in" shore power in Juneau more than 20 years ago and since then has introduced this sustainable technology in Seattle, Vancouver, San Francisco, Los Angeles, San Diego, New York and Halifax, Nova Scotia.
Advance Water Quality Systems: Princess ships have the ability to make their own water through both desalinization and reverse osmosis — up to 474,000 gallons per day. Ships use roughly 30 percent less water compared to land-based venues and can sustainably produce upwards of 90 percent of fresh water used on board.
Additional Environmental Enhancements: Princess has reduced its energy and fuel consumption through the use of LED lighting, enhancements to HVAC systems, and special air lubrication system that allow ships to glide on a thin layer of air bubbles, which combined with slick hull paint, reduces drag and conserves fuel and energy and numerous other measures."
How to Maximise Your Alaska Cruise Experience – Insider Tips
If you're travelling long-haul to get to your cruise departure point (as we did from Western Australia to Seattle) then I recommend booking a couple of nights in a hotel before the cruise, so that you can get accustomed to the new time, and just generally acclimatise. We enjoyed three nights at the Hyatt Regency Seattle which helped us get over jet-lag and also to begin finding out more, first hand, about the area we would be cruising in.
Be as fit as you can before getting on a cruise to Alaska. To fully maximise your experience you need to be prepared to get up really early for scenic cruising as you sail into ports, have enough energy to stay up late to watch the various shows and entertainment, and to be active on shore excursions – after all, you don't want to miss a thing!
Do use your MedallionClass App to plan out what you will do each day of the cruise so that you don't waste a minute (there is so much going on).
Do book a champagne balcony breakfast – and feel like a king and queen as breakfast is served in your Stateroom or on the balcony. Actually it's enough for breakfast, lunch and dinner!
Do reserve a seat at least for one night at one of the specialty restaurants. We enjoyed the popular Crown Grill – but there are others to choose from.
Find a quiet spot to read, relax, watch the world go by (the relaxation room at the Lotus Spa, is ideal) but you will also find quiet corners around the ship to get away from it all.
Don't be afraid of booking a partially-restricted-view cabin – you still have reasonable views and a balcony to sit out on. Most of the time you'll want to be taking photographs out on deck anyway. It can be a less expensive option, while still offering a place to sit out or stand and watch the scenery.
Also take a look at the extensive beverage program. Depending on your alcohol consumption this might prove a cheaper option when it comes to drinks ordered throughout the cruise.
Do take some magnetic hooks for use in your stateroom – you can never have enough places to hang things.
There were a decent amount of hangers provided, but I took along 5 more, which we used too.
Don't forget a shower cap and your own preferred hair shampoo and conditioner.
Do take a adaptor plug and an extension board if you will be charging cell phones, laptops and tablets all at the same time.
Discovery Princess – Things you May Not Know
Discovery Princess is currently the newest Princess cruise ship, and has been welcoming guests since her maiden voyage on March 27th, 2022.
There are 19 decks which house 3660 guests and 1346 crew (900 of whom work in the galley).
Currently there are an incredible 68 nationalities of crew onboard.
There are 2 sky suites (featuring the largest yet balconies at sea), and 42 suites with private balconies, as well as 2 window suites, 374 mini suites with private balcnies, 311 deluxe balconly cabins, 753 balcony cabins, 6 premium oceanview cabins, 340 inside cabins, 100 connecting staterooms and 40 wheelchair accessible cabins.
You can also enjoy 4 pools – 2 top deck pools, retreat pool and wakeview pool, and 10 hot tubs.
The central area in the ship, the Piazza is constructed to emulate a European market. Around this area you'll find the International buffet, Salty Dog restaurant, Guest Services, Celebrations Shop, and Good Spirits at Sea, a specialty bar offering cocktails from around the world as well as destination-inspired cocktails.
The MedallionClass App really can take the place of face-to-face guest service questions. You can also scan events for the whole cruise in the JourneyView activities timeline, browse food and beverage options in OceanNow delivery, and so much more.
The Enclave is a fabulous thermal spa with spa pools and steam rooms. It's situated in an exclusive area of The Lotus Spa. This is Princess's largest-ever thermal suite and hydro-therapy pool with steam chambers.
There's a casino onboard, if you're feeling lucky!
There is a large recycling centre onboard to comply with very strict environmental laws.
There's a designated Internet Cafe and manager to help guests. The Spacex internet is fast.
The Gelato ice-cream onboard has been certified by the Italian government!
There is lots of interaction to promote the local communities – for instance Alaskan Husky puppies are brought on board for an afternoon; a cruise excursion will introduce you to the life of a lumberjack; you may be taken to lunch at a local restaurant where Dungeness crabs are served, and so much more.
The casino followed by shore excursions, then the spa, are the top earners for Princess Cruises on American cruises.
Sea days are all about shows, quizzes, art auctions, shop sales, relaxation in a hot tub, watching movies under the stars.
Everything is made fresh on board except the bagels.
Fresh fish and seafood comes from Ketchikan.
Food waste is put into biodigesters, that process the waste which is put into the sea.
Your Complete Princess Alaska Cruise Review Conclusion
I hope you've enjoyed my complete Princess Alaska cruise review aboard the Discovery Princess, and hope that you get to experience an Alaskan cruise too!
Check out the Princess Cruises website for the most up to date deals and promotions.
If you've cruised to Alaska I look forward to any tips or comments you might have to add, and if you've yet to cruise to Alaska and have questions to ask, please ask away in the comments section below.
Please Share! Pin this Post if You're active on Pinterest! Or share on Facebook!
Watch my Instagram Video Reel : 7 Day Cruise to Alaska
Please share this post on Facebook – Or Pin the Image below!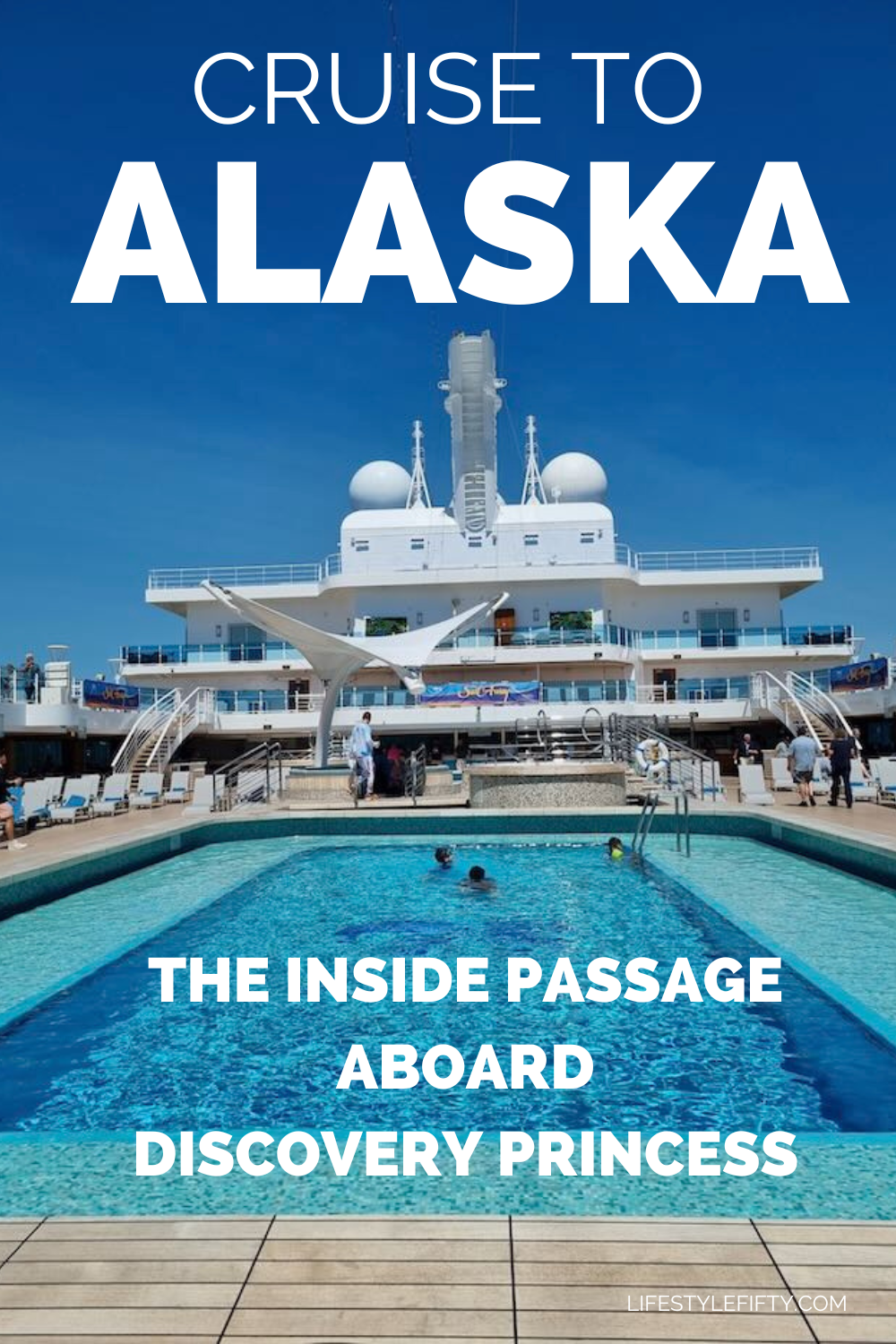 Related Posts You May Have Missed
What to Wear : Alaska Cruise : Ultimate Packing List
50 mazing Reasons to go on a Cruise Vacation
What to Wear on a Cruise- Insider Packing Hacks
Style Tips and Confessions of a Personal Shopper (and Cruise Addict)
Dining onboard Sea Princess World Cruise
Will Princess Cruises help you Come Back New?
Cruising Like a Boss – How to Save Money on Your Next Cruise
Why is Cartagena Cruise Port Colombia a Fabulous Cruise Stop?
The Best Advice About Cruise Clothes
13 Things You'll Love about a Barge Cruise in France
Specialty Dining on Princess Cruises
Jo Around the Web
Princess Cruise Video: World Cruise
Cruise Weekly : Leading Blogger Becomes Digital Nomad on World Cruise
Cruise Passenger : What's a World Cruise Really Like?
European Waterways : Luxury Barge Cruise in France
Y Travel Blog : Featured Guest Posts
WIN A CRUISE TO ALASKA
Time Dependent : Check out this Current Affair 9 News article and find out how you could win a cruise to Alaska on the Majestic Princess for 2 people!
Disclaimer: I was a guest of Princess Cruises. This post "Princess Cruises Alaska Review" contains affiliate links from which I stand to earn a small commission but at no expense to you. Any gifted items are marked with an *. Lifestyle Fifty Website is a participant in the Amazon Services LLC Associates Program, an affiliate advertising program designed to provide a means for sites to earn advertising fees by advertising and linking to Amazon.com. Please read my full disclosure here.