I'm not one for drawers of make-up, but I do have a vanity case that's a bit like an Aladdin's treasure trove.
Out of this muddled stash I generally choose seasonal items to put into two small make-up bags. One bag is generally at the ready for my everyday look, and the other is a little more involved – and takes longer to apply. This bag is all set for night-time looks and for trips away.
Organised, eh!
Bahaha! Not! Because things Do Go Missing or are relegated to Handbag Status and end up in the Deep Dark Depths of places that don't get visited often.
Quick makeup tips for the 5 minute face
As regular readers know this is not a blog by a perfect women with a perfect look producing airbrushed photos. It's WYSIWYG (what you see is what you get) warts and all, mistakes included. I had a look at some Football WAG blogs this morning, and to tell you the truth I nearly gave up the blogging will to live. They are so perfect, and styled and squeaky gorgeous.
Well, sadly I'm not even remotely perfect, and nor is this blog gorgeously styled.
So here goes. All the pics are selfies taken with my phone, but I hope to share with you a 5 minute approach to getting out of the house in lazy-woman fashion and looking presentable. Of course it goes without saying I'm opening up the comments and hoping to hear your best tips too.
Pic 1. This is the au naturel face to begin with. Back-lit of course – I'm not going to let you see All my wrinkly secrets! Plus because my lips looked ghostly I had slicked on a little '17' Rose lip gloss.
Pic 2. Then on went Olay Total Effects Day Cream touch of foundation with an SPF 15 – lovely for our sunny WA days. I apply it liberally to my face and neck.
Pic 3. Over this a light dusting of Rimmel Natural Bronzer (waterproof bronzing powder, SPF 15) in 022 Sun Bronze.
Pic 4. A little bit of face sculpting went on with Collection Shimmer Shades. I swiped a largish brush across the medium brown colour in the pallette, and brushed it under my cheekbones from mid cheek to hairline.
Pic 5. Taken before any sculpting. After this picture was taken in lazy girl style I brushed my neck and decolletage to get all the dark powder off the brush, then used the peachy colour from the pallette on the apples of my cheeks. Very gingerly (I didn't want to look like Wurzel Gummidge's wife Sally) I added it until there was a hint of colour. At this stage I also put on a deeper shade of lipstick.
Pic 6. What a difference the sculpting made, don't you think? Alright on this side of my face I was a bit heavy handed, and had to dab some of the powder off with a tissue. I also dotted on some eyeliner under my eyelids close to the lashes, on the top eyelids as well, carefully but quickly joining up the dots. Eyebrows? No time to draw them in 5 minutes – I find them a bit fiddly.
Then a bit of eye shadow (swiped on with my index finger for everyday make-up), a quick slick of mascara on my top lashes. Brush my hair – and I'm ready to go.
So 5 Quick Steps :
Foundation + Bronzer
Cheeks: Blusher in 2 steps
Lipstick
Eyeliner
Eyeshadow and Mascara.
Ready to go Girl!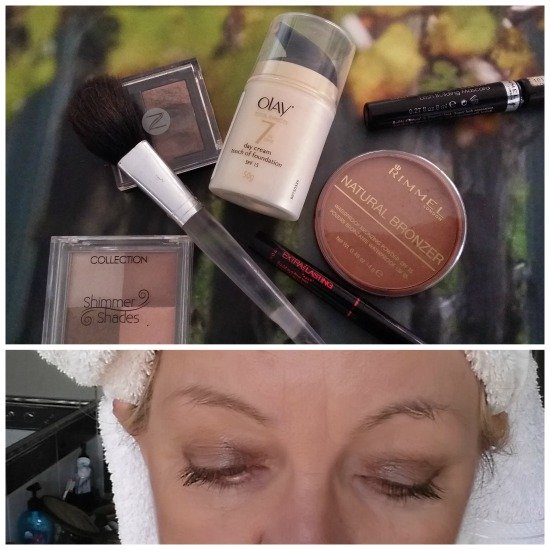 Linking with Fabulous Fun Life
Have you any tips or favourite products for a 5 minute face? Please do share with me in the comments.
Until Next Time,