We love ocean cruising! Today I'm sharing our Top 50 reasons to go on a cruise vacation.
Now the Australian borders have re-opened, and as cruising gets going again after the pandemic, we're getting super excited about all the new cruise vacation itineraries, especially with Princess Cruises.
To be honest, we can't wait for the thrill of it all. There's nothing like it: Walking up the gangway to a whole new world on a Princess Cruise Ship, the wind in our hair on the first exciting sail-away, anticipation running through our veins about the exciting shore excursions and the new people we'll meet, and the adrenalin pump of exploring new and exciting destinations.
What isn't to love about spending quality time in a thrilling new place? You could be on a short cruise, or on a world cruise, but what's for sure is that you'll be visiting many different ports of call.
Great Value Vacation
If you compare various package holiday prices, you'll find that a cruise is a really great value vacation. Plus you'll find a varied price range of itineraries offering different cruises to suit both low and high holiday budgets.
We can't wait to have our horizons expanded and comfort zones extended by day, while being able to return to the luxurious space of a beautiful cruise liner each night. Staying in a 5 star floating hotel room is an amazing experience.
If you are about to book your first cruise as a couple or your first family cruise, then you have a chocolate box of excitement waiting for you!
Best Reasons to go on a Cruise with Princess
What's really really exciting this year is the prospect of experiencing MedallionClass for the first time.
Since we were last on a cruise with Princess we're told that MedallionClass is a BIG game changer turning ships into smart cities.
From touch-less check-in and keyless stateroom access, to on-demand food and drink. It's free and doesn't require guests to carry a smartphone – all you carry with you is a small dollar sized wearable device.
Additionally, Princess MedallionNet promises to be the best Wi-Fi at sea, and offers fast and reliable connectivity while you're cruising. Just imagine you'll be able to FaceTime friends at home, or watch/download Netflix from anywhere on the ship with ease, just as if you were at home. No more slow, unreliable internet!
MedallionClass will arrive in Australia soon – first on Coral Princess. If you're living in America or elsewhere in the world you'll find other ships already featuring MedallionClass including; Discovery Princess, Diamond Princess, Emerald Princess, Grand Princess, Island Princess, Majestic Princess, and Sapphire Princess.
World Cruise Highlights in an Ebook
Some people ask me, "What's so great about a cruise vacation?" because they don't think it's a form of travel they will enjoy.
They put up all sorts of objections: "We'll get seasick, you spend too much time in the middle of the ocean, it will be too crowded, we like our independence, the internet is really bad," and so much more. Then when we begin to wax lyrical about all the benefits of a cruising vacation, many of our friends are keen to give it a try – and come back as cruise converts just like us.
In 2016 Dave and I embarked on a magical 104 night World Cruise visiting 25 different countries and 35 destinations. It was a veritable bucket list! We've compiled all the destination blog posts, with photos, into an Ebook. You can download our book for free, here: Magical World Cruise : Destinations, Stories and Images – and enjoy an armchair cruise experience as you journey around the world on Sea Princess.
Today, in this blog post, I'm reliving, and sharing just some of the reasons why I believe a Princess cruise offers a unique experience to see the world, as well as have a totally relaxing holiday, and the reasons why you will most probably come home and book another cruise straight away!
Why Princess?
Princess Cruises operates a fleet of 15 modern cruise ships, carrying guests to 380 destinations around the globe, including the Caribbean, Alaska, Panama Canal, Mexican Riviera, Europe, South America, Australia/New Zealand, the South Pacific, Hawaii, Asia, Canada/New England, Antarctica, and World Cruises.
Need more reasons to go on a cruise? A team of professional destination experts have curated 170 itineraries, ranging in length from three to 111 days and Princess Cruises is continuously recognised as "Best Cruise Line for Itineraries."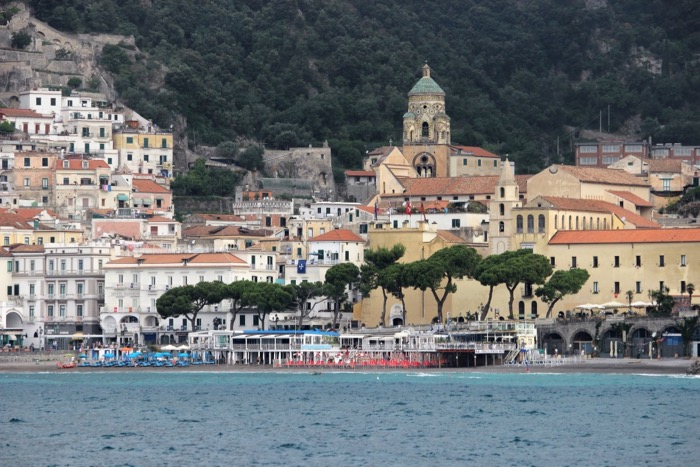 Read on and discover all the whys and wherefores of cruising. I hope this blog post inspires you to call your travel agent and book a cruise soon!
See you onboard!
NB: Princess ships vary in size and amenities. This post is based on the amenities and features onboard Sea Princess and Coral Princess.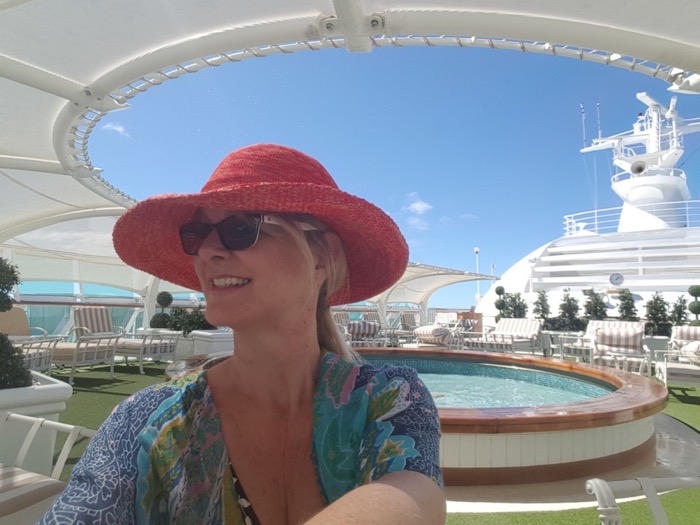 Why Book a Cruise For Your Next Vacation?
1. You can explore and be immersed in different cultures quickly.
Cruising allows you to immediately immerse yourself in different cultures.
Most days you are likely to wake up to a different port, city, country or destination.
As Princess aims to create 'meaningful travellers' you will be encouraged to enjoy an enriching and meaningful experience both onboard and on shore, both from a travel and cultural perspective. One of the best ways to do this is to pre-book the ship's tours.
2. Amazing variety of shore excursions, day trips and tours.
A cruise takes you to some of the most magical, mystical, iconic and diverse places you can imagine.
But you don't need to plan your own trips and tours, because you'll find a shore excursion and advisory desk onboard. While it is better to pre-book these tours to assure your place, it's not the end of the world if you want to wait until you get onboard, especially if you are flexible about what you want to see and do.
You'll discover a variety of destinations and be able to enjoy enriching day tours. The comprehensive tour programme will offer a variety of ship's shore excursions that include either culture, food, adventure, photographic, scenic, art, or wine and wine-tasting.
The ship's tours will take you to exotic places, major cities, quaint villages, and out of the way beauty spots. These will all be highlights of the region you're visiting which means you don't have to spend hours prior to the cruise researching the best places to visit on your vacation.
We loved the ship's shore excursions. They were well organised and took us to some incredible places in a short span of time.
Plus, on a ship's tour they fast track you to the front of queues, in places such as the Vatican in Rome, where you could otherwise wait in line for hours.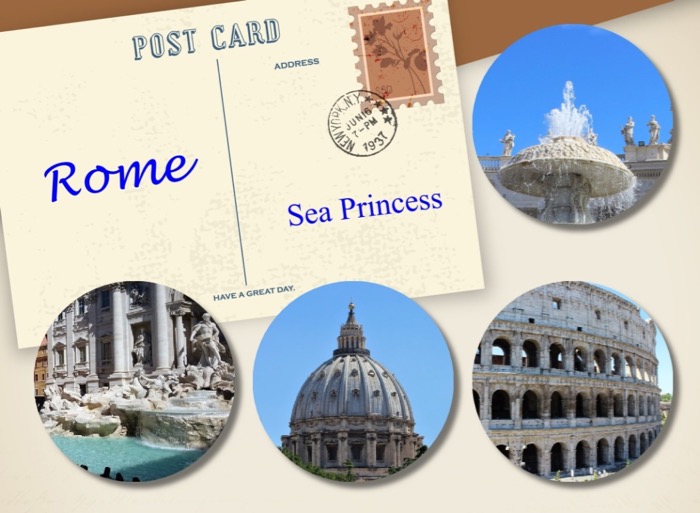 Tip: If you're on a ship's tour and it's late back to the ship, for any reason, the ship is unlikely to leave without you! On an unaccompanied tour or independent sightseeing … make sure you are back on time unless you want to be waving goodbye from the shore.
3. No language barriers.
You don't have to worry about being able to speak different languages because English is the main language spoken onboard, and the ship's tours are conducted by English speaking tour guides. (However you will find that the crew are able to speak a wide range of other languages too).
4. Enjoy all the benefits of a luxury floating hotel.
The ship is essentially like a luxury floating hotel carrying you from one amazing destination to the next with varying amounts of sea days between ports of call. It has all the benefits (and more) of a 5 star hotel.
5. Unpack just once!
You only have to unpack once.
Once you're onboard, unpack your clothes, stash your suitcase under your bed, and be whisked away from one mind-blowing new port, or new country, to another.
You don't have to choose whether you want to go to Rome or Tahiti, you don't have to pack, unpack and keep getting organised, as you discover the world from the base of your floating hotel.
6. A cruise is easy to plan.
No more arguments about where to go and what to see! Planning a cruise vacation is so easy. You don't have to plan an itinerary. You don't have to search for, or book, hotels. You don't have to hunt for suitable trips or excursions. You make one payment and you're away.
7. Group travel is easy to organise.
Group travel, perhaps with other family members, or the whole family, or a group of special friends is so much easier. Cruise lines can co-ordinate your travel companions, and communicate with them, meaning that you don't have to do all the organising.
A cruise can be a great family vacation. Plus, for the win, if you book enough cabins you'll get extra perks, perhaps even a complimentary passage.
8. You can still keep in touch
Unlike days gone by, you're not out of sight out of mind when you set off to sea.
There's wi-fi, cell service and satellite TV onboard so you can keep in touch with the world at large if you want to.
And I can't wait to try out the new MedallionClass, and MedallionNet technology that offers a huge range of digital experiences, along with fast, reliable and affordable Wi-Fi at sea.
9. You are spoilt rotten.
You're waited on hand and foot. From the moment you step onboard, your every whim is catered for.
10. The food is fabulous.
What can I say? There are so many dining experiences and specialty restaurants to choose from.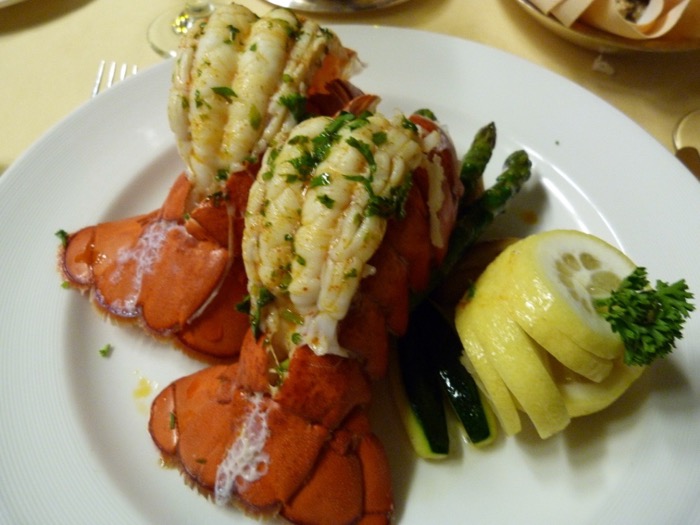 You may be able to choose from an extensive buffet, to a pizzeria, to a cordon bleu steakhouse, to a bakery, to a formal dining room, to a poolside barbecue.
We have enjoyed Aussie barbecue nights, pub nights and specialty brunches.
Our food was always fresh and fabulous with lots of different choices.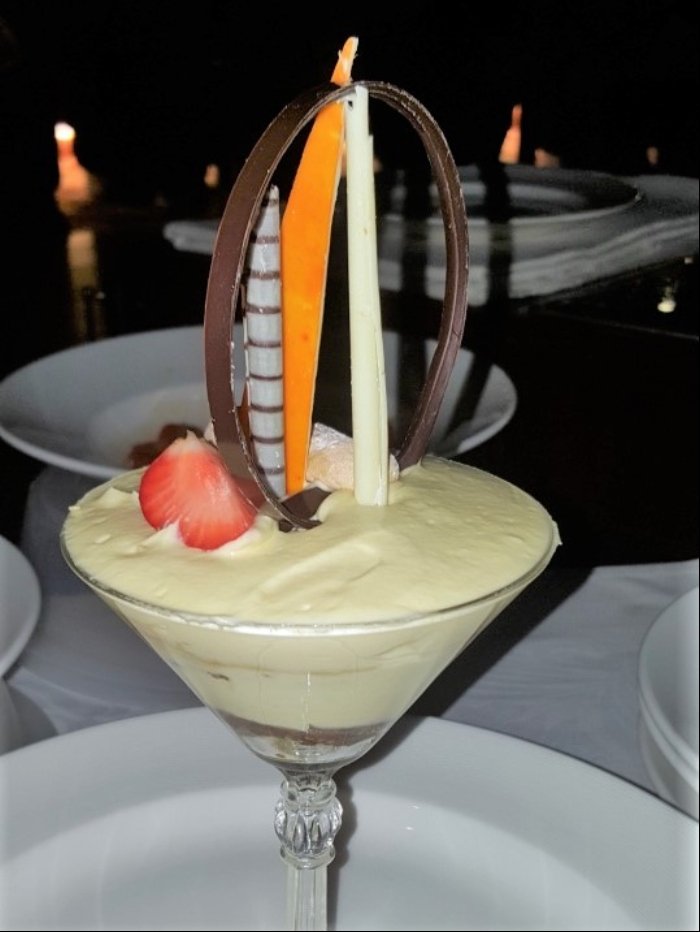 11. Diversity of restaurants and bars.
You can choose which restaurant or bar you might like to go to for lunch, dinner or cocktails.
For instance, Coral Princess has 13 Dining options. You're sure to find a spot for a romantic dinner or two.
And on a formal night, feel free to put your glad rags on!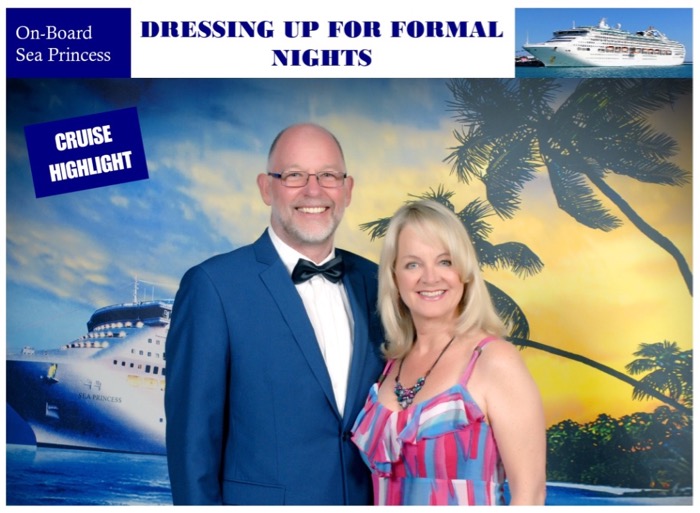 12. Time to take a breather.
You have time to catch up on things you haven't had time for at home; like reading, or pastimes you enjoy, and leisure pursuits.
You could meet up with new friends for a game of Mahjong or bridge or table tennis.
13. Minimal visa concerns.
You have minimal worries about visas for the countries you visit because many of these will be taken care of by the ship, meaning you won't have to go through passport control when getting on and off the ship. Such a time saver.
14. You can keep fit.
Keep fit or get fitter perhaps.
There are plenty of exercise options on board: You'll find a walking deck, a well equipped gym, yoga, pilates, spinning, thai chi, zumba, dancing, and/or stretching classes.
Swimming is an obvious choice.
15. No planning to do.
You don't have to catch planes or be at the mercy of train and coach timetables to get from pillar to post or airport to destination. All you have to do is get to the starting cruise port.
There is literally no planning. Such a relief.
Just get to the ship on time!
16. Currency is simplified
You have no currency concerns – you can use your cruise card to swipe for anything which isn't included onboard.
And now there is a new Medallion device to make cruise-life even easier (scroll down for the full low-down about MedallionClass).
If you need cash, you'll most likely find a handy ATM near the reception area onboard dispensing US$ or AUD$ – perhaps you want cash to carry on a shore excursion.
17. Doctor onboard.
Worried about your health while you're away visiting foreign climes? Don't be!
There's a resident doctor and support medical staff onboard so you can rest assured if you have any health concerns while you're travelling. Just don't forget to take out travel insurance cover well before you leave home.
18. There's a village shop onboard.
On most ships there's likely to be the equivalent of a village shop onboard that sells all the small things you might need on a daily basis; from hair shampoo to suncream, to toothpaste to chocolate and lollies, to water bottles.
19. Enjoy unexpected delights.
You'll most likely discover a host of small unexpected delights – we were supplied with complimentary umbrellas in our stateroom in the unlikely event of rainy day shore excursions. But there will be other moments when you'll just think, "Ohh that's nice!"
20. Entertainment is guaranteed.
There's non-stop high quality entertainment on offer with a variety of live music performers and acts. Go the the theatre and watch world class stage shows or fancy a comedy routine? There's bound to be something going on.
From comedians to speed painters, from tribute shows to opera and when you're in port there are sometimes folkloric acts invited to perform onboard too.
We loved the night time, extravagant production shows with accomplished singers and dancers from around the world.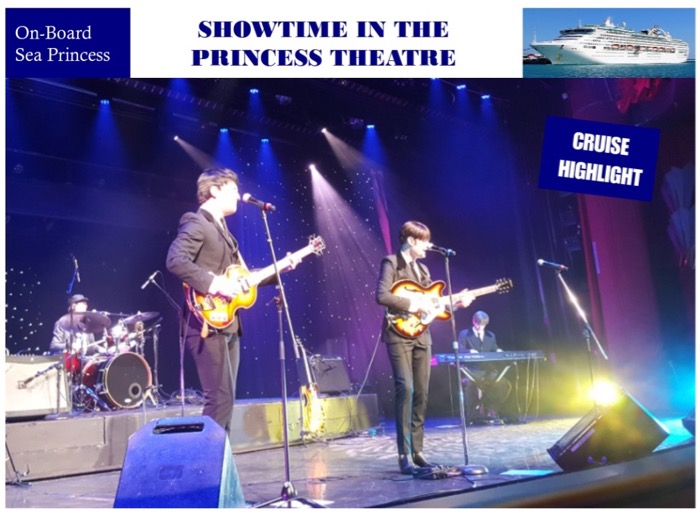 21. Take a punt.
Want a flutter? Pop to the casino. Why not! You're on holiday.
22. Explore a magnificent ship.
The ship is like a floating city, a destination in itself, and you will spend hours getting to know it, exploring all the nooks and crannies, and all its benefits.
The heart of the city is the Atrium which is spread over several levels.
From the Atrium, move outwards and upwards and discover so much more.
23. Choice of accommodation.
There are a variety of cabins and staterooms to choose from to suit your budget.
If you have a balcony it's lovely to sit out at night and watch a sunset or throw the doors open in the morning and watch a new destination come into view. A sea view is just another one of the reasons to go on a cruise!
24. Fabulous amenities and features.
All amenities and ship features are luxurious and comprehensive. On Coral Princess you'll find 6 showrooms, theatres and lounges.
25. Sparkling pools and steamy hot tubs.
Your sea days can be spent lazing by sparkling blue swimming pools or relaxing in hot tubs – with a view of course.
On Coral Princess you'll find 4 swimming pools and 5 jacuzzis.
26. There are adult only areas.
Want to get away from the kids?
There are exclusive adult only areas, such as the Sanctuary – a luxury, enclave on top of the ship designed as a tranquil retreat to laze away a few hours on a sun bed by a pool and indulge in delicious nibbles and beverages.
27. Be pampered anytime.
Visit the Spa and enjoy spa treatments and pampering to your heart's content. What more can I say?
28.Beauty treatments on tap.
Make an appointment to have your hair done, or get a pedicure or manicure – it's all available onboard!
29. Go shopping but without the car!
Spend an afternoon shopping with your new friends – you'll find boutiques and jewellers as well as various other retail shops.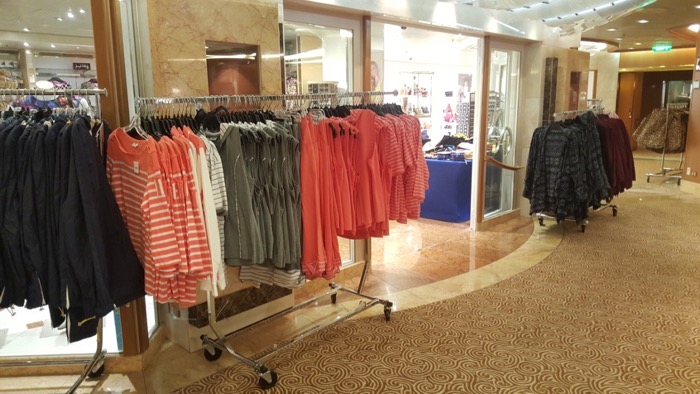 30. You can exercise straight out of your bedroom door.
You can choose to have a leisurely stroll each day, and work off some calories while watching the ocean world go by as you walk or jog around the promenade deck.
31. Visit the library
For some quiet time choose a book from the library and get settled into a cosy chair in a quiet corner.
You can also get into swapping books with other passengers.
32. Internet is available onboard.
If you don't have a smartphone or laptop, you might choose to go to the internet cafe and use the ship's computers to write your emails or browse the web (or have your tech problems solved by an expert).
And the big NEW news about internet is MedallionClass and MedallionNet featuring the fastest, most reliable and affordable Wi-Fi at at sea – that parallels land-based services.
33. Be enriched.
The enrichment lectures are a sure way to learn something new and fascinating.
I enjoyed lectures in positive psychology, the opera, horse whispering, cruise destinations and history. I also enjoyed the mindful psychology lectures.
Relax and learn as you listen to an educational lecture in the Princess Theatre or Vista Lounge.
34. Learn about new places.
Listen to experts in their field give fantastic running commentaries about the places and destinations you'll be visiting as you cruise near to them. Our destination guru, Hutch, was well informed about all the destinations and new cultures we visited.
35. So many activities to choose from.
You can keep busy on sea days and get involved in the ship's daily activities.
Each day there are a range of organised daily activities on offer.
There's something of interest for everyone including various common interest group activities, such as; bridge, mahjong, card games, arts and crafts, line dancing, stretch and ab classes, zumba classes, a dance workshop, fruit carving, tai chi, and at an extra cost yoga, spinning and exercise classes.
36. Go dancing.
From tea dances to ballroom dances to late night disco! Pack your dancing shoes!
There is a continuous dance calendar with both live and pre-recorded music, and it's possible to dance the night away if you want to.
37. You won't miss out on breakfast TV.
Relax with the lighthearted Wake Show each morning – Princess Cruises answer to breakfast TV.
Wake up with a smile!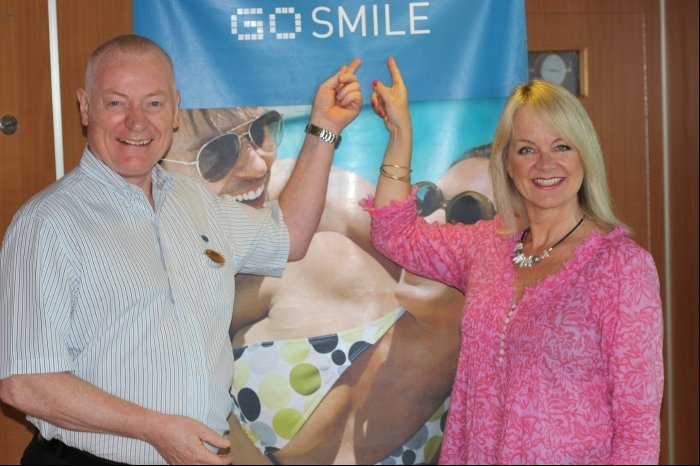 38. Read the paper!
The Princess Patter, a daily newsletter, was delivered to our Stateroom each night giving us all the information we'd need for next day.
39. Watch movies
It's just like being at home. Flick on the TV in your Stateroom and as you cruise between different ports, choose a good movie to watch.
40. Meet new friends.
Oh the new people you'll meet!
You just don't know who you're going to meet on a cruise, and you're taken out of your comfort zone to mix with and get together with other cruise passengers.
We met some adventurous octogenarians, humorous baby boomers, joyful youngsters and wonderful guides, and we dined regularly with four delightful people in the formal dining room whom we might not ever have been introduced to onshore.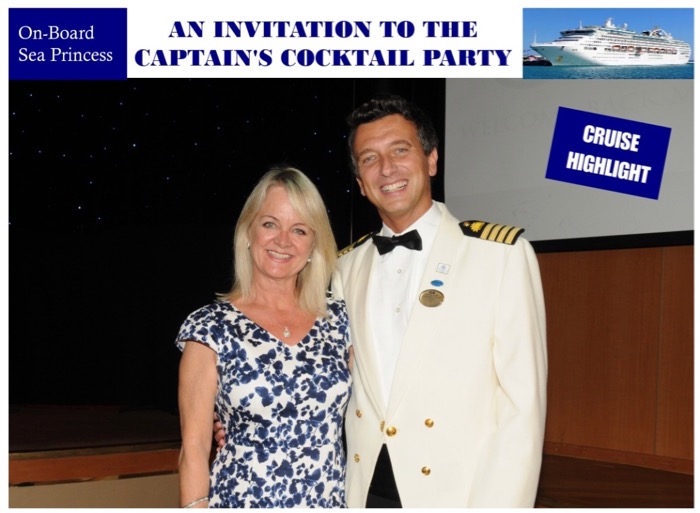 If you're lucky you'll be introduced to the Captain of the ship at a Captain's cocktail party. We were so lucky to meet Captain Genarro Arma and find out more about the complexities of captaining a cruise ship.
If there's a 'Ship's Tour' you can book, then say yes! You'll get to see the inner workings of your cruise ship, as well as meet crew members, and probably chat to the captain on the bridge – and discover some of the fascinating, little known facts about the modern technology of cruising.
41. Be inspired
On a cruise you are constantly being exposed to new things.
New sights, new people, new places, new hobbies, new crafts and new ideas.
You may be inspired to start something new when you return home, or write a book, start a blog, and perhaps plan more cruises with the new friends you've met.
42. Relaxation guaranteed.
You'll be able to find a quiet nook to read your magazine, or find a sun lounger on one of the many outside deck areas to read a book or watch the ocean world go by.
Or indulge and book yourself a private balcony breakfast, lunch or dinner.
43. Movie nights under the stars included.
No need to drive to a cinema! You can watch movies under the stars at night on the outside big screen in a VIP setting, blankets supplied (and enjoy a bag of complimentary popcorn!)
44. Get crafting.
A cruise can be an artist's or crafter's heaven! Join the knitters, crafters or art enthusiasts for daily get togethers.
45. Watch music concerts on the big screen.
As the sun goes down find a chair on the pool deck, order a cocktail and enjoy a music concert aired on the big screen – it's almost as good as a real, live show!
46. Enjoy an ever changing scene.
Stateroom balconies are more than hotel balconies. The scene is ever changing.
Catch the breeze as you watch the ocean fly by, or sit with a cup of tea in the morning and plan your day ahead as you sail into yet another exciting port.
No stateroom balcony? No worries. Find a chair or a sun lounger on deck.
47. You won't be bored.
No need to get bored in your stateroom!
Relax in the air-conditioned cool and in addition to watching movies you can choose to watch re-runs of some of the enrichment lectures, or the destination lectures you might have missed in the ship's theatres.
Or otherwise why not just have an indulgent daytime 'nana' nap as you're rocked to sleep.
48. No chores. No organizing.
Just think about it – no housework, no grocery shopping, and no cooking to do! Don't overpack – get your clothes laundered for you.
49. You can choose to do nothing!
This is your holiday!
As a fellow passenger said to me: "Really cruising is a woman's holiday. Unlike caravanning where you're always busy – on a cruise we don't have to do ANYTHING!"
50. It's a truly romantic vacation.
Princess Cruises is known for The Love Boat. Your cruising vacation is romance personified.
There's a certain romance attached to sea travel. Think of those endless ocean vistas and being removed from the humdrum of daily life. There's a level of fantasy in the air.
Somehow the whole magic of a cruise sets you free.
Add to that the breeze in your hair, the excitement of adventure, twinkling stars set in a jet black sky at night, romantic destinations, and date night meals in beautiful restaurants – it all helps set the mood for love.
You may find that you rekindle your own love affair.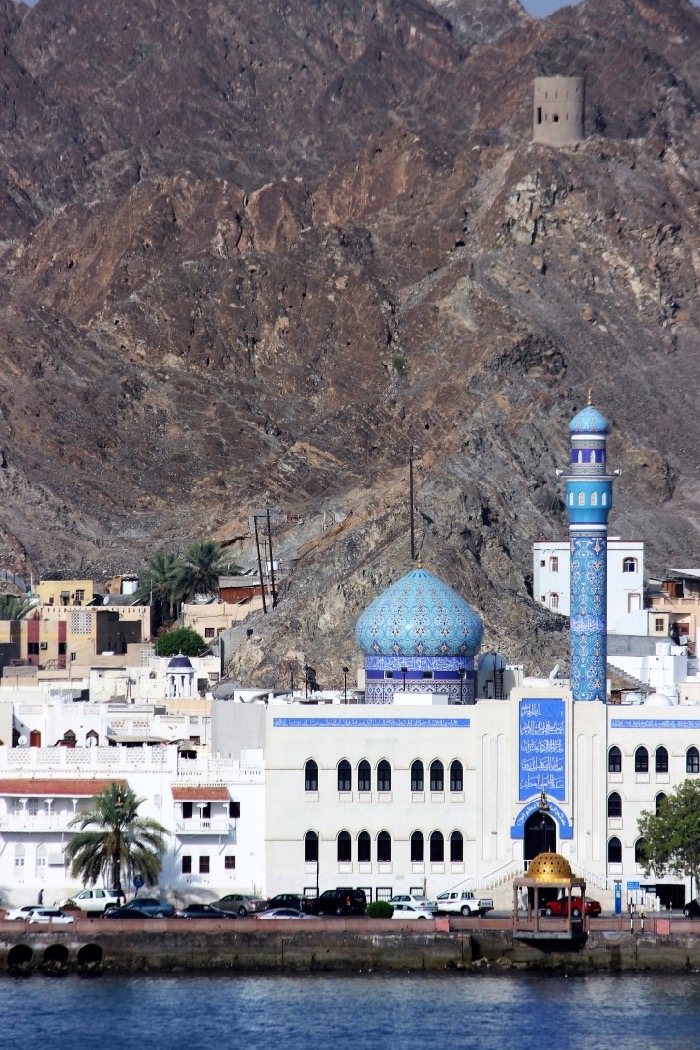 What's New?
All Princess ships are now smart ships with the arrival of MedallionClass cruising. The Medallion® is a dollar-sized, wearable device that enables everything from expedited contactless boarding to locating loved ones anywhere on the ship as well as enhanced service like having whatever guests need, delivered directly to them, wherever they are on the ship.
The best part is that guests can now share their favourite cruise moments using MedallionNet®, the best WiFi at sea, as well as stay connected with friends and family back home, work remotely anywhere on the ship, quickly post content and stream favourite movies, and shows.
What is Princess MedallionClass and Medallion?
The Medallion® device can be worn several ways. Carry it in your complimentary lanyard, or purchase additional accessories to wear it as a bracelet, necklace or clip. Use your Medallion wearable to enjoy:
Faster boarding
Fast and reliable Wi-Fi at sea
Finding your way around the ship
Whatever you need, delivered
Locating friends & family on board
Bookmarking events
Easy stateroom entry
Family-friendly games
What's happening down-under in Australia?
Lifestyle Fifty readers around the world only need to pop onto the Princess website to find out about the 15 cruise ships positioned around the world and the 380 destinations they sail to.
As I live in Australia I think it's pertinent to share the following hot-off-the-press news with Australian readers.
World Cruise
Princess has unveiled a world of new travel opportunities for Australians in its latest program, including the longest-ever roundtrip cruise offered from Australia − a stunning 110-night global odyssey departing late April 2024. Coral Princess' 110-night world cruise (with roundtrip departures from Sydney on 30 April 2024 and Brisbane on 2 May 2024) will see guests setting out to enjoy 47 spectacular ports across 32 countries. (NB: The 2023 world cruise has been a sellout).
First Cruises out of Australia 2022
Princess Cruises Coral Princess will begin her maiden Australian deployment in Brisbane, setting sail on June 16 for her inaugural season Down Under with a three-night coastal cruise, the first of 21 cruises from the Queensland capital in 2022/23.
The 2000-guest ship will be home ported in Brisbane for 11 new departures ranging from 3-12 nights between June and August before returning for another 10 cruises this summer from November.
Coral Princess is the first MedallionClass 'smart ship' to arrive in Australia. The ship will make 48 calls to the State's ports this year, including her first visits to Airlie Beach in the Whitsundays, Cairns and Port Douglas.
Meanwhile Coral Princess' sister ships, Grand Princess and Majestic Princess, will make a further six calls to Queensland ports as part of their scheduled Australian season sailing from Sydney and Melbourne.
Highlights of the new winter program in Australia
Six short getaway cruises from Brisbane and Sydney – perfect seacations for those with busy schedules.
Five 7-day Queensland roundtrip cruises from Brisbane, sailing to Cairns, Port Douglas, and Airlie Beach (for the Whitsundays).
A new 7-day New South Wales Coast roundtrip from Brisbane, with a maiden call to Eden (Sapphire Coast), Sydney, and Newcastle.
A new 12-day Queensland and New South Wales voyage, sailing roundtrip from Brisbane.
A new 12-day Queensland and the Conflict Islands voyage, roundtrip Sydney or Brisbane, crossing the Coral Sea to visit the stunning and remote Conflict Islands in Papua New Guinea.
A 10-night exploration of Western Australia's stunning Coral Coast, sailing from Fremantle on Coral Princess and visiting Exmouth, Broome, Kuri Bay, and Geraldton.
Coral Princess will reposition to Sydney and resume her previously announced Australia and New Zealand program for the 2022-23 summer season which currently includes voyages to the Pacific, Round Australia, Queensland, and New Zealand.
As part of the summer fleet, Majestic Princess is planned to return to Sydney on October 20, with voyages that currently include New Zealand, Queensland, Tasmania and Fiji, while Grand Princess will make her debut down under sailing out of Melbourne on November 4 with round trip voyages that currently include New Zealand, Queensland and South Australia. Mr Ferguson added that Majestic Princess will also offer a new 11-day Queensland voyage, sailing roundtrip from Sydney on Majestic Princess in February 2023.
Why not set sail for your next vacation?
NB: Princess Cruises is currently enhancing health and safety protocols with input from global health leaders in light of COVID-19 and assessing how they may impact future itineraries. Actual offerings may vary from what is displayed. Do keep checking the Princess website for health updates and health protocols.
Have a look at all the Cruise Options with Princess Cruises and get a good deal on your next cruise.
One of the most significant reasons to go on a cruise is that it is a great way to make your vacation dollar stretch allowing you to visit different destinations and different coutnries.
If you're anything like us you'll enjoy the best value vacation, and enjoy a very special experience, on one of their modern cruise ships.
Related Posts
What to Wear : Alaska Cruise : Ultimate Packing List
Princess Cruises Alaska Cruise : What You Need to Know
What to Wear on a Cruise – Insider Packing Hacks
The Best Advice About Cruise Clothes – 21 Insider Tips
Cartagena Cruise Port Colombia – What You Need to Know and How to Dress
Style Tips and Confessions of a Personal Shopper (and Cruise Addict)
Dining onboard Sea Princess World Cruise
Will Princess Cruises help you Come Back New?
Cruising Like a Boss – How to Save Money on Your Next Cruise
Leading Blogger Becomes Digital Nomad on World Cruise – Cruise Weekly
Enjoyed this Post? Please Pin for future reference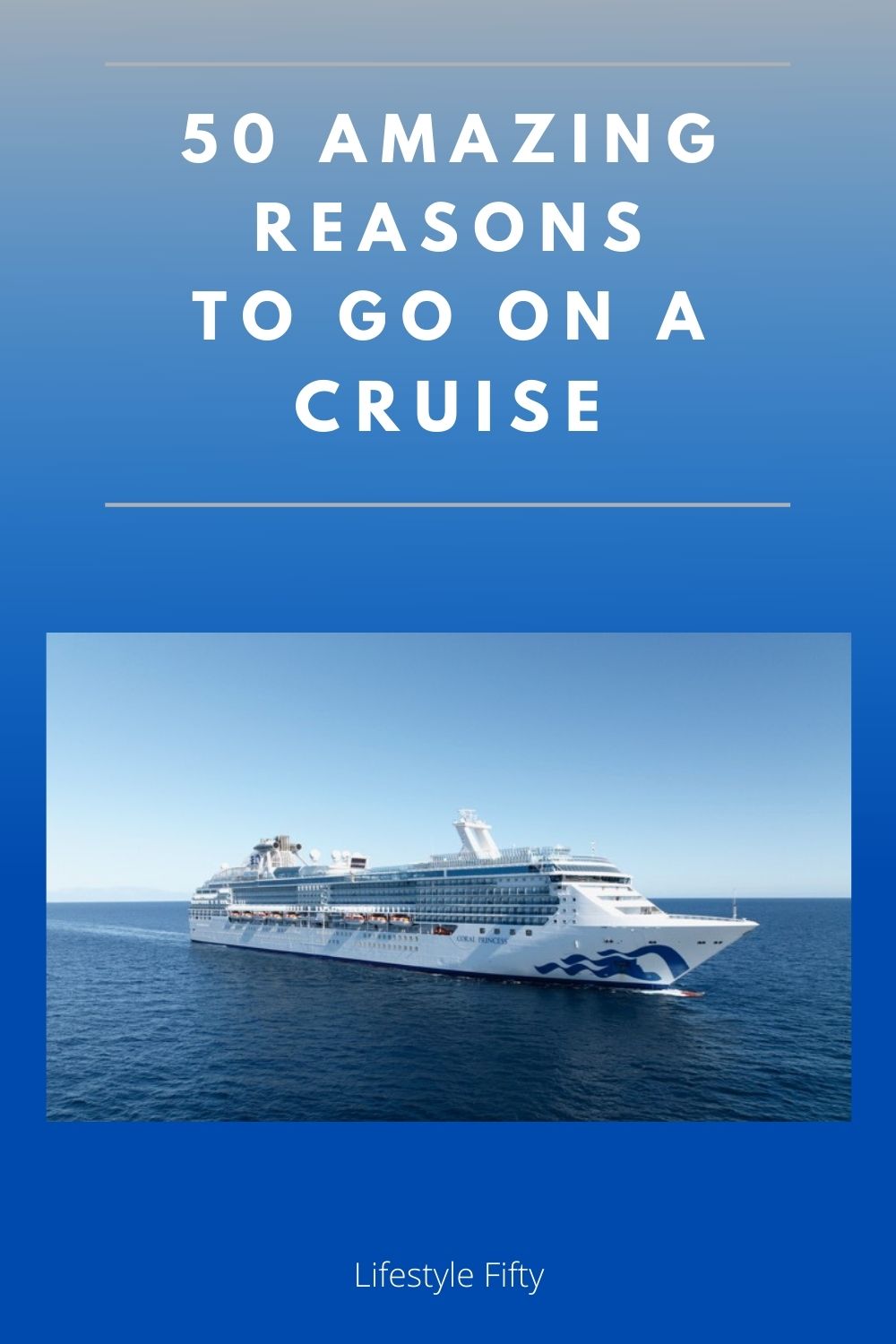 Have you been on a cruise?
Where have you cruised to?
Would you like to go on a Cruise? Where would you go?
If you've enjoyed this post about reasons to go on a cruise, and have your own stories to tell, please share them with us in the comments section below.
Pin this post for future reference.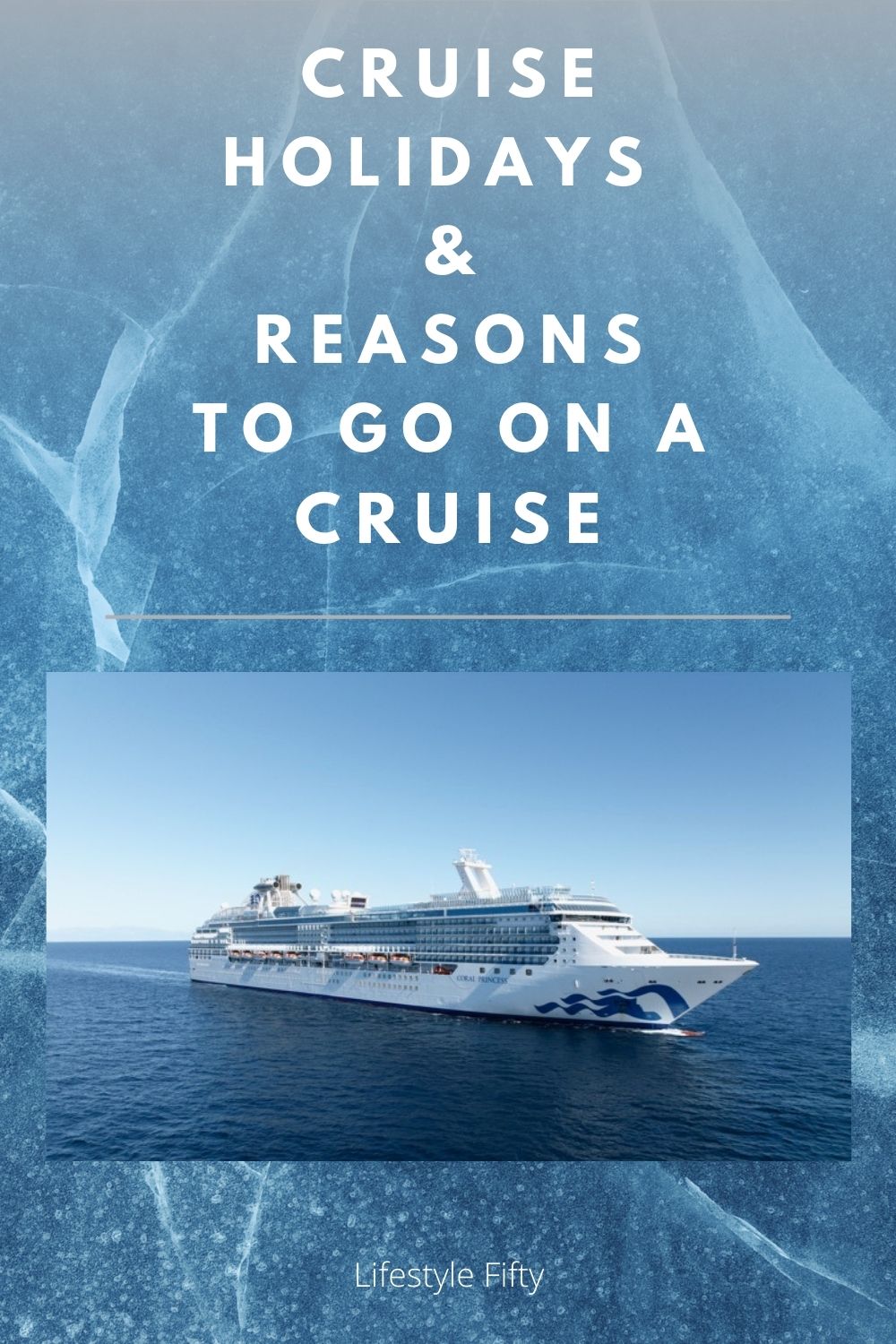 Disclaimer: I have previously been a guest of Princess Cruises.