Sponsored post in collaboration with Health Star Rating.
I'm at the stage where I need to focus on being healthy and eating well, maybe even lose a few kgs. You know that feeling? When the muffin top over your jeans feels a little er … uncomfortable, and you can look a bit unsightly especially if you're wearing a tight top. I also feel a little unfit too, and realise that I've begun to puff walking up hills.
I need to adjust my lifestyle, tweak it in a few places and create some more sustainable eating habits as well.
Exercise, and Better Eating Habits
So armed with easy information about the nutritional elements in the food products I choose at the supermarket using the Health Star Rating System, exercising more, and keeping better track of what I'm eating, is where I'm going to be focusing my attention for the foreseeable future.
Find out more
I've actually been applying the Health Star Rating  system to my grocery shopping over the last couple of weeks, and I'm finding that it's making me so much more aware about what I'm popping into the shopping trolley.
Read more about how the Health Star Rating system works here : A Healthier Way of Shopping  and if you want to cook-up some easy recipes using high health star rated products, check out my  Healthy Recipes Post.
Good Health = The Good Life
In our quest to embrace the art of ageing well and living the good life, of course health comes in at a big (not so fat) #1. Without good health it's tricky to live the good life!
So without further ado, here's what I've found out about this system, why it's helping me, and why it could help you too.
5 Reasons why the Health Star Rating system could help you live the good life by making healthier food choices.
1. No Guesswork
The Health Star Rating system helps you quickly find out about the nutritional elements contained within packaged food products. Because the nutritional content is based on a star system, ½ a star being the lowest and 5 the highest, it's really easy to compare similar food products and take the guess work out of deciphering food labels. You can clearly see at a glance how many stars a product's been given and compare it with the stars on a similar product. The stars take into account the kilojoules, risk nutrients like saturated fat and sugars, and positive nutrients like dietary fibre, protein and the proportion of fruit, vegetable, nut and legume content based on the nutritional profile of 100g or 100ml of the product.
2. Makes you more aware about what you're eating
I've found recently that I'm much more aware of the nutritional elements of the packaged products I decide to purchase. I'm always in a hurry when I'm shopping and can be apt to just hope for the best in my choices. But because the stars are displayed clearly and visibly on the FRONT of packages as a much larger symbol than the small print on the back of jars or on packaged foods,I can make quick yet healthy choices.
3. Helps you make lifestyle adjustments
If you see that a product has a lower star rating it might nudge you to eat less of it – as a low rating means it might be higher in empty calories, sodium or sugar. Some products, such as confectionery and beverages, might only show the kilojoule icon, in order to make you aware of the energy content. Both of these aspects are helpful if you want to make adjustments to your eating habits (and/or waistline).
4. Guides you to buy the healthiest products
No longer do you need to always buy the most expensive product or the house brand – just because that's what you've always bought in the past!  The Health Star Rating will guide you to the healthier packaged products instead, providing key information to allow you to make at-a-glance comparisons of products within the same product category. (For instance yoghurt vs yoghurt, or tinned tomatoes vs tinned tomatoes – but not tinned tomatoes vs yoghurt.)
5. Helps keep you focused on a healthy diet
A balanced diet = better health  we know that, right? We just need as many pointers as possible to keep on guiding us. , The Health Star Rating system is a handy visual aid, allowing us to be better informed about our packaged food choices.
I want to be as healthy as I can, and like many of you Lifestylers I know that maintaining a healthy weight can help us get more out of life, live longer and reduce our chances of developing diet related diseases like heart disease, type 2 diabetes and some cancers.
For me? This system is a big help as I focus on bringing my eating habits back under control.
How have you benefited from applying the Health Star Rating system to your grocery shopping?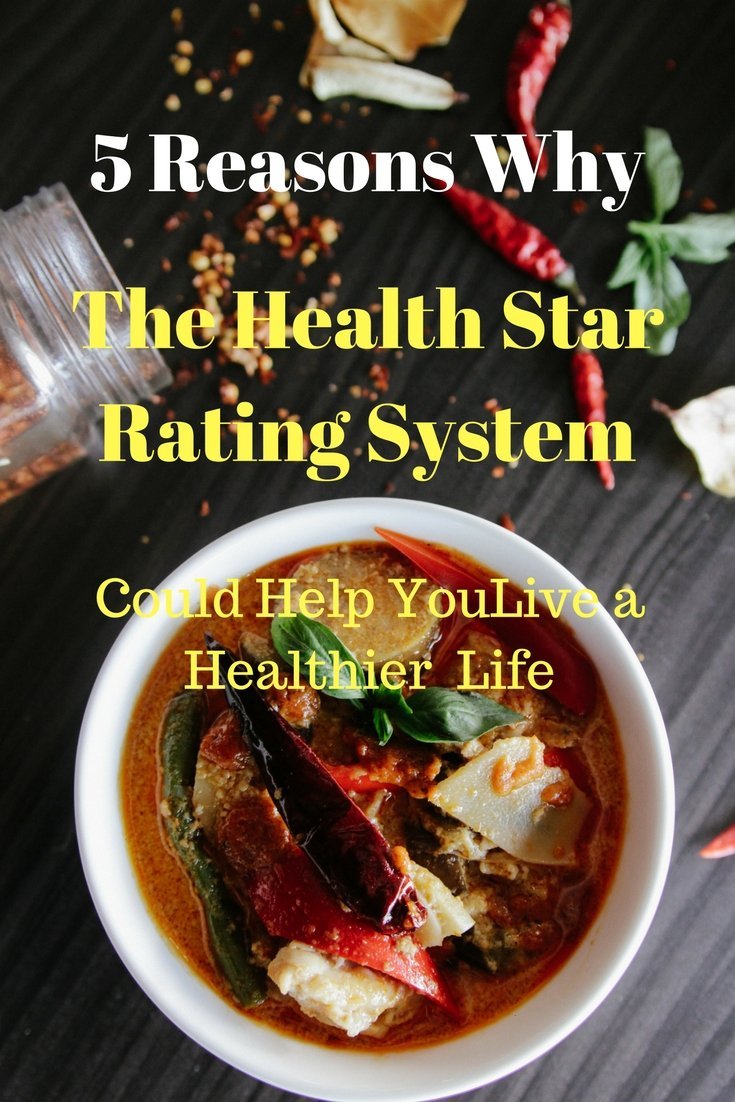 This post is in collaboration with the  Health Star Rating system and is meant as general helpful information. I always advise that you should seek the help of a medical professional for your individual health concerns.