They say that wearing red makes you feel sexy. That a red cocktail dress can make you stand out and be noticed. I've heard that a red dress has uncanny power, that red is a colour of energy. That evening dresses and party dresses in red draw attention. And YES to all you doubters, you can wear red at any age because style doesn't come with an age tag.
Must-have Red Cocktail Dress
Along with a little black dress, a red cocktail dress is a super staple for your wardrobe.
I'm a little in love with the lace dress below by Yesadress for Vivid International.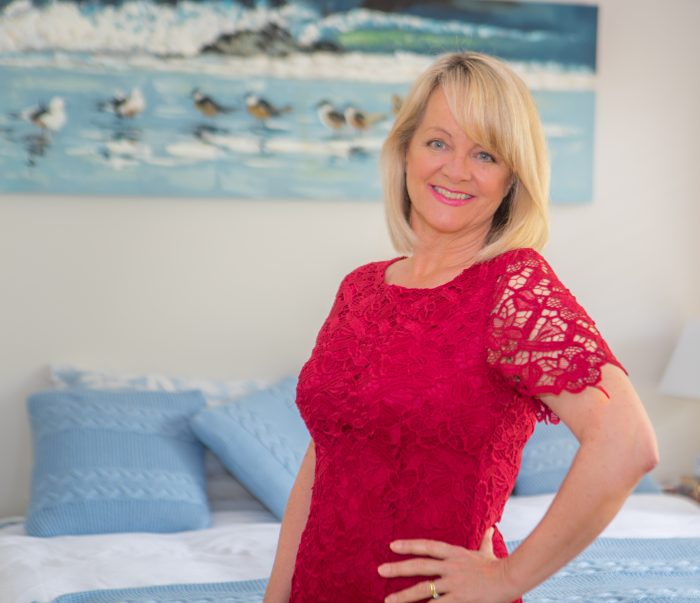 Why Red for Cocktail Dresses & Party Dresses?
Red is emotionally intense. I can't look at a red dress in my wardrobe without feeling my heart beat a little faster.
Red somehow makes me feel more energetic, and confident.
It's probably pre-programmed within us to react to this colour – after all red is the colour of fire and it's associated with heat and warmth.
It can also mean danger, which is why stop signs and fire alarms are red. Wearing red will give you an allure of risk.
Or success – think about The Red Carpet and the implications of walking along a red carpet to an event, or watching movie stars on the red carpet at The Oscars, or similar.
The red lace dress I'm wearing above and below makes me feel all of this and more.
I recommend red for party dresses, evening dresses and cocktail dresses – you can't go wrong.
If red connotes risk, it's also interwoven with love and passion. Think the Red Light District in Amsterdam, for instance, and The Lady in Red …
"I never will forget the way you look tonight," sings Chris de Burgh.
How to choose the best shade of red for YOU.
Of course within the red spectrum there are different shades of red. You might prefer to wear bright reds such as scarlet, crimson, vermillion or Spanish red – which are vibrant and eye-catching.
Then there are darker shades such as maroon and burgundy which feel a little more sedate and mature.
Or perhaps you are more of a fuschia, or ruby red person and love jewel colours to make you sparkle.
Tip: It's important to find out which shade of red suits you. My colouring doesn't suit maroon or burgundy, these colours wash me out – but a rosy red brightens my complexion and my eyes seem to sparkle. So do try different shades of red before you buy, because one shade doesn't suit all.
If you need a little help, I suggest that when you're next at a cosmetic counter ask a qualified assistant to determine whether your skin undertone colour is cool, warm or neutral.
I was given the following advice:
Maroon, brick, cherry, crimson, rasberry and cranberry reds better suit cool complexions
Poppy, ruby, rust, scarlet and vermillion suit warm skin undertones.
True reds like fire engine red suit most people because they don't have any blue or orange tint, and therefore don't clash with your skin colour.
When not to wear a red dress
Because of its power and allure there are times when wearing red is just not appropriate.
Remember it's such a stand out colour, so it's best not to wear it to a wedding or a job interview or in other situations where you do not want to be, or should not be, a main attraction shouting for attention.
In the wrong situation red can come across as vulgar, or even aggressive, so if you're unsure team it with white to soften its heat – such as a white or ivory scarf tied at the neck for daytime wear, or wear a red skirt with a soft white blouse or red jeans with a crisp white shirt.
When to wear a red dress
At night.
A red cocktail dress is a great go-to for evening events.
Go all out with your red dress. Make it sparkle.
I'd choose a lace dress for a fun occasion, and a jersey dress for a more formal occasion.
Add a bit of bling jewellery (or the real McCoy – silver or gold – if you have some).
Wear sheer tights and nude, black or silver shoes, and team it all with a small sparkly nude, black or silver clutch.
Further Suggestions and Resources
Wear red dresses with stylish, comfortable heels like the ones pictured below – Nikki in Blush.
Or the Donna in Black from FRANKiE4 For a special event, (and if you're looking for cheap cocktail dresses) you'll love the racy ensembles pictured below at Millers.
In the last image below, I'm wearing a red cocktail dress by Leona Edmiston a reasonably priced fashion label by an eminent Australian fashion designer with an online shop. Leona's styles are wonderfully flattering whatever colour you choose. I love this red cocktail dress as it's a red dress with sleeves.
For an occasion though, I'm loving the flattering designs, particularly the gorgeous lace dress below, from Yesadress – Check out more styles and where you can buy Vivid International brands here: Stockists for Vivid International clothes. This dress is lined, and tailored and fits like a glove. I'm wearing a size 10.
Disclaimer: This post contains affiliate links from which I stand to earn a small commission if you buy from them – but at no expense to you. The dress from Yesadress was gifted. Lifestyle Fifty Website is a participant in the Amazon Services LLC Associates Program, an affiliate advertising program designed to provide a means for sites to earn advertising fees by advertising and linking to Amazon.com. Thanks to everyone who supports my blog.
If you've enjoyed this post please share it on Facebook or PIN to a Pinterest Fashion Board.
You might also like: