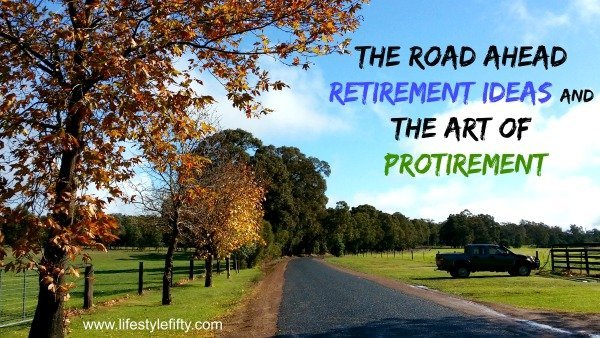 It seems the new retirement trend is not to put our feet up and close the door on contributing to the economy, but to actively jump in with both feet and pursue our passions to make a little money and keep us busy.
Retirement ideas – liberating or confining?
Okay, while many might view this as a grim future because they feel they may need to work until they die, there is a bright side.
Because we're living longer and healthier we're redefining what life will be like at 60, 70 and 80 and this means that conventional retirement as our parents knew it will probably not be in the mix. Our own retirement years will either be liberating or confining, it's really up to us.
Case in point
Lifestyle reader Jill Harrison has always loved writing and photography but what got in the way was her job. … recently she gave up work to concentrate on her food photography and facilitating photography workshops. While once she only had the time to snap photos on camping trips she was itching to pursue her hobby in a full time way and not just take quick snaps of meals whipped up in a hurry. She wanted to get up and take photos at leisure of sunrises, and set up shoots for food photography, and earn a little from it. Her aim – to find a market in which she could subsidise a retirement living from her passion.
Protirement is the new buzz word
Welcome to the new retirement.
The old notion of finishing work and putting your feet up, gardening or looking after the grand kids has gone out of the window. Today you'll more than likely be exploring new interests and continuing to earn money hopefully doing something that you really enjoy, doing part time work, consulting or volunteering.
There's a huge section of the travel industry geared towards baby boomers who are assumed to have more disposable income, and are in need of targeted experiences. If you want to travel when you retire start looking around for travel companies and accommodation providers which specifically cater for older people – because they'll be catering for your needs and not those of 20 year olds. An example is Peppermint Lane Lodge in the Ferguson Valley which is a wonderful grown-ups retreat where baby boomers are cosseted and coddled.
Think about what hobbies you might like to take up and start planning around them. I've just spent a lovely weekend in the Ferguson Valley in South West Australia and I met artists, guest house owners and entrepreneurs all over the age of 50 doing what they love.
I bet lots of you love cooking? Susan Footner is living her dream and has started The Passionate Providore from a food van. She's creating the most gorgeous and gourmet delights in her tiny but very productive space in a kitchen on wheels.
How will you stay fit and healthy? What can you start doing now so that it becomes a habit well into old age – things like walking, pilates and yoga spring to my mind.
Fashion is reinventing, it's not all about stick thin 20 year olds anymore. Older people are admired and feted – think Twiggy, Helen Mirren, Goldie Hawn, and all the 'Advance Style' icons feted in New York.
"The term "protirement" was coined by Frederic Hudson in the early 90's to define this new desire to "begin anew" – to not be limited to the traditional options of retirement but to embrace "an increased drive toward living life to its fullest on a day-to-day basis." Protirement is an act and attitude of looking forward to forging a new life chapter – proactively and fulfilled," says Vivien VanLier a career and protirement coach
Zoe Meunier in Prevention Mag said that the idea of Protirement can also be linked to Dr Tim Sharp, Chief Happiness Officer at the Happiness Institute and author of Live Happier, Live Longer: Your Guide to Positive Ageing and Making the Most of Life
Zoe wrote a great article about Protirement in the October/November 2014 Prevention Mag edition.
So Why Protirement?
Well for a start, we're living longer, we expect to live well and we are beginning to understand that living well is helped by being mentally, physically and socially active, in fact, the more we do the more we can do.
There are lots of positive health benefits to staying connected and active.
Many people are looking at the work they are doing and considering if it could still be done on a part time or on a consultancy basis after retirement.
Some people are looking at things they've loved doing, not really had the time for, but would like to explore and take further.
How to Protire
Think about …
Where have you gained experience over the years?
What value could you add to a voluntary organization or another company?
Could you re-train in a field you've always wanted to get into to?
What about learning more computer skills?
What have you always wanted to do but your parents wouldn't let you as a child?
What haven't you had time for in your working or child rearing years?
Consider the 'rule of three' which Jo Parfitt talks about in A Career in Your Suitcase – A Practical Guide to Creating Meaningful Work… Anywhere
Do something that allows you to learn.
Do something that contributes to the community.
Do something for your own enjoyment.
"We believe it's a right to be able to do what we love for a living. If we want to be energised by work, to look forward to each morning, to be authentic and enthusiastic, then it is vital we're passionate about our work. If we do what we love then our enthusiasm and energy will do our marketing for us." Jo Parfitt
Protirement could consist of a career in your suitcase …
"A portable career is work that you can take with you wherever you go. It is based on your own unique set of skills, values, passion and vision and is not based in a physical location. Lower costs of travel and technological advances have made the global labour market a more accessible option for more workers and businesses than in the past. Megan Fitzgerald, expat career and entrepreneur coach defines a portable career as location independent, using skills that are in high demand, providing virtual products and services. Examples include working in administrative support, accounting, IT services, coaching, writing, graphic design, teaching and consulting, or anything 'virtual'. Technology opens many doors for portable careers, but other careers can be portable without using technology. The only real limit is your ability to imagine and create it." Jo Parfitt – A Career in your Suitcase
If we're considering protirement perhaps we should think about what we want to have achieved with our lives. What will people say about us at our funerals, or what would we write in our own eulogy? It will probably give us a big nudge towards choosing something meaningful to do in our later years.
Over to you Lifestylers – what would you like to do or what are you doing in your Protirement?