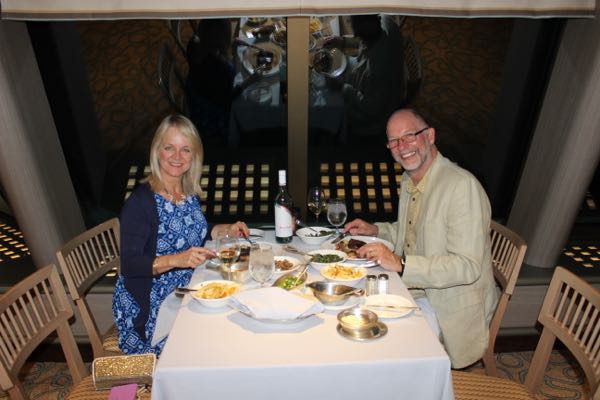 In the past, when I've thought about cruise ships, great food has featured prominently in my idea of lazy days at sea.
Well actually, so have colourful exotic cocktails around the pool and exciting destinations, for that matter, but let's just stick to food for the moment.
Food Glorious Food
There's never any need to be hungry on the Sea Princess, in fact there's a delectable variety of dining options on board from specialty dining to traditional dining to staying in your stateroom and ordering room service.
We booked into the Sterling Steakhouse (Premier Seafood and Chop House) a couple of nights ago for a specialty, upscale dining option which was absolutely sumptuous. The menu was pretty special.
There's a small cover charge but my goodness its totally worth it. Make sure you arrive hungry because you're going to be up for 4 large-portioned courses that are difficult to say no to.
The restaurant is quiet, hushed and discreetly elegant, and is on Deck 14 with a great ocean view.
For the main course steaks and chops are of course the feature.
Lupe wheeled over a trolley displaying all the various cuts of steaks and explained each one.
Gosh, I didn't realise you could get so many different cuts.
"New York Steak and Rib Eye are favourites," Lupe told us, "But the filet is very good and we can cook it exactly to your liking."
This I doubted because I'm often disappointed with the way my steak is cooked, but he was right, the surf and turf I ordered was absolutely perfect.
Here's what we ordered …
To start grilled tiger prawns in whiskey, chilli and garlic marinade served with fried onion rice.
New York Strip 12oz thick cut sirloin.
Filet Mignon surf and turf.
Grilled asparagus, cream of spinach, sautéed wild mushrooms.
And if I'd had room I would have had the raspberry creme brulee.
Since that lovely evening I've been trying to eat plain salad (not working) go to Zumba classes (working) and walk 5 times around the deck (not working because of the wild weather we've been experiencing around Australia).
Oh Lordy Lordy help me Lardy!
Related Cruise Posts You Might Also Like:
What to Wear on a Cruise – Insider Packing Hacks
The Best Advice About Cruise Clothes – 21 Insider Tips
Cartagena Cruise Port Colombia – What You Need to Know and How to Dress
Style Tips and Confessions of a Personal Shopper (and Cruise Addict)
Dining onboard Sea Princess World Cruise
Will Princess Cruises help you Come Back New?
Cruising Like a Boss – How to Save Money on Your Next Cruise
Leading Blogger Becomes Digital Nomad on World Cruise – Cruise Weekly
I was travelling as a guest of Princess Cruises but all opinions are my own.
Have you any food stories to tell about your own dining experiences on cruise ships?