Looking for summer dresses? This is probably my favourite dress of the season. By Adrift clothing it's the Cherry Blossom dress in navy gerbera.
In fact this style is one of Adrift's all time favourite shapes, and perfectly fits with my mantra, "Don't be afraid of colour," in the post 15 Tips for Personal Style After 50.
Summer Dresses with WOW!
The Cherry Blossom Dress
The Cherry Blossom dress has been around in different colours and prints for quite a while but now comes back better than ever in a stunning, floral print called Navy Gerbera.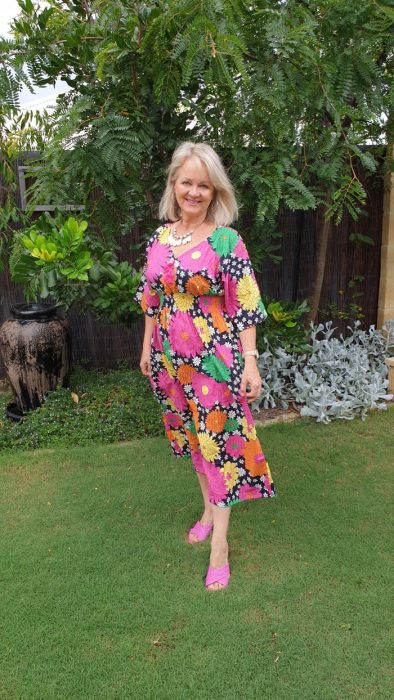 The fabric is a gorgeous soft cotton material, making it wearable and comfortable yet effortlessly stylish.
The high waisted 'shirring' gives it a lovely shape. The deep V neck elongates your top half and the elbow length arms are a great length for anyone who doesn't like their upper arms – like me!
I teamed it with some cute pink sandals I bought in a sale. You could just as easily wear it with black or white shoes.
What does 'shirring' mean?
"In sewing, shirring is two or more rows of gathers that are used to decorate parts of garments, usually the sleeves, bodice or yoke. The term is also sometimes used to refer to the pleats seen in stage curtains."

https://en.wikipedia.org/wiki/Shirring
Discount Code Offer
Pop over to the Adrift website to buy, and use the code SC20 for a lovely 20% off your first order at Adrift (Discount code offer expires in 7 days from date of this blog post. Offer applies to full priced clothing not sales).
Check out all of Adrift's current styles, and the cherry blossom dress in other colour-ways too.
Wear the Cherry Blossom dress for lunch, wear it for dinner, or wear it to a Spanish Fiesta as I did recently at Green Door Wines in the beautiful Ferguson Valley in South West Australia, below.
Check out all the other colours and styles – you're going to love Adrift, I know you are.
Images to Pin