I love super salads, particularly ones that are a little different. Anyway, just had to share this quick and easy unusual warm salad recipe with you today.
I'm not one for faffing around in the kitchen for hours, but love it when I hit on an easy but ever-so tasty recipe which I can prepare quickly and then get out in the garden, or go for a walk.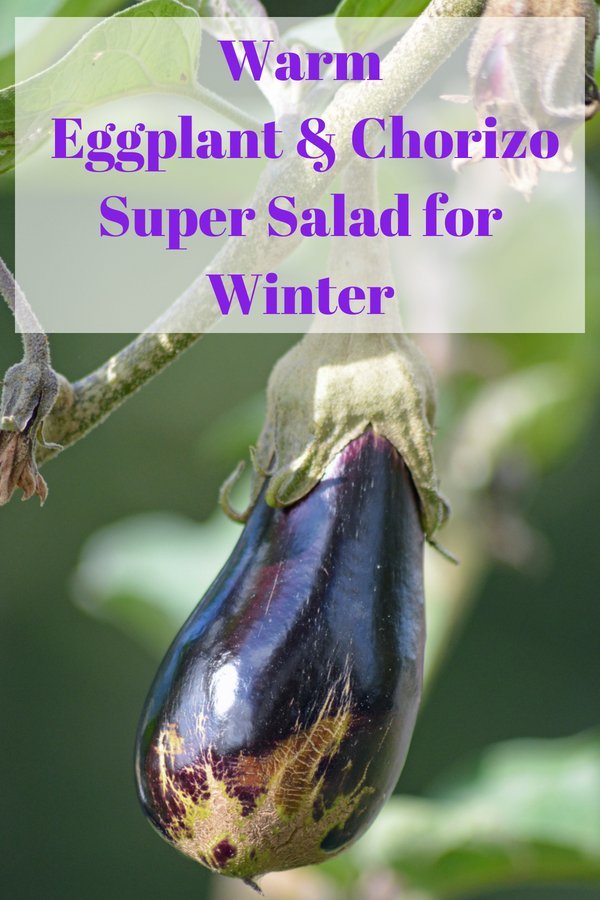 The Warm Super Salad Ingredients
1 Eggplant
3 large spring onions
1 x 250g pack of sliced mushrooms
2 red chillies chopped finely (if you like your food spicy, leave the seeds in)
2 cloves of garlic chopped finely or crushed
Sliced chorizo – I use either one cured sausage, or some ready sliced from a packet which I chop further into small pieces. The amount of chorizo you use is up to you. Obviously the less the better (as it's fattening) but it does give the dish a nice meaty addition.
Feta Cheese – about 3/4 of supermarket sized package of Feta.
1 punnet of grape or baby tomatoes
Olive Oil
Fresh parsley and coriander to garnish – or you could use rocket.
Balsamic Vinegar
Method
Pour about one two table spoonfuls of olive oil into a baking tray.
Leave grape and baby tomatoes whole, and leave sliced mushrooms as they are.
Chop all other ingredients into small chunks.
Mix everything together except the tomatoes in the baking tray coating well with the olive oil. Drizzle with a little more olive oil if necessary.
Cook at 180 degrees celsius for about 45 minutes or until eggplant is soft. Add the tomatoes about 20 minutes prior to the end of cooking.
Turn out onto a nice salad bowl, drizzle with a little balsamic vinegar and garnish with fresh parsley and coriander – or rocket.
Super Salads
I'd love to know if you have any recipes for super salads to share. Hot or cold. Winter or summer. Please share in the comments section 🙂
There are affiliate links in this post from which I stand to earn a small commission but at no cost to you. Lifestyle Fifty Website is a participant in the Amazon Services LLC Associates Program, an affiliate advertising program designed to provide a means for sites to earn advertising fees by advertising and linking to Amazon.com.