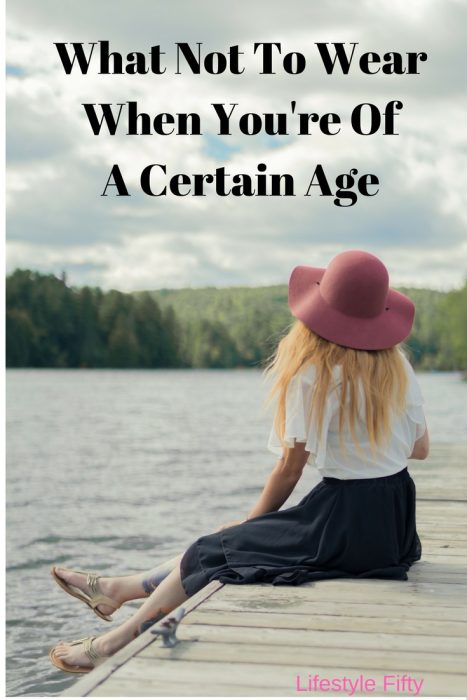 Okay so you have in your mind a whole list of things that you think you shouldn't wear now that you're older.
"It will make me look like mutton dressed up as lamb," you bleat.
But you know what? I say now that you're of a certain age you really should wear whatever you want.
At least whatever makes you look good. You've made it this far in life and really you don't need approval about dressing appropriately because one of the best things about getting older is …
#NotGivingaYouKnoWhat! and #LovinLife #JustBecauseYouCan!
We don't have to worry about other people's opinions relating to the way we look, because in reality there are too many more pressing concerns in the world to worry about.
The world won't die if you wear a short skirt or a dress with no sleeves. No one will go, "Oh Yeeuk, look what she's wearing," because you see mostly they're more worried about what they themselves are wearing.
So don't spend your energies worrying about what other people might think, but do spend energy finding out what you feel comfortable in and what suits you the best.
Still, there are a few things that women over 50 really shouldn't wear:
Resting Bitch Face. Oh gosh I rest my case. See below.
There is nothing worse than my uncomposed face. I look so stern. And honestly I'm not stern at all!
You can wear hats – as many different hats as you like. Wear them. Protect yourself from the sun and for goodness sake Have Fun with them! (Stop worrying about flat hair – afterwards just throw your head upsidedown and pump your hair up Rapunzel for goodness sake!)

2. Dresses with no sleeves. Okay, I'll admit I generally don't like wearing dresses with no sleeves, but on occasion I'll go, "so what!" And I think this attitude can work if you have a dress that says, "Hey look at me," like this sparkly razzmatazz glitter ball I wore to some of the formal nights on the world cruise.

3. Another thing not to wear is anything which makes your legs look fatter. The blouse below, has a lovely skimming affect and hides my tummy as well as drawing attention away from my upper arms, but those retro style patterned pants make my legs looks shorter and stockier than they really are. Slim black pants would have balanced the look much better and been more slimming.
4. Be careful about buying clothes when you travel. While that Peru T-shirt looked great when we were in South America and travelling, I'm not sure that I agree with wearing slogan T-shirts in real life back home. Also that cardigan – it's lovely, but it's a bit too mannish and boxy for my short figure. The hat though – I'll keep that hat! (You can read about how it's made Here)
Oh but I think DO wear dark glasses, whenever you can get away with wearing them. Although sporting them in a shopping mall is probably a bit much.
On a no make up day like the day below, the dark glasses can hide tired eyes with crows feet, and make even a pale face with no lipstick look more glamorous.
5. Don't wear the clothes and styles you wore when you were younger. There are somethings that I have hoarded and hung onto in my wardrobe but 30 years later it's not a look I would do now!
And one final tip: Don't wear a short black dress on a very hot humid night with white legs sticking out – especially not if they're also covered with mosquito repellant!
But do wear Frankie4 Sandals 🙂
Forgive me Fashion Goddess, for I have sinned. But even so, I'm lovin life just the way I choose to style it.
What tips do you have for what to wear and what not to wear when you reach a certain age?
Lovin' Life
Can't believe it's the Lovin' Life Time of Week already!
Anyway, most of you know what to do by now, so here goes 🙂 (and welcome newcomers)