This post contains affiliate links.
I've just had a big clear out of my wardrobe which made me think about some of my tips for stylish dressing.
A cluttered closet is not conducive to stylish dressing over 50, so some of my old lovelies have been tossed onto the reject pile, and will be winging their way to a charity shop soon.
Poor sad things 🙁 Not the clothes below though 🙂 They're still pretty chirpy!
But I hope the discarded garments find lovely new owners who will treasure them, and wear them often, instead of just sitting stuffed in a dark cupboard and looked at – as they have been in my wardrobe for more than a year.
That's my new trick of the trade when it comes to chuck-outs.
If I can look at a piece of clothing and admit I haven't worn it in a whole year, then in all likelihood I'm not going to wear it next year either.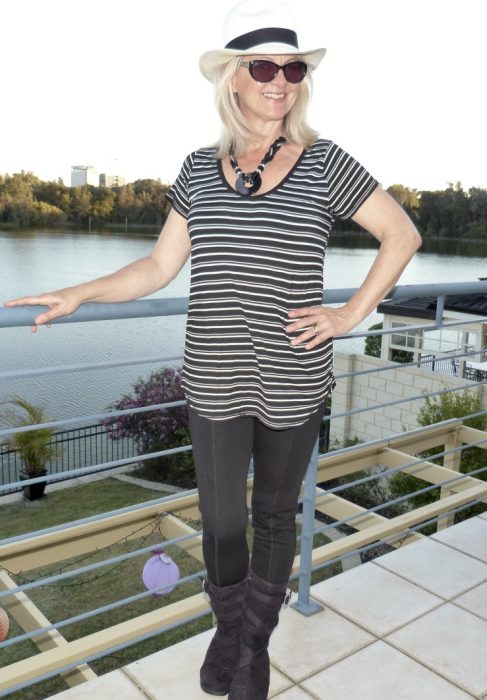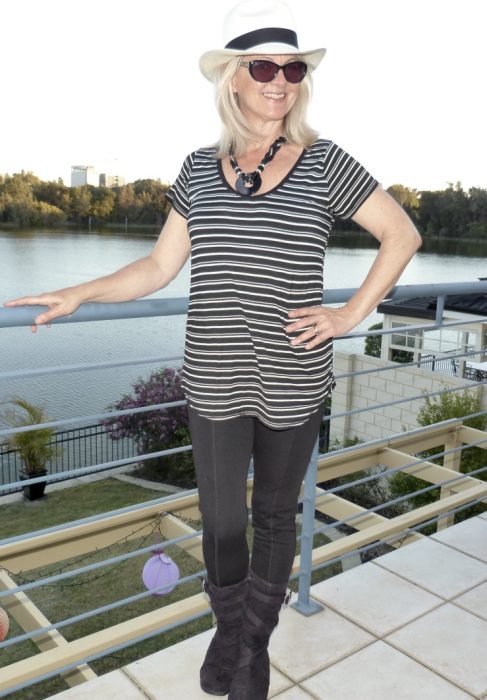 Keeping – Ponte Pants and Panama Hat – chucking out the stripey T. Doesn't fit well around the bust area and shoulders. And sometimes it has to be said, horizontal stripes don't do you any favours.
Keeping – a pretty Boho type dress which gives the illusion of slimming my top half with the lovely detail. And my FRANKiE4 sandals are keepers too.
Keeping – slim white pants look good with a longer top and the cardigan in the same colour gives me added length. FRANKiE4 sandals complete the look with a nice 'pop' of colour.
Tips for Stylish Dressing
Now as always, you know I'm not the oracle when it comes to all things fashion, but I know what I like and what suits me. Anyway, I've noticed in this decluttering process that there are several characteristics which certain garments have that give them space in my wardrobe world, and I hope the following tips might help you too.
The clothes that made the grade had these things in common …
They are made of good quality fabrics that haven't 'balled' or 'frayed' or otherwise deteriorated.
Fitted garments that are well tailored and fit well will always do us justice.
Good fitting cocktail dresses and formal wear made from quality fabrics.
Floaty dresses in my wardrobe are truly feminine or Boho, and do not have spaghetti shoulder straps or loud prints.
Surprisingly (for me) it seems my most loved clothes come from about four shops. Two in the UK (Klass and Monsoon) and two in Australia (Millers Fashion and JacquieE) Which leads me to the conclusion that if you find a shop which suits your style and your size, then stick with it.
My capsule wardrobe staples are in a limited colour palette (black, white and orange) and mostly in block colours (I think I got this tip from Kate Middleton who always looks so elegant dressed in one shade, generally without a print in sight). They also lend themselves to some individual accessorising to give them more Va-Va-Voom.
Little tailored jackets or bolero cardigans are great for layering, so I find it hard to chuck them out. Because they cut my body off at a narrow point and create the illusion of a slimmer figure I love them very much. Remember a top ending on the hips lengthens the body, but a broken line across the tummy can then distract the eye to make you look slimmer.
They are clothes I can put on without wondering what to wear with them, and generally I don't need to wear high heels with them. In the above photos you can see my beloved FRANKiE4 sandals – orange and tan and white, and boots (very old – in fact one lot I think I was bequeathed when an ex girlfriend of our son's left them at our house, and then we moved country – oops, hope she's not reading!)
This scarf and dotty top have to GO! So too the wild woman of Borneo hair do!
What tips do you have for Stylish Dressing over 50?
Lifestyle Fifty Website is a participant in the Amazon Services LLC Associates Program, an affiliate advertising program designed to provide a means for sites to earn advertising fees by advertising and linking to Amazon.com. If you purchase a product from one of these links it will not cost you any more, but Lifestyle Fifty may earn a small commission. Thank you for supporting my site and keeping the lights on!