This post contains affiliate links.
What is it about cruising that entices people to sail the seven seas? What is it about the idea of cruising that puts them off? I asked 9 Top Travel Bloggers to give their opinions on the good, the bad and the ugly of holidays on the ocean waves.
Cruising is great for travelling with kids
Bethany Davies writes Flashpacker Family a travel blog run that shares tips and advice for travelling with kids.
"Cruising is an easy option for parents travelling with young kids. On top of all the amazing kids' clubs, pools and amenities that are on board, one of the things we enjoy the most about cruising with our family is being able to try lots of different activities without committing a tonne or time, energy or money to do them. Especially for young kids who have short attention spans, 15 minutes of ice skating or 10 minutes of salsa dancing is so much easier than paying for a full activity or lesson on dry land. Free room service when kids are too tired to eat out is a huge bonus."
Bigger might not be better
Bret Love & Mary Gabbett  write fabulous (ecotourism) travel stories at Green Global Travel
"In recent years the cruise industry has favored a "bigger is better" approach, but small ships offer a very different sort of travel experience. From cruising the Amazon and Greek Islands to ocean voyages in the Galapagos and Antarctic, we've had some extraordinary small ship cruise adventures, with prices ranging from ultra luxury to budget-friendly.
I personally think small ship cruises are the best because they're less crowded, with most ships holding less than 100 passengers. This often leads to better connections with staff and fellow travelers, and small groups on shore excursions. And because the ships are smaller, you can go where the big ships can't. For us, these unique, exclusive experiences– such as swimming with Penguins in the Galapagos or visiting scientific research stations in Antarctica– are what travel is all about!"
The beauty of Repositioning Cruises
Cécile started Nomadic Hippie 2.0 when she became a digital nomad in 2015. Passionate about outdoor adventures and nature conservation, Cécile is not only a traveller and a blogger but also a vegan activist committed to the protection of animals.
"If you've always dreamed of going on a cruise but don't have thousands of dollars/euros to spend, repositioning cruises are the perfect solution! Some cruise lines relocate their ships from Europe or North America to Central or South America in spring and autumn, offering discounted tickets just to cover their costs. That means you can cross the Atlantic or explore the Caribbean for a fraction of the cost of a regular cruise, all while enjoying full services on board: swimming pool and hot tubs, gym, spa, casino…
What's more, the ships are rarely full, so it's even easier to make the most of all the facilities and services!
My first repositioning cruise (with Pullmantur) took me from Gran Canaria to Brazil for an 8-day journey across the ocean for only about €400, whereas my last transatlantic adventure (about €600) included stopovers on 4 Caribbean islands before reaching the Dominican Republic!"
Cruise the Amazon River
Gábor, a Hungarian travel blogger, resident in Barcelona at the moment, explores the world on a budget with his Italian wife, Rachel and writes at Surfing the Planet.
"Our best cruising experience so far were those long 3 days we spent on a local riverboat heading upstream on the Amazon River from Belém to Santarém. In the boat we boarded in Belém there were two options of sleeping: most people slept in hammocks hanged in the lower or middle deck of the ship, whereas those looking for more privacy slept in small cabins.
People told us that after a day or two this voyage could get pretty boring, since the scenery does not change dramatically, but we really enjoyed every single moment of it. It is fascinating how the Amazon River is the source of life in this area. Small houses are situated on the riverbanks, there are no roads here, and people move from one place to another in their small boats. The landscape in the Amazon Rainforest is fascinating, and the sunsets we saw there were simply amazing. As a bonus, we even got to see pink dolphins that only live in this part of the world."
A cure for Empty Nest Blues
Julie McCool runs the Virginia travel site Fun in Fairfax VA, discovering fun places to explore, dine, drink, and play in the Virginia and Washington DC region, and is a writer and photographer at McCoolTravel.com.
"When our twins left for college we became instant empty nesters for the first time in almost 20 years. Not only did we miss our kids, we were a bit jealous of the new adventures they were off to enjoy. Fortunately, we found the perfect cure for empty-nester envy—a Viking Cruises journey through the Mediterranean. Who knew that a cruise would give us our own college-like experience, but with plenty of luxury and none of the angst. Each day with Viking brought new experiences, new learning opportunities, and new friends with which to enjoy them.
At the end of the day we retired to our own little "dorm room"—quite fancy compared to the spaces our children now inhabited—and recharged for the next day of fun. With Viking's inclusive pricing, paying our bill was simple and straightforward, without the litany of activity and add-on fees the college bills showed. And while we love children, especially our own, it was a luxurious treat to enjoy an adult environment and off-season travel after all those years of school-break, family excursions. Our cruise really did cure our empty-nester blues, and kicked off our new travel life in a spectacular fashion."
Mekong Delta River Cruise
Lina & David run the popular adventure travel blog, Divergent Travelers, showcasing adventure and exotic locations from all around the world
"Arguably the only real way to experience the heart of the Mekong Delta in Vietnam is to book yourself onto a Mekong Delta River Cruise.
Sailing on a luxuriously rebuilt rice barge, you'll get an up close look at life on the river. Most itineraries include stops in the larger villages, as well as a few stops in smaller villages where you can enjoy hiking on trails and kayaking through small stream systems.
We even enjoyed a bike trip from one village to another. When not exploring the shore you can enjoy the amenities of the rice barge cruise boat with spacious sundecks, formal dining spaces and spacious cabins. With only a few cabins, the experience was intimate and one we would recommend to anyone looking for a more non-traditional way of exploring deeper in Vietnam."
The beautiful Caribbean
Tip and Tarah are a husband and wife team who share tips and tricks to stay in shape while traveling at  Fit To Travel.
"Cruising may not be for everyone. But what we have found when we cruised through the Caribbean, is the destinations you visit make all the difference. A great week long cruise was through the Southern Caribbean on the Carnival cruise line. The Caribbean is one of our favorite places, because there are so many great beaches, and on this cruise you got a glimpse of just that. With five islands, which included St. Thomas, St. Lucia, St. Maarten, St. Kitts and Barbados, you definitely get your share of gorgeous beaches.  A cruise is a good way to experience some new places, and then if you like it you can always go back again for more!"
Escape the Winter and head for paradise
Hannah & Adam are travel photographers & writers at Getting Stamped who have been traveling  full-time since 2013 and have been to 66 countries leaving the American dream behind.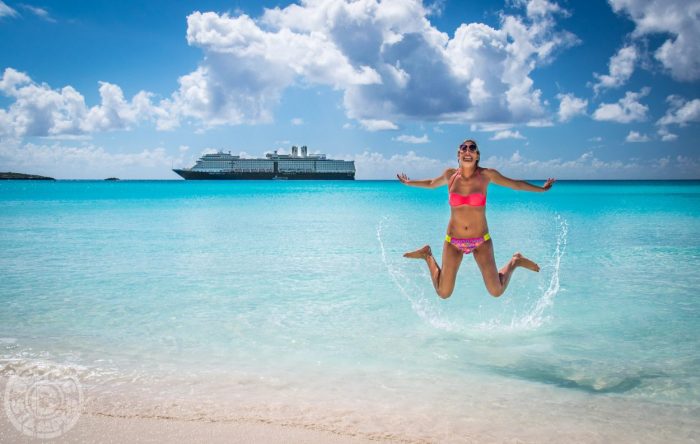 "We love the Caribbean, it's a great escape from a Wisconsin winter. We had never been on a large cruise ship before and decided to go on a week long Eastern Caribbean cruise with Holland America. We visited Turks & Caicos, Puerto Rico, Saint Maarten, and the Bahamas. These were all new islands to us and we couldn't wait to jump on board. Our favorite island on the trip was Half Moon Cay, a private island owned by Holland America so the only people there are those from the cruise ship. We spent the day on the island and even rented some jet skis to have fun playing out on the water with.
This also happened to be our last day on the cruise…we didn't want to leave. We loved everything about the cruise. Our room was big, the food was much more than I expected. We had room service daily for free no additional charges, the had the best burgers & fries at Dive-In the walk up burger restaurant by the pool. I honestly would go back just to eat, I wouldn't need to leave the boat. I know for sure I'll be back cruising the Caribbean."
A rough sailboat crossing between Panama and Colombia
Claudia Tavani is a former human rights lawyer who abandoned her academic career to follow her true calling – a life of travel. You can read more of her adventures at My Adventures Across the World.

"I knew that there was no land crossing between Panama and Colombia, and I had heard that an indigenous group – the Kuna Yala – lived in a beautiful, hard to reach archipelago on the way from Panama to Colombia. I love all things water, so I thought that splurging $500 or more on a sailing trip would be a great experience. I considered the possibility of getting sea sick, but shrugged it off thinking that it would be nothing that a dramamine pill could not fix. So, I boarded a sailboat in Portobelo, headed to Capurgana – the first (isolated) city after the border.
I knew it would be a rough experience when I realized that 10 persons would have to squeeze on a 12 meters boat (important tip: do check how big the boat is in person, and do ask about the maximum capability. The more people on the boat, the less comfortable the ride). What I had not considered was that, with so many people on the boat, I'd have no place to lay down on the deck in case I got sea sick. Which inevitably happened.
The minute the boat got out of Portobelo Bay and into the rough Atlantic Ocean waters, hell began: I started popping down dramamine pills to relieve the extreme nausea, and they'd work for about 15 minutes. But the 12 hours ride to Porvenir – the first island of the archipelago – were such a torture that I got off the boat the minute we anchored. I even had to beg the chief of the island to let me pitch a tent under a palm tree. With hindsight, I should have gotten off the boat the minute I saw how small it was, and that it'd carry so many people."
Cruising like a Princess
Ed's Note: My own personal experience of cruising has been stellar with a 104 night trip around the world with Princess Cruises. I've written in depth about my experiences in over 50 blog posts which you can find on this page: Cruising. If you've ever thought of cruising, I can honestly say I had a brilliant time, and if you've never cruised before, then I'd say – Give it a Go!
Almost the end
That's it for now, but WAIT … This is Part 1 of a cruise series on Lifestyle Fifty, and there are more Travel Tales from more Top Travel Bloggers to come in "Which are the Best Cruise Deals. Top Travel Bloggers share their cruising stories." If you've been on a cruise and would like to share your story and write 100 – 150 words with a photo for the next cruise post, please let me know in the comments section and I'll contact you via email.
A big Thank You to all the travel bloggers who shared their views and photos for this post 🙂
Lovin' Life Linky
It's that time of week again – let's get into the Lovin' Life groove and share some great reading 🙂
The Lovin' Life Team
Lyndall from Seize the Day Project