Are you looking for trendy clothes for women over 50? It's often hard to find trendy clothing for women in their 50s or 60s, especially because so many shops and stores tend to cater for much younger women.
How to find more Trendy Clothes and How to Style Them
In this post we'll look at …
Trendy clothes for women over 50
Where to buy clothes to suit women over the age of 50
Trendy outfits and fashion tips
Latest fashion trends
Trendy clothes for plus size
A list of trendy outfit ideas to inspire you
5 tips for great style
Many Lifestyle Fifty readers are turned off by fashion tips and trends as portrayed by skinny nubile nymphets in high fashion magazines.
Most of us know that a) we can never look like that and b) we probably wouldn't want to.
What we do want to know though is how would any given garment, which we quite fancy in those glossy fashion spreads, might really look on us, and where to find trendy womens clothing for our age group.
Trendy clothes for women over 50
It would be nice to see more magazines and stores catering exclusively to woman over 50 (we are a growing demographic) as well as celebrating grey hair and curvy bodies.
I don't want to look at a young model and wonder if the clothes might look good on me – because I know the answer by contemporary standards, is that they probably won't.
One brand which does make trendy clothes to suit older women is Vivid International. Check out the Vivid International website for trendy dresses, and fabulous separates – international shipping.
This season I'm loving Vivid International's palette of colours. I adore how the colours mix and match and go with existing things in my own wardrobe.
In this post I'm wearing Portobello and Vivid separates from Vivid International (except not the jacket) and I'm wearing FRANKiE4 ankle boots.
Trendy Outfits and Fashion Tips
I'm of the camp which thinks that there's nothing in the world you shouldn't wear when you're over 50. There is no definitive rule book.
Try all the trends if you like, but I'm betting you'll be chucking quite a few pieces after only one wear because some fashion trends just don't suit older women.
For a comprehensive guide on wardrobe tips and what to wear over 50 by a successful stylist, you might like Style Tips for Women over 45.

I'm also an advocate of ponte pants for work and leisure if you're over 50.
Latest Fashion Trends I'm loving
Denim
Invest in a good pair of jeans and a great bomber style jacket which you can wear with jeans or a dress.
Black blazer
A black blazer is always smart, and very versatile.
Sunnies
Even on winter days, as long as the sun's out, slip on some super sunglasses for a celebrity look.
Batwing Sleeves
Batwings are appearing on lots of styles this season. They're easy to wear and flattering.
Sloppy Joe's
Of course for casual wear. Who can go past a sloppy Joe – not this sloppy Jo that's for sure 😉
Snoods
I'm loving the versatility of snoods this season to add a bit of va-va-voom to an outfit, as well as a little warmth around my neck.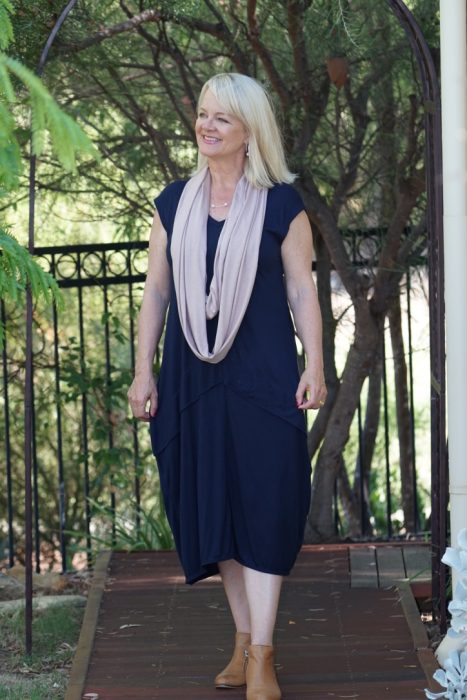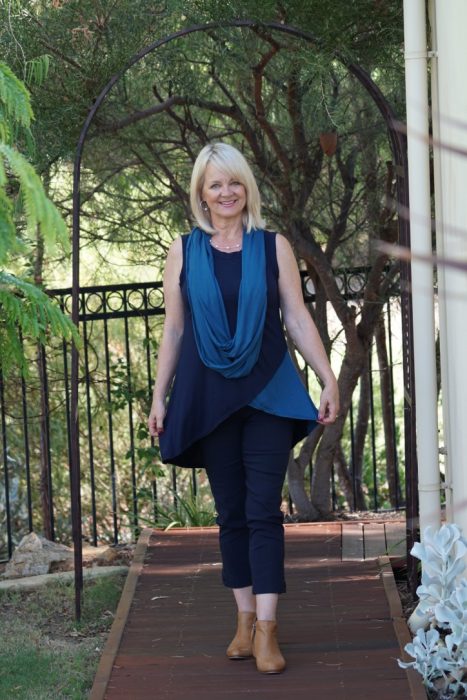 Free form Midi Dresses
Worn with ankle boots for autumn and winter, it's such an easy and trendy look to pull off.
Especially if you've indulged in one too many roasts or hot pots in the winter and can't bear anything tight around your middle 😉
I'm wearing leather FRANKiE4 tan ankle boots, which are very well worn because they are so so comfortable and go with so many things in my wardrobe. If there's one thing you invest in this season make it a pair of FRANKiE4 boots.
Trendy clothes for Plus Size
Trendy dresses don't have to be figure hugging. No siree.
A nice floaty shape and length can look very stylish if you are a plus size, especially if you add a pop of show pony colour to brighten things up such as with a hip length jacket to add a little more shape and form.
Tips for great style
Buy Classic Basics
Spend the majority of your clothing budget on classic basics.

I'm talking timeless pieces which will give you great cost per wear. They might be more expensive, but they're worth it.

Don't go for a cheap black T, but buy the very best quality, fabric and cut you can find. The same goes for pants and skirts. Make sure they fit perfectly and flatter your body shape. Make sure they can be washed and don't need dry cleaning because you'll be wearing them a lot.

Same goes for your Little Black Dress or Little Red Dress.

To add excitement to your basics, buy the occasional bright show pony piece in pillbox red or fuchsia pink or cobalt blue which will add glamour and pizzazz to the classics.

Invest in a great fitting bra. It will really help how your clothes fit and look on you. This post, The Ultimate Guide to buying a Bra will show you how to fit a bra correctly at home, and the best bras to buy online.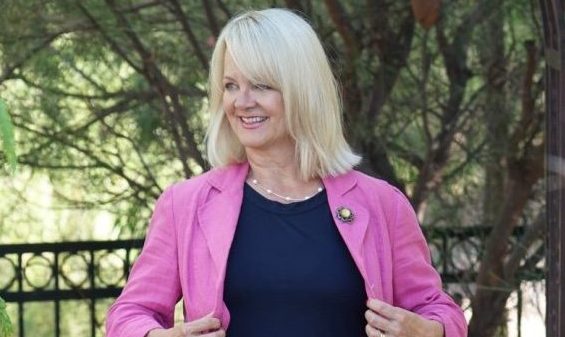 Stick to a tight combination of basic colours.
Black and white never goes out of style, so I like to keep a combination of black and white pieces in my wardrobe which I can mix and match.

I love navy and caramel as basics for cooler seasons.

Block colours are easier to work with when it comes to accessories, but do add some classy prints into your wardrobe for a little characterful va-va-voom 🙂
Why not leave a comment?
Do you ever read the comments? I do! And I try to answer them all when I'm able. Leave a comment below if you'd like to ask a question or if you have any tips to add.

You Might Also Like:
Pin this post for later.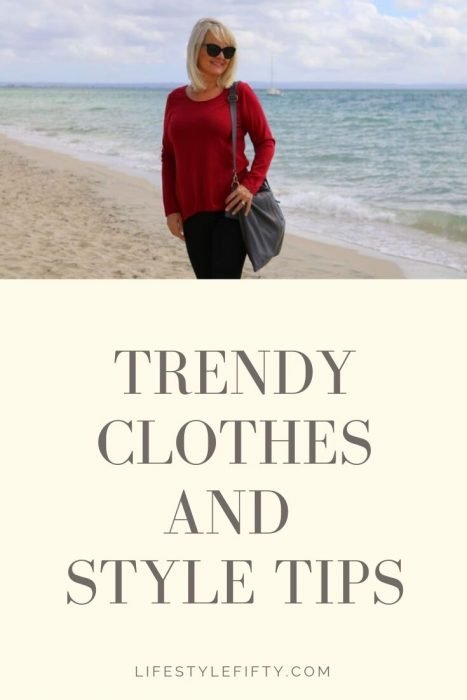 Disclaimer: I'm a brand ambassador for Vivid International and several items in this post were gifted. The tan ankle boots are by FRANKiE4 and were also gifted. There are affiliate links in this post from which I stand to earn a small commission but at no cost to you. Lifestyle Fifty Website is a participant in the Amazon Services LLC Associates Program, an affiliate advertising program designed to provide a means for sites to earn advertising fees by advertising and linking to Amazon.com.