I'm lucky to live in Western Australia, and we love road tripping. A Western Australia road trip means being able to travel independently to the absolute best places, visit fabulous national parks and walk or swim at beautiful beaches.
It means freedom. It means no fixed itineraries and it's just one of the best ways to travel because you can Slow Travel!
If you're camping or caravanning you can pull up under blue skies in a remote small town, set up camp and take off on a delightful day trip to a lesser known spot, or perhaps find a great place for a seafood lunch and a glass of wine along the coast after a long drive.
So why not get off the beaten track in Perth and onto the Coral Coast highway? Along the way to this magnificent route which officially begins in Cervantes, discover the magnificent white sand dunes at Lancelin, pictured below.
Much further north you can hop off the highway and travel inland to visit the magnificent gorges at Karijini National Park.
On your Western Australia road trip how about visiting a pink lake, get out spotting humpback whales, take a selfie in Nature's Window, and discover the stromatolites (some of the earliest life forms on earth at Hamelin Bay).
Why Should You Go to Western Australia?
Western Australia is a state in Australia. In fact it's the largest state in Australia and has a population of around 2.5 million people. Western Australia is about 10 times the size of the United Kingdom! It's known for its natural beauty and has some of the most diverse landscapes in the world.
Why Western Australia is Worth Visiting?
Western Australia is vast, remote and pristine. It's bordered by the Indian Ocean to its west, South Australia to its east, the Northern Territory to its north, and Queensland to its northeast.
They say you can see the lights of Perth from space, and continuing on the space theme, Carnarvon boasts the Space and Technology Museum at the OTC Satellite Earth Station. It commemorates the role that the NASA Carnarvon Tracking Station played in the manned space program in the 1960s and 1970s.
WA's remoteness aside, it's home to some of the most spectacular beaches, cliffs and natural parks in the world. Travel can empower you – you just have to take the leap and get out there!
You're unlikely to encounter traffic jams outside of Perth, and long stretches of straight roads like ribbons stretching into the distance become the norm – along with massive road trains transporting goods, livestock, petroleum and bulk commodities (to name a few).
You can expect gastronomic modern Australian cuisine in Perth and around Margaret River, fresh seafood along the coast, world class wines and fantastic farm to table produce.
What Are Some of The Most Popular Destinations in Western Australia?
Western Australia is one of Australia's top tourist destinations, although probably not the first state most tourists choose!
The eastern states are generally more popular and much more crowded and they attract the lion's share of international tourists.
But WA boasts beaches, towering forests, deserts, caves and vast open scenery for you to get out and encounter on an epic road trip. It has a rich culture, pristine beaches,
Some of the most popular places to visit are: Perth, Fremantle, Margaret River, Albany, Esperance, Exmouth, Kalgoorlie & Broome.
You could check them all out on a Western Australia road trip but you would need a good few weeks to make the most of them all!
What Are Some Other Reasons To Visit Western Australia?
Western Australia is an extraordinary place to visit. It's home to a vast expanse of the Outback and the epic 4 wheel drive – The Gibb River Road in the north.
It has a vast coastline boasting a network of untouched, uncrowded beaches, and some of the most awe inspiring, natural scenery on earth.
From extreme sports to fantastic food, jaw-dropping scenery and fabulous holiday spots, Western Australia has something for everyone.
Western Australia's Top Roadtrip Destinations Along The Coral Coast
Whatever you do, whether it's spotting wild dolphins, snorkelling amongst coral reefs at Ningaloo or Turqoise Bay, swimming with whale sharks near Exmouth, marvelling at the rock formations in Kalbarri National Park, spotting humpback whales and manta rays, or having the ultimate wilderness experience at Francois Peron National Park, your Western Australia road trip heading north from Perth will offer you lots of stops, some main attractions and an overall unique experience.
Following our recent camping and caravanning trip from Bunbury to the north west we've compiled a list of Western Australia's top roadtrip destinations for you to explore along the Coral Coast, travelling north from Perth.
Scroll on down this post further for our day to day itinerary.
Where is the Coral Coast?
The Coral Coast covers around 1100kms of coastline from Cervantes to Exmouth.
It takes you to some of Western Australia's most notable attractions and two World Heritage Areas – Shark Bay and Ningaloo.
Your trip begins travelling north from Perth where you'll discover small fishing towns and lovely coastal scenery.
Further on you'll enounter the alien rock formations of the Pinnacles Desert, carpets of wildflowers along the roadsides (late winter/early spring), ancient gorges and cliffs around Kalbarri, dolphins at Shark Bay, and on to Carnarvon with its fabulous fresh produce and prawns.
Then journey on to Coral Bay, Exmouth, and Ningaloo with it's incredible fringing reef.
Our 2 Week Western Australia Road Trip
Recently we embarked on a 17 day western australia road trip in our A'Liner camper trailer which took us to the following places in and around the Coral Coast.
Scroll down to the end of this post for a more detailed account of the route we took and the things we did.
Yanchep National Park
Moore River National Park
Lancelin
Cervantes
Pinnacles Desert and Nambung National Park
Jurien Bay
Green Head
Leeman
Dongara Port Denison
Greenough
Geraldton
Horrocks
Port Gregory
Kalbarri and Kalbarri National Park
Shark Bay World Heritage Site – Monkey Mia and Hamelin Pool Marine Nature Reserve
Denham
Carnarvon
Australia's Coral Coast Climate
For most of the year the Coral Coast is warm and you can expect a sub-tropical climate in the more northern reaches, and a Mediterranean climate in the southern section. The further north from Perth you travel, the warmer the weather gets.
Best time to visit the Coral Coast is from March to October when the weather should be neither too hot nor too cold. However, sun protection is advisable whatever time of the year you visit. And don't discount cold weather fronts, or even cyclones, that sometimes roll in.
Check out the Bureau of Meterorology (BOM) or Weatherzone for updates on the weather.
5 Reasons To Travel in A Caravan In Western Australia
It's a fantastic independent way to travel
Caravan parks are often situated with the best views and locations
The roads in WA are easy to navigate
Caravan parks generally offer good amenities.
You can choose to eat out, or eat in so you're not tied to expensive restaurant meals, and you don't have to live on greasy fried food, unless you just can't pass up on fresh fish 'n chips!
Caravaning is a really popular holiday trend in Western Australia, especially for families and what we term the "Grey Nomads" or retirees who are travelling around Australia.
We have an A'Van camper trailer which is easy to pop up and has enough room inside for the two of us and our small dog! We have a fridge and a two ring gas stove, along with lights, a/c and heating.
Most of the year you can expect good weather along the Coral Coast so you will not be damp under canvas or surrounded by rivulets of water in your tent.
However, do pick your time and season carefully, because the north of the state is completely different to the south of the state.
Western Australia offers a multitude of caravan parks with different amenities and facilities, and the roads are not hard to navigate because the only major city you are likely to encounter is Perth.
Picking the Right Vehicle and Van For Your Western Australian Road Trip
The best car for a road trip is the one which is comfortable, recently serviced, safe, and which has the correct towing capacity if you are renting a camper trailer or caravan.
If you are looking to rent a caravan, campervan or camper trailer for your next Western Australian road trip, then it's important to consider the best options.
There are so many different types of camper trailers, motorhomes, and caravans, and they all have their own pros and cons.
Here's a list of some of the most popular types of camper trailers or vans to rent.
Campervans: You might pay a bit more to rent a campervan than a camper trailer, but you are totally self sufficient in one vehicle. You can stop by the side of the road and make a cup of tea without any setting up! You should find there is ample space to store your clothes and necessities. A small fridge for your food, possibly a gas ring, and some even have a TV. If you don't need the table then your bed can stay made-up if you wish.
Pop-up campers: these campers are generally cheaper but (depending on the model) probably won't offer you as much storage space as a caravan or motorhome, and you will mosty be under some amount of canvas. Sometimes pop-up campers can take a bit of faffing around to set up, but more than likely they'll have a fairly large awning too where you can sit to get out of the weather, away from the mosquitoes or away from the flies. If you can rent an A'Van, it's easy to pop up and has no canvas.
Motorhomes: this type of travel will offer more room than a campervan and more sleeping options. You'll pay more for a motorhome than a pop-up camper, and as with a campervan although you won't be towing, you can't get to a spot, set up camp and leave your to discover different places. Your van becomes your car. Not great if you want to go to out of the way places. But it is a comfortable and convenient way to travel Western Australia's long stretches of roads.
Check out Camplify if you want to rent a caravan, camper trailer or motorhome.
13 Tips On How to Plan Your Western Australian Road Trip
There are many things to consider when you plan a road trip.
Make sure that your vehicle is safe, recently serviced and running well.
You need to make sure it has adequate towing capacity if you intend to tow a caravan or camper trailer.
You must have an idea of where you want to go, and the distances involved.
Make sure you have enough fuel to get you from one town to another, or otherwise to the next Roadhouse. (Distances are often vast so plan where to find service stations).
Take plenty of water.
Get up-to-date information and directions and make sure you have GPS.
Keep abreast of the local weather conditions.
My advice is to book caravan and camping spots in advance.
You will find some free camping spots along the route, but you need to be self sufficient when it comes to having enough water, power, and a porta potty.
Buy a Telstra sim card for your mobile phone. Telstra offers the best mobile coverage on the Coral Coast but you will still dip in and out of reception.
Pets are not permitted in the national parks, but you'll find many pet friendly caravan parks, book ahead.
Drive with care and watch out for wildlife especially at dawn and dusk; cows, sheep, kangaroos and emus may be on the roads. Be careful, and give yourself plenty of time, when passing road trains as they can be up to 60 metres in length.
The sun is fierce in both summer and winter, so don't forget to pack sunscreen.
Want to know what to pack? Check out this post Van Life Essentials – What to Pack.
Campgrounds come in all shapes and sizes and you'll find some are more modern than others offering different basic amenities such as toilets, showers, laundry facilities and camp kitchens. They can be crowded at times. and the more popular places at the most popular times of year (school holidays) don't offer much privacy.
Details of our Western Australia Road Trip
I think I'm really lucky to live in remote Western Australia. And one of the things we love to do is jump in the car, hitch up the camper trailer and head off for a western australia road trip.
Fabulous places and things to do beckon; feeding the dolphins at Monkey Mia, swimming with whale sharks at Ningaloo Reef, snorkelling at Coral Bay, camp or walk along the mighty Murchison River, and enjoying the seaside sites along the long drive of great ocean drive that leads north.
Western Australia as a whole is a treasure trove of natural beauty. We believe it's home to some of the most stunning landscapes in the world, and along the Coral Coast you will find some of Australia's most stunning, natural sites and destinations and some of the best things to do on the west coast of Australia.
We spent 17 days road tripping in late July and August.
The Indian Ocean Drive stretches nearly 300km from Perth heading north hugging a spectacular section of the Coral Coast between Cervantes and Dongara.
We stopped often along the route to explore lagoons, sandy bays, rocky limestone headlands, towering dunes and small coastal towns.
We visited Moore River, Lancelin, Jurien Bay, Green Head, Wedge Island, Cervantes, Dynamite Bay, arriving in Dongara just in time for a beautiful sunset over the ocean.
We loved Green Head's sandy beaches and the three bays walkway, which is about 3kms long and takes you around South Bay, Dynamite Bay and Anchorage Bay.
Cervantes is about 250km from Perth and is famous for the Pinnacles Desert in the Nambung National Park. It's a unique landscape with thousands of limestone spires that can be up to about 3.5 metres high. The Pinnacles are thousands of years old and well worth a visit.
Also in Cervantes a stop at the working lobster factory or Lobster shack is a must. First for the fresh lobster lunch you can have overlooking the ocean and second for an insight into the region's lobster industry.
Dongara is about 350kms from Perth. If you're into history you'll enjoy the Heritage Walk which is a 4km walk featuring 28 heritage buildings. We collected a map and instructions from the Visitor Centre and began a fascinating walk back in time.
Dongara and Port Denison are actually twin towns with the Irwin River flowing between the two.
We stayed at Seaspray Caravan Park right on the coast, we even had our own sunset and barbecue spot overlooking the beach.
We had brekkie at Poppies in the Park, a delightful little cafe located in the historic old Road Board building (1910) with al fresco seating under a giant Morton Bay fig tree – best pepper steak panini ever!
Next stop a walk around the historic settlement at Greenough, a window into the very different lifestyles of the early settlers. It's just south of Geraldton and is a collection of restored heritabe buildings offering a fascinating window into the life of a once vibrant community of 19th Century pioneers.
Lunch in Geraldton at a Middle Eastern restaurant, Laian, next to the Cathedral. The restaurant is headed by a Syrian refugee and was made possible by community funding- fantastic.
Before leaving Geraldton we once again visited the HMAS Sydney Memorial. I find the design and its symbolism of this Memorial truly inspirational. Looking up at the dome of silver gulls, each representing one of the 645 crew lost without a trace when of the Sydney went down, I think of the fate and sacrifice of those brave souls.
We then made a quick stop in Northampton and at the Pink Lake at Port Gregory before arriving in Kalbarri in lashing rain.
Next day was fine, so lots of chillaxing at Kalbarri.
Kalbarri is situated where the Murchison River meets the Indian ocean and is also known for its fantastic river and coastal gorges as well as some lovely walking trails and swimming bays.
Our days consisted of strolling on the beach, pelican encouters, watching the daredevil hydrofoil surfers being slingshot at high speed onto waves by jet ski, and walking along the clifftop paths leading to lookouts with spectacular panoramic views of the awesome coastline.
After dropping our dog, Minnie, off at day care (ask at the Visitor centre for dog sitters) we headed off to the Kalbarri National Park to explore the Murchison River gorge. When we were last here 10 years ago, the Skywalk was not there so we were very eager to see it. We weren't disappointed.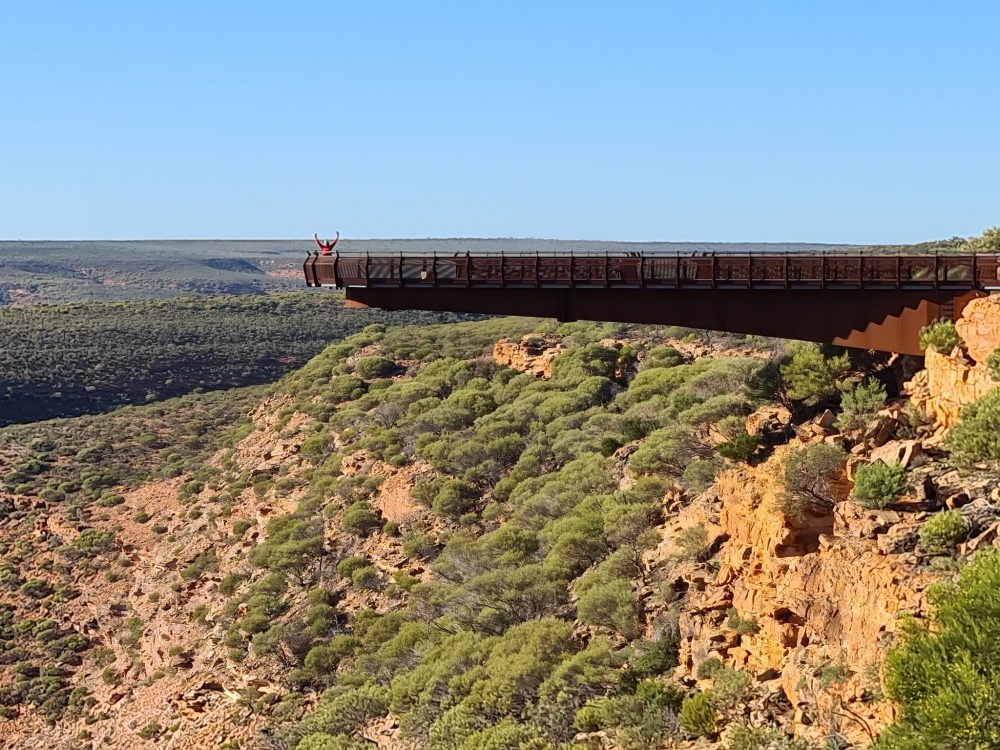 Skywalk is a marvel of creativity, design and engineering, sympathetically imposed in the natural environment. Also the best loo with a view I've ever had the pleasure to pee at, and interesting infoboards about the traditional owners of the land.
If you want to see it at its best, get there early before the coach companies disgorge their punters! We were there early so had the Skywalk all to ourselves.
We then walked to Nature's Window, Z Bend Lookout, and hiked down to the river. It's about 6kms with some steep descents and ladder climbs, but it's well worth it.
What better way to end a wonderful day than fish and chips al fresco watching the fishermen and the sunset over the Ocean.
We farewelled Kalbarri after one last spectacular clifftop walk along the boardwalks at Natural Bridge, and Island Rock. The sea was dotted with spouts and splashes from humpback whales on migration along the coast.
A short hop to our next stop, a small bush camp on the banks of the Murchison River located on Murchison House Station.
The Station has a interesting history from its establishment in 1858 by Charles von Bibra. Its rich history has been shaped by battling pioneers, wealthy wool merchants and even an Indian Prince who amongst other things collected various army surplus vehicles.
You can walk round the old shearing shed that dates back to 1860. Today the Station mainly runs goats.
The Murchison River has for thousands of years been the home of the Nanda people and holds great significance for them. A perfect end to the day around the camp fire looking up at a sky filled with stars.
After an early morning walk along the banks of the Murchison River accompanied by the constant chatter of birds and the occasional wallaby and goat roaming in the bush, we were back on the road north, our destination Hamlin Pools.
Our first stop of the day was at Billabong Roadhouse.
West Australian roadhouses are an institution. Located strategically along extensive stretches of remote highway they provide the weary traveller with fuel, food and a friendly welcome.
It was already wildflower season this far north and the roadsides were carpeted with cream and yellow everlastings.
Hamlin Pool is a quirky and interesting place. It's home to one of the earliest living life forms on earth, the stromatolites.
Established in 1884, Hamlin Pools was an important telegraph station ensuring the remote north west of WA was connected to the rest of the world.
We read that sometimes large flocks of parrots landed on the line and broke it!!!
Also there is a shell rock quarry. The occurrence of millions of cockle shells in the area led to the creation of a limestone rock formed entirely from the shells of these molluscs. We visited the site where the rock was quarried for building stone.
Next day we crossed the 26th parallel into the North West and headed onto Carnarvon our northern terminus for this trip.
Distance from Perth around 900kms.
So much of interest to see and learn about in this town where the Gascoyne River meets the sea.
A stroll along the palm fringed Fascine with its HMAS Sydney memorial wall was beautiful in the misty pre-storm light.
We drove along the Gascoyne River stopping at plantations to buy fresh fruit, veg and special treats like frozen mango. In fact, the fresh produce was truly outstanding.
A walk across the old tramway bridge to the historic One Mile Jetty and museum with its artefacts from yester year took us back to reliving the lives of the early settlers. Fascinating.
"Don't Look" at the Islands memorial sculpture symbolising the heartbreaking stories and "The Path of Pain" for hundreds of indigenous Australians incarcerated on the lock hospital islands.
The weekend we were there, the Gascoyne Dash was happening. This awesome off road car and motorbike challenge is raced across some of the harshest and remote country in Australia between Carnarvon and Gascoyne Junction. We went out to watch the prologue, which was very exciting.
A visit to the Space and Technology Museum is a must do to learn about the little known history of the role Carnarvon played in the manned space program and in the Australian satellite communications industry.
Saturday morning is the Gascoyne Producers market, we really enjoyed the vibe and buying the delicious fresh fruit and vegetables on offer.
The Yacht Club offers a Friday night dinner, guests allowed, and we were given a very warm welcome from the locals. Thanks to the locals for some great stories about the club's history, its characters and how the America's Cup came to Carnarvon
On a walk to Carnarvon's One Mile Jetty we were intrigued to be buzzed by big, colourful burrowing bees that were foraging on the Rough Bluebells growing along the pathway.
We have not seen these beautiful bees before, apparently they are only found in arid parts of WA and can be seen between July and September.
In order to beat the rough weather we decided to head homeward and went to Shark Bay, a remote area of outstanding natural beauty.
We stayed at a caravan park in Denham within walking distance of the beach and the town.
And then battered down the hatches as a severe winter storm swept in to batter the West Australian coast.
"I hope our little Aliner is up to the task!" Dave said!
Our little van survived the storm despite being shaken around in winds that gusted up to 107km/h.
We said goodbye to Shark Bay and headed down the coast to Horrocks Beach to meet up with friends.
Sadly the weather was very windy and squally. Horrocks is a magical spot in the arc of a bay reached by a winding road through rolling countryside from Northampton. Big steely waves crashed to the shore today as the high winds and squally showers concealed what the noticeboard pictures depicted as a calm blue beach just right for warm day swims.
A day spent seeing the places of interest around the hamlet of Horrocks Beach. The ruins of the Convict Hiring Depot (c1855) at Lynton is well worth a visit along with Sanford House at Linga Longa @ Lynton. Also visited Port Gregory and the Pink Lake. Really pretty countryside and stunning coastal scenery.
A fun, interesting and relaxing two days with friends at beautiful Horrocks Beach. We took a 4wd out to the picturesque Little Bay this morning before hitting the road south. We stopped at the quaint town of Northampton.
Nestled amongst rolling hills of ripening canola it has lots of points of interest. Check out; the quirky shops; the Gallipoli Lone Pine Memorial.
Interesting spots in Northampton include; the Convent of the Sacred Heart; Northampton AFL hall of fame; painted ewes; and according to a good friend and connoisseur of such matters, the best vanilla slices in WA; oh and Minnie made a new friend – a statue of Red Dog!
At last the wind dropped and the sun began to shine. We were homeward bound and stopped over for a night in Dongara because we had enjoyed it so much on the way up.
Dongara's such a chilled place. We took a leisurely stroll along the Irwin River to the river mouth. The magnificent avenue of Moreton Bay Fig trees in the town centre is not to be missed.
Our next stop was at the small seaside community of Leeman about 262kms from Perth.
We loved walking around the bay and up to the look out, enjoying views of scattered islands, and a fantastic sunset.
A perfect finale to the trip was the sunset last night at Leeman. We watched a fishing boat come in with its octopus catch just as the sun was sinking.
That's a wrap for this trip, thanks for looking in!
We had a great trip getting to know the Coral Coast a little better and meeting up with friends on the way.
I hope you've found some helpful tips in this Coral Coast Western Australia Itinerary, and welcome any tips or suggestions you might have to add. Also feel free to ask any questions in the comments section.
For more information – check out Australia's Coral Coast
If you've enjoyed this post, please share!
You might also like: