​​Today's post is by Kat Smith who's been travelling the world for 10 years. Kat recently went on an epic road trip in America. From her experiences she's gained expert insight into van life essentials especially about what to pack for a road trip.
The best thing is that Kat has been travelling and on the road for a long stint, so in this post you can expect some insider knowledge. She has personal experience about full-time van life, and the essential gear you need to pack. She also shares tips about the most important things to consider for any type of road trip.
I know many Lifestyle Fifty readers love travelling, and slow travel, so if you are going to head off in a camper, caravan or van for a long time, or a short time, this packing post will help you decide what to pack and what to leave behind.
We love road tripping in Australia and you can read more about our recent van trip in our A'Van in this post : Ultimate Western Australia Road Trip Planner – Coral Coast Itinerary
Over to Kat …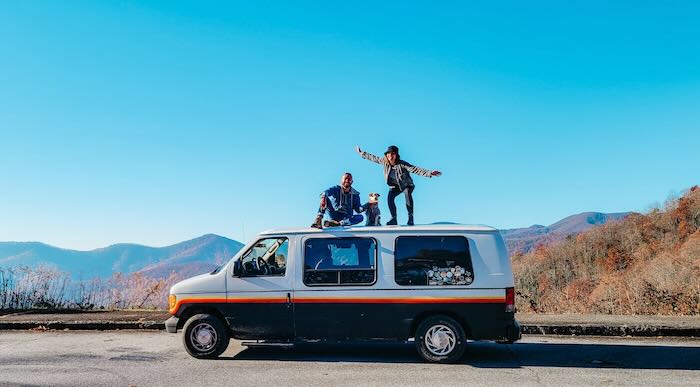 The Complete Guide on How to Be Prepared for the Road Ahead
Let me start with the obvious: The U.S. is a massive country and is extremely diverse in it's landscape, cuisine, and, most importantly to your trip, weather.
A great way to see the country is in a camper van. I recently spent several months on a Western U.S. road trip and covered all 13 states in the Western U.S., although, if I did it again, I would have done the exact same route but taken much longer.
While I'll weigh in on things you certainly need to pack and those that you should leave back home, you'll most likely need to tweak this list to fit your specific needs based on when you're doing this road trip and where you'll be going. My trip was in the United States.
This post is about van life essentials from my personal experiences on the road, and is designed to give you an idea about how to pack for a road trip, what you'll need, and what to pack in a camper van for a trip of around 6 months.
The Type of Trip You Want
The first big decision you'll need to make before you start packing for your van trip is the type of trip you want, where you're going to go and what seasons you'll be travelling in.
Do you plan to spend most of it in dispersed camping spots, enjoying national parks and national forests? Are you more interested in visiting cities and giving stealth camping a go? Or, maybe you're like I am and prefer something in between?
Your answers to these questions will undoubtedly affect your packing decisions because remember, you'll be in van, not a hotel, so you'll have limited space for what you can and can't bring.
If you're more of a city girl, then you can cut down on a lot of the outdoor adventure gear I suggest but if you're an adventure lover, then a great option is to lose some of the city clothes and give yourself more gear for the great outdoors.
There's no secret code to dressing for a trip, and remember the perfect balance of clothes for me, might not be the perfect fit for you.
What to Pack for a Road Trip
Now that you know when, where, and how you'll be traveling, it's time to start packing. Van life gear is a personal choice, but's a good idea to pack as light as you can to suit the small spaces of your van.
This list is based on my personal needs and the type of traveler I am.
Feel free to swap out a thing or two to fit your trip, but just remember, you'll be far more comfortable in your van with less stuff, than too much stuff.
However, there are some van life essentials which I think are imperative for everyone, and these should be quite obvious as you read on.
Here's my comprehensive guide, and 'what to pack for a road trip checklist' which was adequate for my needs on a road trip lasting several months.
Van Life Essentials List
Clothing Packing List
T-shirts x5
Long sleeve t-shirts x2
Jeans x2
Jean shorts x1
Dresses x3
Althetic tights/outdoor pants x2
Bike shorts/althetic shorts x2
Hoodie x1
Sweater x2
Comfortable yet cute jacket x1
Rain jacket/poncho x1
Pajamas x2 (1 for hot weather, 1 for cold weather)
Underwear x15 (trust me, you'll be happier with too much)
Pairs of socks x10 (a mix of high and short if you'll be hiking or to sleep in)
Bras x2
Sports bras x3
Swimsuit x2
Althetic/hiking shoes x1
Sandals x1 (should be water resistant)
City shoe x1 (I chose black laced boots)
A hat (I chose a bucket hat so I could wash it easily)
Toiletry Packing List
Toothbrush
Toothpaste
Floss
Deodorant
Hairbrush
Hair ties x4
Shampoo
Conditioner
Face wash
Baby wipes
Dry shampoo
Q-tips
Make-up
Lotion
Sunscreen
Bug spray
Tampons (or menstrual cup)
Van Items Packing List and Campervan Accessories
Try to cut down what you pack in the van mostly to things you'll need on a daily basis.
Every little bit of space counts and while you might like your morning coffee from a machine when you're at home, you might actually need to leave it at home, and for the small extra cost rather pick up takeaway coffees from gas stations or coffee shops to get your daily fix instead.
For day-to-day life in a van keep your packing tight.
A day pack
Folding camping chairs
Folding table
A mirror
Speaker
Camping stove
Lighter
Food storage containers
Plates x2
Bowls x2
Utensils
Big cooking knife
Pot x1
Pan x1
Spatula x1
Flashlight
Mace
Pocket knife
A cooler
Laundry bag
Van Life Emergency Packing List
Camper essentials are not the most fun things to buy, but in the long run they will make your life safer and give you peace of mind on the road.
Car emergency kit
Solar Panel
Personal first Aid Kit
Roadside emergency kit
Water bottles
Carbon monoxide detector
Portable fire extinguisher
Power inverter
Useful to have – if you have room
Water filter
Portable shower
Portable toilet
Bluetooth speaker
Small smart TV
Check out what's available on Amazon and some more handy van life essentials to make your trip more enjoyable.
Van Packing Tips
You're almost ready to hit the open road! Before you do, these van packing tips saved us a lot of space (and sanity) while we were on the road.
Packing Cubes
Packing cubes are a life saver. They don't take up much space, and they are the best way to keep you organized and will make it much easier when you're looking for something to wear and save you a lot of time. I recommend a packing cube for:
T-shirts & sweaters
Shorts, Pants, & Dresses
Underwear & Socks
This will help you be able to quickly grab the cube you need instead of having to dig through your storage space every time you're trying to get dressed.
The only thing I left out from my cubes was pajamas to make it easier to get ready for bed.
What Sort of Clothes Should I Pack for a Road Trip?
Advantages of Low Maintenance Clothing
While on your van trip, you won't have access to your own washer and dryer, meaning you'll constantly be visiting laundromats in new cities, using washers and dryers you're not used to.
That means you won't have nearly the same control over the cycles you use or water temperatures that you would back home.
Save yourself the headache and pack items that don't need special care while in the wash.
Especially avoid items that need to be dry cleaned or washed only on a delicate cycle.
I'd also suggest only bringing things that can be dried in a dryer without shrinking, instead of needing to be hang dried outside.
Think Capsule Wardrobe not 'what if' items
A big tip for saving space in your van is to think about packing in terms of a capsule wardrobe.
A capsule wardrobe is a small wardrobe that focuses on interchangeable items you can easily mix and match.
By packing this way, you'll get so many different outfits out of only a few items, instead of feeling the need to pack a ton of particular outfits.
It really is the wise woman's no fuss wardrobe!
The Cozier the Better
You're going to spend a lot of your time in your van, more time than you might realize.
Between nights in and long driving days, err on the side of comfort when packing.
If you can find items that are comfortable yet also smart to wear out in cities, even better!
The comfy clothes will also be really helpful on cold nights when you want to bundle up for bed.
Also don't forget to pack a comfy bra.
Travelling in a Van – Different seasons in the U.S – What to Expect
For this article, I've focused only on the continental U.S. so my generalizations do not include Hawaii or Alaska.
Since the U.S. is so large, the seasons change based on where you are geographically.
In general, you can think of it like this: the farther southeast you are (think Florida), the more mild the winter will be.
As you creep up in any direction, the seasons slowly start to get more and more distinctive.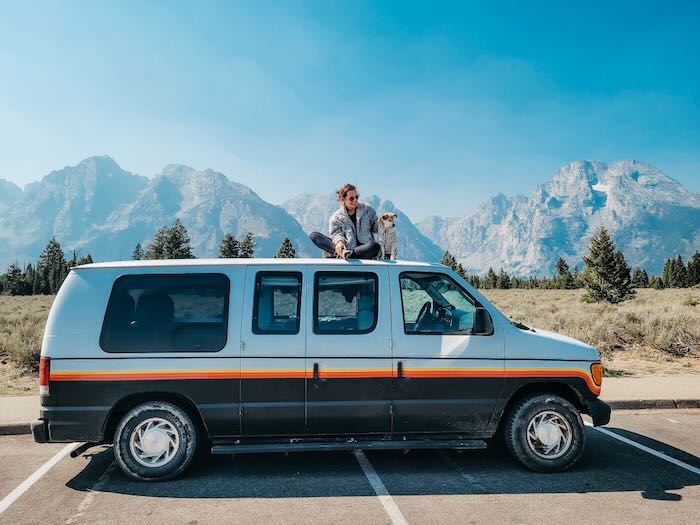 Even places like Arizona and New Mexico, known as hot deserts, get a really cold and sometimes snowy winter.
On the opposite side of the spectrum, really everywhere in the U.S. is in for a hot summer.
You might be able to escape the worst of it in the mountains or by catching a sea breeze but you can still expect hot days and warm nights in July and August.
If you plan to embark on this roadtrip in warm weather then make sure your van has a fan, air conditioning, or at least a way to leave the windows (safely) open at night.
If you'll be traveling through winter, you'll want a heater or high quality blankets (like a weighted blanket) to keep you warm through the night.
Where to Visit on Your Road Trip
Now that you know when you'll be visiting, the next thing that will affect your packing list is where you plan to go.
For the best nature in the country, you need to visit the Western U.S. This area is fantastic for shoulder seasons (think spring and fall) but does get cold quickly. We were nearly snowed in at our campsite in Oregon in early October for reference.
For the most unique culture and delicious food, you need to visit the Southern U.S. Some of the best delicacies in the U.S. come from the south, but I might be biased, that's where I was born and raised.
For plenty to do packed into a smaller area, head to the Northeast. This region is home to some of the nation's most important and historic cities. It also has a handful of underrated national parks that will give you your fill of natural beauty.
For a lot of open spaces and more privacy, head to the Midwest. Personally, this is the region I'd skip over. You might have to drive through it but other than a few fantastic national parks scattered far between each other, this region doesn't offer nearly as much to see and do as the others.
You're Ready for Your Road Trip!
Although I've spent the past 10 years outside of my home country, the U.S. is seriously an epic place for a road trip.
Between the lively cities, incredible national parks, and vast landscapes, you'll love your ever-changing vistas.
Packing your van up right will make your trip even more comfortable, but hey, the U.S. is the land of shopping so anything you forget, you'll easily be able to pick up along the way.
Author Bio: Kat Smith, the founder of A Way Abroad, has been traveling the world for the past 10 years. She recently went back to her home country to embark upon an epic road trip but is back abroad, currently traveling through the Balkans. Photos supplied by Kat Smith. See more of her travels on Instagram @a_wayabroad and @a_kat_abroad
Frequently Asked Questions about Van Life and Road Trips
What is Van Life?
Van life is a trend that has been growing in recent years. It's both a movement, and a lifestyle for both young and old, where people live and travel in a van, travelling slow to explore their own country and the world.
Van lifers are often digital nomads working remotely on laptops in their vans. Other people are taking extended holidays and embarking on road trips.
Although it's not a new concept, it has become more popular in recent years.
Van life might not be for everyone, but it can be an amazing experience for those who are looking to live on the road, get out and about independently, or just do something different with their lives.
Van life can be a great way to save money and explore a country without having to stay in expensive hotels or book domestic flights.
This type of life and travel includes travelling in a caravan or motorhome, but van life as a concept means travelling in a van that's often been custom fitted-out by the owner to become a campervan.
Why go on a road trip in a van or caravan?
The most obvious reason to go on a road trip in a van, or a caravan, is that people want to slow travel, and use their time in a place wisely, deep diving into a culture or a place rather than flying in and out.
Getting out on the open road for a road trip is thrilling.
There's nothing quite like the feeling of driving out of the city and exploring new places, often remote places that the tourist route doesn't include.
Road trips are a rite of passage for many people and recent studies show that they're becoming more popular.
What does a Van Life packing list look like?
Packing for life on the road in a van is not as hard as you might think, and packing your van is really up to you deciding what are the most important things you need on a day to day basis.
Make a list ahead of time to find out what you really need and what you can leave behind. Consider the seasons carefully. You might find that the list you had envisaged to begin with is much smaller when you get down to basics.
For instance, something you might not give too much thought to is your mattress. Many vans have uncomfortable mattresses! So you might need to buy a good mattress that will give you a good night's sleep and will stand the test of time.
You might prefer to pack a sleeping bag for ease – or take sheets and a duvet for more comfort.
You'll obviously need cooking utensils and supplies, toiletries (toilet paper, soap), and clothing (hiking boots and jeans). You'll also need some basic tools like jumper cables and an extra tire, and emergency items,
This post, Van Life Essentials, gives you a sensible overview of some of the most important things you'll need on a road trip in a van.
9 of the Worst Things You Might Experience Travelling in a Van
While road tripping is generally a pleasant experience, you will find little (and not so little) things that might niggle you over time.
Feeling cramped and couped up.
An uncomfortable mattress.
Not having heating or airconditioning.
Not having a toilet.
Being constantly on the move.
Keeping clean.
Limited space for cooking.
Bending around constantly for things you need.
Very close comfort, all the time, if you're travelling with your partner!
What are the best Apps for travelling in a Van?
Road trippers – Plan your journey and discover great places to stop along your route. Find out where there are national parks, roadside attractions, hotels, and more.
Duolingo – Learn a new language with this app – it's free and doesn't require an internet connection, so it's perfect for when you're travelling abroad.
Google Maps – A must for any traveller – this map app is perfect for finding your way around foreign cities and countries with ease.
What are some of the best books about Van Life?
Van Life Companion by Lonely Planet
Van Life – Your Home on the Road
More general travel books: Books for Travel Lovers
Related Posts you might also like:
What to Pack for a Coach Trip to Spain, Portugal, Morocco
What to Wear : Alaska Cruise : Ultimate Packing List
This is What to Wear on a European Barge Cruise : Things you Need to Know
45 Best Essentials for Your Road Trip Checklist
How to Pack for New Zealand (with 14 day South Island Road Trip Itinerary)
Disclaimer:This post "Van Life Essentials – What to Pack" contains affiliate links from which I stand to earn a small commission but at no expense to you. Any gifted items are marked with an *. Lifestyle Fifty Website is a participant in the Amazon Services LLC Associates Program, an affiliate advertising program designed to provide a means for sites to earn advertising fees by advertising and linking to Amazon.com. Please read my full disclosure here. Kat Smith kindly supplied text and images for this post.