What if I suggested that it really is possible to take just one pair of shoes with you on an energetic trip abroad?
'Not possible!' I hear all you shoe fanatics volley back at me!
Okay, okay I agree, because I'll always pack more than one pair of shoes, if for no other reason, than I can and … well, you know … just in case 😉
In fact here's a post, inspired by a Lifestyle Fifty reader, which links to some of my various and favourite shoes for travelling : Best Travel Shoes and How to Choose Them
But … I have found a pair of shoes that go with pretty much everything I'm likely to want to take on an overseas holiday, a glamping trip, or a weekend away.
And those shoes are  FRANKiE4 silver ELLiES*
Versatile Travel Shoes
You don't need me to tell you they're comfy, and mould to your feet because I'm afraid they're currently sold out, which means they've been very popular (black and red are still available). However, all is not lost. I'm told the silver ELLieS will be back in store in December.
So without further ado, here's why you might like to grab a pair as soon as they're back in stock. I'm going to show them in action, where they've been trotting to, and the outfits I've matched them with to show you what versatile travel shoes they are.
Weekending Down South
They recently trotted off on a luxury weekend to Margaret River , and teamed with jeans and an ooh la la French stripe fleecey jacket, had a smashing time at Empire Retreat Boutique hotel. Gosh, don't tell, but they were even allowed on the bed! Such clean and dandy shoes that they are.
Next they had a bit of romance and came on a casual date night. I wore an easy free-flow midi that my ELLiEs heartily approved of and we went for dinner at a local restaurant in Perth. The waitress asked: "Where did you get those shoes? I love them." So I told her. As you do 😉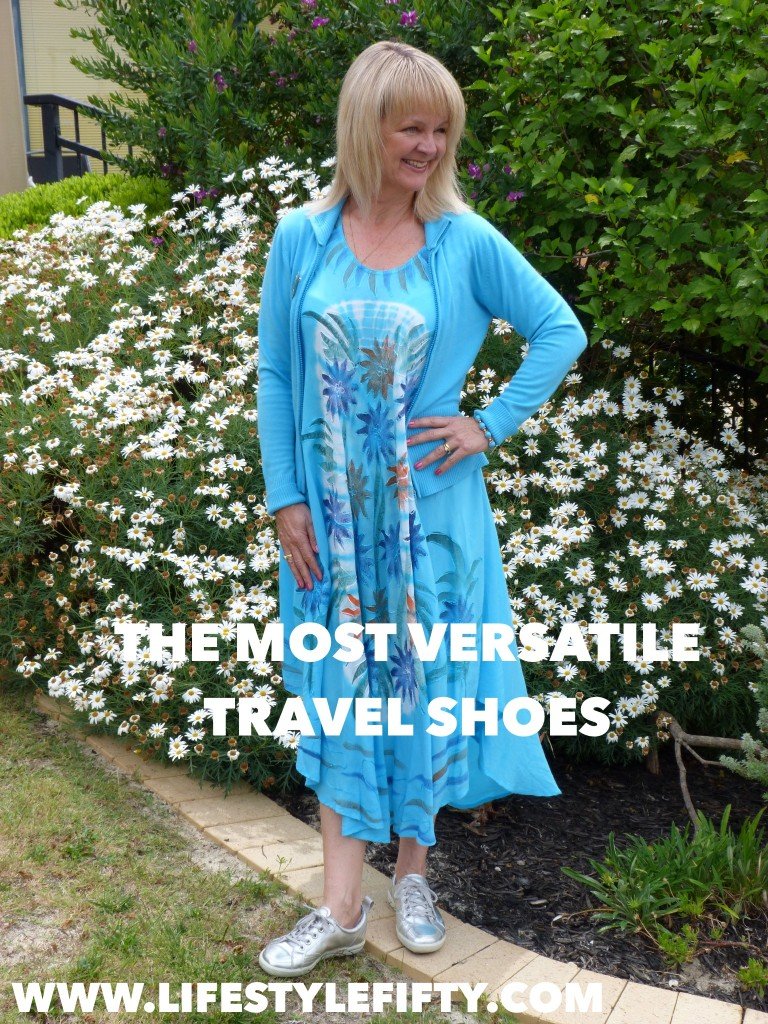 Earlier in the month they couldn't decide if they wanted to be dressed in silver or blue laces for a trip to England and Kuala Lumpur. Eventually I persuaded them that silver would go with everything.
So off we went. It was their first time pulling my suitcase and they stood up to the task well – not a single complaint, and on the plane they accommodated my swelling feet nicely.
In Kuala Lumpur they decided not to go for a dip, but were easy to slip back on after I'd dangled my feet in the pool. Maggie the Jack Russel was a little nonplussed and wondered what all the shoe fuss was about.
Later, for a sightseeing trip around Chinatown they were quite happy to go with my white cut-off capri pants.

I love the way they add a pop of colour to black jeans below. FRANKIE4's are uniquely shaped and designed by a podiatrist. They have 'Custom Fit' features to accommodate the natural movement and position of your foot joints. The custom fit components come in the box to give your foot the best fit.
They also teamed up perfectly with the maxi dress I'd bought at Monsoon in England which I wore to a dinner party in Kuala Lumpur, after a sightseeing trip in the afternoon.
Then my dear ELLiEs went glamping. Oh yes, they were not afraid of the Australian bush. Mind you our bell tent was just a little bit glamorous and my ELLiEs didn't have to get involved in putting it up. They did enjoy cavorting across the Bedouin style carpets and looked right at home in the luxurious interior. Not afraid to get down and dirty though they traipsed through sandy soil to the ablutions block and went on a short walk through the forest.
Then it was to the sea they went on an uncharacteristically dismal spring day in WA. They had breakfast at the White Elephant Cafe and a little walk on the beach before heading to Wharncliffe Mill and a night in a safari tent.
Yes, overall I couldn't be happier with my silver ELLiEs which are such an amazing neutral colour that they go with nearly everything. Beats beige or nude for a change and as trotters go, they are really neat little numbers and up for anything really.
As per my disclosure policy I was gifted * a pair of ELLiEs for editorial consideration.
If I can persuade the lovely people at FRANKiE4 to offer a pair of shoes in a future giveaway – would you like to enter to win a pair? Please let me know which style you'd like to win in the comments and I'll see what they say about a giveaway.
You can check out the current summer styles here at FRANKiE4.
Anyway, let me know …
Until next time, be good  fabulous!