I'm a big fan of Nikki Parkinson who's a full-time professional blogger, social media influencer, author and fashion designer. Today she's sharing her top, clever everyday style tips with us.
Nikki writes a successful fashion blog called Styling You and has her own clothing range at Styling You The Label.
Nikki coined the phrase "everyday style" #everydaystyle on Instagram and she has a knack of taking basic capsule wardrobe items, and turning them into a stylised everyday look.
Today she's not only demonstrating, but also sharing her top wardrobe and clever everyday style tips with us.
Clever Everyday Style – 5 Top Basics
Keep around 11 basic, neutral coloured items in your wardrobe that fit well and you feel great in.
Change your bras every year, and get re-fitted by an expert fitter each time.
Wear seamless underwear.
Spend more on a swimsuit if you want it to look good and last well – you pay more for good fabric and durability.
Scarves are your go-to fashion accessory to jazz up any outfit.
Nikki is a style icon, who is always effortlessly well groomed for every occasion, and she's also a smart and savvy businesswoman.
Nikki created her blog based on her passion – which is making real women feel confident about getting out of the house, and looking their best without taking too long about it.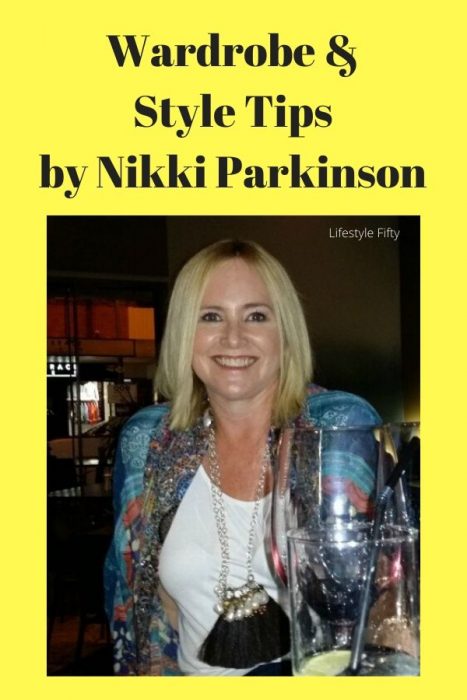 Must-Know Wardrobe & Style Tips
The blogging community in Perth were super excited when lovely Kelly Exeter from Swish Design organised for Nikki to give a blogging seminar, prior to her fashion book launch at Rydges Hotel the following night.
At two separate events Nikki shared professional blogging advice with us, as well as a host of clever everyday style tips.
Thirty five of us trotted out in our best frocks to listen to Nikki speak, and I learnt so much about the business of blogging, as well as tips for dressing with style and must know wardrobe essentials.
But, mostly – I learnt that Nikki is an amazing woman who works really hard and deserves every bit of success she's won.
I also learnt a lot about everyday style, which I'd like to share with you today.
Unlock Your Everyday Style Effortlessly
The Perth launch of her book "Unlock Your Style" was a lovely event on the terrace balcony of Rydges Hotel.
We were served champagne and canapes and mingled with like minded bloggers, fashion stylists and book buyers.
Nikki gave a demonstration showing how we can use good basics in our wardrobes and turn them into several different looks, and the look she chose I think is a perfect fit for women over 50.
Put Together Your Own Everyday style – Less is More
"There shouldn't be anything in your wardrobe that doesn't make you feel fabulous. And remember, Less really is More," said Nikki.
You might also like : 13 Wardrobe editing tips and 5 Fresh Spring Looks for Older Spring Chicken and Super Wardrobe and Style Tips.
The Wardrobe Essentials
It's all very well to have a cupboard full of clothes but your wardrobe needs to work for you", Nikki explained.

"When you've sorted out your wardrobe you can see where the gaps are. This will generally be basic items like pants, jeans and blouses or T's.

Write these basics down on a shopping list and when you're tempted to buy something sparkly or colourful, look at your list and buy one of the basics in a good fabric and a good cut. This is the sort of item that should last you a long time and wash well."

Nikki Parkinson
Shopping Mistakes that Seduce Us
Nikki said that the shopping mistakes we make are generally the garments that seduce us – the fun and the sparkly items.
Don't I know all about that! You can put in 'colourful' with that statement too for me 🙂
Nikki started out in black casual pants, a white T shirt, a gorgeous colourful silky kimono with a bit of bling around the collar, and a statement necklace.
The Game Changers
1. Then she disrobed and showed us what a light cotton scarf would do to her basic outfit of T Shirt and loose pants.
"This is the most simple dress up item you can have in your wardrobe. I have light, floaty scarves in lots of colours and I wrap them around my neck in various ways or just drape them for effect," she told us.
2. Next she showed us what a good denim jacket could add to the look, and touted a denim jacket as a great addition to anyone's wardrobe. The length of the jacket is important and should skim your hips, not reach them, especially if you don't have much of a waist anymore.
3. Then she showed us how a white jacket (which is always a great buy) and a costume necklace would change the basic look for a different occasion.
"You need to feel that you look good and meet the expectations of the occasion."
4. Finally she slipped on a silky kimono which she said is one of her best go-to pieces. "It not only gives me a bit of sun protection but it adds interest. I'm not trying to complicate the look but rather find a formula that works," she said.
7 Really Clever Everday Style Tips from Nikki
Clothing can be like an armour and sometimes we need a bit of superficial armour to make the best of our days.
You should have around 11 basic items in your wardrobe and they should all make you feel fabulous all the time. These clothes should be neutral basics, no matter what the season. Then everything you put on top will work for you.
For a very smart and up to the minute look try a striped top, white jacket and jeans with block heel shoes.
Change your bras every year, and get your bra fitted by an expert fitter each time. Also get re-fitted if you lose or put on weight. It will make a big difference to how your clothes fall.
Wear seamless underwear. Honey or beige coloured is great for under white clothes.
Swimwear – get over yourself. We can all wear the best swisuit no matter what our shape or size. If you're squeamish about the bright lights and harsh mirrors in shops then shop for your swimwear online because you can try it on at home in front of your normal mirror.
Spend more on a swimsuit if you're going to use it a lot – you pay more for good fabric and durability.
When asked how she felt about women not wearing bras in summertime … Nikki showed her sense of humour …
"If I didn't have a bra on, my breasts would be heading for my pants – they were heading south even before I had kids," she laughed, "but if it works for you, then go for it!"

Nikki Parkinson
Finally Nikki had the chance to relax with some of us over a glass of wine at Rydges in Perth before heading back to Brisbane the next day for work as usual, and even after a hectic event she still managed to look serene and gorgeous.
Buy Nikki's fabulous book. It's full of down to earth fashion tips, hints and advice about looking great.
If you've enjoyed this post please PIN this image 🙂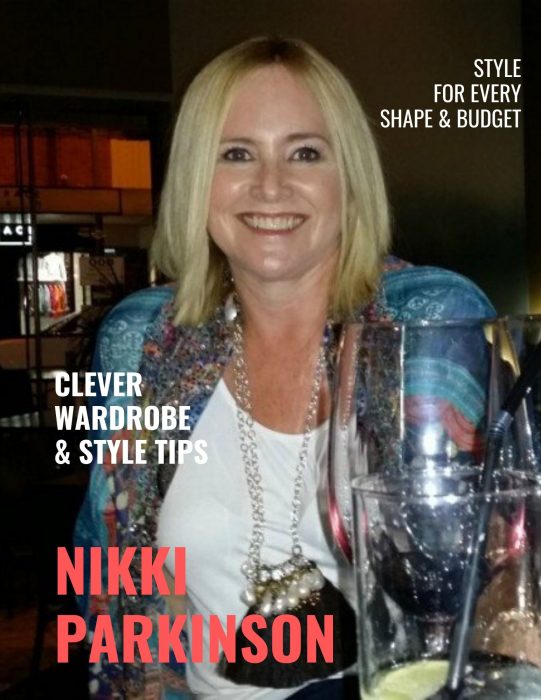 Clever Everyday Style – Over To You
What clever everyday style tips do you have for getting out of the door in a hurry always looking your best?
Please Share in the Comments Section.
This post contains affiliate links from which I stand to earn a small commission but at no expense to you. Lifestyle Fifty Website is a participant in the Amazon Services LLC Associates Program, an affiliate advertising program designed to provide a means for sites to earn advertising fees by advertising and linking to Amazon.com. Please read my full disclosure here.