Boho Chic Clothing comprises loose and floaty garments, featuring mixed prints, tassles and fringes. Boho Chic is a little more put together, a little more styled than a hippy or gypsy look.
What is Boho Chic Clothing?
"Boho Chic is a style of fashion drawing on bohemian and hippie influences."

Wikipedia
Remember the hippie days? I do! I bet you do too! Carefree tresses, daisy prints, long flowing skirts, leather sandals, leather bags, and of course a carefree rebellious approach to putting a look together.
I don't know about you, but these days I don't really do actual hippie anymore, but I do like to dress a little Boho Chic or Bohemian every now and then, which has elements of the hippy codes of fashion.
Boho Fashion Essentials
Boho fashion consists of …
Loose silhouettes,
Beading
Fringes and Tassles
Peasant Style Blouses
Romantic maxi dresses
Leather ankle boots
Silk, suede, and Fur embelishments
Embroidered Jackets
Wide Brimmed Hats
Ethnic patterns
Flowery prints
Flared Jeans
Midi dresses – often side tied.
How to Dress Boho Style
Boho dressing and boho chic clothing gained momentum in the 1960s with the avent of Hippie style dressing. It was anti establishment and in direct opposition to the conservative style of dressing in the 1950s. Very much for free spirits and the nomadic lifestyle drawing also on gypsy style accents.
Here's what the dictionary has to say: "Bohemian: "A socially unconventional person, especially an artist or writer." Oxford English Dictionary. Abbreviation: Boho."
The Boho look is a bit unconventional, a little vintage and you can mix and match from your wardrobe with gay abandon.
Think Glastonbury festival, Kate Moss, Marianne Faithful and Sienna Miller.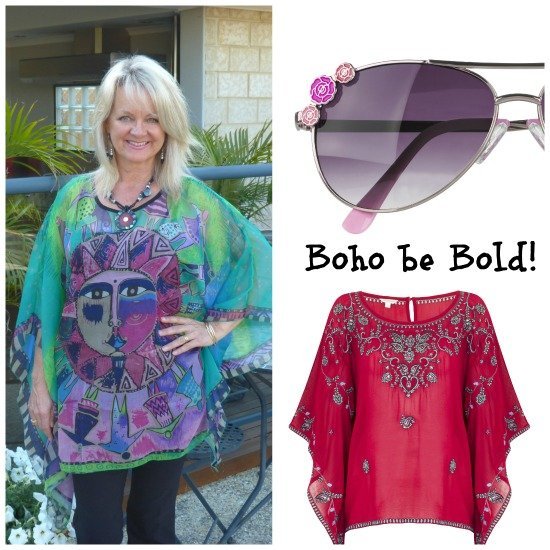 10 Boho Style Tips
Keep things feminine and chic by mixing oversized garments with tailored or fitted clothes.
If you want to beat the heat (and cover from the sun) wear Boho style clothes that allow for airflow – like a kaftan and loose pants – topped with a hat.
Boho colours are usually rich, warm and earthy – taupes, greens, burnt siennas, cream, khaki, beige, golden and Byzantium colours, but me, well I like to add a bit of colour too – or go for floaty in monochrome.
Boho can translate into street beggar or hippy if you're not careful. So mix in elements of your own style to keep it chic and don't over accessorize.
Natural fibres and leather are definitely the go to's for pure Boho style.
Don't be afraid to mix prints.
Add a stylish headband or wide brimmed hat.
Birkenstock sandals are a bohemian's must-have footwear item. They go with everything, are super comfortable and get better with age.
Layer, layer, layer for the best bohemian look.
Flowy palazzo pants make a super comfy but stylish option to flared jeans. Check out the lovely styles of wide legged Pants at Adrift or these Palazzo Pants on Amazon.
Romantic Bohemian Style Dresses
Boho Chic Dresses and Bohemian style dresses are pretty much one and the same thing. They feature a romantic look, often with floral or ethnic designs. They can be short or long sleeved and are generally suitable for summer or winter – teamed with either strappy sandals or ankle boots, and coats or cardigans.
Click on the images for prices.
My Favourite Boho Dresses for Women
I love Adrift clothing and I've bought many of their dresses which I either dress up or down depending on the occasion. Many of their styles are considered boho and bohemian.
I love Adrift for their amazing prints, and styles, that change each season.
I love the fabrics they use, and the designs they choose.
I love the fact that most dresses are made to suit any shape or figure.
I love that they are forgiving in style and don't hug tummys or hips.
I love that they suit young and older women.
Get 10% off your first order!
Affordable Boho Clothes
Boho doesn't necessarily mean expensive, although you can go as pricey as you desire! For really affordable Boho Chic clothing you can't go past this tribal midi dres or this lace party dress and this selection of boho style tops. You could also look around for pre-loved boho clothes either at charity shops or online.
Boho Capsule Wardrobe – What You Need
If you want to keep a selection of bohemian style clothes in your wardrobe, but you want to keep it minimal, then be selective. For a mix and well matched selection, the following Boho Capsule wardrobe is very simple and do-able.
1 Romantic Maxi Dress
1 side tie midi skirt
1 Flared Jeans
1 Palazzo pants
3 Smock Style Tops
Wide Brimmed Hat
Headband
Leather Ankle Boots
Calf length overcoat
Tassle or embroidered jacket
Boho Wedding Dresses
My daughter wanted to buy a boho style wedding dress. She wanted something suitable for a forest wedding; something a little magical, and whimsical suggesting forest fairies and magic! Below are the sort of boho wedding gowns we were looking at.
Click on the images for stockists and prices.
Boho Style Shoes
To complete the look you'll need some Boho Style Shoes.
Think leather – ankle boots or cowgirl boots – try FRANKiE4 for some stylish and comfortable designs by a well known podiatrist. FRANKiE4 is an innovative fashion label changing the way women experience shoes. The mission is to take wellness to the next level with award-winning, Podiatrist-designed support, for game-changing comfort in every cleverly cushioned step. I thoroughly recommend the low heeled ankle boots for everyday comfort.
Then there are Birkenstocks – the most comfortable sandals, harking back to the Woodstock music festival image!
Bohemian Handbags
Anything distinctive in suede or leather will give you the Boho edge.
Travel & Living Collection have a wonderful range of Boho bags like this lilac suede beauty below. Stocks are ever changing so check out the website.
Boho Tops
For the boho look keep your tops loose and flowing. Tassles and embroidery are accents to consider, and you can choose plain, floral, ethnic or romantic designs to go with your flared jeans or midi dresses.
Click on the images for prices.
Boho Weekend Chic
I love this kind of look for 'le weekend'.
It's soft, flowing, comfortable and with the addition of a beautiful jacket it becomes a lovely going out to lunch outfit as well.
Video: How To Dress Boho Chic
Thanks to Fashion & Style Edit for the video, and their Bohemian style essentials and outfit ideas.
What shall I wear today? Oh Boho!
Today I decided to go where the music took me and instead of a tailored look for a blog workshop, I went a bit kooky. I delved into my dressing up box of tricks and mix and matched some Boho looks from my wardrobe archives.
Floral style maxi dress, dangly earrings, velveteen scarf and a flowing cardi.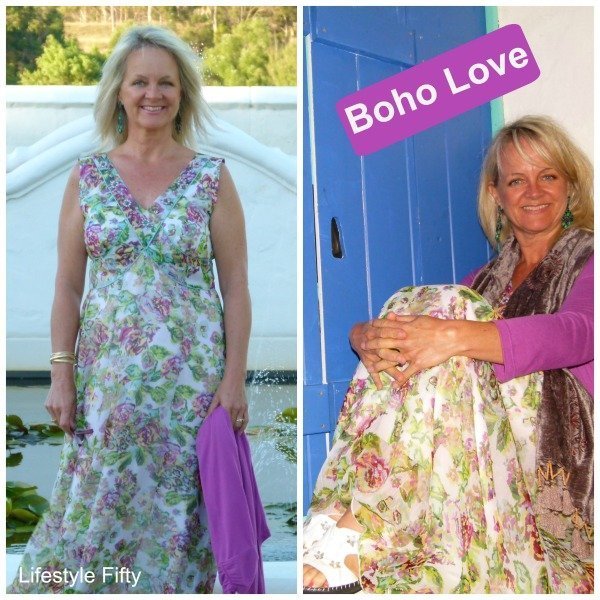 11 Wardrobe Essentials for the Boho look
Boho is an easy look to put together. To begin with think kaftans, romantic maxis, smock tops and little pops of eccentricity.
Smock tops
Floral trousers
Long hippy skirts
Waistcoats
Anything from a charity shop
Hats
Accessories
Scarves
Chunky cardigans
Vintage finds mixed with cut off jeans and high heels or easy wear flip-flops.
Bangles from your travels, friendship bracelets.
I've been dipping into a fabulous book titled, "Who do you want to be today?" by Trinny and Suzannah. This UK style duo offer some great ideas for ways to dress differently. They say that the Boho look is more about how you put it all together than specific items.
Their advice includes: Layering – wear a shirt under a waistcoat or a long sleeveless cardi, mixing small floral prints with bright colours or pastels. Think about bold pieces of jewellery and crocheted items that your grandmother might have knocked together.
"A fabulous floral tea dress in the market, but it's two sizes too big. So what? Pull it in to your waist with a wide, funky belt."

Buy Their Book: Who Do You Want to Be Today by Trinny & Susannah, on Amazon
Boho for Tea-Time
Gorgeous floral pants from Monsoon below teamed with a beautiful floaty, white kaftan style tops with tassles would be a wonderful high tea outfit. Or how about the Tea dress from M & S below? Both are a little retro, a little Bohemian and very Boho chic.
Boho Make Up
I think it's best to keep it light. I'd go for a BB cream and a light dust of bronzer – after all you want to look as if you've come off the rock star's yacht all tanned and natural, don't you!
A light foundation or BB cream
Bronzer
A little rose coloured blusher on the apples of your cheeks.
A neutral lipstick to make your lips look fuller
Dusky powder shadow
Heaps of mascara.
My Favourite Boho Stockists
You Might Also Like
Boho Style Over 50 – How to dress like a Hippie with a modern twist!
7 Boho Chic Outfits to Ignite Your Inner Free Spirit
How to Style Boho Chic Summer Outfits
I'd love to know if you 'do' the Boho look or not? If you do, why not send me a picture and a few words about your outfit?
Until next time,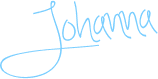 Disclaimer: There are affiliate links in this post [Boho Chic Clothing to Make you Sizzle] from which I stand to earn a small commission but at no cost to you. If there are gifted items they are marked with an * asterisk. Lifestyle Fifty Website is a participant in the Amazon Services LLC Associates Program, an affiliate advertising program designed to provide a means for sites to earn advertising fees by advertising and linking to Amazon.com.
P.S. This post has been updated from the 2014 original to include more information.