I travelled through Spain, Portugal and Morocco on a coach tour in September. So I'm super excited to share my tips and suggestions about what to pack for a coach trip of around 21 days.
If you're embarking on a coach tour, on a long trip to the vibrant and diverse destinations of Europe, you're in for a thrilling adventure.
From UNESCO World Heritage Sites to Cathedrals, Royal Palaces, ancient ruins, and the bustling markets of Morocco, this journey is a feast for the senses.
However, packing for such a diverse trip can be daunting.
But don't worry! Here's a short video to explain some basics!
Then read on, and further down this blog post you'll find a detailed packing list.
In this comprehensive packing guide, I'll tell you exactly what to pack for your journey of a lifetime, ensuring you're well-prepared for every step of the way.
I'll also highlight some of the things I wish I'd known, and didn't pack before I travelled on a coach.
Basic Essential Items
Let's start with the basics, before we get into what clothing to pack.
Valid Passport: This is your golden ticket to your European adventure, so make sure it's up-to-date and check that it still has plenty of empty pages for stamps.
Travel Documents: Keep a secure folder with all your important documents, including your itinerary, insurance information, and emergency contacts. Make a copy or digital backup as well.
Credit Cards/Debit Cards: Having both is a good idea. Remember to let your bank know about your travel plans, the date you're leaving, where you're going and when you'll return to avoid any issues with using your cards. Try not to keep them all in the same place.
Local Currency: Bring some Euros (Spain and Portugal) and Moroccan Dirhams (Morocco) in cash for convenience upon arrival.
Medical Essentials: Don't forget any prescription medications and necessary medical supplies for your personal needs.
Travel Insurance: This is a must especially for covering unexpected medical expenses.
First Aid Kit: Include basic supplies like band-aids, pain relievers, and antiseptic wipes for minor injuries.
Hand Sanitiser: Always useful when if there is nowhere to wash your hands.
Smart Phone and charger.
Water Bottle: Staying hydrated is crucial, so carrying a reusable water bottle is a good idea, especially during the hot summer. Hotels (but not all) may provide a small bottle of water per person in your mini bar fridge but don't rely on it.
Clothing Essentials
Let's get into what clothing and footwear to pack.
Weather-Appropriate Attire
Pack according to the season. Summer can be scorching, while winter can get chilly, especially in northern regions.
I travelled in September, which honestly still felt like summertime.
You can scroll down this post for my full packing list.
In southern Spain and Morocco, temperatures were often up in the late 30's (Centigrade). However, when we were on the coast in Puerto Banus, the sea breeze made things a little cooler.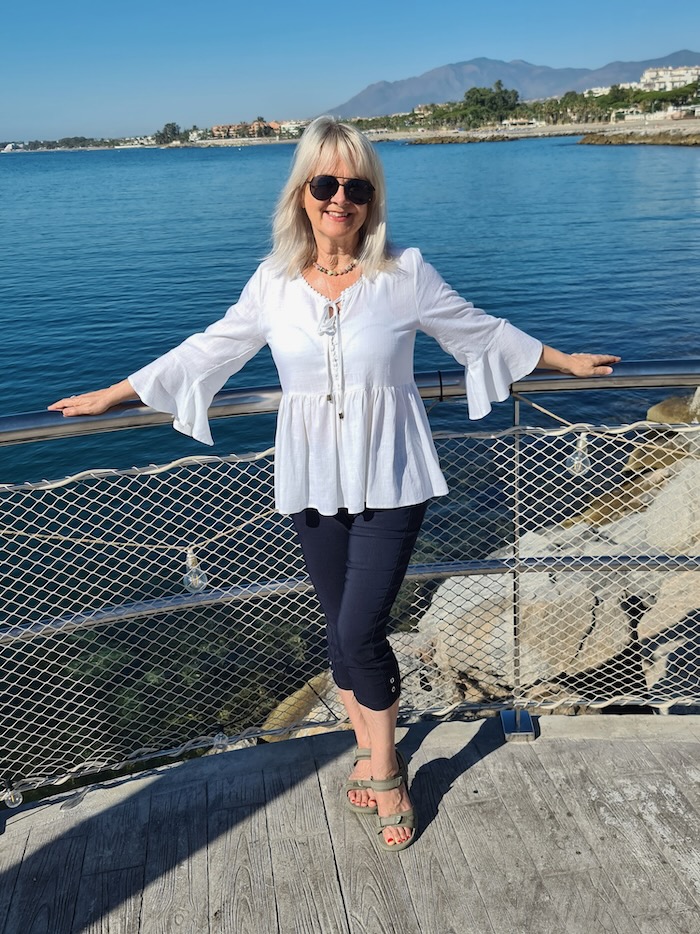 Summer Essentials
Sun Protection: Don't forget to bring wide-brimmed hats, a good pair of sunglasses, and a high SPF sunscreen to shield yourself from the intense Mediterranean sun.
Swimwear: Many hotels in the Costa del Sol have outdoor swimming pools, so pack your swimsuit to take a refreshing dip in the pool or the sea during your free time.
Comfortable Sandals: For those long, leisurely walks through charming old towns, opt for comfortable sandals that provide breathability.
Lightweight Clothing: Summers in Spain, Portugal and Morocco can be scorching. The best thing is to pack breathable, loose-fitting clothes such as cotton dresses, shorts, wide leg pants, lightweight joggie pants, and blouson or short-sleeved tops to keep cool in the heat.
Winter Warmth
Layered Clothing: In winter, especially in the northern regions, temperatures can drop significantly. Layer up with long-sleeved shirts, sweaters, and a warm jacket. A down or fleece jacket works well to trap heat.
Waterproof Jacket: Be prepared for occasional rain with a lightweight waterproof jacket or coat. It'll come in handy during the occasional drizzle.
Closed-Toe Shoes: Opt for closed-toe, comfortable shoes with good traction in colder months. You might be walking on wet or slippery surfaces.
Scarf and Gloves: To stay cosy, consider packing a scarf and gloves. These can make a significant difference to your comfort during chilly evenings.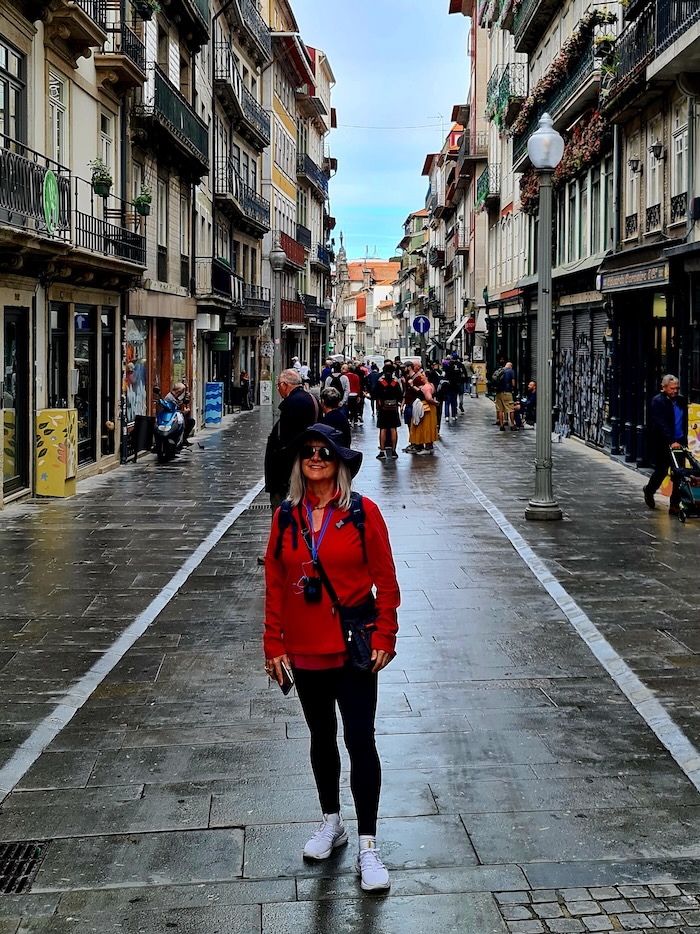 Transitional Seasons
Spring and Autumn: These seasons bring milder temperatures. Pack a mix of clothing suitable for both warm afternoons and cooler evenings. Light jackets or cardigans can be great for layering.
Umbrella or Poncho: In spring and autumn, there may be occasional showers. Packing a compact umbrella or a waterproof poncho is a smart choice for staying dry.
Versatile Footwear: For these in-between seasons, consider comfortable sneakers or walking shoes suitable for various temperatures. Every walking tour will be different in terms of length and terrain.
If you can, then do check the long-range weather forecast for your travel dates before finalizing your international packing list. This will help you make the best clothing choices and ensure you're comfortable and prepared for whatever Mother Nature throws your way.
Whether exploring the historic centre of Madrid or wandering through the narrow streets of Marrakech, having the proper attire will enhance your travel experience.
Layered Clothing for Versatility
One of the best packing tips I've ever recieved is to include clothes you can wear on top of each other.
Always wear layers that you can peel off as the day heats up.
Base Layer
Camisoles and Tank Tops: For the scorching summer months, consider packing camisoles or tank tops to keep cool during the day.
Lightweight T-Shirts: Start with a good selection of light, breathable t-shirts. These can serve as your base layer, providing comfort and moisture-wicking properties.
Mid Layers
Cardigans or Sweaters: Cardigans or lightweight sweaters provide an extra layer of warmth without being too heavy in cooler seasons or regions. They can be easily removed when the temperature rises.
Button-Up Shirts: These are a great addition, as they can be worn open as a light jacket or closed for added warmth. They're perfect for a stylish look during your guided tours.
Long-Sleeved Shirts and Blouses: Long-sleeved shirts are essential for sun protection and evening warmth. Opt for versatile, stylish options that can be dressed up or down.
Outer Layer
Light Jacket or Windbreaker: A light jacket or windbreaker is an excellent choice. It's versatile and can protect you from unexpected rain or chilly evenings.
Rain Jacket: If your trip falls during the rainy season or you anticipate wet weather, having a compact rain jacket is a lifesaver.
Bottoms
Convertible Pants: Consider convertible pants with zip-off legs, which can be worn as shorts during the day and long pants in the evening.
Jeans or Trousers: A comfortable pair of jeans or lightweight trousers can be dressed up for evenings out in town or visits to local restaurants.
Wide Leg Pants or Palazzo Pants: Cool, easy to wear and lightweight. Can be worn casually or dressed up for the evenings.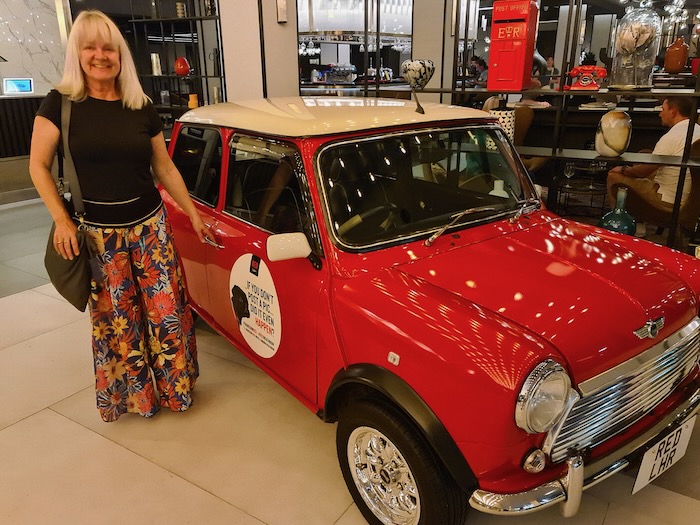 Footwear
Comfortable Walking Shoes: Choose comfortable walking shoes with good arch support. Please make sure they are suitable for both full-day tours and evening strolls.
Closed-Toe Shoes: Opt for closed-toe shoes that provide insulation and protection from the cold in cooler months.
Accessories
Scarves and Shawls: These versatile accessories can add warmth and style to your outfit, especially in the cooler evenings.
Gloves: If you're travelling in winter, pack a pair of lightweight gloves for extra comfort.
By packing various clothes that can be layered, you'll be well-prepared for different temperatures and climates throughout your journey.
Layering ensures comfort and allows you to adapt to different conditions.
This approach will enable you to enjoy the charming streets of an old town in the heart of the city or the panoramic views of the Atlas Mountains without worrying about the weather.
Comfortable Walking Shoes – 11 Top Tips
I'd like to take a deeper dive into the subject of the best travel shoes.
Comfortable walking shoes are imperative for a coach tour in Europe. You'll explore many historical centres and narrow streets, you may walk on cobblestones, or uneven ground, so a comfortable pair of shoes is crucial.
Here are some tips and suggestions to help you choose the right pairs of shoes.
Prioritize comfort
When it comes to comfortable walking shoes, prioritize comfort above all else. Don't go for the fashion shoe, or the fashion sandel that pinches a toe, or has a heel.
Remember, you'll be spending a lot of time on your feet, exploring historical centres, and UNESCO World Heritage Sites.
Look for cushioning and arch support shoes, and ensure they fit your feet well.
If you have any specific orthopaedic needs, consider custom insoles.
Choose Breathable Materials
Europe can experience a range of temperatures, so opt for shoes made of breathable materials. Leather and mesh are good choices as they help keep your feet cook, and are comfortable, especially during the warmer summer.
Supportive Soles
The soles of your walking shoes should provide adequate support. Look for a pair with a thick, shock-absorbing sole that can handle various terrains. Slip-resistant soles are also beneficial for added safety when exploring uneven streets.
Arch Support
Consider your arch type when selecting walking shoes. Some shoes offer enhanced arch support for flat feet or high arches. The proper arch support can prevent discomfort and fatigue during long walks.
Style and Versatility
Choose walking shoes that are versatile and match various outfits. Neutral colours like black, brown, or grey are easily paired with different clothing. A versatile style can take you from guided sightseeing tours to a nice dinner in a local restaurant.
Break Them In
Before your coach tour, make sure to break in your walking shoes. A great way to do this is to just wear them around your home, or on short walks to ensure they're comfortable, and so avoid blisters during your trip.
Water Resistance
Depending on the season and your destination, you might encounter rain. Having at least somewhat water-resistant shoes can be a lifesaver, keeping your feet dry during unexpected showers.
Size Matters
Ensure that you choose the correct size. Your feet may swell during a day of walking, so consider getting a slightly roomier pair. Also, take into account the socks you'll be wearing. It's a good idea to try on shoes in the late afternoon when your feet are slightly larger due to natural swelling. Remember that you might be doing a guided sightseeing tour of the city you're visiting, either morning or afternoon.
Lightweight and Easy to Pack
Since you'll be travelling by coach, consider lightweight shoes that won't add unnecessary weight to your luggage. Also, choose shoes that are easy to pack and take up only a little space.
Consider Dual-Purpose Shoes
If your trip involves a mix of casual and more formal activities, consider comfortable walking shoes that can also be dressed up for a nice dinner or an optional experience. This way, you won't need to pack extra dress shoes.
Extra Comfort Accessories
Remember comfort accessories like gel insoles or padded socks. These can make a significant difference during long days of exploring.
Obviously, the best walking shoes for you depend on your preferences, needs, and the specific activities you plan to undertake.
By prioritizing comfort and considering factors like support, style, and versatility, you'll be well-prepared to enjoy your coach tour in Europe to the fullest. Your feet will thank you for it!
Handy Tips for your Coach trip
Sun Protection: A Must for a Sunny Journey
In brief – Remember sunglasses, a wide-brimmed hat, and sunscreen for those sunny days.
When embarking on a coach trip through Spain, Portugal, and Morocco, it's imperative to consider the abundant sunshine that graces these beautiful countries.
Sun protection should be a non-negotiable part of your packing list to ensure you stay comfortable and safeguard your health while basking in the glorious Mediterranean rays.
Sunglasses
A pair of high-quality sunglasses is your first defence against the bright sun.
Good lenses should help protect your eyes from harmful UV rays and reduce glare, allowing you to fully enjoy the panoramic views and vibrant colors of the landscapes you'll encounter.
When selecting sunglasses, opt for a pair with UV protection to keep your eyes safe and comfortable during your explorations.
Polarized lenses can enhance clarity, making them ideal for sightseeing and capturing picture-perfect moments.
Wide-Brimmed Hat
A stylish wide-brimmed hat serves as a dual-purpose accessory.
Not only does it add a touch of flair to your outfit, but it also provides much-needed shade for your face and neck.
The scorching sun, especially during the summer, can be intense, and a hat with a broad brim offers excellent protection from direct sunlight.
Look for a lightweight, breathable cap or hat to remain cool and comfortable under the midday sun.
Sunscreen
Your skin is your body's largest organ, and taking good care of it is essential.
Sunscreen is your best friend for maintaining healthy and radiant skin during your journey.
Ensure you pack a broad-spectrum sunscreen with a high SPF rating. This will guard your skin against the harsh effects of the sun's ultraviolet rays.
Remember to apply sunscreen liberally to any exposed area of skin, including your face, neck, arms, and legs, before you head out for the day's adventures.
Re-apply frequently, especially after swimming or sweating.
Sunscreen is crucial to your sun protection strategy, reducing the risk of sunburn, premature ageing, and more severe skin conditions.
Lip Balm with SPF
Your lips are also susceptible to sun damage, and a lip balm with SPF can keep them soft, smooth, and protected.
Morocco's dry, arid regions, in particular, can be unforgiving to your lips. Keeping them hydrated and shielded from the sun's rays will enhance your overall comfort and well-being.
You'll be well-prepared to savour the sunny days that await you on your journey by ensuring you have sunglasses, a wide-brimmed hat, and sunscreen.
Beyond enhancing your comfort, this sun protection will contribute to your overall health and enjoyment as you explore Spain, Portugal, and Morocco's historical wonders, local flavors, and natural beauty.
With these protective essentials, you can confidently embrace the warm embrace of the Mediterranean sun, knowing you've taken the necessary steps to safeguard your well-being.
Rain Gear
A compact umbrella or a waterproof jacket can be handy for unexpected showers. I generally pack a poncho in my travel bag to keep on the coach.
Here's a reasonably priced poncho on Amazon that is similar to mine below : Women's Poncho in different designs.
Dressy Outfit
Pack a nice outfit for the welcome dinner or farewell dinner and any optional experiences at local restaurants.
We enjoyed group dinners at several excellent restaurants, plus a Fado evening in Portugal, and a Gypsy Flamenco show in a cave in Grenada.
I'm glad to have packed a couple of lightweight dresses I could wear at night and a pair of nice sandals (comfy to walk in).
Casual and Breathable Clothes
Honestly, you'll want to be comfy if you're embarking on a long journey.
Walking days can be long, and the coach days can be longer.
You'll want clothes you can put your feet up in, that stretch, that breathe.
Definitely pack comfortable clothing for your guided walking tours in the historical centres. Think casual and breathable. The orange dress below was comfy, breathable and great for sightseeing.
Light Jacket or Shawl
Useful for cooler evenings or places with intense air conditioning.
Don't Forget These Practical Items
Adaptor and Power Bank: European countries have different plug types. Make sure your electronic devices stay charged.
Mobile Phone: To stay connected and access GPS for free Wi-Fi spots, and also to be able to utilise google maps to help navigate your way around the cities you'll visit.
Camera: For the panoramic views and the historic sites you'll visit.
Reusable Water Bottle: Stay hydrated during your scenic drives.
Carry-On Bag: A small backpack or daypack to carry your essentials during the day trips, leaving your main luggage in the coach.
Travel Pillow and Eye Mask : Useful if you want to snooze on the coach.
Toilet Paper or Tissues : Generally the tour company will make sure there are adequate rest stops during your journey, however, there may not be toilet paper in the rest rooms. So be prepared.
Hand Sanitizer : Either pack some sanitizer wet wipes, or a gel.
Ear Plugs : Always useful for noisy hotel rooms, or if you want to sleep on the coach.
Additional Tips for Morocco
Power Strip: Useful for charging multiple devices when outlets are limited.
Local Adapter: Morocco uses a unique type of plug.
Local Currency: The Moroccan dirham is widely used, so ensure you have some on hand.
Bargaining Skills: In Morocco, haggling is common in markets. Be prepared to negotiate for souvenirs.
Don't drink the water in Morocco.
Wear Modest Attire in Morocco : Morocco is a conservative country. In Morocco, dressing modestly is a sign of respect. Bring suitable attire for visits to religious sites. It's a good idea to wear respectful clothing when visiting sacred sites and to respect local customs.
Pack a lightweight scarf in case you need to cover your shoulders, or wear a long-sleeved shirt.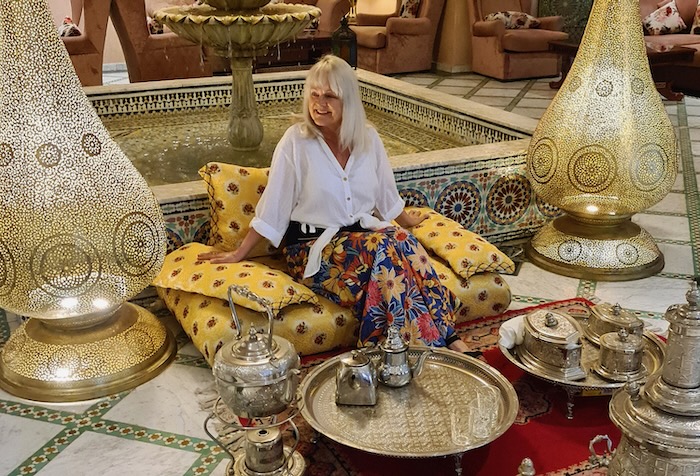 Entertainment and Comfort
Kindle Reader/Books/Magazines: It's a good idea to have some reading material for downtime during long drives or in the hotel room. I bought my Kindle on Amazon.
Neck Pillow – Perfect for a more comfortable ride if you want to snooze.
Small Lightweight Blanket – A small blanket is a personal item to consider if you're travelling during winter on a long coach journey. You might pack it in your hand luggage, or in a smaller duffel bag or day pack to keep on the coach.
Noise-Cancelling Headphones (good selection and prices on Amazon) – a luxury item, but perfect if you want to listen to music or podcasts during a long-distance trip without disturbing your fellow passengers.
Tipping: Guided Tours and Activities
You will often have the services of a Local Guide in the cities you visit, and a Tour Leader (or Tour Director/Tour Manager) may accompany you full-time on the coach.
These experts will guide you through the UNESCO World Heritage Sites, historical centres, and major cities.
Always have some Euros or Dirham available for tipping the local expert after a guided tour, plus extra cash for your travel director/tour leader and coach driver at the end of your tour.
Some Tips for Unique Experiences
Horse-Drawn Carriages: In certain places in Spain and Morocco, you can tour in a horse-drawn carriage. I encourage you to look at the horses' plight and only go with one if the horse seems in good condition. You'll need comfortable clothes, shoes that don't slip (as you get into and out of the carriage), sunscreen and a hat.
Snake Charmers: In Morocco, you might encounter snake charmers at the famous Jemaa el-Fnaa square in Marrakech. We did. We also came across people holding tame monkeys and also singers and dancers. If you show interest, you may be bamboozled into taking a photograph and paying for it, so keep some small change handy in your pocket and keep your handbag close to your body.
Olive Oil and Spice Market: Bring some Moroccan flavours back home. These markets are a culinary treasure trove. You may also come across Argan Oil sellers. Generally, you will need cash to pay for items purchased at markets. And it's not advisable to use your bank card everywhere, so beware.
Tips for a Smooth Coach Trip
Stay Hydrated: Carry bottled water to keep yourself refreshed and hydrated during the journey.
Foreign Exchange: Use local banks or authorized exchange offices for currency exchange. Be watchful when using ATM's.
Travel Insurance: Ensure your comprehensive travel insurance covers all you need it to, especially unexpected medical expenses and other emergencies. We generally use Cover-More for travel insurance.
What I Packed
I was travelling for 21 days by coach through Spain, Portugal and Morocco.
Our tour took us from Madrid to Salamanca to Porto to Coimbra to Fatima to Batalha to Nazare to Alcobaca to Lisbon to Caceres to Cordoba to Seville, to Ronda to Costa del Sol to Tarifa, then ferry to Tangier, to Rabat to Casablanca to Marrakech to Meknes to Fez then back to Puerto Banus on the Costa del Sol, then to Granada, to Toledo and finally back to Madrid.
I knew it would probably be hot, but even so, I packed some heavy mid-season items like a pair of jeans and a sweatshirt, plus a rain jacket that I never wore. Would I have been without them? Probably not! Because, well – you never know, do you?
Mostly I packed lightweight clothes that I could layer.
My case weighed in at just under 20kgs, which was just about okay for me to hump around. It's a soft cell case with wheels. Although hotels generally had lifts, there were some instances when I needed to lift my suitcase upstairs or up onto the pavement, so I was glad it wasn't any heavier. Flying from London to Madrid meant my case had to be under 23kgs; while flying from Australia to London, I was allowed 25kgs and returning to Australia 30kgs! Even with a few extra purchases, I didn't fill my allowance on my return.
You will have to carry your own luggage, although the coach driver will lift your main suitcase on and off the coach.
Handbag. I had a beautiful leather cross-body bag from Travel and Living Collection for going out, but I found this too heavy for all the walking around we did every day, so I carried it on the plane (because it holds a lot!) and then I used it for evenings out.
As I wanted easy access to essentials, I packed a canvas Sport bag, a 'messenger bag' which I bought for about $15 on a previous cruise. It's been so useful, weighs nothing, has secret compartments, and fits all I need for a walking tour. If I'm in crowds and worried about pickpockets, I can hold it across my body to the front. In it I would carry my glasses, sunglasses, 1 bank card, a little cash, my mobile, toilet paper and tissues, and a small sunscreen lotion.
Here's a selection of messenger bags you might like to check out.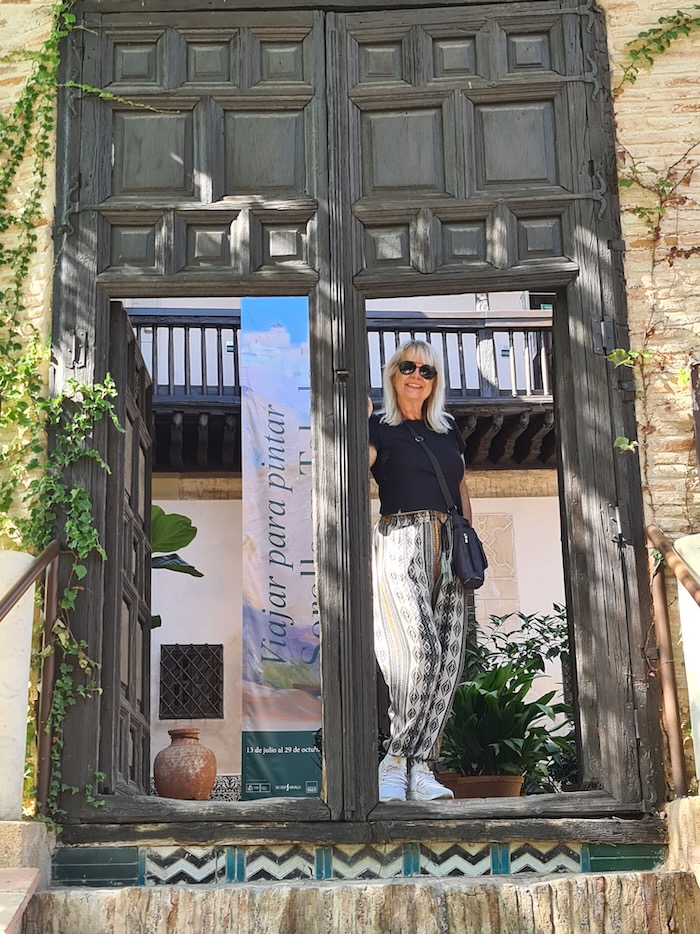 Day pack. I took a small rucksack filled with daily essentials that could be left on the coach during the day. It generally held a water bottle, a pair of sandals I could change into from my walking shoes, a lightweight fleece that I could use as a pillow on the couch, extra toilet paper, painkillers, plasters, antihistamines, a small hairbrush, a packet of Dettol wipes, and a small tin of mints.
Here's a selection of Day Packs to choose from.
Packing List – What to Pack for a Coach Trip to Spain, Portugal and Morocco
T-Shirts – I like Tees by Styling You The Label, or from 'Woman' at Target. I packed the following Tees: Magenta pink, baby pink, navy blue, black, white (long sleeve).
Capri style cut-off pants – navy and blue.
1 pair of black treggings (for going out in and cool weather).
Animal print jogger pants from Styling You The Label (I also travelled on the plane in them as they are so comfy, but they're also smart for everyday wear).
Black long-line swing top with long sleeves.
2 pairs of active-wear leggings.
Charcoal-colored walking pants from XCVI and a blue elbow-length navy Tee from XCVI to match up with them.
Boho style, multi-coloured Harem pants with elasticated ankles. Plus, a V-neck-white top with a waist tie and a white crop top to wear with them.
Boho style flowery wide-leg cotton pants plus black crop top to go with them.
Boho style multi-colored peacock blouse with elbow length sleeves from LulaSoul.
2 Boho blouses from SALTY CRUSH – 1 white, 1 ivory white.
Bright pink maxi dress with long sleeves from Target.
Mini dress with long sleeves (for sunny days) from LulaLife.
Orange midi dress bought a few seasons ago from I can't remember where! (I wore this one lots during the daytime).
Flowery maxi dress with sheared waistline from Adrift Clothing.
Black long-line cardigan.
Red lightweight fleece.
2 bolero cardigans – one navy and one black.
Swimmers and sarong.
3 wide brimmed hats that I could squash up in my handbag if necessary.
1 pair of nice sandals for going out in.
1 pair of everyday walking sandals with good support.
1 pair of Croc sandals. I bought my black Croc sandals on Amazon and they're super comfy.
Covered in lace-up walking shoes – Merrell.
1 pair of comfy white sneakers. I always suggest FRANKIE4 footwear for good arch support. But this time I took my Puma sneakers which have a foam inlay.
Pair of blue jeans, rain jacket, sweatshirt – didn't wear!
Medical kit
Vanity bag, and make-up bag.
Daypack
Leather crossbody bag for evening wear and on the plane.
Sports, lightweight 'messenger' crossbody handbag for everyday use.
Underwear
You can't copy-paste this list, but if you'd like to have a copy, please comment on this post and let me know you'd like it – or you can follow me and message me via Instagram or Facebook – and I'll email it to you.
Let's Wrap Up the Packing Information
Packing for a coach trip to destinations such as Spain, Portugal, and Morocco is an art of balancing comfort, culture, and convenience.
As you prepare for your adventure, consider these essential packing tips to help you make the most of your trip and ensure a comfortable and memorable travel experience.
I found this journey offered an exhilarating exploration of history, culture, and natural beauty, with experiences that ranged from UNESCO World Heritage Sites to vibrant marketplaces, ruins, cathedrals, and the occasional royal palace.
I wish I'd packed a pair of comfy, stylish leggings like these floral high-waisted boho leggings that have a bell bottom flare. I have a similar pair at home, but didn't take them. They are lightweight and flexible, and great worn with a longer length blouse. Take a look at the various colours and designs on Amazon here.
Your coach tour across these three diverse countries presents you with a tapestry of experiences, and your choice of clothing plays a significant role in keeping comfortable.
The weather in these regions varies greatly depending on the season and location. Whether you're sipping sangria in a Spanish plaza, wandering the narrow streets of an old Moroccan town, or savoring the local flavors in a Portuguese restaurant, dressing appropriately for the weather and culture will contribute to your overall comfort and enjoyment.
When selecting your clothing, pack according to the season you're travelling in. Summer brings scorching heat, so lightweight, breathable fabrics are essential to keep you cool. Pack your swimmers for a cooling dip at the Costa del Sol beaches or any hotel with an outdoor swimming pool.
In contrast, winter, particularly in the northern regions, can get quite chilly. In these areas, layers are your best friends.
Consider packing a light jacket or shawl for cooler evenings, and always have a waterproof layer handy in case of rain.
Spring and autumn, while milder, may also bring some temperature variations. Versatile clothing choices that can adapt to different conditions will serve you well.
Layered clothing is a must-have for your journey. It allows your body to adjust to changing temperatures and conditions.
With a base layer of lightweight, moisture-wicking fabrics, mid-layers such as long-sleeved shirts and sweaters, and an outer layer that includes a light jacket or windbreaker, you'll be prepared for anything Mother Nature throws your way.
Pair these layers with convertible pants that can become shorts during the day or jeans and comfortable walking shoes that suit both daytime tours and evening outings.
Comfortable walking shoes are a crucial part of your packing list. You'll be exploring historical centres, narrow streets, and bustling markets. Prioritize comfort and support, ensuring your shoes are breathable, have sturdy soles, and offer proper arch support. Remember to break them in before your trip to avoid any discomfort. Comfortable walking shoes can make or break your coach holiday.
In addition to your clothing, consider other essentials such as travel documents, power adaptors, and a compact umbrella.
Remember your credit and debit cards and local currency to ensure easy access to funds. For your medical needs, carry necessary prescriptions a basic first aid kit, and ensure you have comprehensive travel insurance to cover any unexpected medical expenses.
Following these packing tips and suggestions will prepare you for your coach tour through Spain, Portugal, and Morocco so that you can focus on the breathtaking experiences and cultural immersion, knowing you've packed wisely for comfort and convenience.
What to pack for a coach trip to Spain, Portugal, and Morocco is about balancing comfort, culture, and convenience to enjoy the whirlwind of sights, sounds, and flavors that await you during an unforgettable journey.
I hope you enjoy your trip! Bon Voyage!
Related Posts You Might Like
What to Wear : Alaska Cruise : Ultimate Packing List
How to Pack for New Zealand : South Island Itinerary
What to pack for a coach tour in New Zealand in Springtime
Van Life Essentials – What to Pack – Ultimate Guide
What To Pack For A Weekend Away – Read Now!
This is What to Wear on a European Barge Cruise : Things you Need to Know
Pin This Post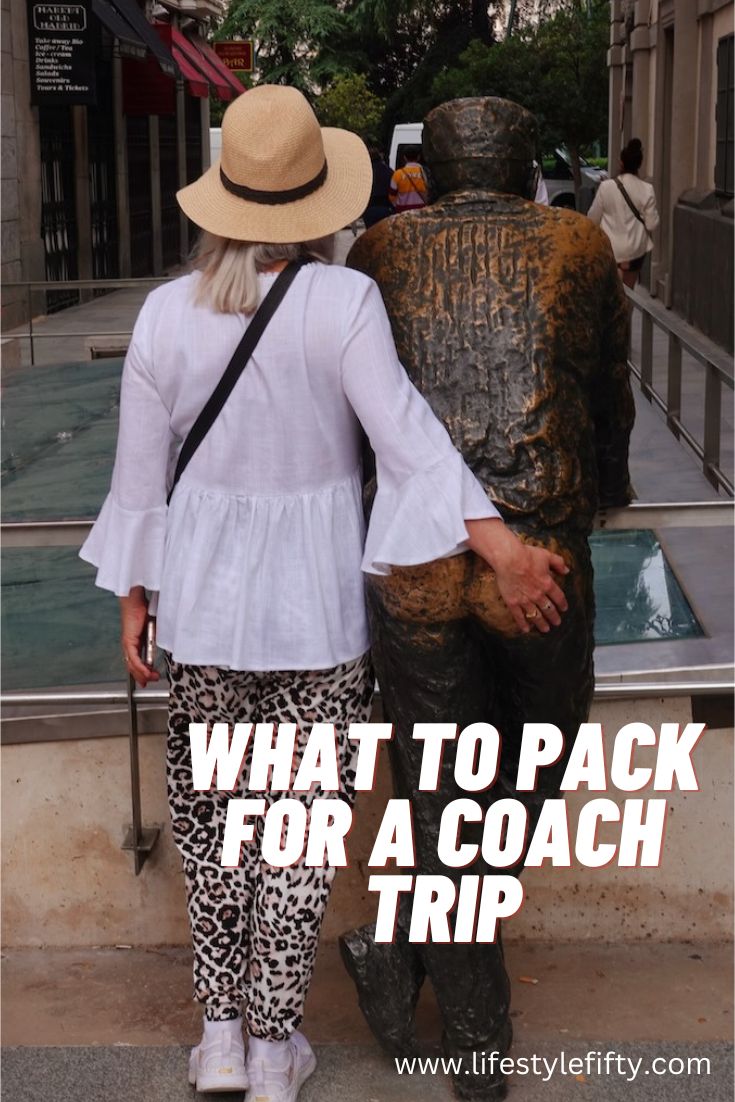 Disclaimer:This post "What to Pack for a Coach Trip" contains affiliate links from which I stand to earn a small commission but at no expense to you. Any gifted items are marked either gifted or with an asterisk *. Lifestyle Fifty Website is a participant in the Amazon Services LLC Associates Program, an affiliate advertising program designed to provide a means for sites to earn advertising fees by advertising and linking to Amazon.com. Some images in this post may have been sourced with permission from Styling You The Label and Salty Crush websites. Please read my full disclosure here.