Living in remote Western Australia we are far from anywhere, except … Bali which is just a hop skip and a jump away from us as for a tropical holiday. Which means I've become expert at understanding what to pack for Bali as we are lucky to visit quite often.
Packing for Bali
In this post I'm going to share what type of outfits work for me, and offer you ideas and inspiration about the kind of clothes and shoes to pack if you're travelling to Bali for a holiday.
In other posts I've written about Where to stay in Ubud, Bali, and Would you retire in Bali, as well as What to pack for a tropical break and How to create Balines gardens without going to Bali and on my travel blog I've written about 29 Awesome things to see and do in Bali.
What to Pack for Bali – Essentials
There are 3 essentials.
If you take nothing else, take these three things!
Bali is hot and steamy and tropical, and you'll find that a swimsuit a sarong and a sun hat will be your staple items.
You can always dress up the sarong up at nighttime by adding a pretty blouse and dainty sandals, and you'll be perfectly well dressed for casual night-time al fresco beach locations and restaurants.
Below I'm wearing a long sleeved, zip up swimsuit * from Capriosca Swimwear with a sarong purchased long ago, and a hat gifted from a friend. This swimsuit, with it's long sleeves is great if you're going to be out in the sun all day.
The beautiful Tahiti Frill one piece swimsuit * below is a tropical favourite. And the frivolous frills at the front, cover a festively plump tummy very nicely!
Both swimsuits are from Capriosca and I'm in a size 12.
Looking for the best swimsuit to buy ? We've compiled a post to help you right here. It includes hints and tips about how to buy the right swimwear and will guide you to some gorgeous swimmers to purchase.
The Essential Dress for Bali Days
The next thing on your list for what to pack for Bali is a simple everyday, easy to wear, cool, dress.
I prefer something that I can tie, knot and scrunch into my suitcase which can then be shaken out and hung up without ironing.
The Crinkle Cotton dress * from Vivid International below is lightweight and a relaxed shape. The refreshing colour is cooling on hot summer days and this dress is ideal – Simply roll up and pack, and you have the perfect frock for relaxing in the daytime, and then dressing up at night for sipping cocktails.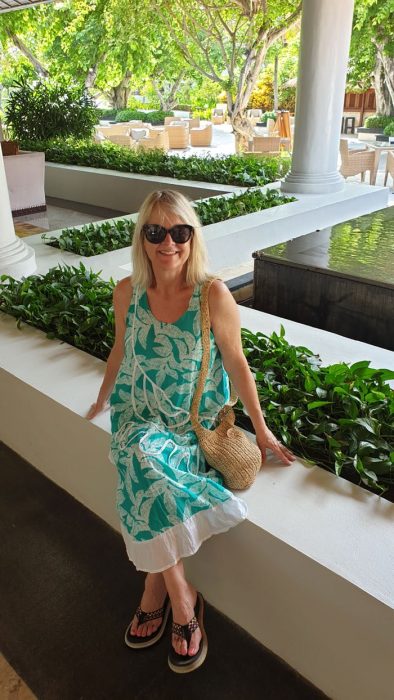 I'm a believer that you don't have to spend a fortune on dresses that are probably going to get washed a lot due to the humidity and heat. If you take really expensive stuff on holiday to Bali, you are most likely not going to wear it.
You will sweat, and it is humid. I like to take dresses which haven't cost an arm and leg, which I still feel good in, and which will do the job adequately in that they are great for days or nights out and they are cool and flattering for daytime, and wash easily.
Having said that, footwear is another thing entirely. I'm a firm believer in looking after our feet as we get older, and I for one have started having problems with achey feet.
However, FRANKiE4 Footwear are designed by a podiatrist and offer heel support, arch support, and forefoot cushioning.
The Jay sandals * in navy that I'm wearing have a leather lining and a leather upper and are perfect for summer warm-weather escapes.
JAY has a stunning forefoot bow for width adjustment, smooth leather lining and secret support and cushioning built-in to her footbed!
Styling Tip: Style Jay sandals for every day by pairing with everything from relaxed, wide leg trousers to breezy summer maxi dresses … scroll down to see them in action.
Culotte Pants
I always felt that culotte pants made me look squat and stumpy! However, when it comes to what to pack for Bali they are always firmly on my packing list?
Why?
Well, although I feel they are not the most flattering item of clothing I can wear for my shape and height, they are ridiculously comfortable, cool and protect my legs from mosquitos at night.
Below I've teamed a pair of baggy, lightweight culotte pants from Aldi (middle aisles – don't you love them!) with a navy vest T, a lightweight scarf to cover my shoulders, a piece of jewellery I picked up from a street stall at Nusa Dua and my faithful FRANKiE4 Jay sandals.
Another outfit I take to Bali is a pair of relaxed cut off pants and a loose white blouse.
Both items below are from Rivers and and I wore them lots.
My Jay Sandals from FRANKiE4 were the perfect match yet again and kept my feet cool and comfortable whilst out and about.
Floaty Dress for Multi-Occasions
The Saffi Dress in Gardenia * from Adrift Clothing arrived just after I'd left for Bali, but I would definitely have packed this dress if it had arrived in time for departure.
I've since worn this gorgeous floaty midi on numerous occasions and it really is cool, easy to wear and can be dressed up or down for day or night and worn with flats or wedge heels.
I love it's easy style, and it's generous capped sleeves, and for hot tropical climates it's so important to have clothes which don't cling to you. This Saffi dress is perfect in this respect.
Cool Comfy and Culotted – Again
These Lesha Pants in Hydrangea * will be on my Bali packing list for the next trip. The ones I'm wearing are XS which surprised me as I'm a Size 12, but they fit great.
I love the way these pants move as I walk and I adore the flowery print.
The relaxed, boho, Iman Blouse in White * is a perfect match for a cool and collected tropical look.
Both are from Adrift Clothing.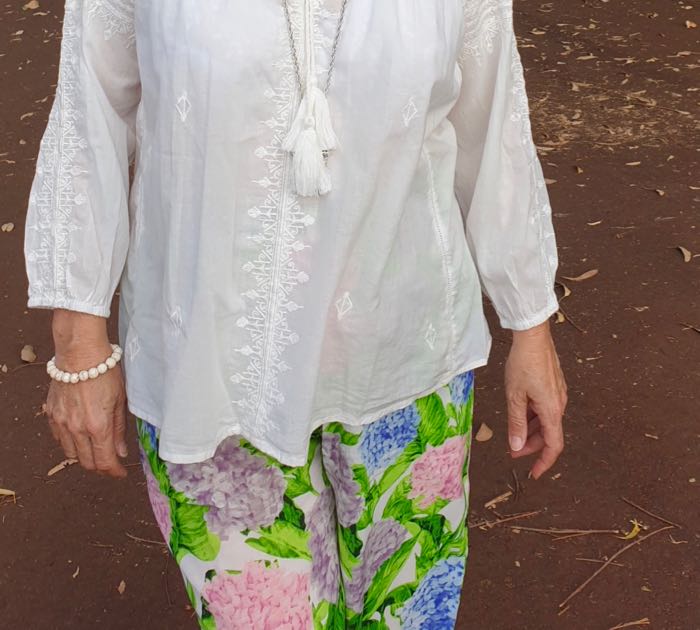 These pants also go well with a coloured top, picking out the blue/lilac tones or the pink or green. The blouse below is from Vivid International.
Going out Dress
The dress I'm wearing below is from Rivers.
I love it's length, and its movement, and the fabric is cool and falls really well.
The safari print shouts "HOLIDAY!" and because it's quite busy, you can't see any creases. So I just hung it straight up from my suitcase and it was good to go without ironing.
A maxi dress like this one is a good bet for evenings in Bali, and you can wear it with flat sandals which is great if you're walking on uneven ground or along the beach.
I've teamed it with my original Christin Bag from Travel and Living Collection and a fake Panama hat both of which I love and wear lots. I'm wearing tan leather FRANKiE4 sandals from a few years ago.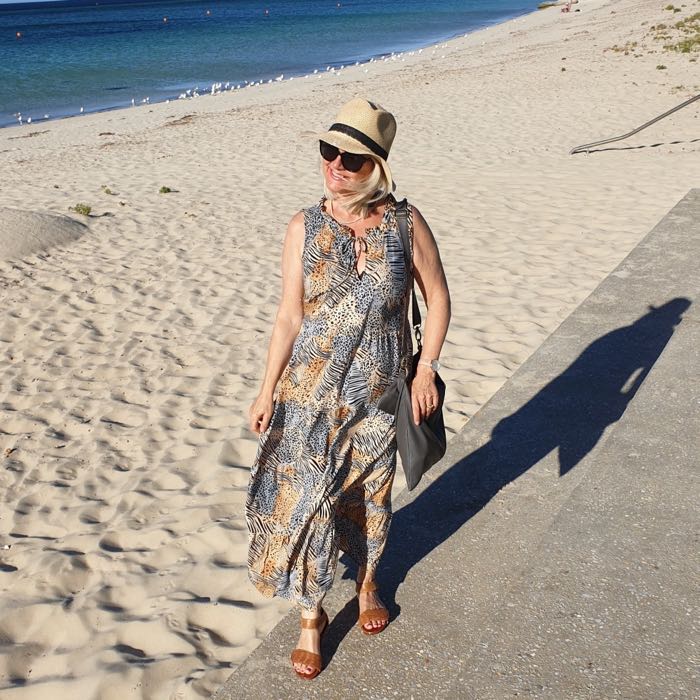 Exercise Gear
While many of you might intend to lie in because you're on holiday or perhaps go on gentle walks and swim, we often have another agenda.
Dave is more likely to jolly me into getting up early and going to the gym before a swim, and then relaxing over a long leisurely buffet breakfast – which by then we feel we totally deserve!
So I'll always pack at least one pair of gym pants, trainers, and a T-shirt that will be quick to dry and doesn't need ironing.
I took the ensemble below to Bali this time.
It included a Thea Stripe top * from the Vivid International summer range (of course as you can see, I didn't photograph myself in Bali at the gym, but when I got home and was walking my daughter's dog one day).
Everyday Sightseeing or Shopping Gear
When I'm out and about in Bali, especially amongst the locals, I like to dress conservatively.
When it comes to religion Bali is made up of Christian, Muslim and Buddhist minorities, while the predominant religion in Bali is Hinduism, making up approximately 90% of the population.
Bearing this in mind displays of flesh can be disrespectful unless you're on the beach.
So a lightweight blouse like the fabulous jewel coloured Portobello top * below teamed with bengaline pants also from Vivid International, make a great ensemble when teamed with comfort footwear like these sneakers * from FRANKiE4 Footwear.
In Bali I picked up the decorative sarong from a beach hawker for $10. In fact I bought three in different colours. I think it also makes a lovely and fun addition to this outfit now I'm home, worn as a cover up rather than as a sarong.
What to Pack for Bali : Complete Packing List – 7 Days
Clothes
1 sundress dress suitable for lunch around the pool.
1 dress for night-time – possibly floaty, Indian, definitely non-crease.
1 T-shirt
1 lightweight long sleeve or three quarter sleeve shirt
1 rash vest (sun protection when swimming or snorkelling)
1 Pair of Shorts
1 Pair of Capri Pants (3/4 or 7/8 cut offs)
1 Pair of baggy, long, light pants or a light maxi skirt (for visiting temples or covering up from the sun)
1 top to go with above baggy pants or maxi skirt.
1 Sarong
1 Pashmina to use as a cardi at night if it's chilly
Swimmers
Underwear – 3 pairs
2 bras – white and coloured (to go with clothes I'm taking)
1 pair of socks
1 pair of trainers/joggers
1 set of gym gear – pants, top and bra
1 pair of flip-flops or slides
1 pair of lightweight sandals (comfy but pretty enough to wear with my dresses)
1 pair of walking sandals
Sun Hat
Toiletries
Toothbrush
Toothpaste
Deodorant
Shampoo and Conditioner (in small containers)
Sunscreen
Cleanser and Moisturiser
BB or CC cream with sunscreen in it.
Lipstick, blusher, bronzer, eyeshadow and mascara
1 small sachet of washing powder, or a bar of washing soap (for smalls and socks)
Handbag stuff
Wallet, passport, tickets
Sunglasses
Zip lock plastic bags – for toiletries, make-up, memory cards
A 'holiday read' book
Small notebook and pen
Pocket tissues
Hand sanitizer
Health Requisites
Prescription medications
Electrolyte sachets
Mini first aid kit including insect repellent, diarrhoea tablets, stomach cramp tablets, paracetemol, ibuprofen, antihistamine, midi quattro cream (it's antiseptic and anti-itch), plasters and medical tape, eye drops.
Technical Gear
Camera (and spare memory card)
Tablet or iPad
Phone
Chargers for camera, table and phone.
Electronics adaptor
Packing Tips
Roll your clothes, don't fold.
If things don't fit in easily – then ditch them. Clothes are pretty cheap to buy in Bali.
A small bag of pocket tissues are great if you get caught out somewhere where there is no toilet paper
Don't forget your prescription medicines
Don't forget to take out travel insurance.
Insurance
Don't forget travel insurance.
We like to use Cover-More Insurance
Check them out and find the right insurance package for you.
Stay connected – Sign up for our Newsletter
Sign up to our Newsletter below to get all the new blog posts hot off the press. We'll also send you, completely free of charge, the Lifestyle Fifty Manifesto for living your best life.
Disclaimer: This post contains gifted products marked with an * and affiliate links from which I stand to earn a small commission if you buy from them – but at no expense to you. Lifestyle Fifty Website is a participant in the Amazon Services LLC Associates Program, an affiliate advertising program designed to provide a means for sites to earn advertising fees by advertising and linking to Amazon.com.