Hands up who's jetting off on holiday?
Oooh, lucky you. I'm sitting here looking out at a very grey wintery day in Perth.
Or perhaps you're not jetting off on a plane but getting ready for a long car drive instead?
The look I've put together today could just as easily serve it's purpose for a long road trip or a long haul flight.
Meanwhile for me, it will just have to stand the ravages of a night on the sofa with a good book.
The most important thing for me these days when I'm travelling is comfort. If something doesn't 'give' nicely around the waist and my legs, then I won't wear it, no matter how good it looks.
My store of the moment for casual but chic comfort wear is Millers and I put the comfortable ensemble pictured above together the other day.
I met my hubby off the train after work, and he said:
"Come on, I'm taking you out for dinner because you look lovely," which took me completely by surprise because I was ready for a night in front of the TV.
But looking at this get-up in the cold light of day I can see why it impressed him – It's smart in a French and nautical way – and so yes, it deserves it's place in a restaurant too 😉
As I have family in the UK, I do a lot of long haul travel. Here's a few things I've learnt which I hope might help you too.
Tips for a long haul flight
Do wear clothes that are comfortable
Don't wear tight jeans or tight pants that inhibit blood flow in any way
Do wear flat shoes as there may be a considerable amount of walking in the terminals
Do wear shoes or boots that are easy to take off at the security checks
Don't wear lots of clanking bangles or necklaces – as you may end up having to take it off at the security checks too.
Dress simply, but smartly.
Wear non-crease clothes.
Do layer.
Lounger Ponte Pants
The smart lounger ponte pants have a wide leg and they are easy fit with a comfortable elasticated waist and a flattering leg-line. I'm not normally keen on wider legged pants, but these fall well. The dark navy is a classic colour and could be teamed up with white, or a stripey blouse if you didn't go for the navy studded neck top which has long sleeves and a neckline studded with little sparklers. It's a classic style which will become a great staple in my wardrobe. You could also wear it with printed skirts or jeans.
Stripey Jacket
I was drawn to the colour block jacket with its navy and white stripe because it looked so fresh and smart and the navy side panels make it slimming too. It's got long sleeves, it's lovely and soft and really comfy, which makes it ideal for plane flights or in the car. It won't crease so it could be put in the overhead locker if you weren't wearing it.
Black Boots
In the photos I'm wearing little black wedge heeled boots, but for plane travel I'd go for something with a flat heel so that I could walk between terminals and up and down stairs without having to worry about walking in heels. I'd also choose boots that are easy to take on and off if you're asked to at the security checks. So the Cara rouched comfort boots (in the picture below) with a cushion sole would be ideal.
Get the Look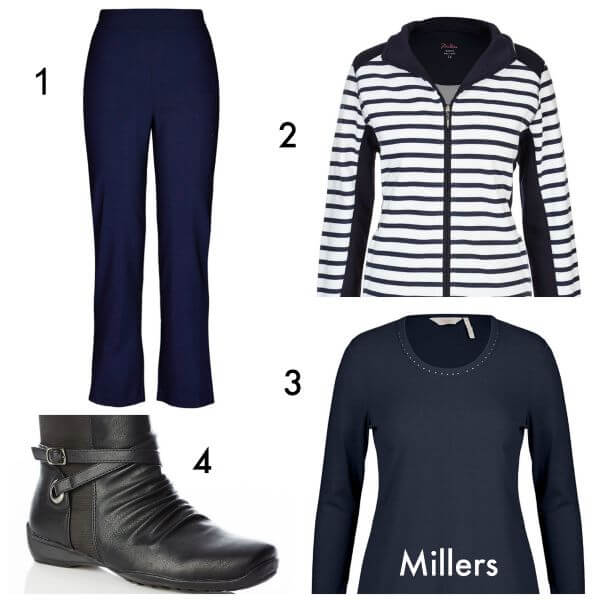 This post isn't sponsored, and no items were gifted. I went out and bought them all myself 😉
Before you go, what are your thoughts – Would you wear this look on a long haul flight or car journey?
Until next time,
Happy flying,
PS: If you've enjoyed this post you might also like "How to Dress for Any Occasion."