Walk in Nature
When we first arrived in Western Australia the State seemed so vast and the scenery so unknown to us that when a friend in Bunbury mentioned she'd been to see the tulips at Araluen Botanical Park near Perth, I thought how odd.
In my ignorance, I associated mass plantings of tulips with Amsterdam in Europe and believed that anything WA could offer might come a paltry second to Belgium.
How wrong can you be!
But it isn't just the tulips which make Araluen so special, it's the beauty of being able to walk in a wooded valley where bumbling brooks and waterfalls tumble in springtime. A place where there are birds in abundance, and the aroma of woodchips and roses mingles in the air.
We strolled along woodland walks where there are quiet places to sit and ponder life the universe and everything.
At Araluen, between the massed plantings of tulips, are cheery daffodils with bright yellow papery faces that remind me of the Devon countryside and England.
And okay – yes, there are tulips in almost every colour too.
But that's not all – in WA we also lucky to have King's Park in Perth, one of the most beautiful botanical parks in the world, leaning as it does right out over the city, casting its colourful eye over the Swan River.
There's something about spring flowers. They're so jolly, and they make me feel so happy, and I can't wait to get out in nature to be amongst them.
Being in nature is just one of the things that inspired me to write How to Be Happier as You Age.
"Various studies have found that urban dwellers with little access to green spaces have a higher incidence of psychological problems than people living near parks and that city dwellers who visit natural environments have lower levels of stress hormones immediately afterward than people who have not recently been outside.' New York Times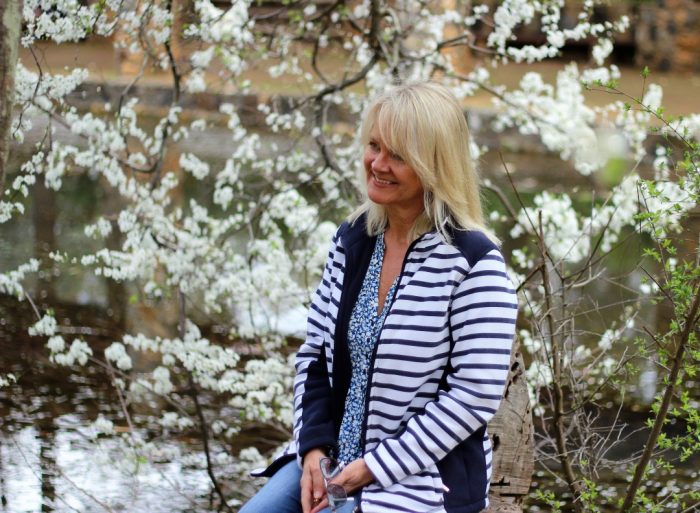 So why do I like walking in nature?
As with everything on Lifestyle Fifty, I'm not the oracle, but I do believe in having the time of our lives after 50! Getting out in nature doesn't cost a cent and it's available to us all, so we should just put our walking shoes on and Do It!
Walking is an inexpensive, low risk and accessible form of exercise and combined with a walk in nature and perhaps a walk with friends I find it a powerful stress buster.
You don't need expensive or flash equipment – just a good pair of shoes, sunscreen and a hat.
Walking gives you a chance to take note of the changing seasons and become more at one with the world.
I think that being at one with nature amongst colourful flowers and tall trees is good for the soul. It gives you the chance to breathe out, and then breathe in deeply to replenish the worn out fragments of your psyche.
For me it's relaxation therapy at it's very best, and having the privilege to walk among a stunning array of Spring flowers offers a wonderful sense of renewal, and of re-birth, along with hope and faith in the future.
"Our findings suggest that something as simple as joining an outdoor walking group may not only improve someone's daily positive emotions but may also contribute a non-pharmacological approach to serious conditions like depression." Sara Warber in The Huffington Post
We love walking in the Perth Hills and this weekend went out with friends to walk the 5.9km Statham's Quarry Walk. I came back feeling energised and happy and full of beans.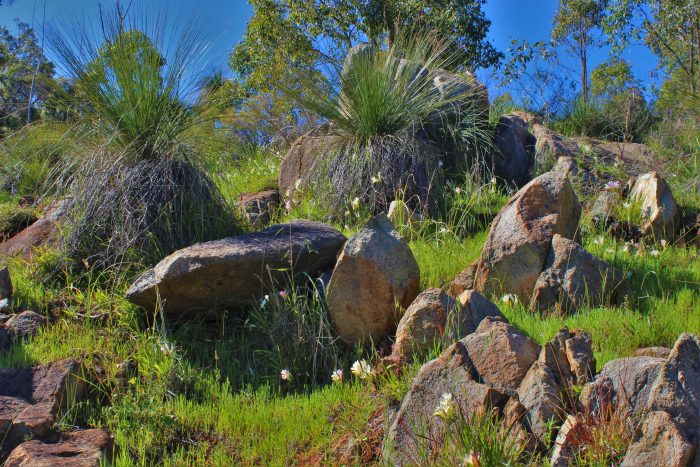 Have you visited anywhere gorgeous yet this Springtime? Why not tell us in the comments?
Araluen Fast Facts
The spring flowers are generally at their best in September. The park is then ablaze with massed paintings of tulips and other spring blooms.
Whenever you visit you will find streams, plenty of picnic spots, and bush walks.
Araluen is near Roleystone, about a 35 minute drive from Perth.
I met Linda Bettenay who was volunteering at Araluen and she's a writer too 🙂 You can check out her books at Linda's Books.
Kings Park Fast Facts
The wildflower spring flower Festival runs from 1 – 30 September 2016.
Kings Park is fabulous to visit at any time of year.
Free guided walks and talks are held three times a day with the Kings Park Volunteer Guides.
There are restaurants and a gift shop, toilet facilities, and wonderful places to sit under shady trees to just chill or picnic.