I'll admit it. I'm vain enough to want to keep my skin looking as good as possible as I age.
In many respects I can't help thinking that genetics are to thank for skin that ages well, but I also believe there are products we can use to help retain our skin's glow and elasticity, although of course a good diet, plenty of fresh air and exercise play a big part too.
Read on for a Skin Serum Giveaway
Today Lifestylers we're talking skin serum and there's a Giveaway, so please read on.
At a beauty workshop not so long ago, a friend said. "For a woman her face is important isn't it? I mean, everyone looks at your face. It's what precedes you in any social situation whether you like it or not," before she whipped out her credit card and bought four or five products.
Ahem, and after being Royally convinced by my lovely friend, Jenny (my go-to beauty guru) I may have followed suit 😉 although I dithered over the skin serum.
As luck would have it, in the meantime, I was asked to trial the *Luminesce Cellular Rejuvenation Serum from Jeunesse, and I've been using it for three weeks.
I'd like to see the marionette line between my eyebrows diminish, but I'll reserve judgement on that one for the time being and let you know how it goes.
So why use a serum?
"If you think of your skin like a mattress," Jenny explained to me, "with lumps and bumps that sag over time, then a serum should pump up the saggy bits if you use it consistently."
Looking at my skin in the mirror I'm finding it hard to think of it as a mattress, although this morning after a disturbed night (blame the hormones) I am wondering if someone else has slept in it.
So I'm thankful that I've got a serum to whack on before I get out for my ritual walk in this chilly winter weather.
"We lose collagen and elastin as we age because the genes that produce them drop off. We also get damage over time from free radicals and sun damage, and if you like to think of it another way, overall, the recipe just goes wrong," explained Jenny. (I'll be writing more about Jenny and the beauty products she distributes in a future post.)
Keeping skin plump
The Luminesce Cellular Rejuvenation Serum claims to be an anti-ageing product that stimulates your body's natural ability to replenish, moisturise and rejuvenate your skin and encourages the production of more collagen and elastin.
I guess it's natural that as we age the production of rejuvenation factors within our skin is reduced, and our skin loses its plump youthfulness.
But according to Jeunesse, the Luminesce Serum encourages your skin to replace dead, damaged skin cells with healthy ones thus reducing the appearance of fine lines and wrinkles, because among other benefits, it contains a natural wrinkle filler that preserves elasticity and firmness.
Jeunesse also say that it's all-natural, hypoallergenic, and paraben-free – and I'm all for that.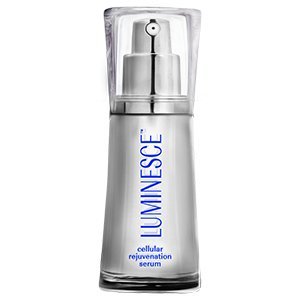 Luminesce Cellular Rejuvenation Serum Benefits
According to the product description this product should help to …
Promote a healthy looking appearance
Replenish your skin's moisture levels
Increase firmness, elasticity, and smoothness in the texture of your skin
Minimise the appearance of fine lines and deep facial wrinkles
Renew youthful luminosity to your ageing skin
Replenish your skin's natural stores of rejuvenation factors and proteins that can become depleted with age
Delay the appearance of the ageing process
Absorb quickly into your skin
Overall I've loved trialing this product and will continue to do so.
Disclaimer * This product was supplied FOC for editorial consideration.
Price-wise it's probably mid-range as far as skin serums go.
It's definitely made me think that serums are a good bet for older skins, and I'm watching to see what happens to those saggy mattress lumps on my face with a keen eye!
Do you use a skin serum – which one – and is it great or not?
If you'd like to win a Luminesce Cellular Rejuvenation Serum valued at AUD$112 please refer to the Giveaway Competition conditions below before entering.
To Enter
Show a bit of love and follow Lifestyle Fifty on Facebook.
Leave a creative comment below telling me why you'd like to win.
Sign up to my Email updates or the Newsletter (see the box "sign-up for Newsletter at the bottom of this post)
Up to 3 entries per person.
Spam comments will be deleted. Unverifiable persons will not be considered.
Closing Date for entries is 20 August 2014 (12pm midnight Western Australia time) Comments submitted after this time will not be considered for the giveaway.
Terms and Conditions
The name of the promotion is Lifestyle Fifty Skin Serum Giveaway.
Other conditions of entry are as stated in points 1-6 above.
Employees, immediate family members, retailers, suppliers, associated companies and agencies are not eligible to enter.
This is a game of skill. Winners will be awarded based on an outside adjudicator's opinion of their appropriateness or creativity.
The Winners will be notified via email.
The results of the giveaway will be published on this site.
Prize is not redeemable for cash and is non-transferable.
If for any reason beyond my control the agreed prize (as photographed or described) is not available, then a product of equal value will be provided.
To enter please abide by the conditions above, and make sure you
This Competition is now closed.