Hello Everybody, and welcome to another What Shall I Wear Monday!
Yay! Today's the day when Lifestyle Fifty women readers, gorgeous normal women, show us what they're wearing. They send in a pic, and tell us what they like or don't like about the look they have on, and then offer their tips about where to buy the clothes.
Summer dresses
Today please say a big warm "Hello" to lovely reader Janet Camilleri who writes a lively blog about life with a husband, two teenagers, various pets and finding her feet after redundancy as a "Middle Aged Mama" wanting to look good! Phew!
Anyway, today Janet lets us in on a little secret about her summer dress below.
"In Summer, I love to wear what I call "everywhere dresses". They're cool, they're comfy, they don't need ironing and can go just about anywhere with the right accessories," Janet says. "I have a real "thing" for blue this Summer, and this dress (pictured above) is no exception. I'm wearing it with a nude Kelly Hill bag, and nude sandals from Rivers."
Janet bought the dress at Rivers a couple of months ago for $24.95, and loved it so much she went back and bought the same dress, in a different colour!
"Here I am (below) wearing the same dress, this time in black and jewel tones."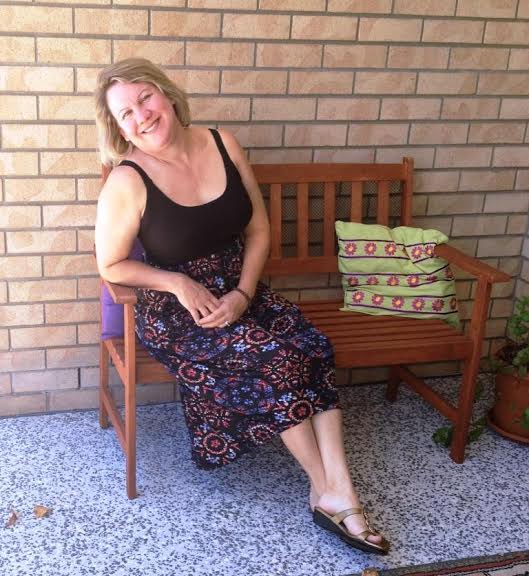 And Janet's little secret?
"But what is REALLY amazing is that I am wearing … can I have a drum roll please … a SIZE 10! Rivers must have really weird sizing because I'm more of a 14 or 16 – it's been quite a few years since I last bought a Size 10 in anything (unless it was for Miss 17!)"

"I work from home, so both of these dresses are ideal for everyday wear. With the right shoes and accessories they can also be dressed up for meetings with clients."
Janet's Blog
By the way, Janet's blog Redland City Living is undergoing a name change to Middle Aged Mama but she'll still be writing about her life and life in Queensland. You can also find her  on Facebook & Twitter.
Now you'll find her at Janetti Spaghetti.
"I'm a middle aged mama with a passion for fashion and looking good, no matter what your budget. As an "almost empty-nester" (the kids still live here but they're hardly ever home!), I feel like I am re-discovering all that life has to offer," Janet says.
What do you think?
Don't you think Janet looks great? Cool, relaxed and comfortable in a day-to- day-go-anywhere, do-anything dress that really suits her and joy oh joy, doesn't need ironing!
Thanks Janet for being a good sport and joining in the What Shall I Wear Today Monday challenge 🙂
If you'd like to join in What Shall I Wear Today, please email me a photo of yourself with a little description about what you're wearing, why you like it, where you bought it and any little stories that might go with it. Can't wait to hear from you.
Ok everyone – who likes this style of dress? Would you buy one, do you have one, or what is your Everyday Dress so far for 2014? Please do tell in the comments 🙂