What is Athflow?
It's a mix of loungewear crossed with activewear. Athflow is roomy enough to be athletic, yet stylish enough to still look chic. Think comfortable garments like baggy trousers, oversized cardigans, wide-bottomed leggings, palazzo pants and ponte pants, styled with a touch of sartorial elegance.
Perhaps Athflow style came about in direct response to the stay at home trends that really began in 2020, when everyone was living in trackies or pyjamas and got used to being comfortable, and not wearing office clothes or more formal wear.
Athflow Meaning
According to an article in Marie Claire Pinterest's head of content and editorial partnerships Aya Kanai, labelled "ath-flow" as one of the new year's biggest emerging trends. "Defined as "flowy trousers, casual jumpsuits and oversized outfits", the style is "professional enough for the office, stretchy enough for the yoga mat and comfy enough for the sofa."
Yes, the athflow trend could be the comfiest fashion trend ever! And for me that's a win win because I'm getting to hate clothes that cling, pinch or restrict movement. I want clothes I can move around in. Blame it on the stay-at-home trend, and I'm okay with that too.
For a while, and definitely as I get older, I feel the need to be dressed ready for exercise at all times.
Otherwise I just don't exercise.
If I'm wearing clothes I can walk the dog in, or get down on the floor to do a quick set of stretches or tummy crunches then I will. If I'm wearing fitted 'going out togs' so to speak, then I'll make every excuse under the sun not to dirty them, stretch them or otherwise mess them up with grubby exercise!
This new Athflow trend is all about un-fitted, roomy but stylish garments – think Palazzo pants like these below …
Click on Images for prices
According to Real Simple, the Athflow definition is "The outfit you'd wear for a virtual Zoom, when you need to look professional but are determined to remain comfortable. We're talking boyfriend blazers, wraparound cardigans, fancy leggings, and oversized jumpsuits."
How to Style Athflow Fashion
Styling athlow wear is really open to your own creativity. Pick colours to suit you but go wild with designs.
Try baggy pants and vest tops with long slouchy cardigans. Or stretch yoga pants and sloppy Joe cotton sweatshirts teamed with a stylish pair of sneakers and a baseball cap.
Wear stretchy wide legged pants with a floral top for a more feminine look. and add a longsleeved cardigan.
Click on athflow pants images for prices below …
If you want to ramp things up a bit, opt for a loose boho style dress that's comfortable but attractive – you'll be able to pop on a pair of sneakers and go for a long walk, and it's the kind of garment you can easily get down on the ground in, for a picnic perhaps, and be able to just chill out in comfort without the tug of a tight waistband. For this trend is all about range of movement.
Perhaps you might team an easy wrap dress (suits every body shape) with bohemian boots and roomy leather tote bag – great for urban walks or shopping trips.
Click on the images for prices.
You need to keep an eye on style, while keeping your finger on comfort. Accessories will always be great additions to athflow and as always scarves, hats, bags and costume jewellery all fit the bill.
Check out some of the comfy yet stylish Athflow fashion available from Tulio below …
And Refinery29 has this to say: "In short, Athflow is a polished take on ultra-casual, loose, comfortable apparel. It's the fun feathered trim of Sleeper's pajamas, the satisfying fit of Pangaia's orchid purple track pants, and the romance of a billowing long-sleeve blouse long-sleeve blouse by Lisa Says Gah. It's the answer to how we'll keep comfortable when we're no longer relegated to the sofa, but still not ready to transition to the outfits we wore pre-pandemic."
Yes! Our loungewear is getting a fashion make-over, and it probably won't go out of fashion.
Click on images for Adrift prices
I love Adrift clothing for comfort wear that still looks stylish. You'll find tons of either floaty, sporty or comfy clothes at Adrift below and get 10% off your first order while this promo lasts.
Athflow extends to comfortable but stylish footwear as well. You need to be able to walk comfortably in Athflow footwear – I love FRANKiE4 for their podiatrist designed shoes, boots and sneakers which can take you from walking the dog or going to the gym or commuting to the office – you choose.
Check out the FRANKiE4 Athflow footwear trends below …
Athflow Brands
Of course many of your favourite brands will offer loungewear that can be defined as Athflow. Some of my favourite clothing brands (and one footwear brand) all embrace this new trend. Click on the links to have a look-see.
Now that working from home is becoming more and more prevalent, and overall we are looking at a more relaxed working environments, zoom meetings and conference calls becoming the norm, then you can be sure that Athflow is a new trend that is probably here to stay.
Pencil skirts, those Margaret Thatcher suits of our mothers used to wear, tight skinny jeans that you have to pour yourself into or lie on the bed to zip up, and clingy blouses showing too much cleavage, could all well be relegated to the fashion archives.
Designers will be more intentional about designing casual clothing to take you anywhere, and you can bet that this will continue to filter through to the high street stores and boutiques this year.
Refinery29 says that, "Plus-size retailer 11 Honoré also recently launched an "Athluxury" collection. The retailer's design director Danielle Williams-Eke describes it as "pieces that can work comfortably throughout the day but that are chic, stylish, and fit well."
Tips for styling oversized Athflow Pieces
Athflow fashion is really about wearing clothes that are oversized in some respect, but that doesn't mean dressing up like a bag lady. To remain elegant and stylish you might think about the following:-
Always make sure to balance your proportions.
Team wide legged pants with more fitted tops.
Match slim leg pants with blousson, floaty or flowey tops.
Wear a peasant dress with a more tailored jacket – or a cropped denim jacket.
Anything on an elastic waistband should be on a thick band for comfort.
Dresses can be loose fitting, but need not be balloon like.
Add a long, loose waterfall cardigan to a midi length, loose dress.
Roomy blouses should still fit you at the seam on the shoulders.
Sloppy Joe tops can be a size larger than you'd normally wear something fitted.
Opt for comfy shoes – sneakers, ankle boots – footwear you can walk in.
Pin this post for future reference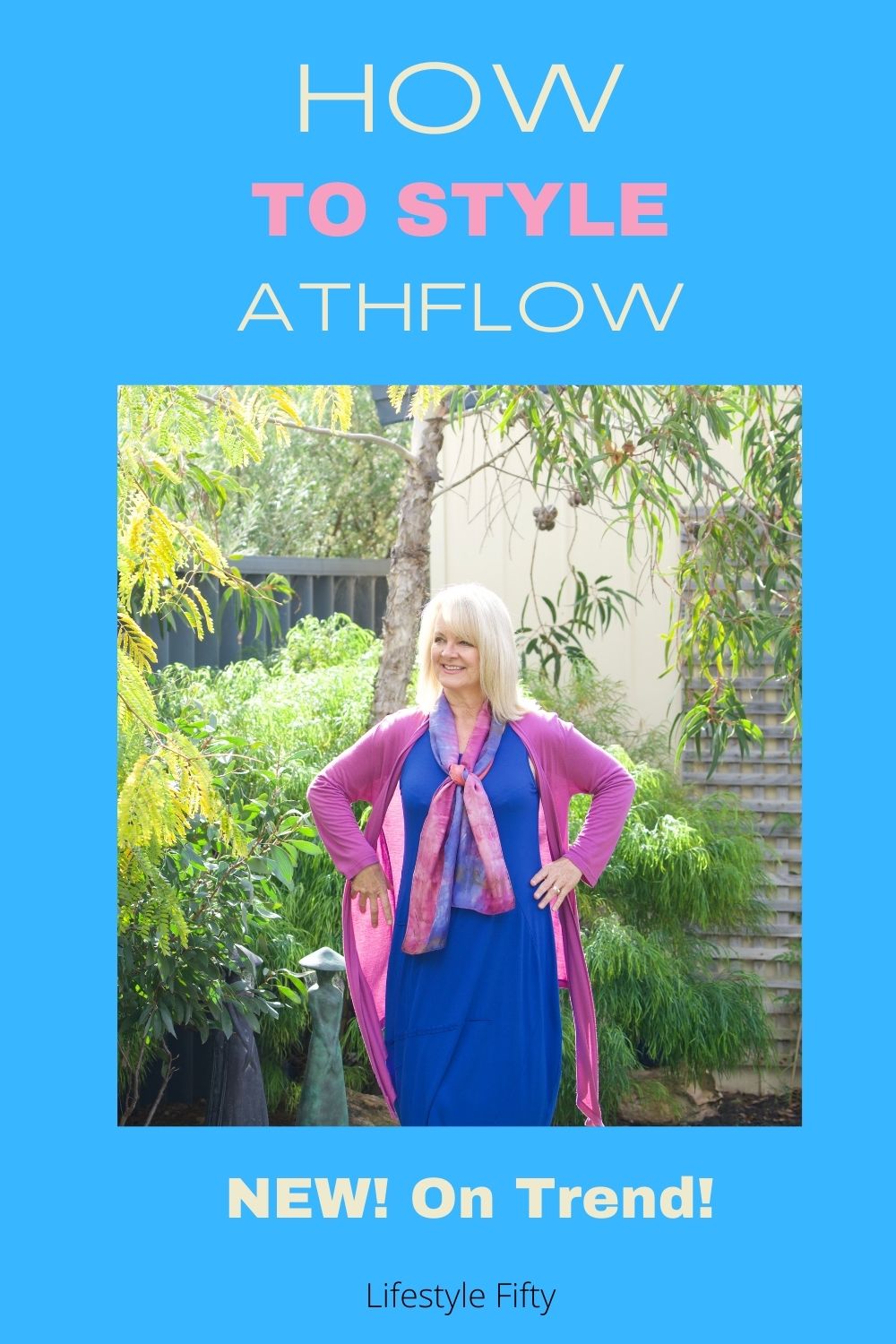 There are affiliate links in this post from which I stand to earn a small commission but at no cost to you. If there are gifted items they are marked with an * asterisk. Lifestyle Fifty Website is a participant in the Amazon Services LLC Associates Program, an affiliate advertising program designed to provide a means for sites to earn advertising fees by advertising and linking to Amazon.com.