Updated 2021: Do you love leggings? Then you'll love ponte pants, which are a little different to leggings, but in a good way. What are ponte pants? In today's post you'll learn about ponte fabric, ponte pants for work, plus tons of new wardrobe tips about how to wear ponte pants, where to buy ponte pants, and what to wear with ponte pants so that you can walk out of the door looking fabulous – feeling not only comfortable but confident.
With the new "Athflow" trend in clothing, ponte pants could well become your new best friend for everyday wear. (Athflow = stretchy, casual, comfy clothes, or casual wear suitable for both the office or the sofa). And ponte pants are an adaptable item to add to your packing list for a weekend away.
What are the Best Ponte Pants?
It's true, Ponte Pants teamed up with a stunning top that flatters your body shape can make you look a million dollars – without spending a million. Overall, the best ponte pants whould fit you like a glove but still be comfortable. If you can only buy one colour then buy black.
I've written more about Ponte Pants in this post – Why I Love Ponte Pants and How to Wear Them. I like to have inexpensive ponte pants in my wardrobe for everyday wear, and a really nice pair that I can dress up to go out in, whether for work or play. They are very different to Treggings, or Jeggings and Jeans.
Tips for a great fit
The best ponte pants will hug your legs and feel great to walk, sit or bend in.
The waistband shouldn't be too tight.
If the waistband is elastic make sure it's on a wide band.
The ponte fabric should feel tight (definitely not baggy) and look hardwearing.
The length should be come down at least 7/8 of your leg, or down to ankle length.
Feel confident all day and ditch the pantyliners – rather wear the best washable leak proof underwear which won't show under your ponte pants, check some of the best out Here.
I Love NYDJ or Nic & Zoe Ponte Pants
(Bloomingdales)
I LOVE NYDJ Ponte Pants
Amazon
Style Tips for Women buying Ponte Pants
Whether you're looking for the best Ponte Pants Australia, or worldwide these are the things you need to keep in mind.
For a sleek, long legged look with a nipped in waist, you need to buy the pants you can afford.
They should gently firm the tummy and upper leg area, giving a snug but comfortably stretchy fit.
Buy a slightly tighter fitting pair (rather than looser fitting) as they are designed to hold you in, but may stretch a little over time.
Pontes that hold you in around the tummy and bottom, in a firm way, are the best.
Where to Buy Ponte Pants
NYDJ has a great reputation for great fitting jeans that are really flattering and comfortable for women to wear.
NYDJ
Many Lifestyle Fifty readers are buying NYDJ pontes including the popular NYDJ Women's Basic Pull on Ponte Knit Leggings, Charcoal Heather (scroll down to see them in action in the image below).
Notice how the NYDJ Ponte Pants below sit high on the waist, so there's less chance of a muffin top situation (spare flesh hanging over the waistband)
The slim line of the NYDJ's below gives the illusion of elongating the leg.
You could wear these NYDJ's with high heels, sneakers, ankle boots or longer boots in winter.
Click on the image to buy the popular NYDJ Ponte Pants.
Product Description
66% Rayon, 30% Nylon, 4% Spandex

Imported

Machine Wash

Solid tone legging in stretch fabric with banded elastic waistband

For best fit results select one size smaller than you are normally.
Reviews
Reviews say that the fit is good, as expected, and it's in keeping with NYDJ's reputation for great fitting pants that look great on.
Good option for long flights and travel.
Have tummy control in the right places.
DKNY
These ponte pants are lovely – giving you soft stretchy comfort.

The look is enhanced with the faux leather material at the pockets

The pants are mid-rise with a stretchable waistband – giving you a comfy fit.

Check them out Here.
What are Ponte Pants? What are Ponte Leggings? What are Ponte Trousers? What's a Ponte knit?
Let's look at some of the questions you've asked surrounding ponte pants for women. Let's face it they are a very special breed of pant.
Look at the pants in the picture below.
Are they ponte pants?
No. They are skinny jeans.
Are ponte pants different to skinny jeans – yes.
Are pontes different to leggings?
Well not really as they're basically all one and the same thing. However, you'll soon realise that ponte pants are more substantial than leggings. As mentioned above, the weave is generally thicker and tighter.
Here's a helpful blog post about how to wear leggings for women over 60.
Ponte Pants Definition
Ponte pants fit like leggings but look more like skinny jeans.
Ponte Pants are designed to fit and flatter your shape.
Ponte Pants are a mixture of leggings, trousers and skinny jeans all rolled into one.
They're a leggings hybrid, made from a double knit process.
They might be called ponte leggings or ponte trousers as well as ponte pants.
They're firmer than leggings because of the double knit process.
They're tighter fitting in the leg and around the bottom than normal trousers.
They're not restrictive like skinny jeans can sometimes be.
Personally, I can't live without my ponte pants and I have various different brands.
You won't have to spend ages in the changing room trying to find the right fit as you might perhaps with skinny jeans.
I also like the comfort fit pontes from Vivid below, for days when I want to be comfortable or for long journeys in the car. However, they are a little looser than you would expect a classic ponte. And for some women that's a bonus, especially if you're doing everyday tasks like housework. Here they would be classed more as ATHFLOW (this year's new clothing trend)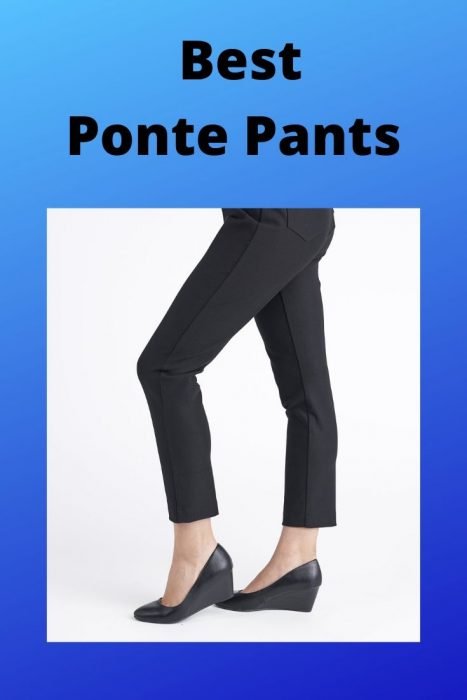 Plus, for the win, they are machine washable, and don't need ironing. Yay!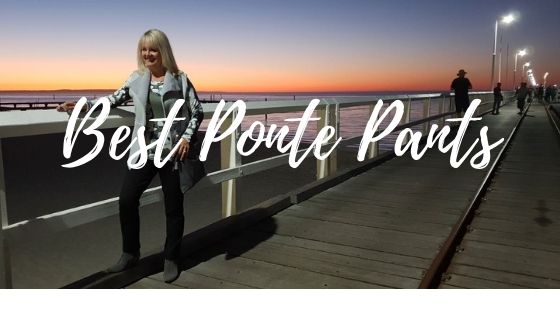 What does Ponte mean?
Ponte pants definition, as such, really refers to the fabric.
What are Ponte Pants made of?
They're generally made of a thick double knit fabric with a two way stretch.
What is Ponte Fabric?
Ponte knit fabric will generally compose of a mixture of rayon, polyester and spandex, which will provide a two-way stretch.
Is ponte fabric breathable?
Because ponte is a double knit it will be warmer than a single knit, say the type you might find with leggings.
Natural fabrics are more breathable than synthetic, but that doesn't mean that your ponte pants will make you sweat more.
Spandex is breathable, wicks moisture and dries quickly. Rayon offers moderate breathability and also dries quickly. Polyester is lightweight and somewhat breathable.
Take a look at these Terez ribbed ponte pants.
Spelling – Ponte or Ponti?
Ponte is also starting to crop up not only in pants but also skirts and jackets, and can be spelt ponte or ponti.
Ponte Pants for Work
Are ponte pants appropriate for work?
Well, yes. Ponte Pants are more suitable for work than leggings as they give you more cover and they're firmer fitting.
They're thicker, and so they hide a multitude of sins.
If we're considering fashion tips for women, especially looking good at 45 and beyond, then great fitting pontes should definitely be an item in your wardrobe for work.
Look out for ponte dress pants that have sewn in panels which flatter your figure, and give a tailored shape, making them more work appropriate.
They're very comfortable as all-day work wear (providing the waist band is not too tight) as they really do stretch with your every move.
These stretch knit ponte pants would be great ponte pant for work given they have front vertical seam details.

You could wear them with a short, smart tunic dress, a chunky sweater, or a blouse with a long cardigan over the top.

Having a little more detail makes them appear more tailored and therefore quite suitable for a work environment.

The hidden elastic waistband and vertical panelling give good structure, which should make you feel elegant all day long.
Some of you might find you can even wear work ponte pants with tops which don't cover your butt, but most of us will need a longer top.
If you're wondering how to wear ponte pants for work, I'd suggest wearing them with a smock top or a well cut tunic blouse such as this lovely Paisley print, long sleeve Henley V Neck pleated tunic blouse which has a slight flare.
Where to Buy Ponte Pants online
Readers are buying from these stockists:-
NYDJ from Bloomingdales (luxury)
Nordstroom Rack (budget)
Ponte Pants, Ponte Leggings vs Ordinary Leggings
Many people have said to me, "But aren't pontes the same as leggings?"
Not really.
Leggings are a lightweight version of Ponte Pants, and I think should only be worn on casual occasions and always with a long top or tunic because generally they will show off more of your silhouette.
Leggings are not tailored in the same way pontes are, and don't have the same firm hold either.
Yes, they can accentuate lumps and bumps and yes, they can have us looking like mutton dressed up as lamb if we're not careful.
But leggings worn with the right top can be an easy wear addition to your more casual wardrobe.
Ponte Pants are really like leggings, and skinny jeans all rolled into one.
Check out the latest and best prices from different online brands selling ponte pants on Amazon.
How to wear Ponte Pants
I think any type of tight fitting garments should be balanced with clothes which draw the eye towards a part of your anatomy which you think is most appealing. Bear this point in mind when you want to know how to wear ponte pants to best look chic and amazing.
Now if you've got great legs and a great arse then how to wear ponte pants becomes easy – because perhaps you can get away with wearing ponte pants with just a T-shirt tucked into the top.
But not me, no siree. I need to cover a few things up.
So today I thought I'd put together some different looks using just one pair of Ponte pants with various tops and jackets from my own wardrobe, and then give you an inexpensive online resource where you can 'Get the Look' and some great ideas about how to wear ponte pants day or night.
What to wear with Ponte Pants
Wearing tight fitting clothes is always a conundrum especially as we get older.
Yes, they can accentuate lumps and bumps and Yes, they can have us looking like mutton dressed up as lamb if we're not careful, but also if they have some stretch in them and if they hold us in, then generally we are winning.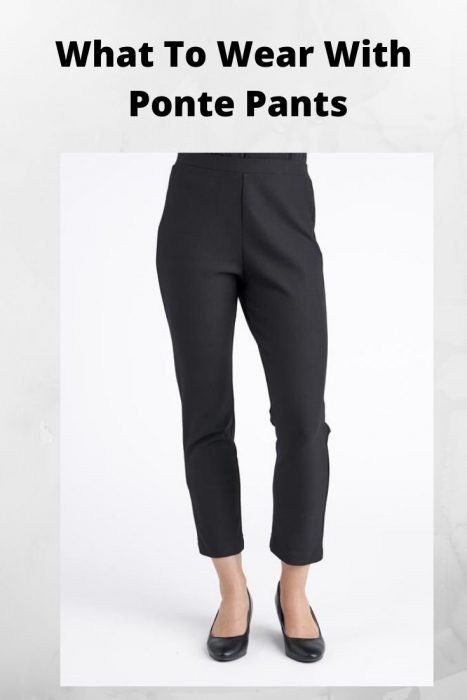 Ponte Pants are especially apt in this case because they firm and flatter your legs and can be worn with a long length top making them an adorable addition to your wardrobe.
Wear them with sneakers – I love FRANKiE4 sneakers for their smart, urban street style. Designed by a podiatrist, they are super comfy too.
Wear them with a floaty top for a hippy look.
Wear them with a tailored blouse for a more formal look.
Who's to say you can't wear Ponte Pants with a short jacket?
I know I know, some of you are thinking about the small fact of arse cover, but what if you put on a longer length T shirt that comes down over your bum and hides any nasty camel's toes at the front too (sorry girls, it has to be said) and pop on a hip length jacket over that. See below …
How to wear Ponte Pants with a cropped jacket
I like a black t-shirt with a bit of bling worn underneath a cropped pink jacket because it gives a longer, more slimming line, but I also like a bit of glamour so the bling detail fits well and a pop of colour with the jacket to brighten the whole thing up .
How to wear Ponte Pants with a Kaftan Top
So let's mix things up a bit more. Why not wear the pants on their own with a loose fitting but contrasting kaftan style blouse?
This look gives you a more summery look but with lots of tummy space – great for eating out You could wear flat ballet pumps or black sandals if the weather was warm. I'm wearing Amy mid wedge boots also from Millers .
And then for colder days you could cover the kaftan top with a longer jacket or cardigan.
Or add a mid-tone kaftan mostly in monochrome and that gorgeous bright red melton jacket from Millers below, along with the black Amy boots I'm wearing in the pictures above.
Ponte Pants with a long T shirt, short jacket and long boots.
For a more casual winter look you could layer things and wear the pants with a loose fitting longer T-shirt, and a short length jacket with longer boots to match the colour of the jacket.
Or ditch the jacket and add a more comfy loose fitting jumper with a bit of swing to the bottom, and include a soft pashmina to wrap around your shoulders against the chill.
And be bold with colour.
Sure you could just as well wear a black coat over the look below, but look how this grey long line cardigan and snood brightens up the black ponte pants.
Add stripes for a nautical or Parisienne look and whip out a scarf in a contrasting colour. You can always tie the scarf onto your handbag for a stylish effect if you don't want it around your neck.
Team with Ankle Boots for Fall, Winter and Spring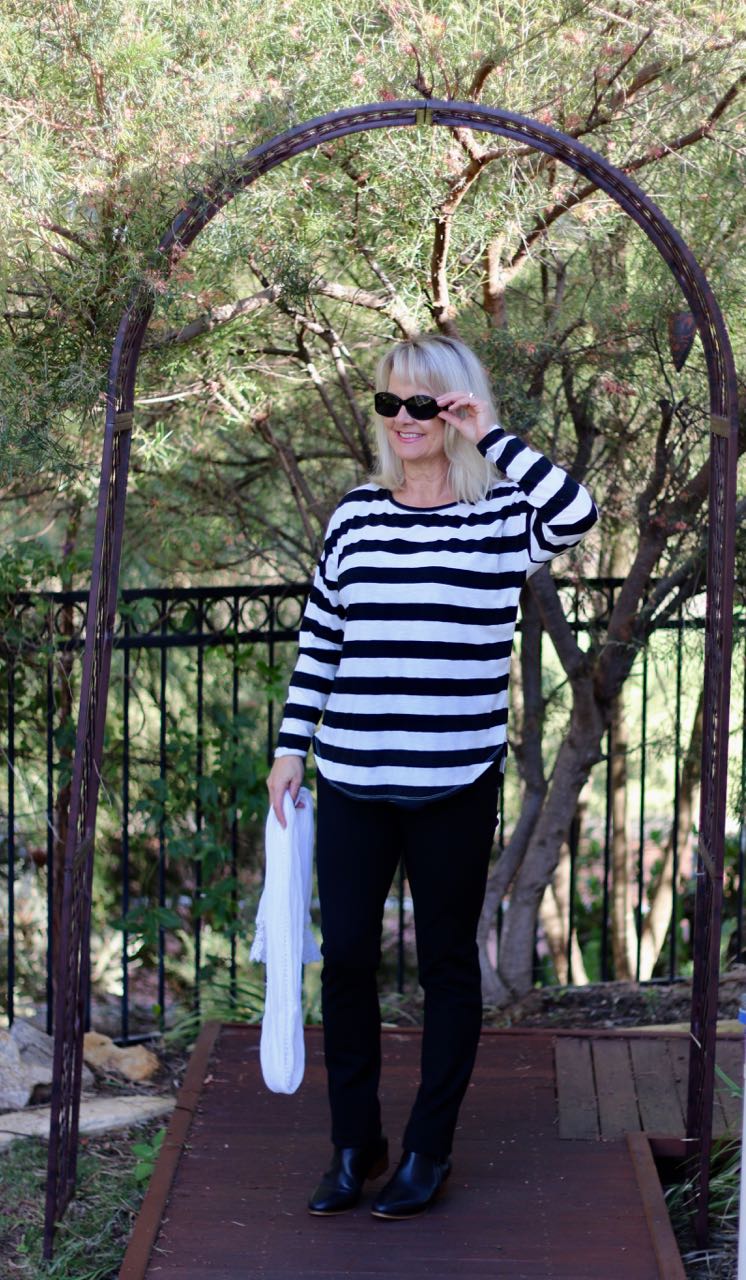 Ponte pants teamed with ankle boots look great.
I love the FRANKiE4 leather ankle boots (above) which are stylish and comfortable – designed by a podiatrist they just get more comfy the more you wear them.
You could also wear longer boots with Ponte Pants in winter, or perhaps check out the range of sneakers (so on trend).
For evening wear, if you can, wear Ponte Pants with stilettos or a wedge heel for height. A longer line cardigan that covers your rear is a great confidence booster.
The one below, is from Vivid International This one has gorgeous batwing sleeves. Underneath I'm wearing a tighter fitting stretchy long sleeved T shirt in a festive print by Portobello and leather ankle boots by FRANKiE4.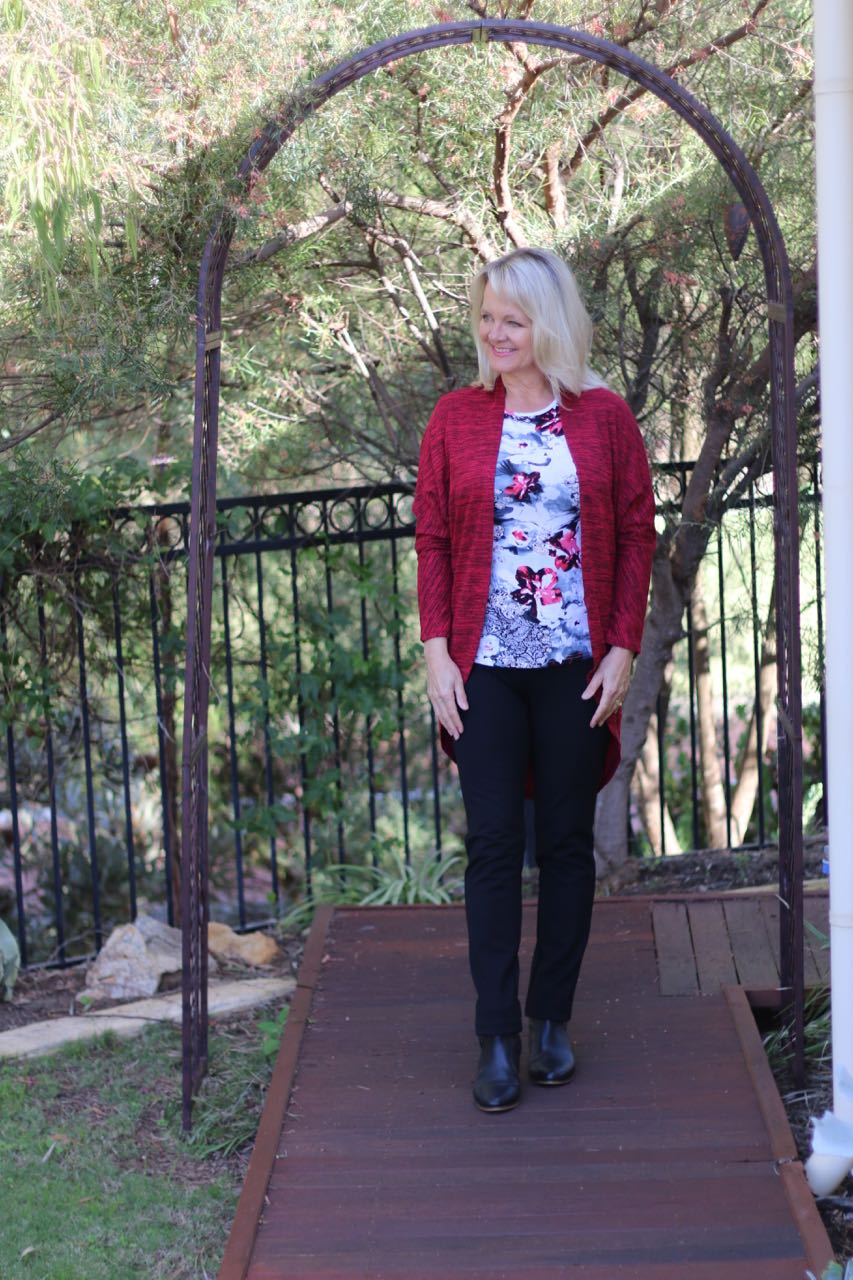 I love V necks – the longer line they give is flattering. Not for everyone, but worth a try. A bold colour like this cerise, is a perfect foil for black ponte pants.
In the 5 photos above I'm wearing clothes from the Portobello range gifted by Vivid International and black LAURA leather ankle boots with just the right amount of heel, which are super comfortable for everyday wear, from FRANKiE4 The red suede boots are from England.
Fashion For Women Over 50

– Why Pontes are a wardrobe basic

When it come to stylish clothes for over fifties, you have to consider gravity and what nature may have done to your body. You may have a newly discovered muffin top, which ponte pants and a tailored but loose fitting blouse will cover nicely.

Ponte pants should definitely form part of the basic capsule wardrobe for 50 year old women.

I love wearing pants which hold me in, which is why when it comes to fashion for women over 50 I always say wear something which you feel great in, but which hugs and supports your curves, rather than something which is just all over voluminous. Volume makes you look larger than you really are.

I love the stretchy Ponte pants you can buy online. These Rafaella slim fit comfort ponte pants are a great fit, so versatile and not expensive.

If you're looking for ponte pants plus size, then take a look at these Gloria Vanderbilt Women's Vickie Ponte Pant.

Because of ponte pants' versatility, I have several pairs from different brands, that I wear for various occasions, and teem them with tops and jackets from my existing wardrobe.
Should I buy Ponte Pants in a firm fit or looser fit?
Tip: Buy your ponte pants in a firm fit (definitely not loose) as the fabric should mould to your body shape, firm your thighs and lift up your butt, as well as holding any wobbly bits in at the same time.
Lifestyle Fifty reader, Karin sent in a request which read : "You always look fabulous and I have taken many of your tips on board. I'm heading to Europe again in July so any on-trend fashion tips would be appreciated."
"Karin, I don't think you can beat comfort as the base requirement so stretchy pants are great for planes, trains and buses. For a not-so-cold winter's day they are also good because you can wear them with ballet pumps or boots, and it it's warm then team them with a floaty kaftan rather than a jacket."
Another email I received from a Lifestyle Fifty reader asked in the body of the email "How to dress over 50 and overweight? But how to be comfortable too."
My reply is to make sure you have the best black ponte pants you can afford in your wardrobe and a great blouse which will cover your tummy and bum.
The blouse if possible should be a block colour and something which really suits your own colouring.
Find a pair of comfortable shoes with a small wedge heel to give you height, or comfortable ankle boots for the winter.
Team it all with a long line black cardigan and you're ready to go!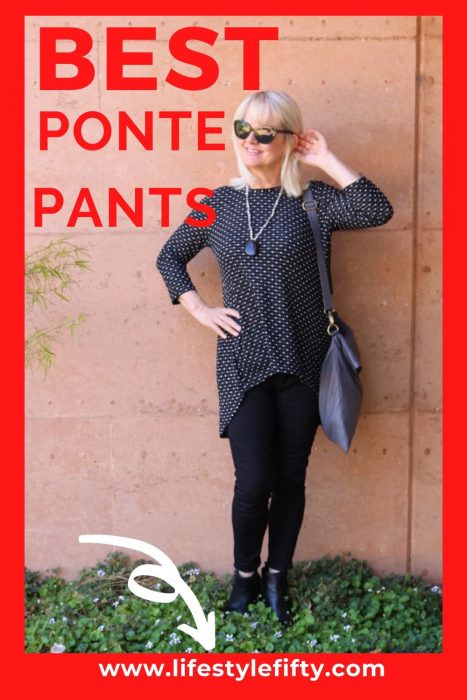 What do you wear ponte pants with? If you don't have a pair, why not grab some and start experimenting?
You'll find different styles of Ponte Pants to buy at the best online prices Here.
I hope you've enjoyed these wardrobe tips about Ponte Pants today 🙂
You might also like this post about Why I Love Ponte Pants and 5 ways to wear them .

Finally, if it's summertime, always be sunsmart and add a great hat to your ponte pant outfit from this sassy collection I've put together here – Best sun hats
Related Posts
Fashion tips for Women Over 50
Best Style Dresses to Hide Tummy
How to wear Long Skirts Without Looking Frumpy
Your Guide to Wearing Wide Leg Pants Over 50 : How To and What You Need to Know.
What to Wear to Yoga – Ultimate Guide
The Ultimate Guide to Fifty Plus Women's Fashion
Before you go, sign up for our newsletter …
Would you like more posts like this delivered to your inbox?
Sign up for the (free) Lifestyle Fifty newsletter filled with inspiration and tips. You'll also get tips for fifty plus women's fashion, and ideas about everyday clothes for women over 50. We're also constantly updating our take on How to Look Younger, and How to Dress Younger.
Just fill in your email (it won't be shared) and join the cool gang of Lifestyle Fifty subscribers. Oh, and you'll also get a fab, free, inspirational Lifestyle Manifesto.
Pin this post for later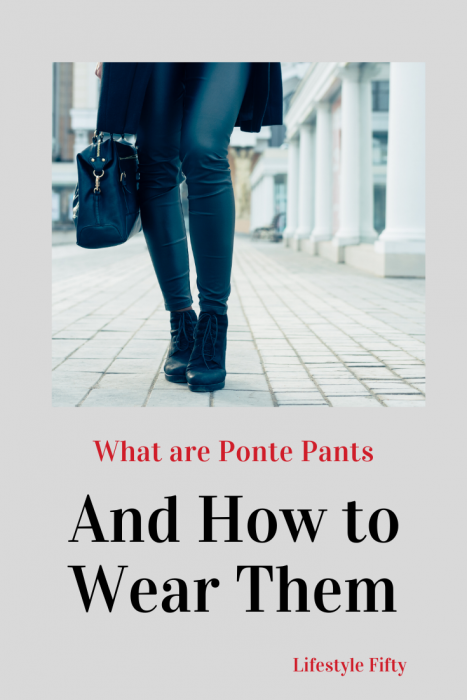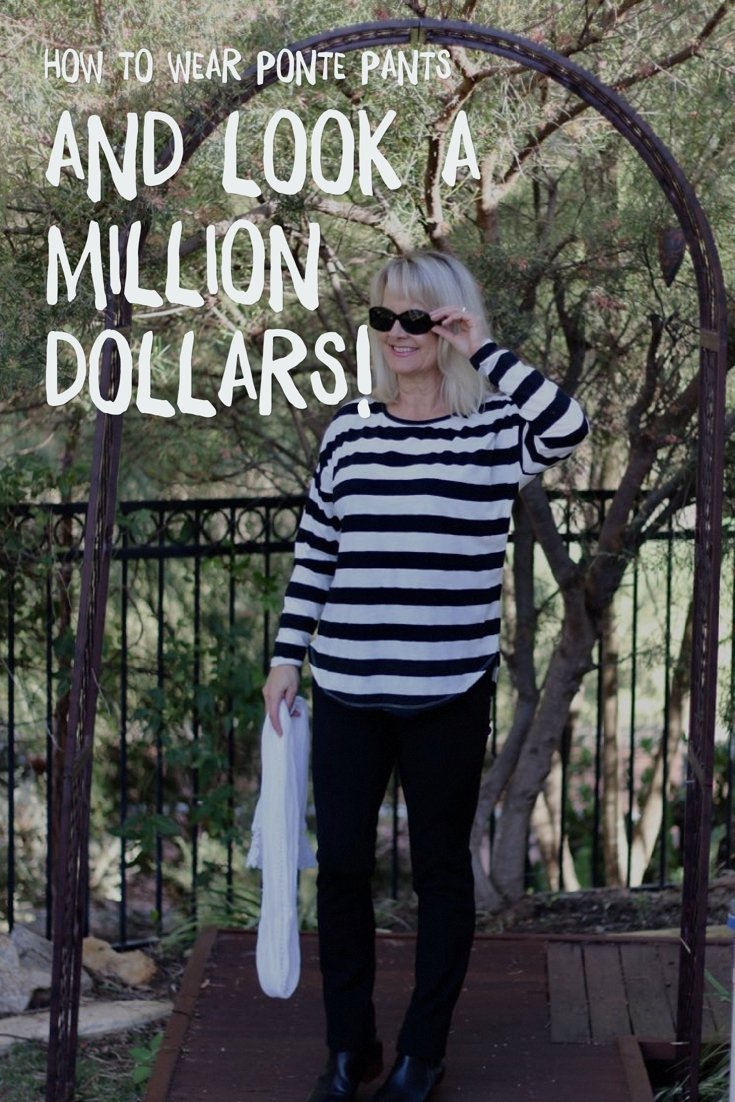 YouTube Slide Show – 44 Ways to Wear Ponte Pants
A Pin for your Pinterest Fashion Board
This Post Copyright © Lifestyle Fifty. There are affiliate links in this post from which I stand to earn a small commission but at no cost to you. Lifestyle Fifty Website is a participant in the Amazon Services LLC Associates Program, an affiliate advertising program designed to provide a means for sites to earn advertising fees by advertising and linking to Amazon.com.