Post Updated: 31 Dec 2020. Post first published 27 Feb 2019.
How to Dress Younger
I think we all want to keep up with the times as we get older, and to do this it's important to keep a check on your wardrobe for outdated garments and clothes that date you.
This post will look at simple ways you can look younger, dress younger and in doing so simply shave years off your age (although we don't advocate copying your teenage daughters).
I recently overheard someone say, "I just want to dress younger. I don't want to look old, because I don't feel old." And that got me thinking about how to look younger than your age without any chemical or cosmetic intervention, other than a little bit of thought.
Of course dressing younger, isn't about dressing younger at all!
Essentially it's about dressing with more style and feeling super confident. Pay attention to the Ultimate Guide to Fifty Plus Women's Fashion.
If you want to continue to look on point as you age, then don't go for high fashion pieces designed for the 20 somethings, find current styles that suit you, and only you, and follow these 13 simple tips.
Look Younger – Dress Younger – 13 Things You Must Do
Fleecey Jackets have to go
For daywear replace your old fleeceys with statement knits and fashionable chunky cardigans.
Wear the jeans – they shout 'youth' and 'energy'. Just find a great pair that fits you well.
Buy some trendy exercise gear, and get active.
Wear statement sunglasses in warmer weather.
Buy an on trend leather tote bag.
Shift dresses always shout 'youthful'.
Wrap dresses will give you a younger looking silhouette.
Block colours are stand-out and scream 'sassy confidence.'
If you choose a print, make sure it's a classy print that oozes va-va-voom.
Bangs, or a feathered fringe, will hide frown lines and forehead wrinkles.
A shortish feathered hair cut, or a jawline bob cut that gently disguises your chin, will both help you look younger than you really are.
Smile! A beaming smile takes years off your age.
I'm not going to suggest cosmetic surgery or botox because right now I don't believe in them. I believe in ageing gracefully, and owning our lines and wrinkels as stories of our passage through life.
I don't agree with anything about trying to look younger just for the sake of looking younger – but I do agree with looking great and looking forever young in an ageless way. It has to do with confidence, knowing what suits you, and finding current trends and styles that will make you feel great.
Dress Younger
Having said that, I think that a lot of women over 50 want to look the best they can, regardless. And many of us want to be trendy dressers, not mutton dressed as lamb dressers, but dressing well to look and feel confident, and yes maybe dress younger than our age (or what is perceived as 'our age')
I understood what that lovely lady was saying the other day. I really did. It's so easy to just throw on whatever comfy old clothes you wore yesterday (and probably the day before! Guilty as charged) and feel sort of just Ho-Hum, when with a little pre-planning you can put a look together which you feel great in everyday, and which makes you feel youthful.
Certain clothes will date you – things like fleecey jackets. Unless you're walking the dog or hiking on a remote mountain replace your old fleeces with statement knits and fashionable chunky cardigans.
Looking and feeling confident will help you look younger too. There's no longer need to worry about those, "eek was that a leak" moments either. Ditch the non-eco friendly pantyliners and opt for the best washable incontinence underwear like my favourites from Modibodi.
Be a Jean Genius
I'm a big fan of jeans. Blue jeans, black jeans, white jeans. They are versatile and can be dressed up or down. Plus they scream "Youth!" and "Energy!"
For something a little bit different wear a pair of cut off jeans with embellishment at the calf, choose a signature pair of shoes or ankle boots, and pop on a slinky blouse and you're good to go.
Jeans can take a decade off your look if you get the right fit. Yes you should probably avoid the super skinny, ripped, beach bleached styles, but then again if you've got great legs why not wear them?
The best thing to wear with ripped jeans would be a super-classy blouse and long line linen jacket to balance the look.
Yep, drop a decade and buy the jeans!
For all you need to know about jeans, and how to get the best fit for your body shape, you might like to read this post: Best Jeans for Women over 50 It's got loads of tips and advice.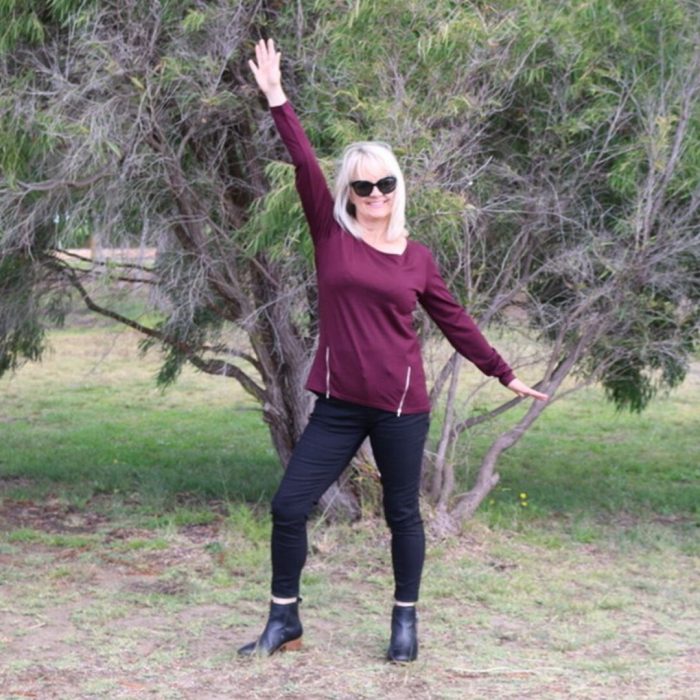 Be Active
Take a decade off your look by being active and keeping flexible.
Yes, I know as we age it takes longer to do these things and our joints may begin to stiffen.
All the more reason to join a gym, go to a Pilates class, swim, walk on the beach or dance – do what you love and make it a daily habit.
You'll feel great for doing more exercise, and activewear is all the rage whether you're at the gym, going for a walk, or just out and about.
Don't sit around in your pyjamas, nor your fancy clothes at home. Buy some comfy exercise gear and wear it during the day – then when time permits or the exercise urge strikes, you're ready to go 🙂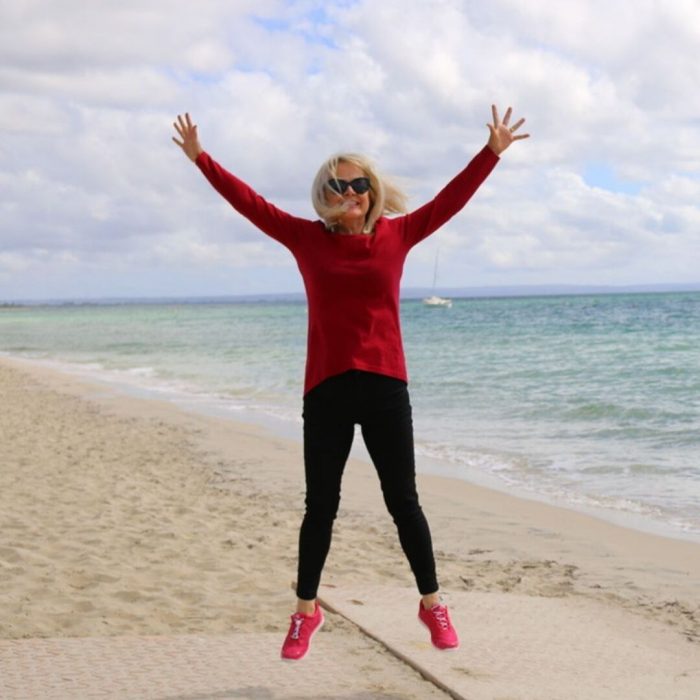 How to dress younger
A statement pair of modern sunnies and a luxe leather bag might be all you need to dress younger. Wearing new season styles will also help shed years off your appearance.
This season I've loved wearing this dotty top from Vivid International. It has a relaxed fit, with a lovely front-to-back scoop that falls well below the bum at the rear.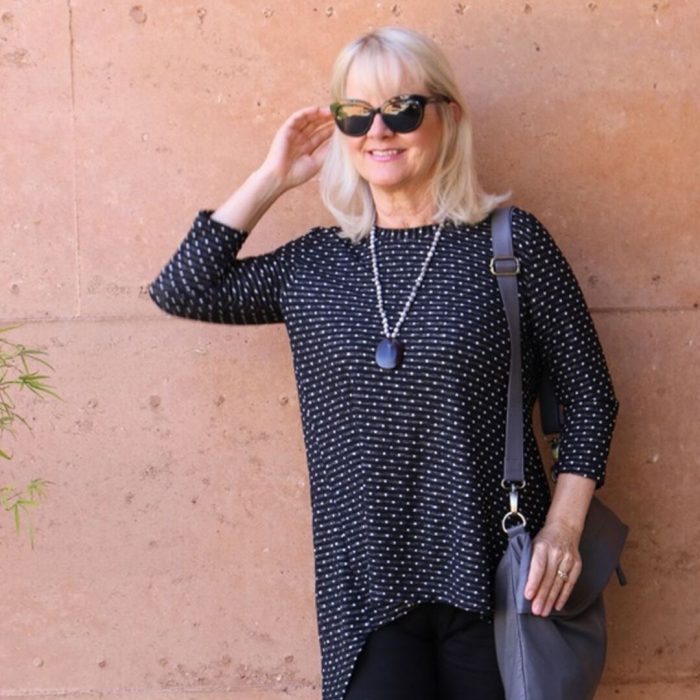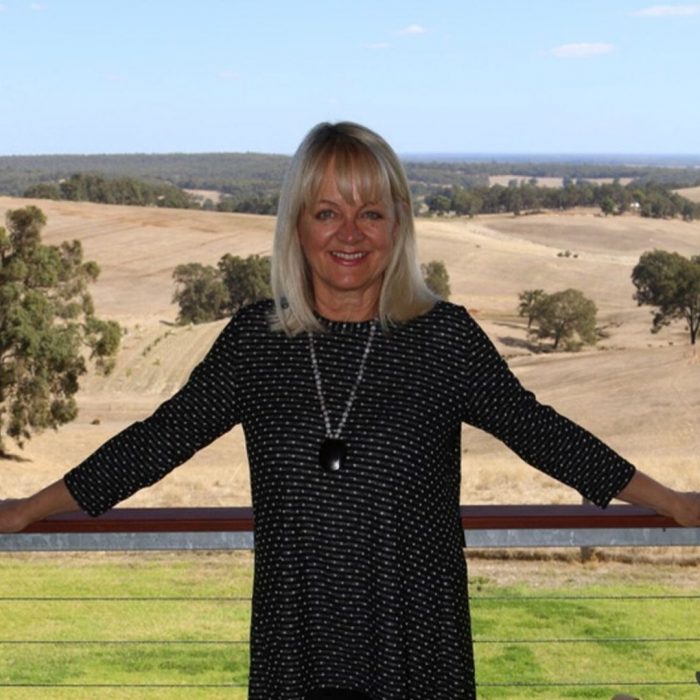 Dress to Impress
A simple, block colour dress is always a winner. Shift dresses are favourites after 50, so too wrap dresses.
Anything that nips you in at the waist (if you have one) is wonderful, but if like me, you sometimes just don't want any of that nipping then go for something a little unusual.
This Vivid bubble dress by Vivid International is just the ticket if you want to make a statement. Wear it with long boots in winter and court shoes in fall or summer.
Why not add a scarf to the bubble dress in a contrasting colour, as I've done in the image below.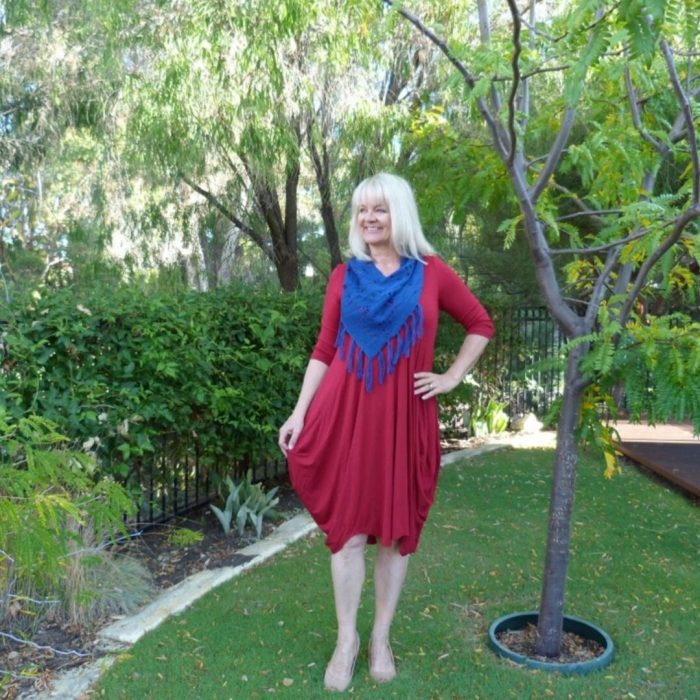 Fringe benefits and hair length
Fringes can hide forehead wrinkles and frown lines. You don't need solid bangs, but a feathered fringe can take years off your face.
A very short pixie cut may suit you, but it can show off your double chins. A little length with some layers cut in can soften your features and take the emphasis off any drooping jowels.
Smile, be cheery, be happy – for sure it takes years off your face whatever your hair cut.
A statement knit
Dare to be different. For colder days a statement knit, that's a little different but easy to wear is a great staple for your wardrobe.
The knit below has a flattering, slightly scooped neck and enough detail in the geometric pattern to be interesting without overpowering. Plus for winter days it's a nice length with jeans or ponte pants.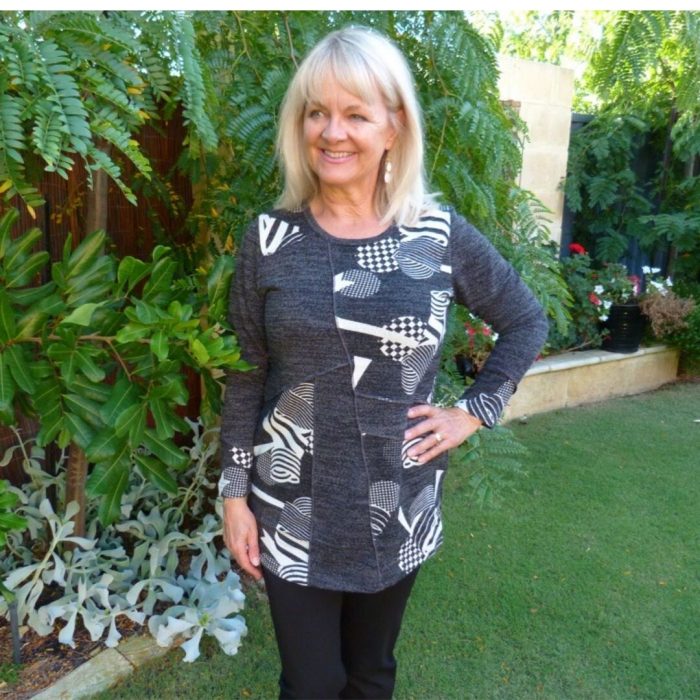 In other posts I share tips and fashion for older woman and how to look younger (than you really are!)
Got any tips for keeping a youthful look and dressing young?
Gifted products from the brands I love and wear often: Vivid International, FRANKiE4 Footwear for podiatrist designed footwear & Travel and Living Collection for fabulous leather bags.
Please Pin to your Pinterest Fashion Boards – Happy Pinning!