Post Updated: 2 March 2022, 14 September 2021, 31 Dec 2020. Post first published 27 Feb 2019.
How to Dress Younger
I think we all want to keep up with the times as we get older, and the best way to do this is to keep a check on your wardrobe for outdated garments and clothes that date you.
This post will look at simple ways you can look younger, style tips to dress younger, and the latest trends. Plus fashion trends that you can easily implement that can shave years off your age (although we don't advocate copying really young people, or your teenage daughters).
I recently overheard someone say, "I just want to dress younger. I don't want to look old, because I don't feel old." And that got me thinking about how to look younger than your age without any chemical or cosmetic intervention, other than a little bit of thought.
Of course dressing younger, isn't about dressing younger at all!
Essentially it's about dressing with more style and feeling super confident. It's about getting out of your comfort zone with fashion, while incorporating your own personal style. It's about creating a younger but still professional look, if that's what you want to do. Or it's about creating a dress code using designer brands that focus on what's happening in the fashion world right now.
Pay attention to the Ultimate Guide to Fifty Plus Women's Fashion and check out this post for the ultimate sensual, intimate confidence when it comes to underwear.
If you want to continue to look on point as you age, then don't go for high fashion pieces designed just for the 20 somethings, find current styles that suit you, and only you, and follow these simple tips.
Look Younger – Dress Younger – 16 Things You Must Do
Fleecey Jackets have to go, or just wear them for walking the dog.
Replace your old fleeceys with statement knits and fashionable chunky cardigans.
Wear the jeans – they shout 'youth' and 'energy'.
White sneakers always look youthful.
Wear the right fitting bra.
Buy some trendy exercise gear, and get active.
Wear statement sunglasses in warmer weather.
Buy an on trend leather tote bag.
Shift dresses always shout 'youthful'.
Wrap dresses will give you a younger-looking, more streamlined silhouette.
Switch from jersey to ponte when it comes to pants.
Block colours are stand-out and scream 'sassy confidence.'
If you choose a print, make sure it's a print that oozes va-va-voom.
Bangs, or a feathered fringe, will hide frown lines and forehead wrinkles.
A shortish feathered hair cut, or a jawline bob cut that gently disguises your chin, will both help you look younger than you really are.
Smile! A beaming smile takes years off your age.
I'm not going to suggest cosmetic surgery or botox because right now I don't believe in them. I believe in ageing gracefully, and owning our lines and wrinkles as stories of our passage through life.
I don't agree with anything about trying to look younger just for the sake of looking younger – but I do agree with looking great and looking forever young in an ageless way. It has to do with confidence, knowing what suits you, and finding current trends and styles that will make you feel great.
If you want to go designer at an affordable price then check out this post: Sensational Casual Clothes for Women Over 50.
You don't have to spend a fortune either. Check out the 10 Best Online Thrift Shops and Charity Stores online and hunt out some bargains, while helping to save the planet too!
Dress Younger and Feel More Confident Every Day
Having said that, I think that a lot of women over 50 want to look the best they can, regardless. And many of us want to be trendy dressers, not mutton dressed as lamb dressers, but dressing well to look and feel confident, and yes maybe dress younger than our age (or what is perceived as 'our age').
I understood what that lovely lady was saying the other day. I really did. It's so easy to just throw on whatever comfy old clothes you wore yesterday (and probably the day before! Guilty as charged) and feel sort of just Ho-Hum, when with a little pre-planning you can put a look together which you feel great in everyday, and which makes you feel youthful.
Certain clothes will date you – things like fleecey jackets. Unless you're walking the dog or hiking on a remote mountain replace your old fleeces with statement knits and fashionable chunky cardigans.
Your body is changing and you may have bingo arms, tuck shop arms, call them what you will, most of us after the age of 50 have flabby upper arms. To get the most out of your sleeveless garments do think about adding slip on sleeves for under dresses and tops – you'll find some great ideas in the post about where to buy fashionable arm cover ups.
Looking and feeling confident will help you look younger too. There's no longer need to worry about those, "eek was that a leak" moments either. Ditch the non-eco friendly pantyliners and opt for the best washable incontinence underwear like my favourites from Modibodi.
So if you want to know how to dress to look younger, and glean some insider secrets and fashion tips to help make you look more youthful, then read on.
Be a Jean Genius
I'm a big fan of jeans. Blue jeans, black jeans, white jeans. They are versatile and can be dressed up or down. Plus they scream "Youth!" and "Energy!"
For something a little bit different wear a pair of cut off jeans with embellishment at the calf, choose a signature pair of shoes or ankle boots, and pop on a slinky blouse and you're good to go.
Jeans can take a decade off your look if you get the right fit. Yes you should probably avoid the super skinny, ripped, beach bleached styles, but then again if you've got great legs why not wear them?
Best Fitting Jeans
A great place to start your quest for great fitting jeans is at NYDJ. Not Your Daughter's Jeans is a brand that alleges their jeans will make you look one size smaller.
I've noticed that many Lifestyle Fifty readers have purchased NYDJ jeans because of their great fit.
Ripped Jeans
Be careful with ripped jeans. Too ripped and you will look ludicrous. A subtle rip and you can look youthful! The best thing to wear with ripped jeans would be a super-classy blouse and long line linen jacket to balance the overall look.
Boyfriend Jeans
Boyfriend jeans can make you look older than you really are, and can most certainly make you look more squat if you're short! So be careful with this cut unless it's for gardening.
But if you are tall and want a more generous, relaxed cut in the legs, then these may very well find a rightful place in your wardrobe.
Mom Jeans
Mom jeans, despite their name are not always the most flattering. They are high waisted and generally have a straight leg. However, they are a classic style and depending on your body type they can look fabulous. All shades of blue Mom jeans can look especially youthful when teamed with a simple white crop top.
Skinny Jeans
I think that skinny jeans can look great on most people if you wear them with the right length top.
Okay, so a tight crop top with skinny jeans can be deemed 'mutton dressed up as lamb' if you are over 50, but if you have the figure for skinny fits and feel confident wearing them, then why not?
Otherwise opt for the young-looking skinny jeans but choose a top that covers you in all the right places; tum and bum especially.
Yep, drop a decade and buy the jeans!
For all you need to know about jeans, and how to get the best fit for your body shape, you might like to read this post: Best Jeans for Women over 50 It's got loads of tips and advice. If you want to know more about the best jeans and get a leaner look check out this post: How to Look Slimmer in Jeans.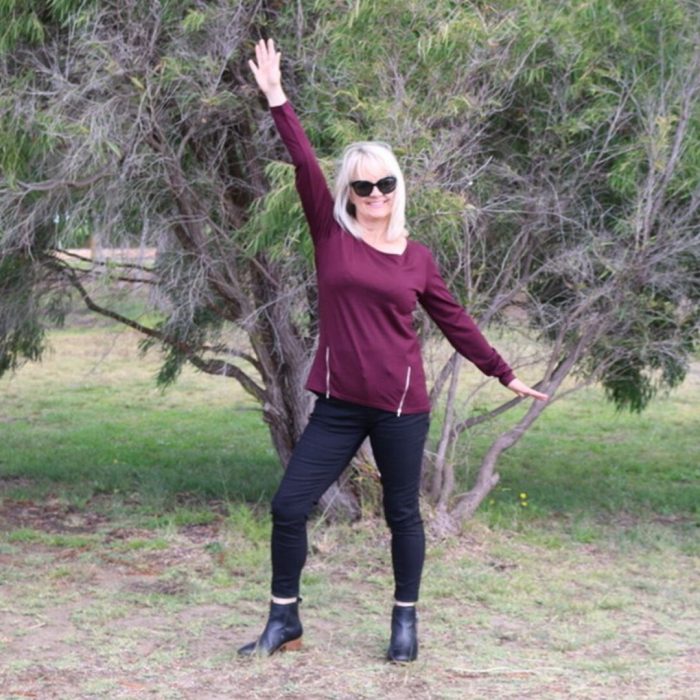 Latest Trends
Floral Prints
Floral prints, like those dizzy post hippy styles popular in the 1960's and 1970s, are making a comeback.
The tighter the actual print, the more vintage it looks.
When it comes to floral pants/trousers, consider bell bottoms. You will look super trendy and youthful!
Solid Colours
Bright vivid colours can enhance and lift your skin tone as you age, and wearing solid blocks of colour without any prints, lines or patterns, can be extremely eye-catching.
So what is color blocking?
Color-blocking is thought of as the exploration of taking colors that are opposites on the color wheel and pairing them together to make interesting and complementary color combinations. It is commonly associated in fashion as a trend that originated from the artwork of Dutch painter, Piet Mondrian.

Wikipedia: Colour blocking.
According to PopSugar the new trends and latest colours in the fashion industry right now are;
Soft Lilac
Canary Yellow
Hot Pink
Salted Caramel
Scarlet
Sky Blue
Try colour blocking up-to-the-minute, on-trend colours and discover a fun and different way to explore just how much block, solid colours can enhance your appearance.
How about teaming a sky blue dress shirt with pale blue denim jeans? Gorgeous!
A simple, block colour dress is always a winner.
Bright Coloured Leather Jackets
A brown leather jacket, or a black leather jacket or even an ivory leather jacket will give you a classic and professional look – and each of those colours should be a wardrobe staple.
But if you want to look younger, more with it, and a little bit frivolous then opt for bright colours; leather jackets in fuschia, red, rose, khaki, even yellow.
When you're buying expensive items such as leather jackets, make sure that you find a colour that suits your skin tone. If you face comes alive when you put on a certain colour, then you know it's for you. If it drains your face of colour, then it isn't!
Check out How to Wear a Leather Jacket with a Dress and for the best leather jackets on the market right now, then do check out all these lovely current Leather Jackets For Women at reasonable prices!
Casual Looks
The latest fashion for women of a certain age is to look contemporary, rather than dated. Remember how our Mum's fashion was mostly rooted in the 1950's and probably didn't change for many years?
We, as a generation have much more leniency.
And for us this means being able to opt for classy casual outfits that are fashionable and comfortable, but which hide ageing problem areas like tums, bums and tuck shop arms, whilst still retaining an element of jeunesse.
5 Casual outfits for a 50 year old woman
Here are some ideas for trendy looks you can easily put together. Casual wear need not be boring!
Great fitting jeans with a crisp white button down shirt. Top it all with a baseball cap.
Bell bottom trousers worn with a crop top, and a colourful hip hugging leather jacket.
Fitted black pants worn with a long sweater accessorised with an arty silk scarf casually tied around your neck.
White capri pants with a floaty block-colour-top, worn with white sneakers.
Floral print maxi dresses – wear with cute leather ankle boots, and lots of fashion jewellery.
Specific Must Have Fashion Items
Denim Jacket
A denim jacket is always a good idea, and definitely one of the classic, casual, clothing pieces every woman should own.
It smacks of fashionable vintage wear, reminiscent of the James Dean era, which will always be young.
White Sneakers
You do have a pair of white sneakers in your wardrobe don't you?
These days you can wear them with jeans, with dresses, knee skirts, maxi skirts, everything except probably a ball gown!
They scream youth!
Your grandmother will be turning in her grave!
They are comfortable and a must-have-item.
Great Fitting Leggings
I'm all for wearing activewear, and teaming it with lovely tops and cardigans to go out in. Why not be comfy everyday? I love leggings both for going to the gym and for walking – but I'll also wear leggings with ankle boots and pretty blouses for social occasions. Here's how to wear leggings if you're not sure about how to style them – this post also covers some of the best buys online too.
Ankle Boots
I love ankle boots, and wear them with trousers, jeans, dresses and skirts, both in winter and summer.
They are cute, generally comfortable, and always on trend.
5 Top Insider Style Tips How to Dress Younger
A statement pair of modern sunnies might be all you need to dress younger.
Buying a luxe-leather handbag that's on trend for the season is a great way to give an old outfit new life.
Wearing new season styles and on trend fashion items will also help shed years off your appearance.
Buy, and wear, inexpensive modern fashion jewellery.
Invest in a hat – make sure you choose something hip, and definitely choose a hat with sun protection.
This season I've loved wearing this dotty top * from Vivid International. It has a relaxed fit, with a lovely front-to-back scoop that falls well below the bum at the rear, hiding what I consider my unflattering place!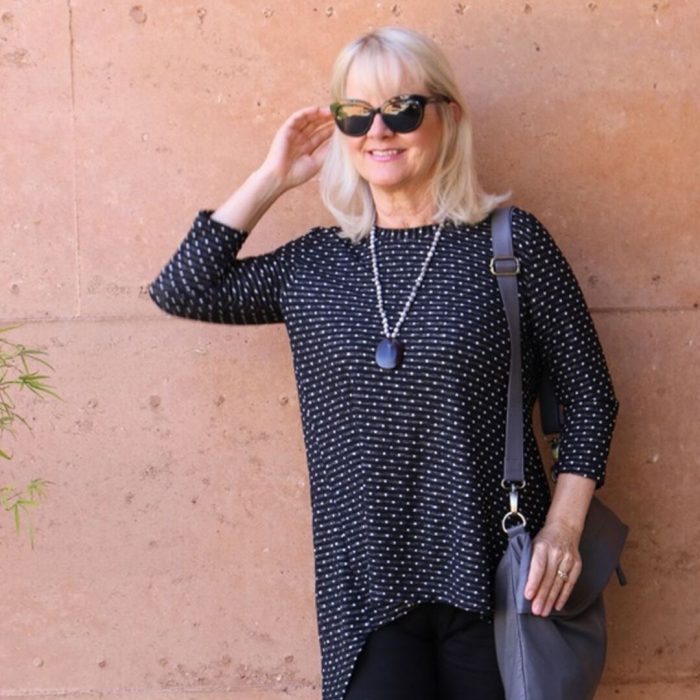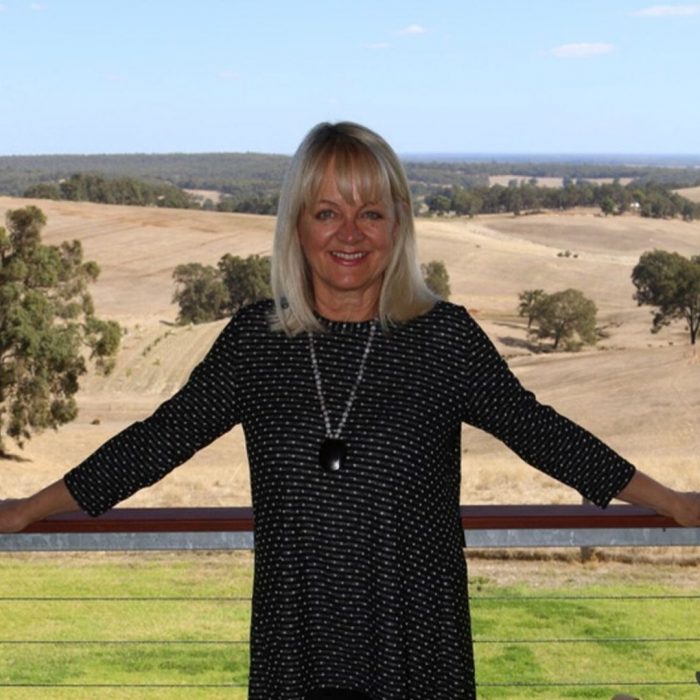 Dress to Impress and my Personal Tips to Look Younger
A Little Black Dress shouts confidence! It's always a winner and the right style can shave years off your age. Try wearing a Little Black Dress with ankle boots for a youthful edge.
Casual outfits such as shift dresses are favourites after 50, so too are wrap dresses.
Darker colours can help slim and elongate you (especially if you're short – How to Dress Well if You're Short), but stay away from a darker shade of purple, which I think is an ageing colour.
Anything that nips you in at the waist (if you have one) is wonderful, but if like me, you sometimes just don't want any of that nipping then go for something a little unusual and distinctive.
Be on the lookout for new trends you can try, such as this Vivid bubble dress by Vivid International. It's just the ticket if you want to make a statement. Wear it with long boots in winter and court shoes in fall or summer.
Why not add a scarf to the bubble dress in a contrasting colour, as I've done in the image below.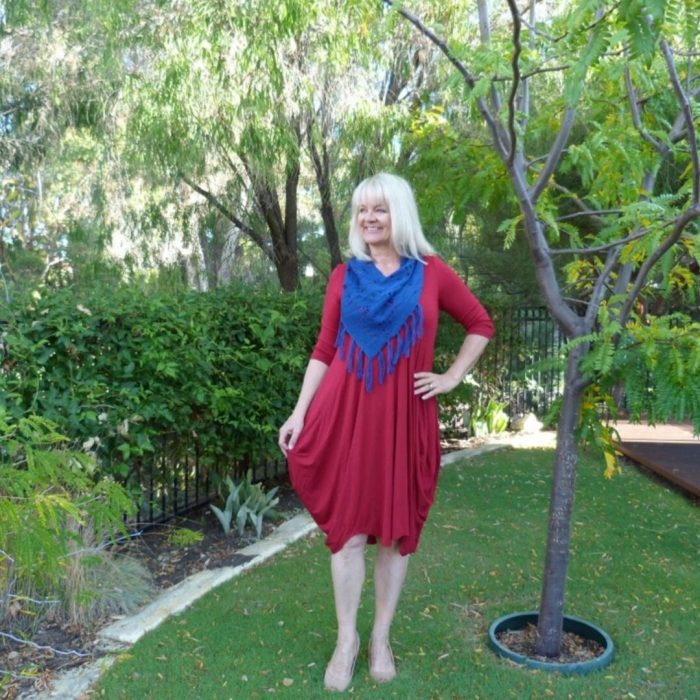 Switch from Jersey to Ponte
Ponte fabric is thicker than jersey. It's holds it's shape better and can pull you in – in all the right places.
If you're buying ponte pants, then you can be sure of a leaner silhouette without any lumps and ageing bumps making an appearance. But if you buy leggings, they are more likely to be made of a thinner, more revealing fabric.
Wear the Right Heels
Heels add length to your legs, and stretch your calves to give a more youthful line. I know you're going to say, yes, but 'uncomfortable.'
Heels don't have to be uncomfortable, and you don't always have to wear slides or sandals which are fabulous for everday comfort but which can carry a certain element of ageism about them.
Wear small but comfy, wedge heels, or kitten heels with your favourite going out dresses and they will shave years off your appearance!
Fringe benefits and hair length
Fringes can hide forehead wrinkles and frown lines. You don't need solid bangs, but a feathered fringe can take years off your face.
A very short pixie cut may suit you, but it can show off your double chins. A little length with some layers cut in can soften your features and take the emphasis off any drooping jowels.
Smile, be cheery, be happy – for sure it takes years off your face whatever your hair cut.
A Statement Knit
Dare to be different. For colder days a statement knit, that's a little different but easy to wear is a great staple for your wardrobe.
The knit below * has a flattering, slightly scooped neck and enough detail in the geometric pattern to be interesting without overpowering. Plus for winter days it's a nice length with jeans or ponte pants.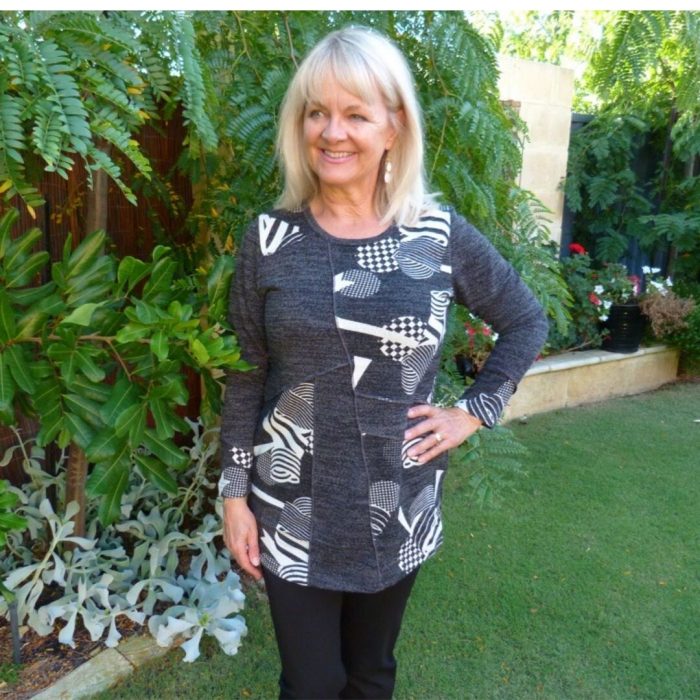 Have Fun Dress Younger and Feel Great – This Much is Really True
Age is just a number, so thay say, and as long as we are feeling fit and healthy I really believe that numbers don't matter.
What matters is our attitude to life and living and having the energy to get up, get dressed and face the day in a positive way as we get older.
Within that though is the way we look. Sure it's okay to look daggy if you're feeling grotty or ill. But at other times we need to make an effort.
The thing is when we were twenty or thirty or even forty, we could probably just get up, run a brush through our hair, pinch our cheeks, put on a bit of lip blusher, throw on a t-shirt and jeans, and look great all day.
When you get to being over 50, things change a bit.
Everything takes a little more effort. A little bit of energy and motivation gets taken away as each year passes. And so does the desire to look good.
How to Look After Yourself Better after 50
If you want to look fit, youthful and vibrant – then the first thing to look after is YOU. Look after yourself first.
Have a health check up with your doctor, book in with your dentist and make sure your teeth are in good shape, enjoy a little pampering and book yourself a manicure and a pedicure (even if you don't get colour on your nails) and get a good hair cut (and colour, if that's your thing).
Drink plenty of water – look younger by staying hydrated and healthy. It's important to look after your skin in order to look young fresh and beautiful !
Eat a balanced diet full of natural vitamins, you'll end up looking younger by eating natural food that's good for you rather than tucking into fast foods and junk food! You need to maintain energy as you age, so do eat the proper balance of fruit, vegetables and whole grains .
If there's one thing that ages us all – it's smoking. The look; sallow skin, fine lines around your moth, yellowed teeth, bad nails… Well for goodness sake give up now!
I know I sound like your mother, but seriously stop. It'll be so worth it in the long run.
Once you're lifestyle is looking in good shape , then it's time to look at what you choose to wear.
What to Wear for Exercising
My favourite everyday performance shape-wear yoga pants make me want to get out and exercise as well as hold me in – in all the right places. You can check them out here: Shaper Move Leggings Be aware they come in full length and 3/4 length. I'm wearing full length.
And I love this exercise top – check it out! Rosetta Top in Black
10 Dress Younger Life Hacks for Older Women
1. Put away the black – except an LBD (little black dress!). My Grandmother's sage words of advice were: "Black is only for funerals." Obviously things have changed since her fashion heyday in the 1940s but it's a little bit true that black can age you and drain your face of colour. You can look younger than your age by wearing colors that flatter your complexion, eyes and hair colour.
Having said that, if you have blond hair then black can look great, but if you are brunette then look out for plum shades, or even a bright cerise.
Grayish/plum shades can also look grand with blue eyes, while girls with green or brown eyes often look good in plum-browns or berry tones.
2. Get fashionable! Look younger than your years by staying informed about popular fashion trends. You don't have to be a slave to fashion but I think it's, a) fun and b)thought provoking to keep up with what's happening on the fashion scene.
You will feel fabulous when someone pays you a compliment about the way you dress, which is unlikely to happen if you are stuck in a prim and proper old lady look deigned suitable by the old school!
So do check the fashion magazines and keep an eye on what's hot and what's not – are high waist jeans back in fashion? What are the current colour trends? Is there a style that is breaking news?
You don't have to be a slave to fashion, but you can pick up a magazine or two throughout the year either at the newsagent or how about borrowing from the library?
3. Whatever you do – Wear clothes that you love, that suit YOU, that flatter your body shap, and that you feel comfy in. You can still dress younger but also feel comfortable.
There's no need to squeeze into skinny jeans just because they're all over the fashion magazines. Trust me, you'll never wear them – I have about 6 pairs of skinny jeans that look great on my legs but which won't do up around the waist anymore. They definitely need to go!
4. Act your age – don't act young to look young. Grace should go hand in hand with maturity, and dressing with style equates to feeling good in what you wear, not envying your daughter's style of dress.
5. Don't listen to the fashion Police – its all about creating confidence for yourself and how you feel about your clothes. Dressing to look youthful and more fabulous means not caring about what anyone else thinks.
6. Do wear active wear, but for exercise reasons, probably not for going out to lunch.
On that note it's important after 50 to get plenty of exercise – look younger by staying active.
You'll find your clothes fit better, and they always somehow just seem to look better on people who are following a healthy lifestyle and are active.
If you're physically and mentally healthy you'll just feel more confident about yourself and your body, and you'll find that you want to dress well all the time.
7. Go shopping with girlfriends who love clothes! There are some of us who love shopping for clothes, some people who just can't be bothered, and others who find clothes shopping a chore that has to be completed.
Go shopping with girlfriends or family that you can have a laugh with, enjoy their company, and who you can rely to tell you if a garment looks awful on you or if it makes you look fabulous!
10. Get rid of old clothes, look youthful by throwing away anything that isn't age appropriate or makes you look old.
Frilly blouses with bows at the neck for instace, so reminiescent of the 80's and glam punk rock, should probably only be worn for fancy dress!
Keep yourself looking stylish day after day with simple swaps like chucking out an old, frayed garment and buying something up to date and gorgeous to wear in its place.
Keep Active!
Take a decade off your look by being active and keeping flexible.
Yes, I know as we age it takes longer to do these things and our joints may begin to stiffen.
All the more reason to join a gym, go to a Pilates class, swim, walk on the beach or dance – do what you love and make it a daily habit.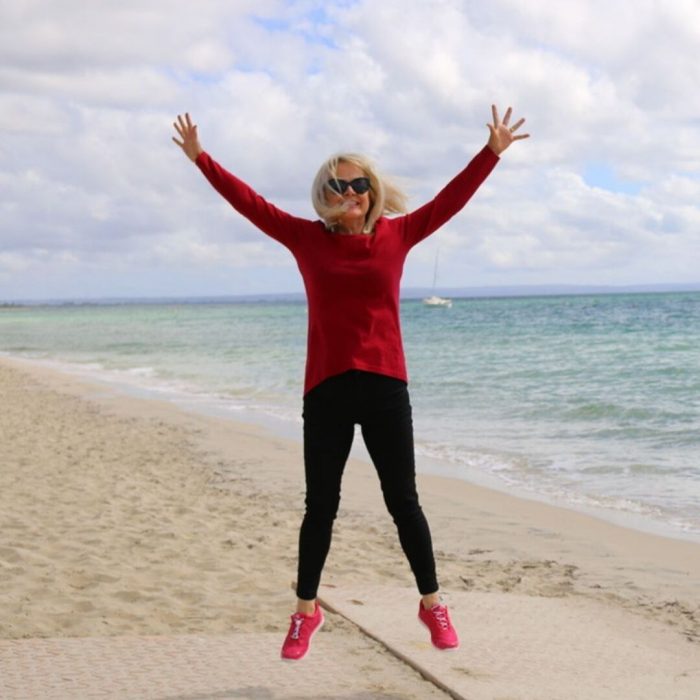 You'll feel great for doing more exercise, and activewear is all the rage whether you're at the gym, going for a walk, or just out and about.
Don't sit around in your pyjamas, nor your fancy clothes at home. Buy some comfy exercise gear and wear it during the day – then when time permits or the exercise urge strikes, you're ready to go 🙂
Book an active weekend away somewhere nice and have some fun – here's my best packing list for a weekend or 3 day trip away.
How to Dress Well from Top To Toe – Related Posts
In other posts I share tips and advice about Fashion for older woman and How to look younger (than you really are!) and How to Dress for Any Occasion and How to Wear a Dress in Winter and How to Wear Long Skirts without Looking Frumpy!
If you are not sure about dresses, then be inspired by the styles in this post: Best Dresses for Women Over 50 and this post 9 Different Types of Dresses to Make You Look Amazing and this post The Best 57 Summer Dresses for Women Over 50.
For general tips try this post Fashion Tips for Women Over 50 and find out how to look sensational everyday!
Got any tips for keeping a youthful look and dressing young?
Gifted products from the brands I love and wear often: Vivid International, FRANKiE4 Footwear for podiatrist designed footwear & Travel and Living Collection for fabulous leather bags.
Please Pin to your Pinterest Fashion Boards – Happy Pinning!
Check out this great video by Busbee Style on YouTube
Disclaimer : This post "How to Dress Younger and Shave Years off Your Age," may contain gifted products – which will be marked with an * and affiliate links from which I stand to earn a small commission but at no expense to you. Lifestyle Fifty Website is a participant in the Amazon Services LLC Associates Program, an affiliate advertising program designed to provide a means for sites to earn advertising fees by advertising and linking to Amazon.com. Please read my full disclosure here.