To tell you the truth, I've never been one for fashion rules. Throughout my life I've shunned what you should and should not do. Sometimes to my detriment of course, and some of my teen pics and those taken in my twenties make me wonder what I was thinking at the time.
Outfit ideas and style tips were gleaned from magazines and then altered to suit my (ahem) original style.
But over the years I've learnt there are some fashion rules you can break without looking like a fashion disaster, and some that really you should pay (just a little) attention to.
I'm on a mission to bring you the best fashion tips of all time; the style tips everywoman should know and the tips professional stylists would tell you – and today we look at the fashion rules you can break 🙂
So onwards – here are the fashion rules that I'm happy to disregard. If you ditch them too I think you'll still be looking AB FAB after the age of 50.
Fashion Rule #1: Your handbag should match your shoes – or else!
No ways OJay!
The rules of etiquette for ladies used to be matching shoes and bags, but it's so dated and went out with the ark.
I bet when you were young, like me, you had your 'best' going out bag, 'best' shoes and 'best' going out togs. And they all matched.
But these days we are not under the same restrictions.
Buy the bag of your choice, make it a stand-out bag, or buy several and swap them around. You've done the hard yards, now it's time to have some fun.
Shoes – wear whatever makes your outfit look great.
The only time you may want to match your shoes and bag is if your are stepping out in formal evening wear. Then a dainty clutch and footwear to match is always classy.
Fashion Rule #2: Don't mix prints because you'll look eccentric
While we don't always want to be all matchy-matchy, we do sometimes want to be a little avant garde and that's good.
It's okay to mix prints in a confident and thoughtful way for a stand out effect.
Don't mix two dissimilar leopard prints, or two wildly different coloured checks. This will look wildly eccentric.
Do mix similar coloured prints.
Do mix prints that are roughly the same shape and size.
Do mix different animal prints.
Mixing prints can look gorgeous not gauche, stylish rather than experimental. Go for it!
Fashion Rule 3#: Skinny jeans are only for young women because … legs, tums and bums!
No No No!
If you're comfortable in skinny jeans, and especially if you have shapely calves and upper thighs, then buy the skinny jeans sisters, and make them the stretch variety.
As we get older our body shapes change, but that doesn't mean to say we can't wear the jeans we desire.
Just make sure to cover your tum and bum (if they're heading south) with a delightful, longer length blouse, and you're set to go.
Fashion Rule #4: Sparkle, but not during the day because that's just … bogan.
We say – Don't keep your bling for evenings only!
Sparkle all the time.
Okay you may want to temper the sparkle you wear in the day time and go for the full milky way at night, but a little bit of glitz at lunchtime is perfectly acceptable and will make you feel like a shining star.
Fashion Rule #5: If you're short don't wear a long dress because it will make you look like a pregnant midget
Balderdash!
Wear whatever you like. Long dresses can be super slimming and make you look taller.
Just make sure you buy something with a great cut that swathes your body beautifully and falls fabulously.
If you're on the short side steer away from the voluminous style of dresses which can have the opposite of slimming and make you look more like you're wearing a tent.
It's all in the cut. Long is good, just make sure it flatters your body shape.
You might also like this post: 9 Different Dress Styles to Make You Look Amazing
Fashion Rule #6: Only Wear high heels with long dresses (especially if you're short!)
If you do, then good for you. I for one would love to be taller, but sadly those spikes stilettos no longer agree with my feet.
I might consider a pair of slightly higher wedge heels to feel comfy and stable and give me some height in a longer dress, while you on the other hand might go for the full Eiffel Tower effect.
BUT flats are fine ladies.
Love the height you have, wear dainty sandals that wrap your feet in love and comfort, and wear your long dresses with aplomb and sass.
Fashion Rule #7: Less is more when it comes to wearing jewellery
Here we're talking fashion jewellery, costume jewellery not priceless jewels and tiaras.
Keep your expensive sparklers discreet and elegant but go for the costume jewellery and layer it on.
Mix and match for a Boho style, you really can't go wrong.
Wear multiple rings and bracelets, two necklaces instead of one and earrings too – it's okay for a day, and a night statement – and it's fun. Go for it! You're not Royalty – are you?
Fashion Rule #8: You have to spend a lot to look great
Rubbish! There are plenty of pieces that you'll look great in which won't cost you a fortune.
And just because you spend more on something in a high end store, doesn't always mean that you'll look better in it than a less expensive item.
Also just because a garment is expensive doesn't mean that the brand is more ethical about where it sources fabric or has garments made up.
Sure, go for truly ethical manufacturing and you'll pay more, but it doesn't mean it needs to cost an arm and a leg.
Don't discount charity shops – look for labels you love, source the good quality fabric items and you'll have an outfit for a few dollars to look fabulous in – and left over money for lunch with a friend.
My tip – go clothes shopping when you have time (rather than excess money) to spend, and open your eyes to the real value of what you're buying.
Have a look at one of my favourite value for money brands, Vivid International (international shipping)
Fashion Rule #9: Buy from a high street store and you can be sure you'll see a friend wearing the same thing
Gone are the days when if you bought something from a high street store you would be likely to see one of your friends wearing the same item.
Ladies there is just SO much, ever changing choice these days that this will hardly ever be the case.
Fashion Rule #10: Style sense can't be learnt 'cos you've either got it or you haven't
Nope! Nope! Nope!
Your style evolves as you get older, as your lifestyle changes, as you have kids and they grow up, as your shape changes, and as your hormones go haywire.
Essentially style is all about how you feel about yourself.
Great style is about you, what you wear and how you present yourself.
It's all about YOU and you feeling great about what you put on for the day.
Sure you can pick up tips from others – think … 'That would look great on me. I'll try that, but I'll add a scarf or a different handbag, maybe put my hair up.'
Style is more about thinking about presentation and putting an individual look together by adding accessories.
You have style within you gorgeous, just tap into it or watch how others do it and copy them!
Fashion Rule #11: Tall women shouldn't wear high heels (for fear of making everyone else look small!)
If you're tall you are going to rock the room. Heads will turn. Don't ask me why but it's true.
So if you're tall already and you want to wear high heels just pop those trotters on and hold your head high because many eyes will swivel in your direction.
Don't worry about shorter men – if they don't have the courage to admire a tall woman then they are not worth your time.
And sisters – I hope you're like me and you love a tall girlfriend in heels – she is just the absolute, most gorgeous bomb!
Please PIN to one of your Fashion or Clothes boards on Pinterest!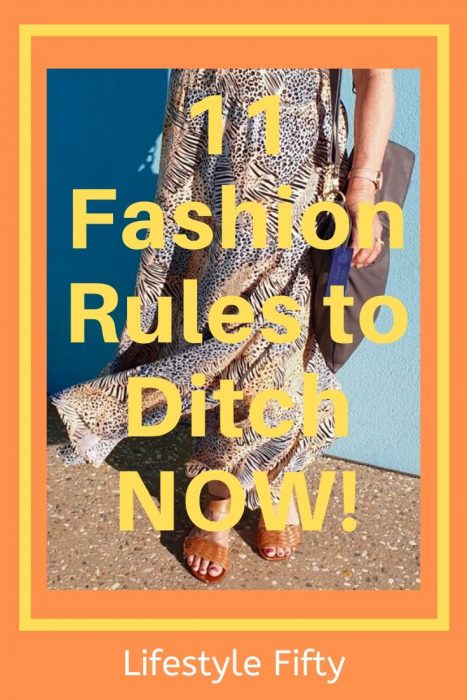 Enjoyed this post? You might like: Super Wardrobe and Style Tips for Women over 45 … "When it comes to looking good, it's not your size or shape that matters but the fit of your clothes," says the lovely Ilse Justus, an image consultant from South Africa who's sharing her fabulous wardrobe and style tips for women over 45 today on the blog …" Read More