There's a subtle art to dressing well over 50 and fifty plus women's fashion isn't just about clothes or brands that make us look younger. Nor is it about dressing like runway models in a fashion show.
It's not all about avoiding being mutton dressed up as lamb either. It's more about knowing what not to wear over 50, understanding your body shape, and following a few sensible clever everyday style tips to always look drop-dead-gorgeous 🙂
13 Super Fashion Tips for Fifty Plus Women's Fashion
Ditch low waisted jeans.

Go for mid rise or high waisted jeans.

Wear skinny jeans or slim fit jeans with longer tops.

Simple patterns are more sophisticated than loud busy prints.

Block colours always look stylish when you're over 50.

Well tailored, high quality clothes that have a great structure are now your friends.

Straight cut jeans and boot cut jeans that are well cut, which don't show 'camel toes', can be paired with anything including shirts that tuck in, and colourful or feminine blouses.

Get your bust measured correctly and wear bras that uplift and which are comfortable.

Showing a lot of flesh was sexy in your earlier years but can look vulgar now.

Stop spending a long time with your make-up. Simple is now best. Develop a swift make-up routine which veers towards as natural and dewy as possible.

By all means keep your long hair, but sorry, that tousled 'just out of bed' look is not appropriate now.

Long hair should be sleek or styled and well trimmed.

Short hair, especially a

bob cut whether short or long is flattering on many mature women.
I don't know about you, but sometimes I look in the mirror and just want to pull an old sack over my head. My wardrobe seems to be full of clothes that are 'not quite right' and despite the fact that this is a fashion over 50 blog, I conveniently forget nearly all the fashion tips for women over 50 that I've ever learned and need to remember the fashion rules to ditch!
Time for a recap.
Fifty plus women's fashion, here goes!
Over 50s Fashion
It doesn't matter how old we are, or what shape we're, because we still have the ability to dress stylishly, look fashionable and feel confident.
First up, one of the more intimate details – all day confidence. I'm a full supporter of leak proof pants (rather than their non eco-friendly sisters 'pantyliners'). They are comfy to wear, they wick moisture or leaks, they are mostly odour free, and they are washable – check out my favourite washable leak proof underwear at Modibodi or read my full post about what washable incontinence underwear is made of, and some of the other best brands you can buy confidently online.
Check out these related posts:
Sensational Casual Clothes for Women Over 50
How to Dress Well if You're Short
10 casual outfit ideas for curvy women.
and How to Wear Ponte Pants and Look a Million Dollars.
You can still wear hip clothes for 50 year old women and beyond.
Arm cover ups, as in slip on sleeves for under dresses will give your sleeveless garments a new lease of life.
Too many clothes? Declutter and gift to a charity shop – here are 10 of the best online thrift shops to get you starteed!
Fashion knows no age – think the ladies in Advance Style – they've really got it going. That kind of confidence though is learnt not given, and as we get older it has to be worked at.
I believe that lots of things begin to undermine our confidence as the years go by.
Although women in their 20s and 30s might make fashion mistakes they're more likely to give different fashion styles a try and wear them with self assured aplomb.
As we get older we're more likely to stick to what we feel safe with, and Eek, have always gone for in the past, even though that style perhaps could be updated and improved.
Yes, over 50s fashion requires us to shake things up a bit without going crazy.
But ultimately fifty plus ladies fashion is all about YOU and what makes you feel great. Not okay, not just comfy womfy, but GREAT. Even if you're packing for a weekend away.
Good Grooming Pays Off
A hairstyle that flatters (and is easy to manage on a day to day basis is a bonus). Short hairstyles for women over 50 such as a short bob, are convenient and classy, and can enhance your facial features in a way that long hair perhaps doesn't anymore.
A 5 minute skin care routine along with a 5 minute make up routine, which you have perfected to take the least amount of time, are obviously pre-requisites for a quick morning exit, especially if you want to get out of the door in about 20 minutes.
Here's how to choose the best lipstick over 50.
Having nails that are clipped, clean and tidy, and legs that are waxed or shaved add to the overall look of paying attention to yourself. You deserve it.
Now you've got the basics covered, move on to the fun part … dressing that gorgeous body of yours.
Fabulous Style for Women Over 50
For me, and possibly some of you, it's easy to stick to the same old thing and get into a bit of a style rut. A few years ago I was definitely stuck in the mud.
Time to get some Va-Va-Voom in your Dressing Room!
To look stylish you need to feel self assured about what you're wearing, and then remember – carry yourself well.
You don't have to make huge changes.
For instance, those old baggy jeans that fit like a glove and the T shirt that has seen better days could be ditched in favour of a new, super fitting pair of jeans with a well cut T shirt all vamped up with an ooh-la-la tailored navy blazer.
Or how about buying some fabulous ponte pants and a great fitting longer blouse to look a million dollars?
Going out in your old comfy-womfy old clothes is okay, but I promise you if you make an effort to look great a feeling of confidence and chutzpah will stay with you all day and infiltrate into other areas of your life too.
I promise you, it's not all about vanity. It's about feeling great, and joyful too 🙂
What clothes should women over 50 avoid?
Anything too tight or too tricky and anything too short is a no-no. Leave those styles to the young things. It's their turn, right 😉
Sexy playsuits, cat suits, jump suits and figure hugging leather pants might make you look a bit, er … trashy when you're over 50.
At all times aim to look stylish – think French. There's nothing so elegantly attractive than a simple navy blazer over an expensive white T-Shirt (not K-Mart please) that's made with quality fabric, worn with jeans in a super cut which flatter your body shape. Finished with ankle boots or pretty summer pumps, this look is an everyday winner.
Long skirts can be your friends too!
Here's How to Wear Long Skirts Without Looking Frumpy
Understand your strengths and weaknesses
We've all walked into stores and tried on things which have taken our fancy only to be disappointed, haven't we?
Perhaps the designers are cutting and designing for smaller body shapes, or perhaps they have in mind women 30 years younger than us! It happens! Don't be discouraged.
The trick is to find the stores which stock clothes that fit you, and understand which designers really play to your strengths and help hide your body weaknesses. Stores catering specifically for younger women will rarely stock things suitable for a woman over 50.
I also dislike it when I'm a size 12 in one store and 14 or 10 in another with all the varying sizes and oddities that go with a different size. So now I've found the stores which cut for my body shape and which I most like to shop in. I'll generally always try them first when I'm looking for something specific, before I branch out to wandering the streets or trawling the internet.
You know – Just Less Headaches and Less Confidence Sapping!
Don't cover everything up after 50
Everyone has a bit or bits about their body which they don't really like.
Which is a shame really because if you think of it our bodies are an instrument and not an ornament.
They do so much for us that we should praise and love and celebrate every bit of them.
But I know, I know, you're saying that doesn't help when you want to look great at a party, or at a wedding, or if you're on a country weekend staying in an elegant hotel, even if you are (horror!) camping! (Let's face it – who loves shorts these days? Don't you find them tricky to buy? I know I do but I do like them for walks and everyday wear at home.)
So the internal checklist for women over 50 looking for clothes to buy, goes something like this.
Nope – can't wear that as I have batwing arms

Nope – my waist is too big

Nope – the skin droops over my caesarean scar

Nope – my boobs are too droopy

Nope – I have seemingly developed a whole spare tyre of flab around where my bra strap goes under my arms.

Nope – My thighs are too big

Nope – I don't like my calves and ankles, they are too thick

Nope – I have varicose veins

Nope – I'll have to wear hold-me-in underwear with that and I'll feel trussed up like a turkey

Nope – I can't wear anything which requires me to go bra-less

Nope – my bum will look fat in that.
GAH Girls!
I do it, you do it, we all do it. Time to stop doing it, and just live for the clothing moment and find what makes you feel and look good – buggar the bulges. You know what? Nobody is really aware of your own perceived faults, but they will notice something amazing you've got on, or look fab wearing.
Fashion Tips for Women Over 50
When you find a brand or clothing store that makes clothes which fit and flatter you, my gosh, clap your hands with joy. This is the Holy Grail of fifty plus women's fashion.
Nobody needs to wear shapeless, kaftan style clothes unless you are lazing around the pool or covering up at the beach, because quite honestly they will make you look much bigger than you really are.

Trying to look smaller than you are by hiding under baggy clothes isn't going to work unless you want to look older than you are, and frumpy. Don't worry – I've been there and done that.

Remember, you are looking for a brand which designs clothes not only you can't wait to get your hands on, on a regular basis, but also clothes which will hide the body flaws you don't like so much, as well as accentuate the body bits you do like.

If you can, wean yourself towards clothes which flatter your curves. There is a fine line here between being just a tad too tight and a perfect fit, so pay attention to this. A dress which gives you an hour glass shape from the front is all very well but if, looking on from the side, your tummy really does bulge out as if you're six months pregnant (ahem, been there done that) then the dress is probably too tight rather than flattering.

A great look when you're over 50 is probably going to consist of clothes of the more tailored variety. We're talking dresses which are well cut, fitted and sometimes lined.
Fifty Plus Fashion : Women's Dresses
An A-line dress is a beautiful fit if you want to hide a tummy but accentuate your bust and waist. Below I'm wearing a Yesadress * from Vivid International, an Australian brand designing for fifty plus women's fashion.
A shift dress with a great cut which ends just above the knee is a great look for most women over 50. You're not showing too much leg, but you're probably showing the best bit of your legs, and this cut is flattering for most body shapes. Again, another Yesadress * below from Vivid International.
A jersey dress in a wrap style is a great way to disguise a tummy. It defines your waist and uplifts your bust. It's a little big sexy without being trashy and you can wear it day or night – winning!
Check out How to Wear a Dress in Winter for more styling tips, and learn the art of layering to keep you looking ab-fab all year round. And find inspiration about dress styles in this post: Best Dresses for Women Over 50 and The Best 57 Summer Dresses for Women Over 50.
Below I'm wearing a * Leona Edmiston online buy.
Trendy clothes for 50 year old women
I wear, and I love the following fashion brands which are especially suitable for women over 50.
Leona Edmiston designs fabulous, affordable dresses – Shop Fabulous Styles Here
Casual Look for Over 50s
A tunic dress can be worn on it's own in summertime or with capri pants or leggings in winter and it's basic shape can be enhanced and look fabulous teamed with some bold costume jewellery. I'm wearing this Portobello * dress with capri pants * and a Travel and Living Collection * super soft leather handbag and FRANKiE4 * sandals. The overall look is casual and a little bit different.
Occasion Dresses
Although I love the look, Retro dresses with swirly skirts, you know, the 1950's Rockabilly styles – well they don't suit me now I'm over 50. I look like a mushroom.
Maybe you can wear them though and look fabulous.
Jackets and Blazers
Short Jackets and Blazers which have a sharp shape, and which are lined should be a wardrobe staple – above cardigans. I particularly like those that stop at hip level, although with jeans a slightly longer jacket looks great too.
This post tells you all you need to know about How to Wear a Leather Jacket with a dress.
The bottom half
Capri pants in any colour are a winner. You could wear them with a vest under a blouse – particularly if it has a long back if you want to cover your bum – if it's gone for the droop! I love the shirt below from Vivid International * because it has a peep hole sleeve and a longer back. The look is very casual.
Boho Hippy or Not?
A woman over 50 is probably not going to look fabulous in droopy, drapey, whimsical things which we loved in our hippy days.
You might like this post: Boho Chic Clothing to Make You Sizzle
A little Boho is lovely, but full Hippy is probably passe. So if you want to wear a flowing maxi dress on a hot summer night, don't head to the surf shop but rather go for something a little more classical like the Yesadress * below which is cool, sophisticated and casual all at once. Wear it with summer sandals like these from FRANKiE4 *.
I've found that many maxi dresses have spaghetti straps – if you can wear spaghetti straps and are confident doing this, then that's great. If you are not so confident showing off your upper, arms like me, then team the dress with a lightweight bolero cardigan like the one below. Click on the image to buy, and for more bolero cardi styles.
Shirt dresses? Hmm, not for me. I think they can look a bit dowdy and dated.
But I do love a maxi dress with a simple tie waist …
Colours for Women over 50
I'm like a tropical bird – I adore colour, the brighter the better!
Of course you can where whatever colour you like as long as you feel great in it – but over time you'll find that some colours suit you better than others.
I'm finding that as I get older it's the neutral colours which are the most elegant and flattering especially for day time. Off-white, cream and ivory are so classical. Black, grey and navy are great staples.
Below I'm wearing neutral colours from W Lane which I featured a couple of years ago in a post I wrote about 5 Ways to Look 5 Years Younger than you really are.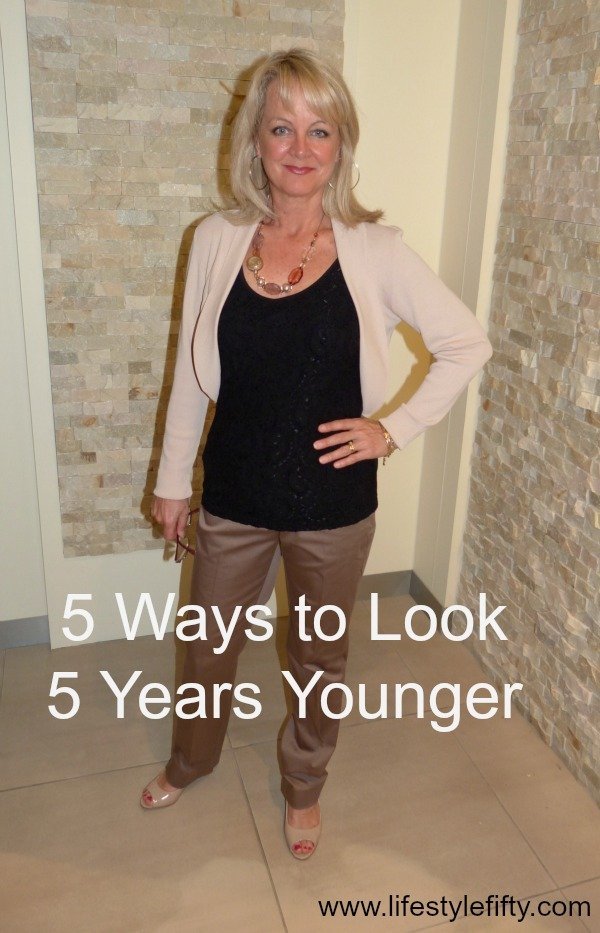 However, having toned down the basic look you can allow yourself to go for the show pony jewel colours – cobalt blue, cerise, pillarbox red, say for one item of clothing, just not the whole lot if you're wearing separates.
Having said that, there's nothing lovelier than an LRD, Little Red Dress for special occasions. Below I'm wearing a Leona Edmiston online buy.
Night-time – now that's a different story. Don't be averse to wearing something sparkly and sequinned – bring out the sparkly sapphire dress or the emerald coloured jewellery. Bling it up a little 🙂 Below I'm wearing a Yesadress * from Vivid International.
When you have the option, wear darker colours on your bottom half as this has a more slimming effect.
Dark trousers with a light blouse rather than light trousers with a black blouse.
Or go for the dramatic contrast. Above and below I'm wearing Portobello * separates from Vivid International.
Perfect Styles for Women Over 50
I think by the time we reach our fifties, high fashion which is designed to yell "Look At Me!" is probably a little passe. At least for trips to the shopping mall 😉
But that's not to say that we can't or shouldn't take cues from what's going on in the high fashion world in magazines or on the runways, and also these days we might have more disposable income to be able to afford unique pieces and designer wear.
If we are splashing out on designer wear, we should be taking our cues from fashion icons who have stood the test of time and dress with grace and style. Quirky Style: Diane Keaton. Classic Style: Helen Mirren and Michele Obama. Everyday Style: Twiggy
My look below has been inspired by Twiggy.
Capsule Wardrobe for Women over 50
Every woman over 50 should have a working capsule wardrobe. Classic, well cut items which she can pull out at any time. Items which never go out of style, and which never let your wardrobe fall into the "I've got nothing suitable to wear" category!
A great pair of jeans

A fabulous white shirt

A well tailored navy jacket

A flattering easy to wear day dress x 2

A bolero cardigan in a neutral colour
A little black dress or a little red dress
A well fitting pair of ponte pants – here's what to wear with Ponte Pants.
A longer length blouse to go with the ponte pants.
A tailored pair of trousers in black or navy.
A smart blouse to go with the trousers.
A pair of capri pants (three quarter length) in a neutral colour (beige, navy, black or white)
A blouse to go with the capri pants

A comfortable pair of sandals

A small wedge heel shoe

A pair of ankle boots

A silver pair of shoes for evening wear (silver goes with some many things and can be accessorised with silver jewellery and a silver evening clutch)

A pair of sneakers

A gorgeous trench coat (light or heavy depending on where in the world you live)
If you keep these items updated in your wardrobe, in basic block colours as far as possible, you can then add the show pony pieces to go with them. You will always feel confident, sophisticated and ready for anything.
I hope you've enjoyed these fashion tips for women over 50 and that by implementing them you'll become a more ravishing version of yourself and always look chic, feel confident and exude style.
In the next post I share tips about Fashion for Older Women.
Related Posts
Best Walking Shoes for Elderly Women
How to Organize a Small Closet
Want more like this? Sign up for the Newsletter …
If you've enjoyed this post, please PIN (images below)
Don't forget to follow Lifestyle Fifty on Instagram and Lifestyle Fifty on Facebook if you'd like to keep up with all the new posts and updates.
This post contains affiliate links from which I stand to earn a small commission but at no expense to you. Some garments and shoes in this post were gifted, and are marked with an *. Lifestyle Fifty Website is a participant in the Amazon Services LLC Associates Program, an affiliate advertising program designed to provide a means for sites to earn advertising fees by advertising and linking to Amazon.com. Please read my full disclosure here.