There's no excuse. Well not for me anyway. I need my daily routine.
A little bit of make up, brushed hair, and maybe a pretty dress turn me from feeling 'a bit bleuh-di-blah' to, 'Yes – I can do this! Let's get this day underway!'
My Daily Routine is a no brainer
So the other day I decided to bite the bullet and take a couple of before and after photos.
I'm blotchy and bleuh without make-up and in my gym clothes, but the right clothes, some foundation, blusher, lipstick, a smudge of eyeshadow and some mascara can make all the difference – in just 20 minutes.
But it's not just about looking better. I feel better when I've made an effort.
It's not narcissistic wanting or trying to look your best, and then again maybe you don't always want to look your best, because well, just because. That's okay. We are of course beautiful as we are.
But for me, I can make a significant difference to the way I look in just 20 minutes – if you want to know how, scroll on down to the end of this post for my quick fixes.
Are we really invisible after 50?
In a recent post about women over 50 being invisible, someone said they could go to the shops with their clothes inside out and nobody would notice. That might be the case, and I too am guilty of going to Coles or Woollies in my trackies, socks and trainers without having even washed my face (sorry, but there it is – if you ever meet me at the supermarket don't scrutinise me too hard!).
Dave jokingly said the other day – "You'll frighten people going out like that!"
And I said – "No I won't, because nobody will notice me. After all, in case you'd forgotten – I'm well over 50."
And that was indeed the case on that rainy winter's day. I reckon I could have gone around the supermarket with my bra on my head and nobody would have batted an eyelid.
But then, I came home, showered, got out of my training gear, and put on a dress.
Then I went out to meet a friend.
As I walked around the shopping centre I could feel eyes upon me. I wasn't wearing the figure hugging black dress (Marion) above, but I had made an effort. The dress I was wearing was suitable for the outing, my hair and make-up was tidy, and basically I was well groomed.
I'd made the effort to look my best, pulled my chin up and my tummy in (no restraining pants though) and I knew I was not invisible (at least not to the very old men – just joking!)
Would I rather be invisible or ever-so-slightly-stared at? Well, I think there is occasion for both.
Sometimes anonymous and scruffy are just fine, but sometimes I prefer to put on the Ritz and just prove to myself that I don't have to be invisible after the age of 50.
And because most of you reading are probably, like me, neither famous nor outstandingly beautiful, isn't that a wonderful state of affairs.
Oh how I pity movie stars and celebrities.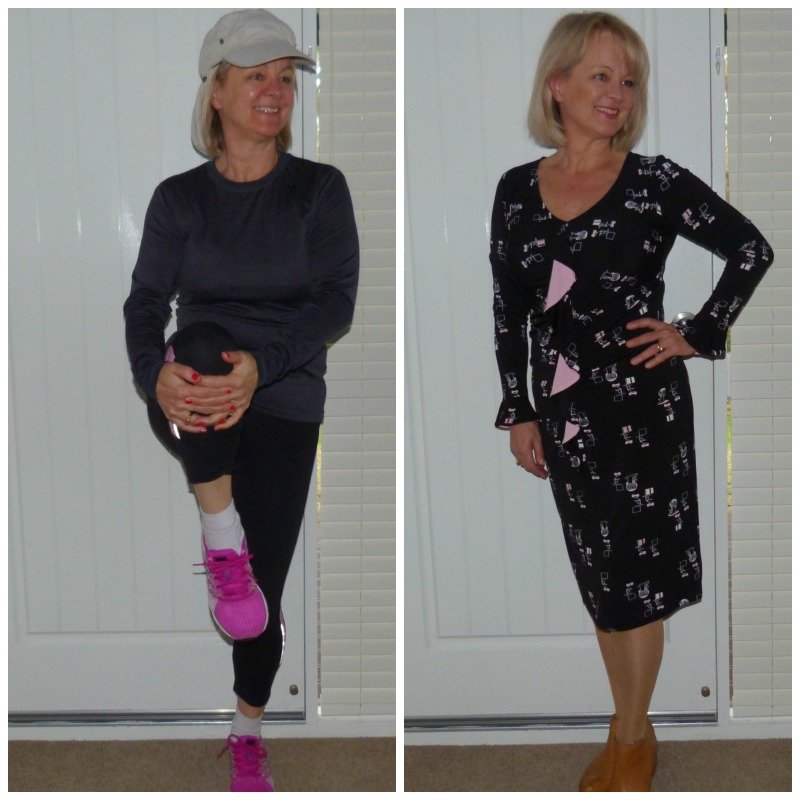 I'd much rather be able to look daggy or dandy, depending on the mood I'm in at the time.
Like these dresses? I'm wearing "Marion" (gifted) and "Avery" – check out the fabulous prices, and great bargains, right now at the Leona Edmiston online warehouse sale.
My 5 Tips for getting out the door looking your best in 20 minutes.
Get off to a good start. Shower, moisturise your skin, and brush your teeth. (Time 5 minutes).
'Joosh' your hair up with a bit of mousse and a quick blow dry, or curl the front with tongs, or straighteners (whichever you use). (Time 5 minutes).
When we're over 50 I really think a little help to even out skin tone works wonders. Do put on foundation. (Time 5 minutes)
Choose comfortable, clean clothes which you feel great in (don't save the 'best' only for well, the best, if you know what I mean!) (Time 5 minutes)
Put on your shoes or boots but make sure they are comfy – I love FRANKiE4 (tan boots above gifted) and Homyped for everyday wear. There's nothing more ugly than a woman of a certain age wearing uncomfortable shoes – I reckon it shows in her facial expressions!
And Voila! You're set to go. Rock those hips Baby, you look AMAZING! I know you do 🙂
What tips do you have for getting out of the door looking your best in no time at all?
Lifestyle Fifty Website is a participant in the Amazon Services LLC Associates Program, an affiliate advertising program designed to provide a means for sites to earn advertising fees by advertising and linking to Amazon.com. If you purchase a product from one of these links it will not cost you any more, but Lifestyle Fifty may earn a small commission.
SaveSaveSaveSave
SaveSave
SaveSave
SaveSave
SaveSaveSaveSave
SaveSave
SaveSave
SaveSave
SaveSave
SaveSave