Fashion is fun. Fashion is frivolous. Fashion is for every body shape. It isn't just for skinny, young women. No ways! And this post is just for you – How to look Fab if you're plus size.
We're sharing fashion tips for the plus sized woman – for the curvaceous, for the feisty, for the fashionable, mature women amongst us.
Here are Lifestyle Fifty we embrace loving the body you're in, and keep on stating that whatever shape you are you can find clothes to make you feel and look fabulous.
So if you want to know How to Look Fab if you're Plus Size, read on. This post aims to inspire you to try new things and to be confident in what you wear. We're sharing fashion tips for plus sized women plus ideas about how to play up your best points while playing down the things about your body that you're not so keen about.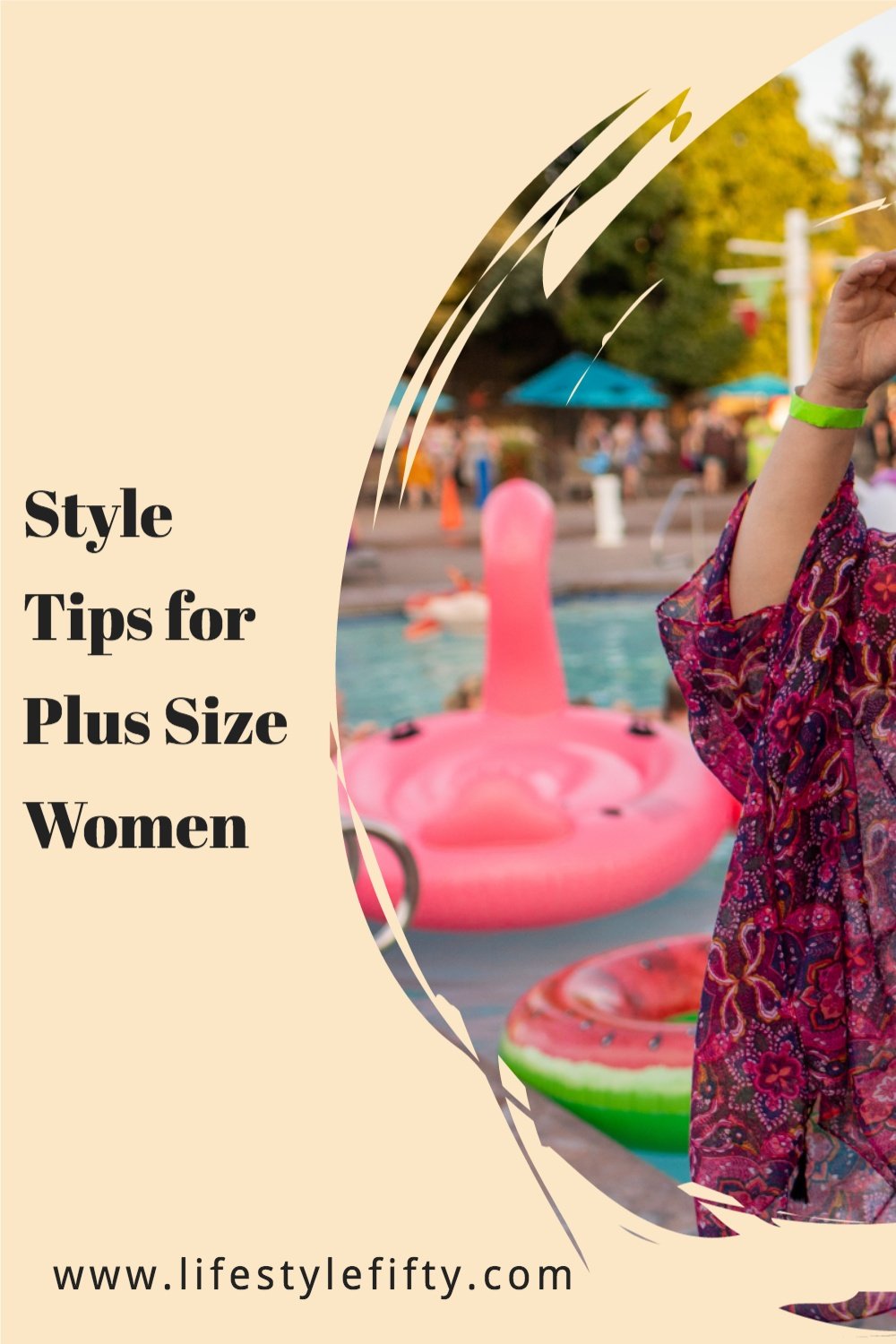 Fashion Tips for the Plus Sized Woman
Here's the thing. Even women who look positively perfect in every way have something they dislike about their body.
It's crazy how as women we put ourselves down and forget to take pride in what our bodies actually do for us rather than how they look.
At Lifestyle Fifty we believe in knowing and loving what's great about our bodies, and downplaying the bits we don't like.
And these days plus sized women have all the same chances to look fabulous as do their skinny cousins, because today many brands make fashionable clothes in larger sizes.
So if you're looking for some plus size fashion inspiration, read on.
Plus Size Style Ideas
Got a big tummy? Then love it! But here's the thing, be savvy about what you wear and try not to wear tight or clingy fabric.
Shapewear is your friend. Buy the best shapewear you can, and wear it under anything you want to look sleek and trim in. Don't buy shapewear so tight that will cut off circulation and you can't breathe but do buy it in a tight enough size that it actually works. Buy Shapewear for Plus Size Women here.
Large thighs? So what, if they're strong and healthy! Wear a beautiful maxi or midi dress.
Tuckshop arms? So what? You are lucky to have strong arms and to be able to pick up your grandchilren, and do tasks in the garden! There are lots of clothes with three quarter length sleeves you can choose to cover your upper arms if you so wish.
Flattering Looks for Plus Size
Figure flattering clothes for plus size women will depend largely on body shape. Of course no rules are cast in stone, and it's important to wear what looks good on YOU, not someone in a magazine.
A wrap dress is flattering on any shape, but will particularly flatter the larger body.
Try this Boden faux wrap dress or this Ganni gingham midi wrap and at the top end this gorgeous Diane Von Furstenberg Karina silk wrap dress.
Tunic tops worn over T's or on their own can be very flattering. Have a look at this Johnny Was Natalie Tunic
Floaty long sleeve tops are always beautiful – try this Johnny Was Fiska Flare Sleeve Blouse
Wide legged trousers or boyfriend shape jeans are your friends.
Black is an age old colour to make you appear slimmer.
However, there are no hard and fast rules when it comes to colour. Wear colours that you love and which suit your complexion and hair colouring. You'll know when you're wearing the right colour because your eyes will shine brighter, your skin will look more vibrant and people will complement you!
Block colours can look better than busy prints.
Flattering tops for plus size women might include peplums with their nip and flare at the waist, which gives you the illusion of a waistline even if you don't have one.
Jeggings, leggings and ponte pants? Why yes! Just wear a longer top and some trendy ankle boots or sneakers.
Jeans – of course you can wear them. Just buy the best jeans for your bodyshape.
Always make sure that your capsule wardrobe covers the basics so that you always have a solid base to draw upon.
Ponchos are a gorgeous way to flatter your body – here's a glamorous poncho by Barefoot Dreams
Plus Size Fashion Tips What Not to Wear
Don't wear clingy fabrics – if you do, then wear the best shapewear underneath.
Kaftans are lovely, especially for hot weather, but beware – they can make you look bigger rather than smaller.
Try not to wear clothes with thick horizontal stripes. Opt for thin stripes if possible.
Don't wear clothes with bright crazy patterns or prints from head to toe – be selective.
Brands Selling Plus Size Clothing
If you're looking for plus size clothing, here's a list of plus size brands you'll love which will have you covered wherever in the world you are. These brands are particularly great if you're looking for plus size clothing for older ladies because they have designs which will flatter and cover, rather than showing off a lot of flesh.
Flattering Dress Styles for Plus Size
You'll find a selection of reasonably priced plus size dresses for mature women from Tulio where you'll find an impressive array of fabulous and well known clothing brands.
Best Plus Size Dresses to Hide Stomach
A wrap dress.
High waisted dresses.
Dresses in a fabric that skims over your tummy rather than hugs it. Think chiffon not jersey.
Fitted dresses that have a chiffon overlay top or chiffon cape.
Boho style maxi dresses.
A Line dresses
Flattering Tops for Plus Size
Tops with batwing sleeves.
Tunic style tops.
Tops that fit at the bust and then flare to the hips.
Blouses which are feminine and floaty.
A fitted block colour vest all in one with a loose chiffon overlay.
Tailored, collared shirts in just the right size preferably worn collar turned up with jeans.
Peplum tops
Plus Size Brands You'll Love
Check out my Pinterest Fashion Board Casual Outfit Ideas for Curvy Women for some more plus size brands and ideas about how to look fab if you're plus size. (Don't forget to click 'follow' when you're on Pinterest).
This post contains affiliate links from which I stand to earn a small commission but at no expense to you. Some garments and shoes in this post were gifted, and are marked with an *. Lifestyle Fifty Website is a participant in the Amazon Services LLC Associates Program, an affiliate advertising program designed to provide a means for sites to earn advertising fees by advertising and linking to Amazon.com. Please read my full disclosure here.