Looking for a summer dress that fits your style and helps you beat the summer heat? Today's post looks at some of my top picks for the best summer dresses for women over 50 to wear on sunny days and holidays.
Do you have a special occasion coming up and need to buy a summer dress? Or are you looking for an everyday summer dress that will take you everywhere?
It's time for some summer inspo! Let me introduce you to some summer dress styles for mature women that are fabulous, trendy, casual, and stylish.
If you're anything like me then you're no good at buying for an occasion. When you have to buy a dress with an event or date in mind then you suddenly find it's all a bit hard! You can't find the right dress, or coming out of winter suddenly you have difficulty finding dresses that fit you – right?
We've just nudged into summer in Australia and beating the heat is of prime concern! But if you're in the Northern Hemisphere you may be planning your next summer holiday and looking for super summer dresses to buy too.
Sometimes it's harder to find summer clothes you love rather than winter clothes (which can be layered) because you're looking for specific design points. Yes, finding a summer dress that fits your style can be tough.
6 Tips for Buying a Summer Dress
You probably want something that hides your perceived flaws.
You probably want a dress you can wear with low heels.
You don't want something that shows too much flesh.
You don't want to look in any way frumpy either.
You don't want something too tight, or too hot, or something that's too formal.
You want the perfect option for hot summer days and nights!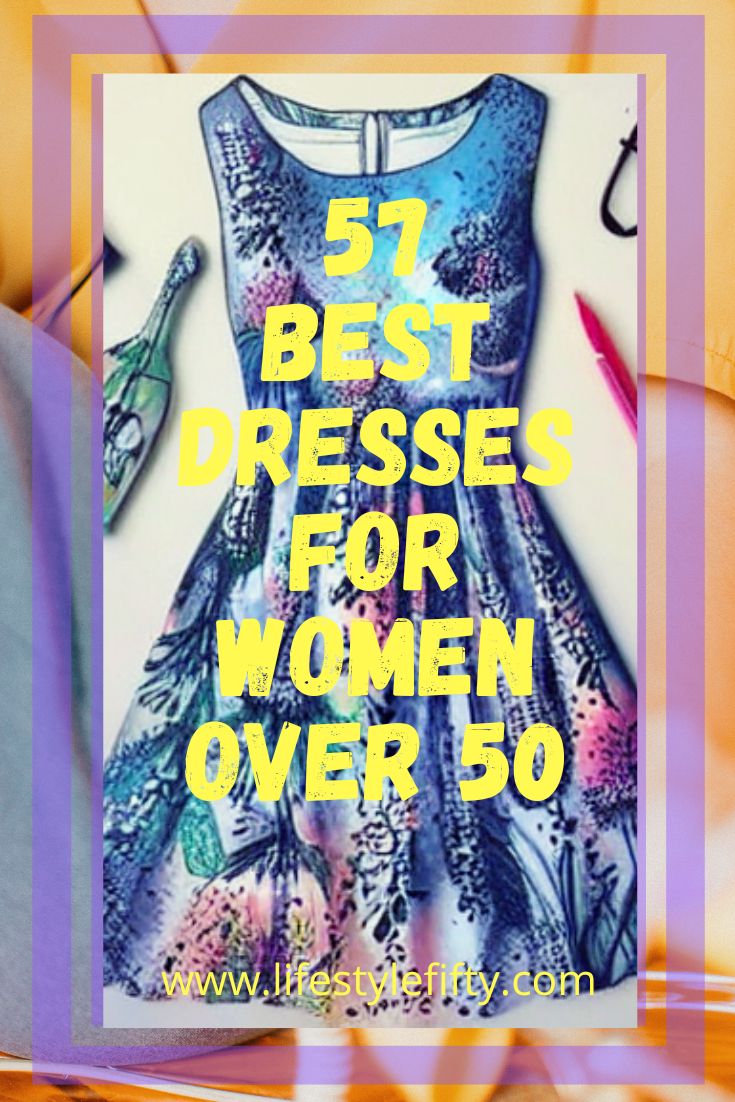 Shop These Affordable Summer Dresses Online Today and Find a New Favorite!
If you're anything like me you'll suddenly come across a garment that exactly suits your personal style, decide not to buy it right there and then because it's wintertime, but then find it hard to ever find it again when it comes to spring or summer!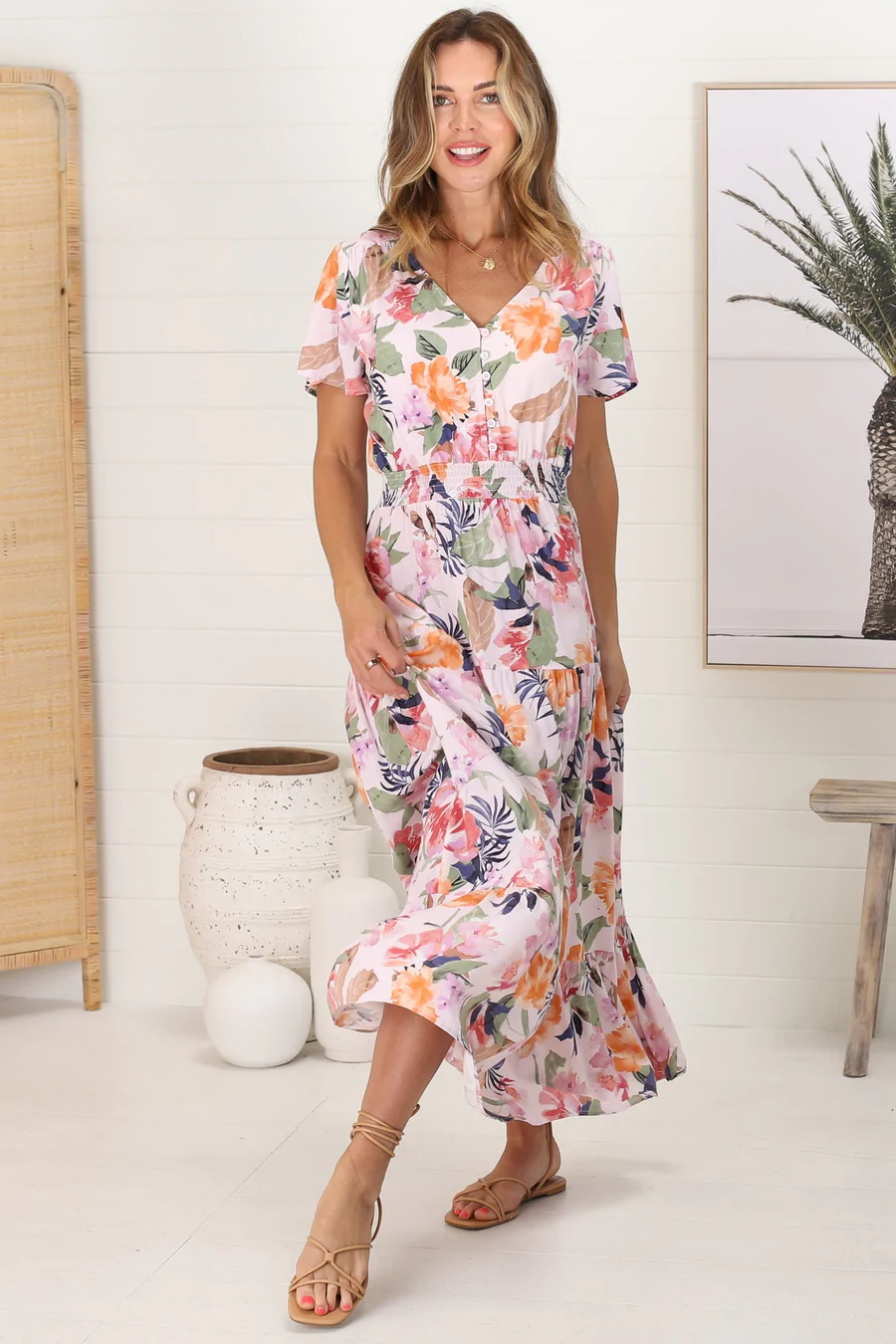 So my advice always is: "If you see a dress you like, and know it will be useful, then buy it whatever the season you're in!"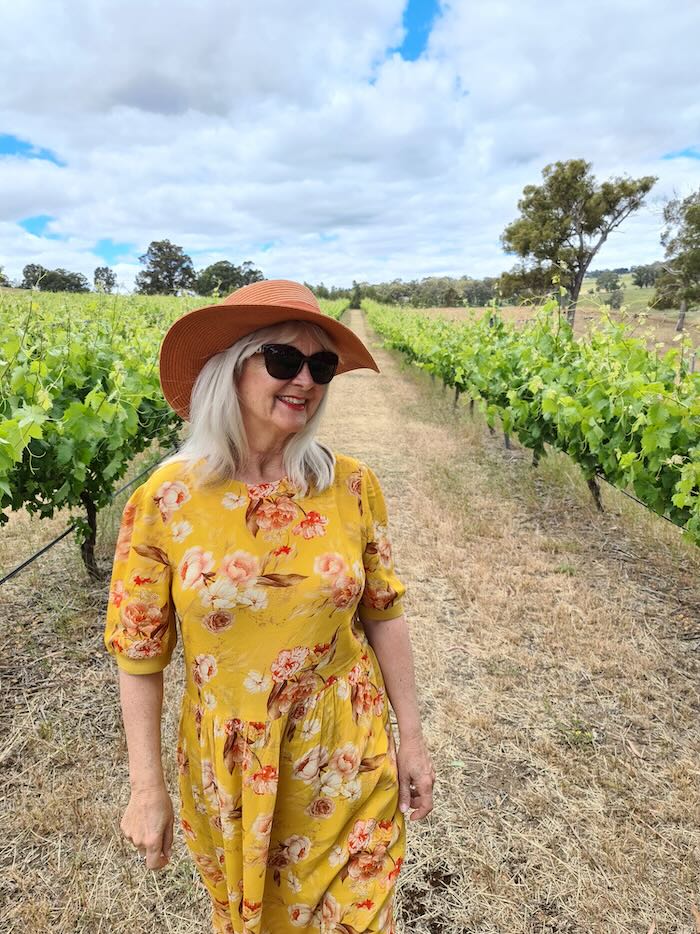 Today I hope I'm going to help you find the perfect dresses to suit all summer occasions – dresses that can take you from a day at the beach to a night out on the town.
Summer Dresses for Women Over 50 – What Works For YOU?
Summer dresses come in all shapes and sizes. You'll have to decide what you feel best in and find the perfect length for you body shape.
Perhaps you prefer a dress that falls just above the knee, or a midi length dress that falls below the knee, or a long maxi dress which finishes at the ankle.
Find your style and keep a few similar dresses in your wardrobe, because these are the ones you'll reach for time and time again. This makes getting out of the door looking good much easier everyday!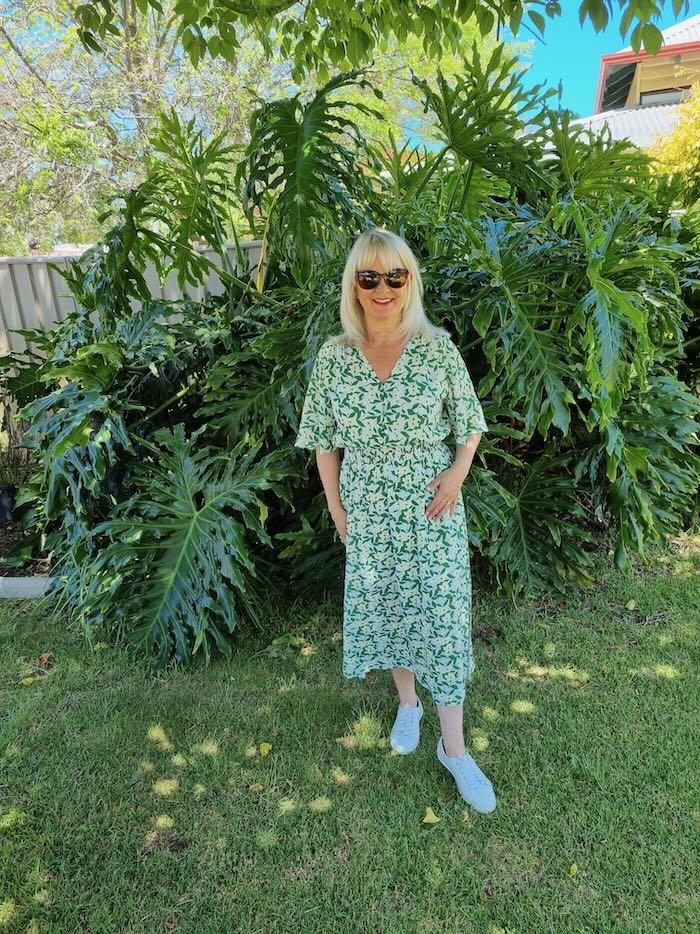 Think about design aspects that you like – you'll need to decide whether you want a sleeveless dress or one that sits off the shoulder, or one that has peep hole shoulders.
Do you want a dress with a scoop neckline, or a V neck?
Would you like to team it with a lightweight jacket, kimono, or a cardigan in case the weather changes? If so, do the sleeves allow for this? For instance, billowy sleeves won't, but spaghetti straps will.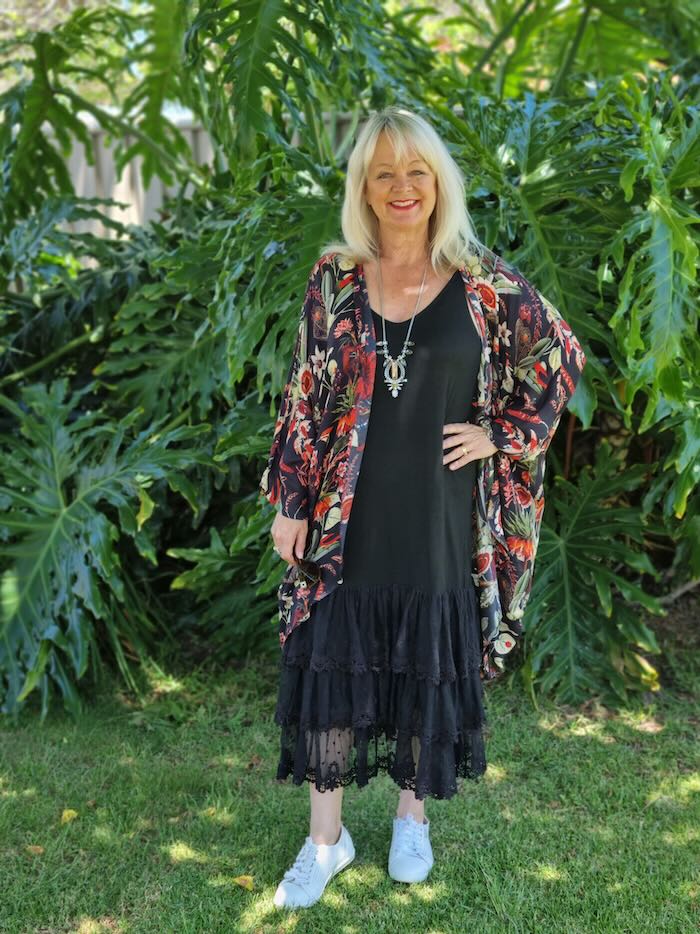 These are all considerations to think about.
Try and decide which dresses you already have in your wardrobe that you wear again and again. Why are they your favorites? What works and what doesn't work?
I love the look of off-the-shoulder sundresses, but you know what? They sit in my wardrobe and I never wear them because I feel uncomfortable and the shoulders always seem to droop on me. Whereas, for me, maxi Boho dresses are a favourite style.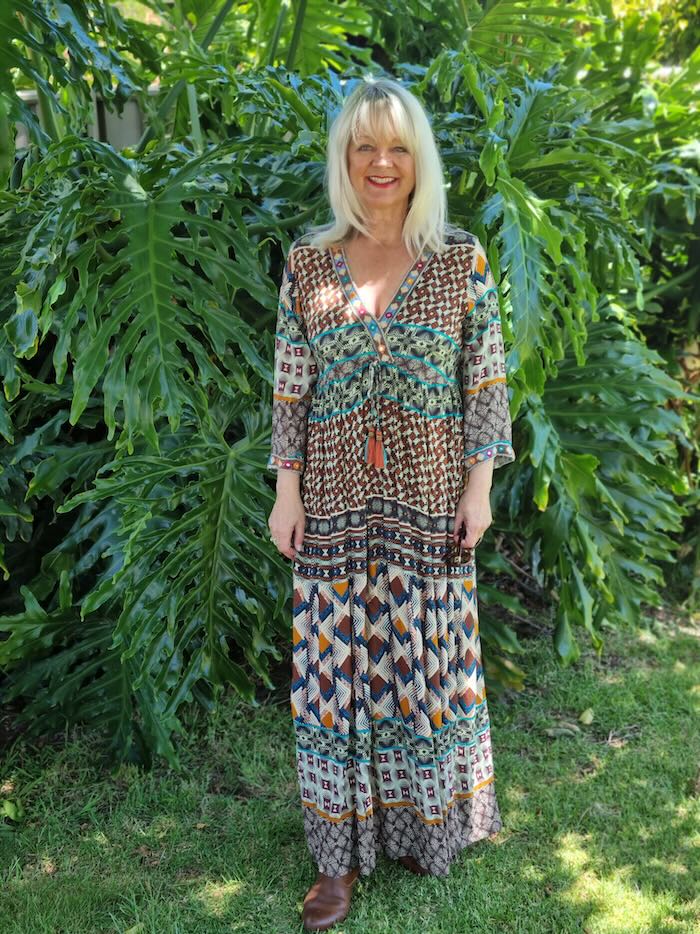 Edit Your Wardrobe for Summer Days
The main thing about a summer wardrobe is that you should be able to find what you want easily and quickly. So do have a clean out, ditch old tatty winter clothes, or wash them and fold them away in containers ready for next winter.
Many older women have a tendency to hoard (me included) – we remember the days of flower power and Biba, and mini skirts and the Beatles, and some of us may still have a penchant for billowy cap sleeves and big flower floral prints. That's okay!
But the great thing about the age we find ourselves is that we are perfectly entitled to dress the way we want, play up our best features and find the perfect choice of attire to suit our mood.
What we should not do though is keep things in our wardrobe that we haven't worn in over a year. I promise you – it's very unlikely that you will wear them again!
So do have a clean out, and then decide what new things you want to buy to stay up to date and relevant.
Best Dresses for Summer – 8 Hot Tips
There are some things you need to consider if you're shopping for a great summer dress (or many dresses!) to see you through the summer months.
Maxi dresses which create long lines, are a flattering length for most body types.
Short sleeves, long sleeves, or flutter sleeves are better than spaghetti straps for a mature woman (though not obligatory).
Natural fabric is always cooler to wear on hot days than synthetic material.
You don't have to stick to neutral colors – summertime is bright, vibrant and colorful, and you can dress the same!
For special events find a dress that gives you a nice flattering silhouette, with some waist definition, rather than something that swamps you just because you want to hide your tummy area. Baggy clothes are not always your salvation if you feel overweight.
Shift dresses suit nearly everybody and are cool to wear.
Linen might crease, but it's a cool fabric for summer dresses.
If you're buying online you may be offered free shipping if you purchase clothes over a certain amount in total (Just saying!)
Make sure you have some cute sandals in different colors in your wardrobe. Sandals with slim straps paired with a breezy sundress can create a really classy look.
For women seaking ultimate foot comfort, the good news is that comfy fashion sneakers come in a variety of styles and colours these days, and can instantly modernize the right sundress, or your entire outfit. No you won't look like mutton dressed up as lamb, you will just look trendy!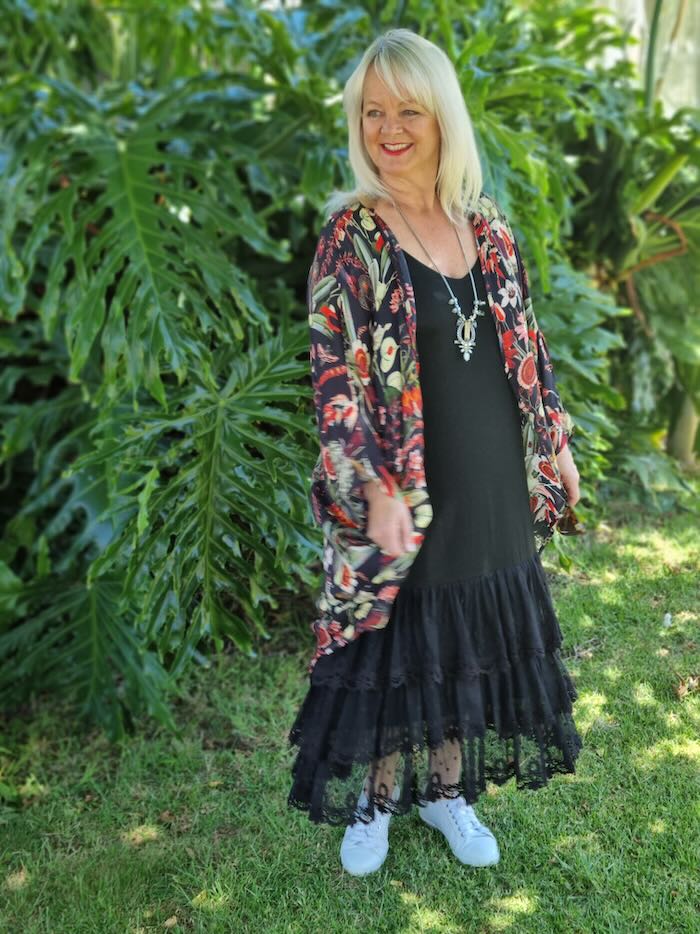 Nikki's Tips for Summer Travel Capsule
Putting together a summer travel capsule starts with effortless, versatile pieces that can be dressed up or down.
Nikki Parkinson at Styling You The Label designs everyday basics for curvy women for wearing everyday. Check out their styles and Get 15% discount on Styling You the Label clothes using this link: Styling You the Label .Use coupon code JOCASTRO15 at checkout.
Nikki is a veteran fashion blogger, author and designer – her tips for a summer travel capsule are:
1. Dresses are a "one and done" no-brainer.
2. Breathable fabrics are your friend in the heat.
3. Pack relaxed pieces that can be worn over a swimsuit or dressed up for lunch or dinner out.
4. Pack shoes that work with every outfit – my summer holiday musts include sneakers, slides and wedges.
5. Use other accessories like bags, hats and sunnies to change up your holiday looks.
6. Pack two swimsuits so one set is always dry.
Different Styles of Summer Dresses – Will they Suit You?
Casual Dresses
Casual dresses are those you feel comfortable in every day, for any everyday occasion. In the 1950s women would have a house dress and a more formal going out dress, but casual wear as a trend became popular in the Western world in the 1960s and now we perceive 'casual' as a code for relaxed and suitable for everyday use.
Your casual dresses will be those that look good but which you can be spontaneous wearing – for instance, a casual dress might be suitable for popping out to the shops, or going for a walk around the park, or sightseeing, or lunch with friends.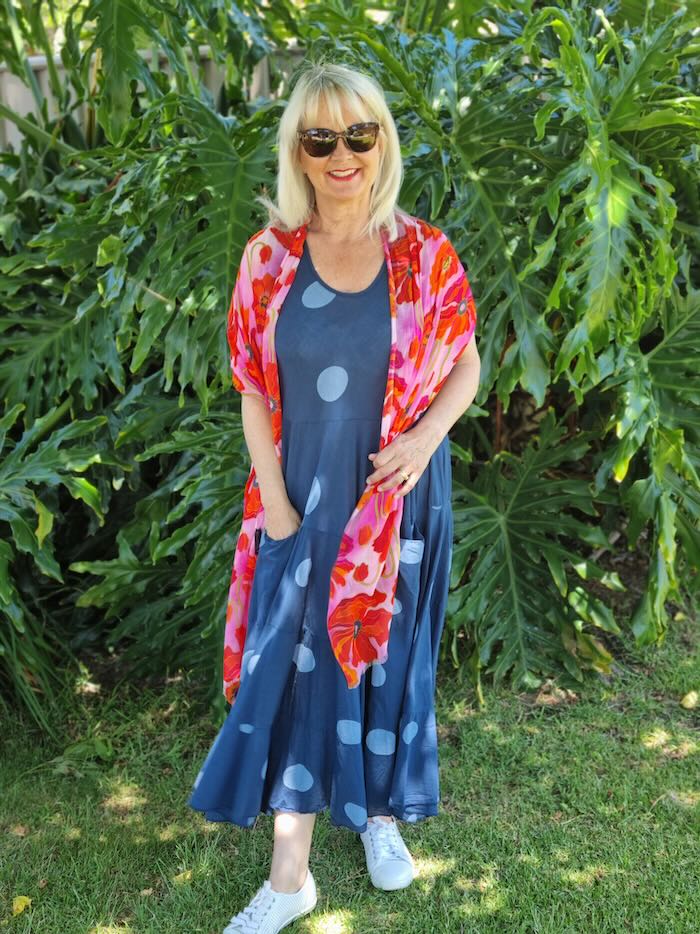 Wrap Dresses
A wrap dress generally has a V-neck and closes at the front, generally to one side. It takes it's shape from one side wrapping across the other.
A tie may loop through one part of the dress to be fastened at the back or the side creating the wrap.
Otherwise the dress may already be fastened at the front in a wrap shape, creating a V neckline, and it's super easy to put on as you just slip it over your head.
Sheath Dresses
Sheath dresses are straight cut and skim the torso in a reasonably fitted style but without a waistline.
"When constructing the dress, the bodice and skirt are joined together by combining the skirt darts into one dart: this aligns the skirt darts with the bodice waist dart."

Wikipedia
Shift Dress
According to Jen at Paisley and Sparrow a shift dress has a loose fit and falls on the body without any support.
"It's cut to fall above the knee, and the neck is typically a scoop neck or boat neck. The modern version was created by Coco Chanel in 1954 when she wanted something more comfortable than her usual corseted dresses. Her creation became an instant hit with women all over Europe and eventually made its way to America, where it remains popular today."

Paisley and Sparrow
Free Flow Linen Dress
You can't go past linen for the summer months. Yes it creases, but hey – that's the look! So don't worry. Linen is cool and trendy and just somehow manages to look stylish.
The dress below is made of soft linen that moves with you. With it's scoop neck and bubble shape it's a great dress for hot days.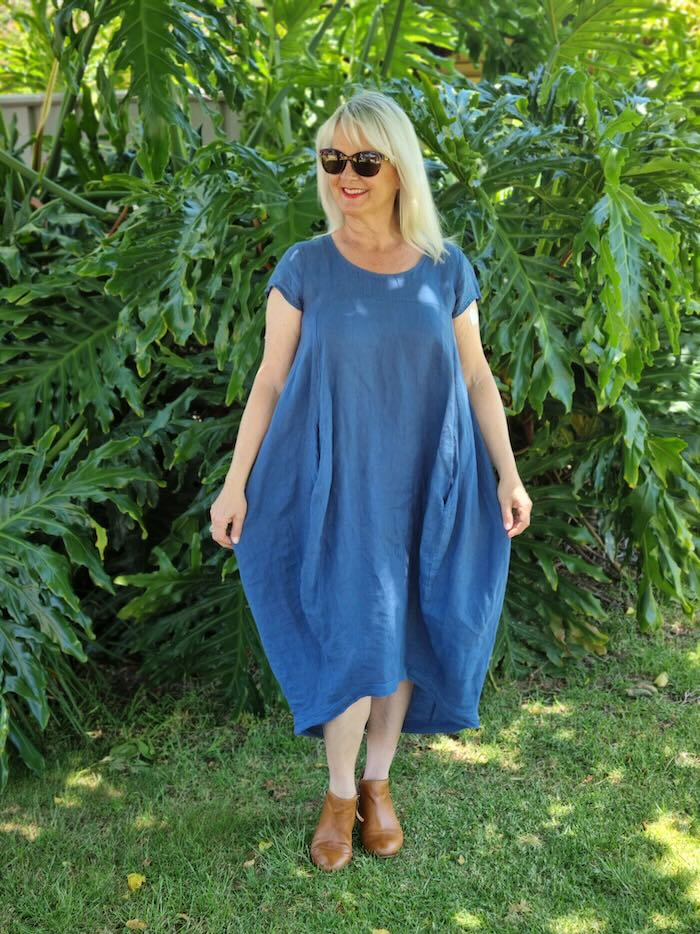 Midi Dress
The term 'midi' refers to a dress with a length that falls anywhere between a couple of inches below the knee to the lower ankle. The best length for a midi dress is one that falls to about the beginning swell of the calf or just below the calves. Don't choose a midi dress that sits at the widest part of your calf as this can look unflattering and spoil the line.
Flare Dress
A flare dress is generally fitted around the shoulders and bust, and then flares out from there. It can also be called an A-Line dress.
T-Shirt Dress
A tee dress is generally made from cotton or cotton blend fibers and if perfect for summer. In reality a T-shirt dress is the cousin of a Sweater Dress, in that it's just a longer version of a t-shirt which can be worn as a dress.
As with Tees the necklines vary from scoop, to V-neck, to crew neck, and you'll find them in varying arm lengths from long sleeved to all variations of short sleeved.
Dress lengths are also varied and it's up to you how short or how long you choose.
You might also favour a T-shirt dress with a slit at the side or back, or one that has more of a flared fit in the skirt.
Shirt Dresses
Shirt dresses are a favorite for everyday wear and versatile too.
"A shirtdress is a style of women's dress that borrows details from a man's shirt. These can include a collar, a button front, or cuffed sleeves. Often, these dresses are made up in crisp fabrics including cotton or silk, much like a men's dress shirt would be."

Wikipedia
Be Creative Have Fun!
I hope you have fun choosing and buying your summer dresses. I know I have!
You might also like these fashion posts
How to Wear a Maxi Dress in Winter : Style Tips
9 Different Types of Dresses to Make You Look Amazing
How to Wear Long Skirts Without Looking Frumpy
How to Dress to Look Slimmer than you Really Are!
How to Wear a Maxi Dress if you are Short and Curvy
Best Country Dresses to Wear with Boots
How Many Clothes do I Need? Results will Amaze you!
Sensational Casual clothes for Women Over 50
This will be my last post for 2022. I'll be writing a Christmas Newsletter, and if you'd like to receive it please scroll down until you get to the newsletter sign up form – then just simply subscribe.
I hope you've enjoyed browsing through these styles, and that they might help you to find the perfect summer dress or dresses. From casual to more formal wear, and colors like sky blue, lollipop lemon, lavender and pink – you're sure to find one that fits your style and budget!
Here are at Lifestyle Fifty we specialize in introducing you to brands that create stylish, comfortable and modest dresses for mature women. With so many options to choose from we're sure you're going to love finding an item from these picks of summer dresses for women over 50.
Have you had a look at the Salty Crush designs – reasonable prices, super for over 50s, they ship worldwide. I love them. See what I'm wearing, and how I'm wearing their styles in this post: How to Style Boho Chic Summer Outfits.
You might also like:
Best Boho Dresses and Affordable Boho Clothes
7 Boho Chic Outfits to Ignite Your Inner Free Spirit
Best Style Dresses to Hide Tummy
Don't forget to sign up for the newsletter (scroll on down for the signup form)
Until then! Merry Christmas, Happy Holidays wherever you are in the world!
Disclaimer: This post "Best summer dresses for women over 50," contains affiliate links from which I stand to earn a small commission but at no expense to you. Any gifted items are marked with an *. Lifestyle Fifty Website is a participant in the Amazon Services LLC Associates Program, an affiliate advertising program designed to provide a means for sites to earn advertising fees by advertising and linking to Amazon.com. Some images kindly supplied by Salty Crush and Travel & Living Collection. Please read my full disclosure here.