In this post we'll look at the best country dresses to wear with boots. I've found some fabulous dresses for you and I think that you'll wish you'd discovered some of them sooner! We'll also look at the best boots to wear with dresses, different kinds of boots as well as cowboy boots and cowgirl boots. And I'll share all sorts of easy styling tips to have you looking tip-top-fabulous without trying too hard.
The Best Country Dresses to Wear With Boots
A country style dress is a perfect summer staple. With its loose and flowy silhouette, it's a flattering, comfortable and easy to wear dress that looks great for just about any occasion. And like every great fashion style it offers a distinct way of expressing your individual self.
Whether you are going to a backyard barbecue or an afternoon picnic, the country style dress is the perfect outfit for warm summer days and equally it can be layered for mid-season wear.
I love the free-fall elegance of the dress below teamed with nude coloured boots.
Country fashion is all about the traditional, timeless and down-to-earth look. It's not being the bees knees, it's more about looking as if you'd be comfortable amongst the bees!
It's about being comfortable in your own skin and not caring what other people think of you. Country dresses should be an extension of this feeling.
Country dresses are the kind of easy to wear, everyday dresses that can be dressed up with modern twists, like oversized sweaters, wide brimmed hats, indi-jewellery, leather boots with chunky heels, and also cowboy boots.
We're seeing so many more country trends come back to life in fashion circles – things like oversized coats or jackets, plaid shirts and dungarees with boots.
You've asked, "Do Boots go well with dresses?"
Well yes. You can wear boots with maxi, midi and mini dresses as you can see below. Same dress, different lengths.
Maxi dress with boots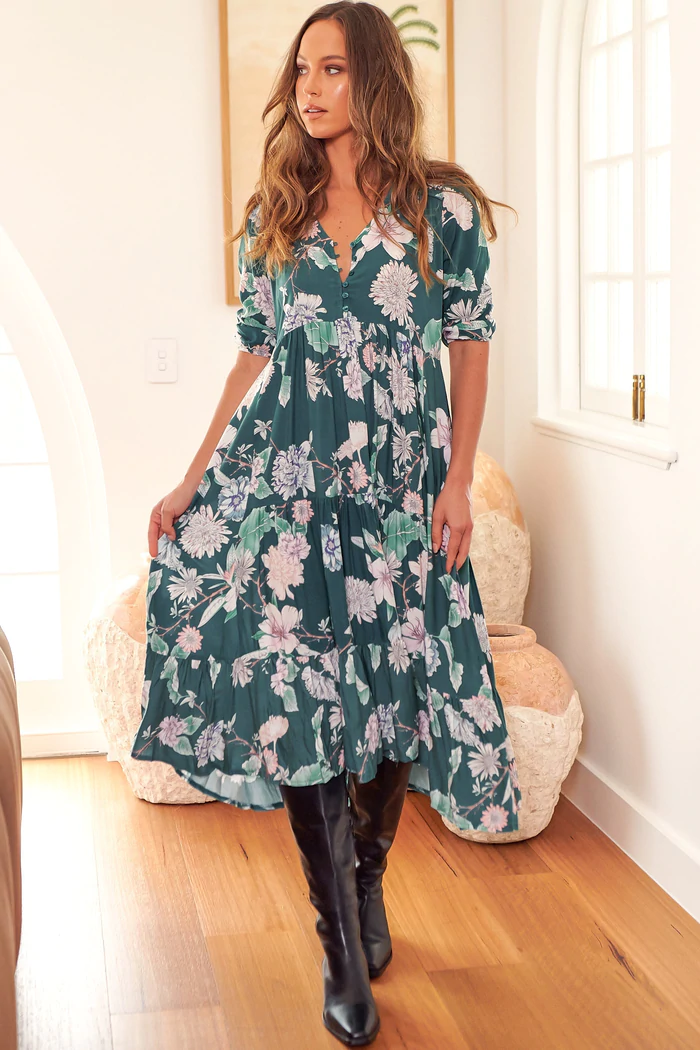 A country dress is one of the most versatile articles of clothing. You can style it up for evening wear or down for a casual picnic.
In this post, we will explore a selection of dresses and accessories as well as how to wear a country dress with boots – the perfect footwear for when you need to look chic while still keeping your feet warm especially in colder months.
Country Dress Styles & What Makes Them Great
Country dress styles are an essential part of a country lifestyle, or even a weekend country life! I think they conjure up the culture and traditions of the countryside, and the values of country people. Of course by American standards real country dress styles include western clothing, cowboy dress and cowboy or cowgirl boots.
What makes a great country dress style?
It's generally a dress that is beautiful, but simple and comfortable. They are often made from natural materials like cotton, wool, denim and linen.
The best thing about these materials is that they are breathable which makes them perfect for warm weather conditions as well as walks in the countryside, or for lazy lunches al fresco in a beautiful country setting.
You'll also be able to buy country style dresses made out of polyester, silk, georgette and viscose, and they will all look lovely but theoretically they are not as good for the planet (read more about organic clothing in this post: A Deep Dive into the Best Organic clothing.
7 Tips for Wearing a Country Dress with Boots
Sometimes I like to start with footwear to begin creating a great look. For instance, I think that country boots outfit ideas can lead to stand-out cowboy boot outfits.
Here are a few tips to help you.
First of all choose the right boots for the occasion. What colour and height will you wear?
If you'll be on your feet for a long time then make sure they are not too high and they are comfortable.
Cowboy boots with wooden heels might be fine for many occasions, but try and wear them in first.
Always opt for the boots that will not only suit the type of event you're attending but which will also be comfortable.
Next find the right type of dress to go with your boots.
Not all country style dresses are equal. Make sure that your boots are appropriate for the style and length of your dress. Bear in mind the length of the dress, and the style and colour of the boot. Ankle boots go really well with maxi length dresses. A cowboy boot might look fantastic with a midi dress so that you can see the whole length of the boot, which may be detailed and need to stand out.
Do consider mixing a floaty dress with more masculine boots for a great look, as below.
Read more about how to wear boots with dresses in these posts:
Best Boots for Comfort and Style
Comfortable Winter Ankle Boots with Attitude
What to Wear with Tan Ankle Boots
What to Wear with Ankle Boots – The Little Black Dress
How to Wear a Country Dress with Boots for Fall
A country dress is a great way to straddle seasons because it looks so great with boots.
I think the thing is that this style of dress is often billowy, and very often made from fabrics with beautiful prints that depict Fall or Autumn.
I love this autumn bloom maxi dress teamed with working boots ready for a country walk.
I have several maxi dresses that I call my country style dresses which are in autumn leaf colours like gold, burnt sienna, orange and rust.
As the weather gets cooler in Fall you'll need to think about keeping warm, so learn to layer up your dress with an underslip (that doesn't show) and tights. You can find more information about layering in this post: How to Wear a Dress in Winter and Look Fabulous.
Over the top of your dress you'll need to invest in something like a denim jacket or a cute hip length jacket in a matching colour to the dress.
Alternatively, you could wear a long, boho style cardigan. This cardi would look lovely with a block colour maxi dress.
If your dress is long and your boots are calf length, pay particular attention to the length of your cardigan.
You could wear a short, hip hugging cardigan but a long cardi looks great. While you don't want it to swamp you, you do want to make sure that the ratio of length creates a good line.
9 Tips for Combining a Country Dress with Boots
So what dresses go well with cowboy boots, and how do you combine a country dress and boots to creat a great country style outfit?
There are so many ways to wear a dress, whether it's with flat shoes, court shoes, stilettos or wedges but if you want to know more about how to wear boots with dresses then here are 5 sensible tips about wearing a country style outfit with boots, and how to wear dresses with cowboy boots.
Choose a floaty floral dress with a carefree style.
Dresses made of denim or cotton are a great match for wearing with boots.
If you're wearing cowboy boots with detail on the leather then make sure that the dress doesn't conceal the boots altogether.
If your dress is very long then pick a pair of boots that (are not too high) but make sure they have a bit of a heel so that you look a bit taller and are not dwarfed by the dress.
Wear warm tights beneath your boots to keep you snug in winter.
If you want to wear socks, choose those that are not too thick, and not too long or too short, so that they feel comfy in your boots.
Don't wear socks that peep out over the top of your boots, or socks so thick that you end up with aching feet.
Pick a dress with a side slit and then wear tights underneath. Mid-season, try out thinner, fashion styles of tights: fishnet, lace, patterned, sheer etc., until you find the tights that best suits your outfit and personality!
If the weather is cooler consider wearing a slip underneath your dress.
8 Styling Ideas for a Country Dress with Boots
Pop on a tailored leather jacket over your dress.
Add a wide brimmed hat.
Wear cowboy boots that have lots of detail on the leather.
Add some bold accessories such as dangly earrings, particularly if they are made of shell, stone or natural fabrics.
Make good use of statement bracelets or necklaces for an extra pop of color!
Pick a great pair of sunglasses to complete your country style look.
A denim jacket is also an essential styling statement with a feminine country dress.
Cowgirl boots are also a perfect match with country style dresses.
I love the jackets below. They would both look great worn over a floaty dress.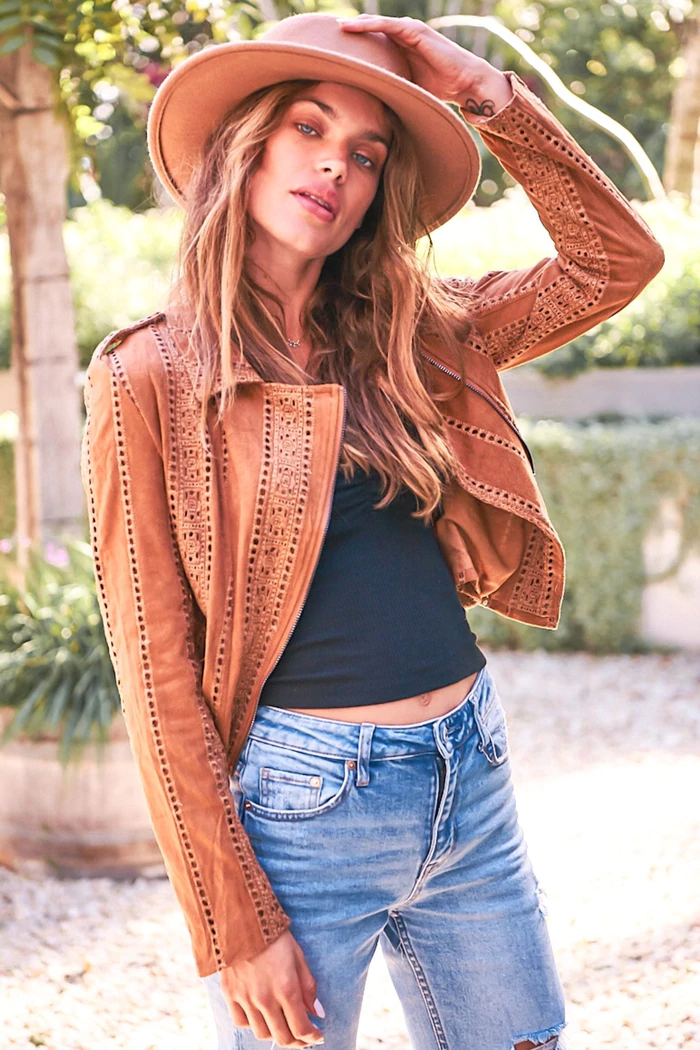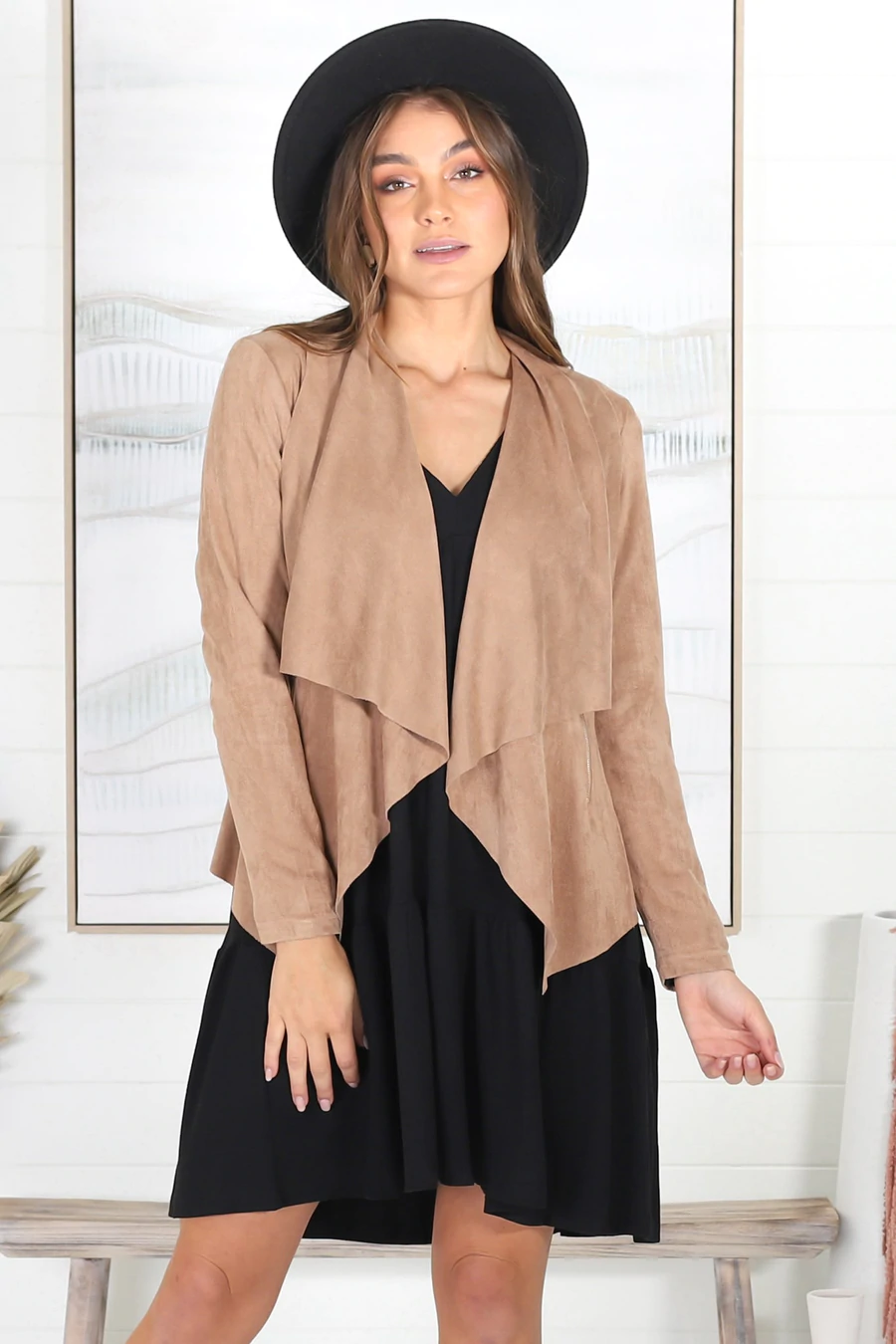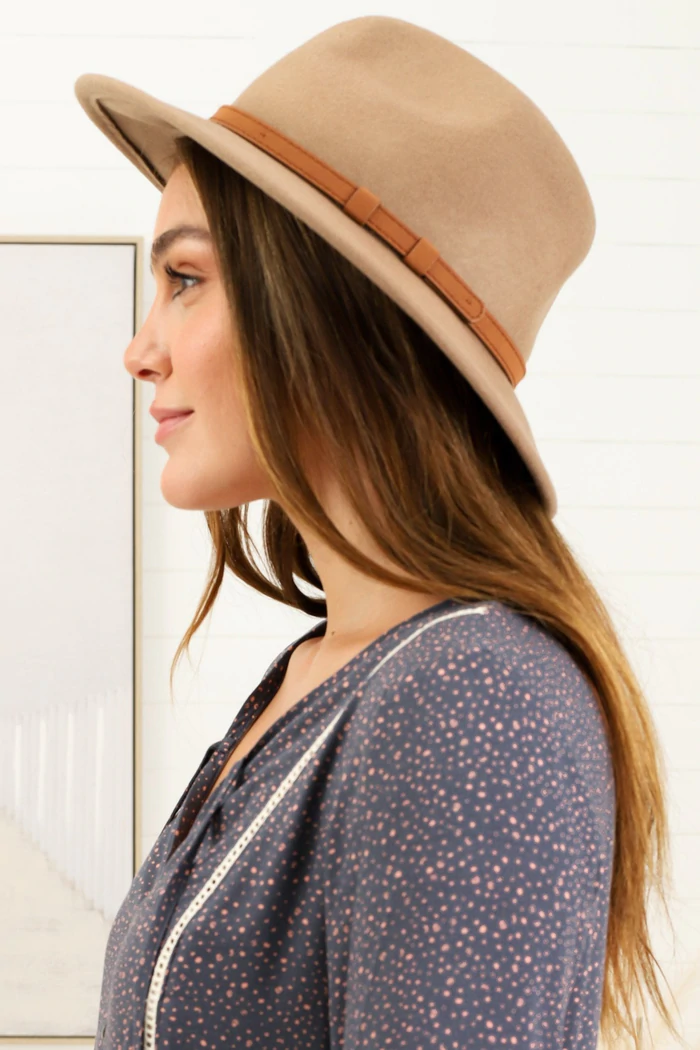 Stylish Dresses That'll Make You Want To Go Country
Country style is all about being comfortable and looking good. Trendy country clothes will take you almost anywhere during summertime, and the best dresses for style are often maxi dresses which are so versatile.
Scroll on and take a look at these ideas, along with some gorgeous bohemian country dresses to wear with boots like the beauty below. I love the front detail, the elbow length sleeves, the drawstring waist and the floaty style.
What are The Best Dresses to Wear With Boots?
The best dresses to wear with boots are relaxed and reasonably casual.
They will be more easy-going in style, than say a super fitted, super sexy, formal dress which almost always looks best with kitten or stiletto heels.
Dresses with a universally flattering shape, can easily be made more informal by wearing a pair of ankle boots with them rather than, say, a pair of court shoes.
A great option to wear with any style of boots is of course, a country style dress – something patterned, something floaty and feminine.
Probably the best country style dresses to wear with boots are midi or maxi dresses.
You might find the perfect dress for you to wear with boots is fitted at the waist with a flared skirt. Equally, the best dresses for you might be beautifully floaty from the bust down. Try different styles and find out what suits you.
Dresses made from flowy fabrics are good because they will not cling to your legs, and so you can wear a variety of longer boots with them.
Of course you can wear a short dress with boots, and in this case, if you want to look really edgy you could wear boots that go up to your knees!
How to Wear a Maxi Dress with Boots
Maxi dresses are generally known for their prints, colors, and fabric.
They can easily be paired with boots to create a chic, country look.
The dresses below could all be worn with boots – both ankle boots or calf length. In fact the dress on the left would look much better with tan boots than the sandals the model is wearing. The middles dress looks lovely with nude boots. The floral dress on the right would look great with a pair of nude or tan leather ankle boots.
I'm loving this Milumia button up dress on Amazon.
As you can see, ankle boots are a great addition to the swirly lines of this maxi, and the addition of a hat sets the look off to another level.
It's all about pairing the feminine and masculine. This is what creates the 'look at me' scenario. So if you have a really pretty dress, then try pairing it with a more masculine pair of boots.
Wear the maxi dress with a pair of leather ankle boots for an understated but chic look.
Pop on a pair of fitted knee high boots if you want to keep a long line on your leg and not show any calf.
Wear slouchy calf length boots if you want the accent more on the boot itself.
Likewise with cowboy or cowgirl boots – if they are really detailed statement boots then do make sure that some of the detailing is visible beneath your maxi dress.
Read more about maxis here: How to Wear Long Skirts without Looking Frumpy.
What to Wear with Country Style Dresses
Styling country dresses is a bit of an art in what not to wear.
You don't want to wear flashy gold jewellery and chic city jackets, but you might want to add one or two things to create a fashion statement.
Statement Earrings always have a dramatic effect. If your dress is floral you can pick out any colour or colours in the print and match earrings to this.
Statement necklaces are one of the easiest way to add some glamour to your daytime country style. A long, indi style or boho necklace with beads or shells or knotted leather is a great way of saying 'country.'
Be careful not to overdo accessories though. Big dangly earrings with a bold fashion necklace might be a bit too much, so choose one or the other to make a statement.
Statement necklaces and earrings need not be expensive. Pop into any high street accessory store and let yourself have fun with colours and styles. Try on some funky designs. We are so lucky with the amount of choice there is today.
On the other hand you might decide to stick with classic jewellery; timeless gold or silver necklaces and pendants, or necklaces set with turquoise, pearls or semi precious stones. If you're going the classic way, then stick to discreet, elegant jewellery with your country dress.
A ring lets your fingers do the talking! It's always fun wearing a big bold ring, so you might decide to wear a large statement ring in a complimentary colour to the dress you're wearing.
Do collect hats – op shops and thrift stores are great for this. As the saying goes, 'if you want to get ahead, get a hat!' And it's true. A hat can be your crowning glory and a wide brimmed hat or even a Stetson shouts COUNTRY STYLE!
If you are looking for a hat to buy online, you might also like this post : The Best Sun Protecton Hats
Floral Dresses and Boots
Floral dresses have been trending for a few years now.
This type of dress is perfect for warm, humid weather in summer.
They usually come in bright colors or prints.
They present an interesting contrast of colours and are a great look worn with plain coloured boots.
Floral dresses also look great if they are accentuated with lace or ruffles, and a pretty flowery print teemed with a plain coloured ankle boot, or a leather boot with inlaid detail on the calf always looks trendy. Don't forget to add some indi-style jewellery and a leather shoulder bag.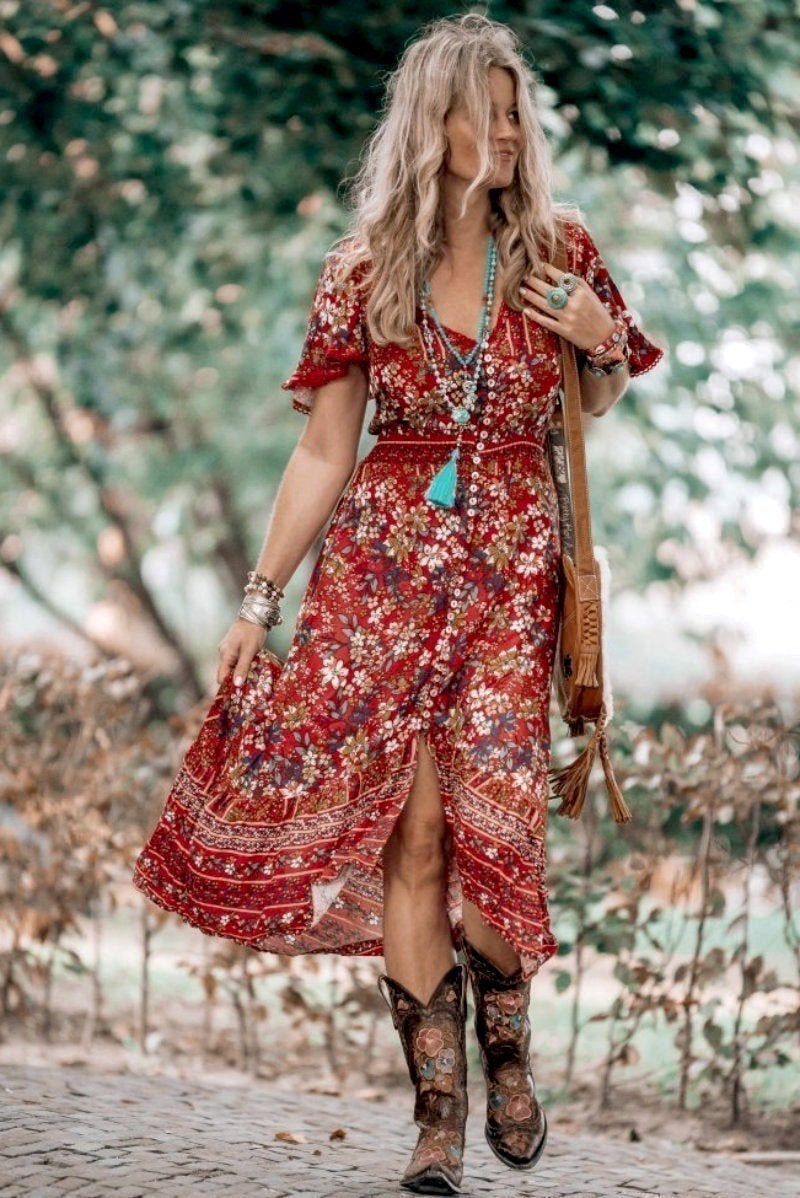 Western Look Summer Wardrobe
A Western look summer wardrobe is perfect for those who want to add some American western-inspired fashion to their summer style.
You can incorporate a subtle statement by combining a cowgirl vibe with a feminine dress, and add a fabulous cowboy boot.
Dress options include a long maxi dress made of cotton or denim, or a floaty midi in a breathable fabric.
The great thing about this look is it can be feminine, yet underpinned with a great story, and an outdoor feel while still looking trendy.
Dresses to Wear With Cowgirl Boots
Cowgirl boots are the perfect complement to wear with distressed jeans and a leather jacket, but they also look great with dresses.
So what kind of dresses look good with boots?
Romantic country dresses.
Country Boho dresses.
Elegant Bohemian dresses.
Long country chic dresses in plain colours.
Maxi, Midi or Mini dresses.
If you're into Boho and Bohemian style dressing, you might also like:
Boho chic clothing to make you sizzle
Boho chic fashion bags and jewellery
Boho chic for the weekend hippy in you
Bohemian Rhapsody – 5 Boho Style Tips
Beautiful Country Dresses to wear with Boots
Best Brands For Country Dresses To Wear With Boots This Winter
Country dresses are a popular style for summer or winter because you can layer them with sweaters, cardigans and jackets in the cooler months and you can also wear your country dresses with more functional boots in wet or cold weather too, as the model below shows us.
You'll find lots of cute country dresses, boho dresses, and clothes with style, at places such as
Salty Crush (Most of the styles in this post are from Salty Crush)
Lucky Boho
Molly Bracken and more.
Wedding Dress with Boots
Can you wear a wedding dress with boots?
Well, wearing a wedding dress with boots is making a bold and brave statement. But why not?
Dresses to wear with cowboy boots to a wedding, if you are a guest, could be vintage, and most attractively maxi rather than mini.
If you are the bride, then you might opt to choose a wedding dress with a slit at the side or at the front, so that your boots are visible. This look says, "I am bold and beautiful and unconventional." And also, "Don't mess with me!"
You need to carry this look off with your head held high and a definite swagger!
For a wedding guest … these country style dresses look great with boots.
Best Cowgirl Boots to Wear with Dresses
If you're after a modern, moderately priced, distressed cowboy boot then have a look at this Cowboy Boot on Amazon. It's on at a great price and has a lovely relaxed style.
Or gain some inspiration from the cowgirl boots for sale online below.
I hope you've enjoyed this post, and if you have any tips or suggestions please let us know in the comments section below.
Pin this Post for future Reference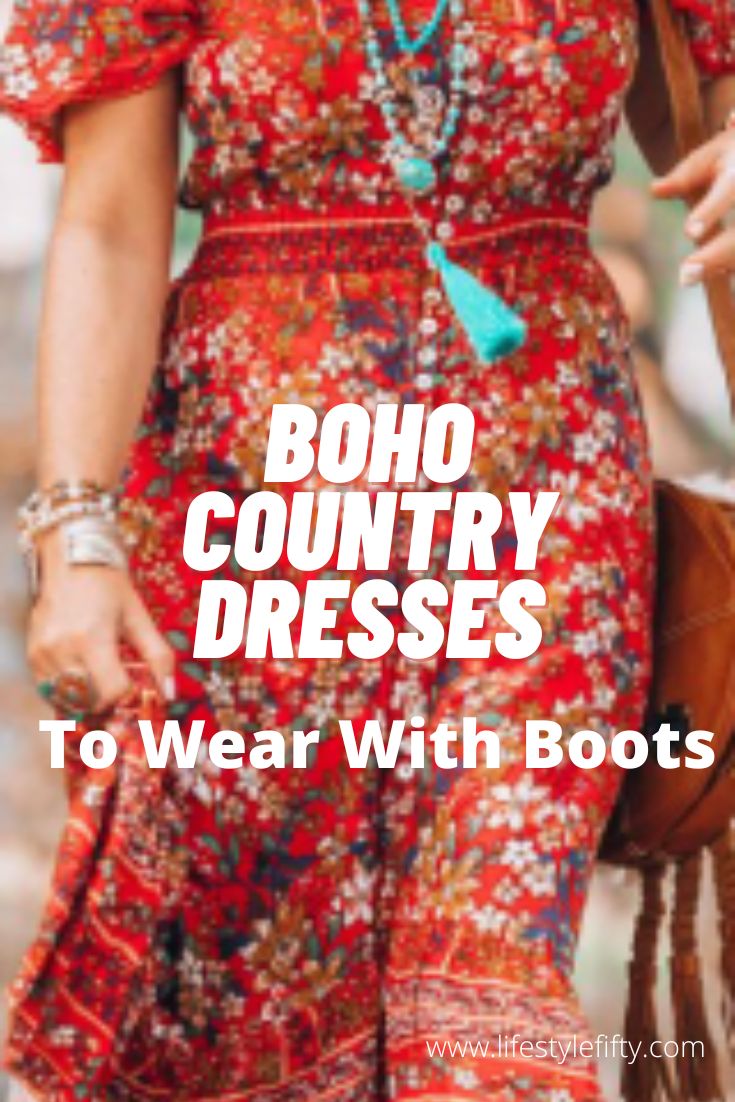 Disclaimer: This post "Best Country Dresses to Wear with Boots," contains affiliate links from which I stand to earn a small commission but at no expense to you. Any gifted items are marked with an *.  Lifestyle Fifty Website is a participant in the Amazon Services LLC Associates Program, an affiliate advertising program designed to provide a means for sites to earn advertising fees by advertising and linking to Amazon.com.  Please read my full disclosure here. Salty Crush kindly allowed me to use images from their website for this post. Images for illustration, unless stated otherwise, in this post, kindly supplied by Salty Crush)