Maxi dresses are the perfect choice for any woman who wants to look chic and trendy. They're a great style of dress for women of any shape or size, and certainly should not be shied away from if you have a petite frame or if you have a body shape that's short and curvy. This post will discuss how to wear a maxi dress if you are short and curvy and look absolutely drop dead gorgeous!
What Kind of Maxi Dresses are Best for Short, Curvy Women?
Like so many fashion items, maxi dresses look fabulous on tall models.
But what about short girls?
What if you're short and curvy like me? What if you're pear shaped or apple shaped?
Don't worry, we've got you (and me) covered in this post! I want to assure you that we can look just as drop dead gorgeous as tall, slim women can.
In this article, we'll discuss different kinds of maxi dresses suitable for shorter women. We'll also help you to choose the perfect maxi dress for your body type. So let's get started!
NB: The maxi dress images in this post illustrating the beautiful different dress styles are courtesy of, and with approval from two of my favourite clothing brands: Cotton Dayz and Salty Crush.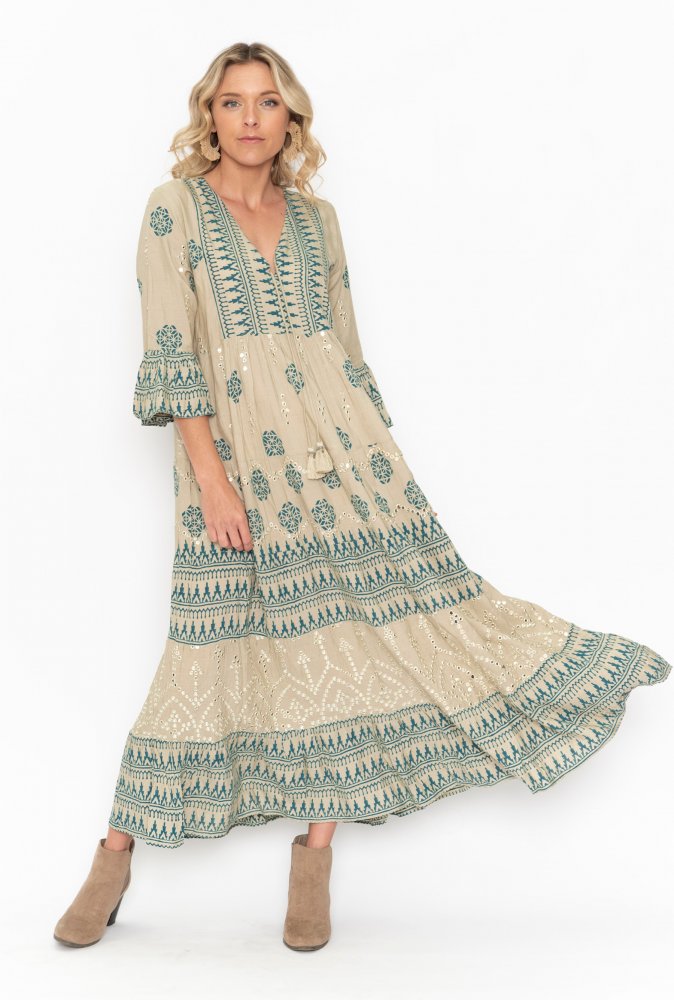 What is a Maxi Dress?
A long maxi dress is a floor or ankle length dress, often made from free-flowing, floaty fabrics.
Maxi dresses are also known as tea length or full length dresses.
Many are designed in a Bohemian or Boho style or even a country style.
"A Bohemian style dress encompasses fluid fabrics and feminine silhouettes for women."

Wikipedia
You'll also find maxi dresses designed in delicate Paisley prints, floral prints, geometric prints and plain block colours. Once you start searching for this kind of dress and begin wearing it, I promise you – you'll never look back!
Maxi Dress Tips if you're Short and Curvy
Maxi dresses are a great option for all seasons.
However, there are a few things you should keep in mind when wearing a maxi dress whatever the season.
Here are some easy to apply style tips for maxi dresses and tea length dresses.
Look for maxi dresses that have either a comfortably fitted waistline or an empire waistline.
It's a good idea not to choose a maxi dress that has acres and acres of material.
Always try and choose v-neck maxi dresses as this style will draw the eye downwards, and elongate you.
You want something that's flattering that doesn't give you a giant drape effect.
If you can wear a small heel with a maxi dress then it will instantly make you look taller.
Make sure the dress fits you correctly on the shoulders and around the bust line.
Your dress should not touch the floor.
Your best bet is to choose block colour dresses.
Choose vertical lines, vertical stripes and solid colors.
Try and stay away from crazy, big bold prints.
Choose small pretty prints, ditsy floral prints and dainty designs.
Don't choose a dress with horizontal stripes.
A tiered dress with a v-neckline and a frill layered skirt is flattering over curves.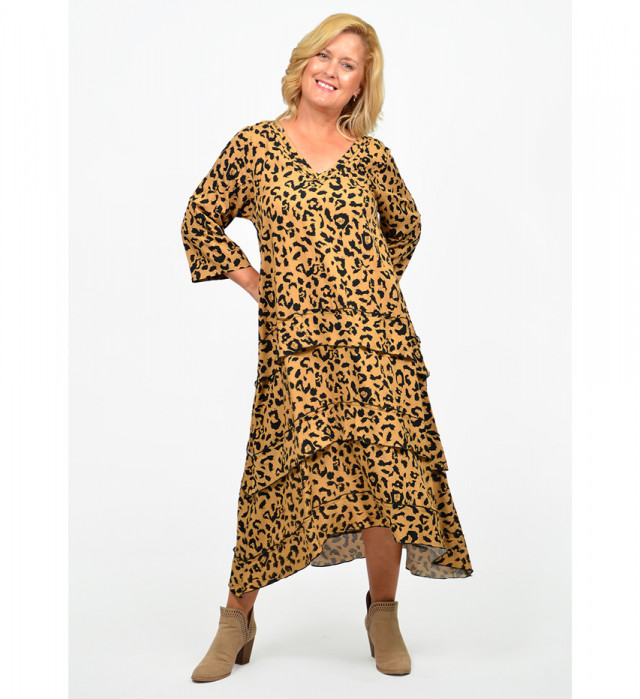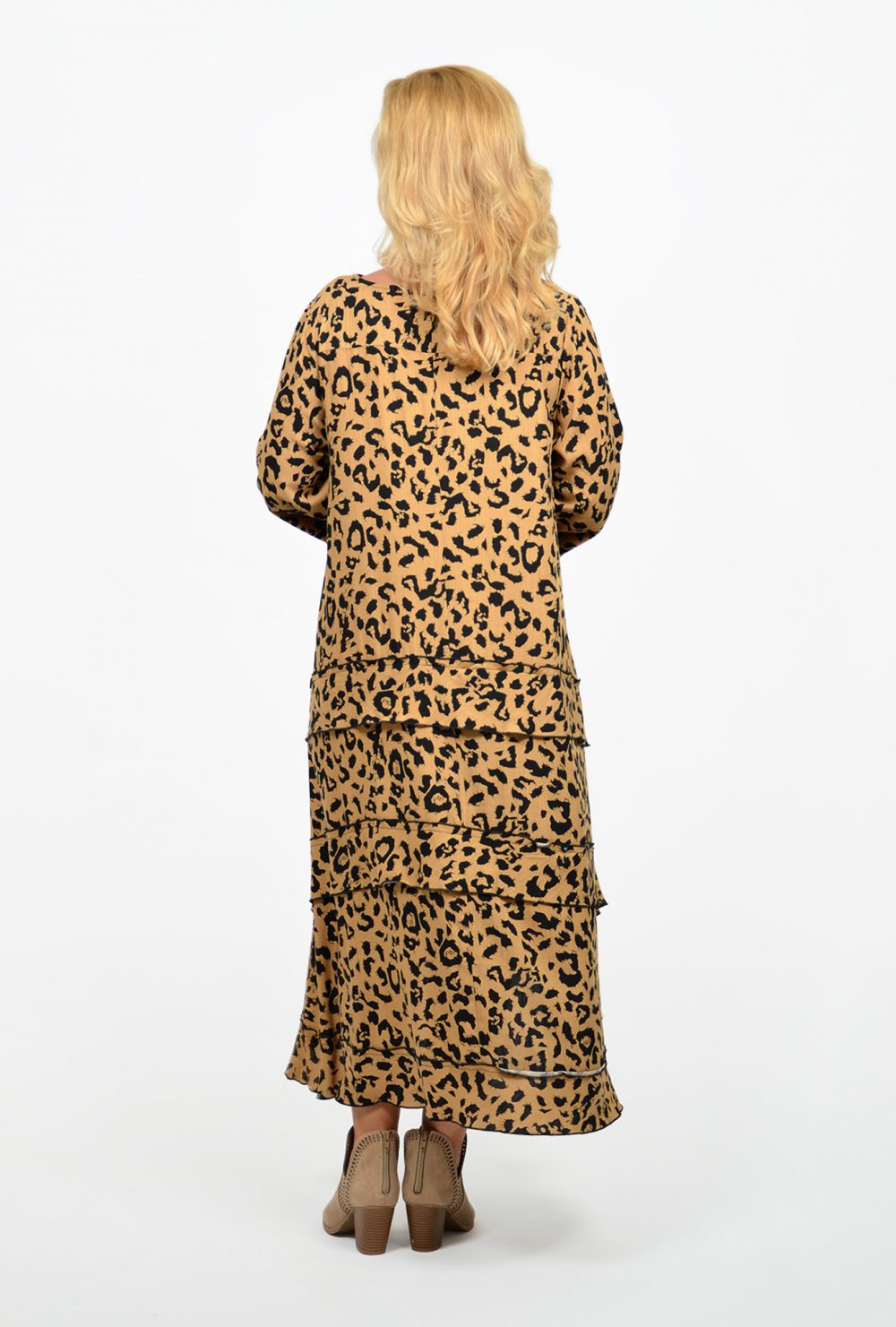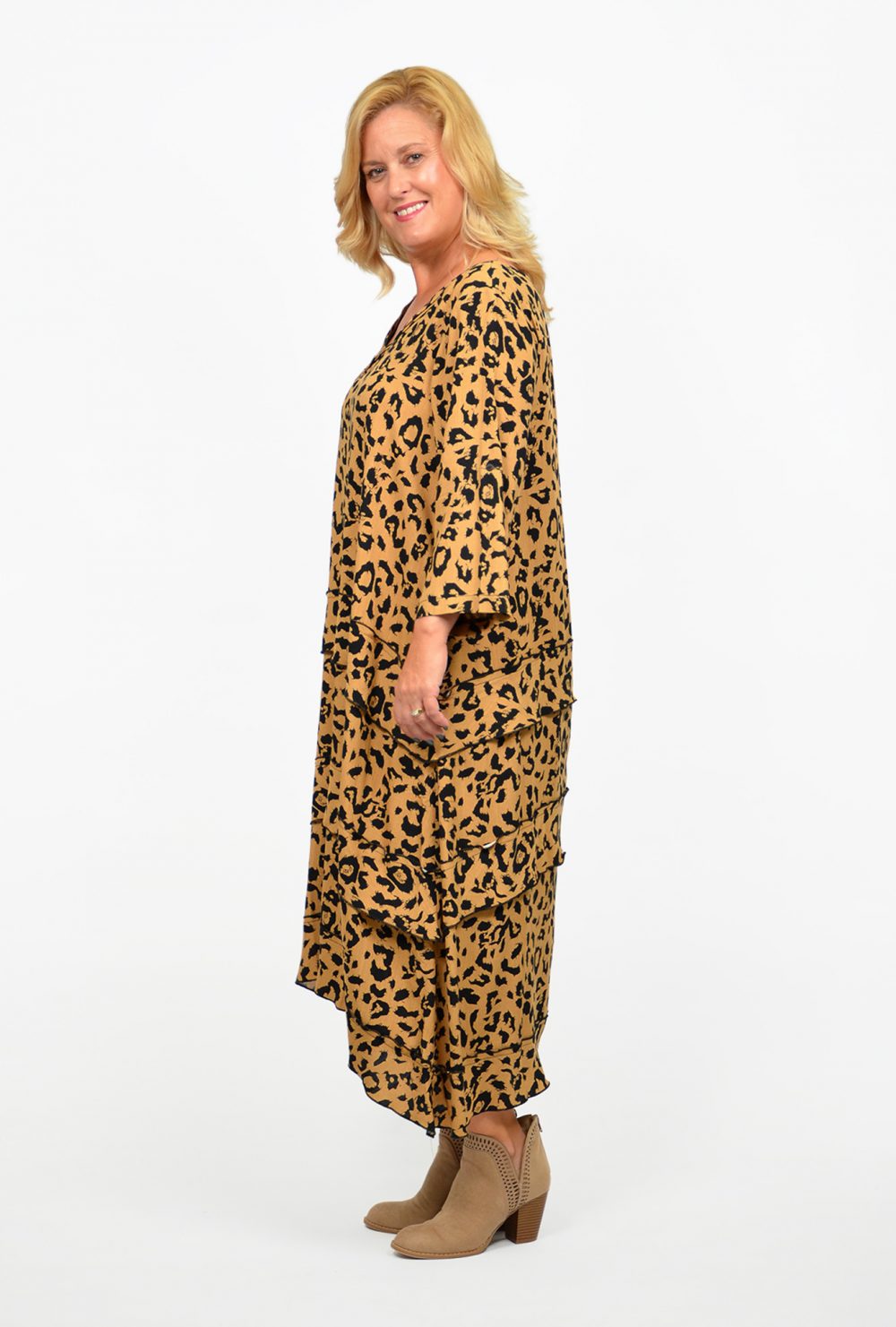 There is no one-size-fits-all solution when it comes to picking out a maxi dress for yourself as every woman has their own preferences, and needs in terms of style, color and comfort level.
However, there are some things that can be said about maxi dresses in general, especially if you are short and curvy in stature.
Should a Maxi Dress Touch the Ground?
No, it should not.
Find a maxi dress that is not too long. It should be the perfect length for your body frame.
Many maxi dresses are designed for taller women, so you may need to shop around or otherwise get handy with a needle and thread and take up the hem – or find a good tailor!
You don't want the dress to drag on the ground, either from the point of view of getting it dirty and potentially tripping you up, but also because it will probably create an awkward silhouette.
The ideal length, and probably the most flattering for a short woman, is that it should fall somewhere mid ankle.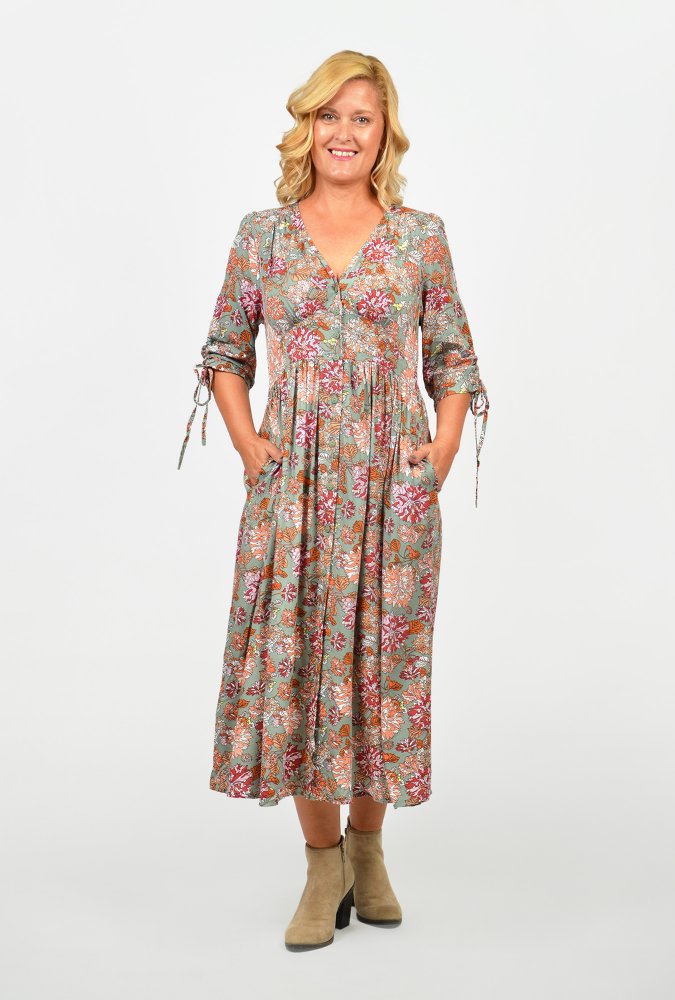 Can I wear bold prints if I'm short and voluptuous?
It's best to stay away from bold, in-your-face, exhibitionist type prints if you are petite in stature.
Big bold prints or colourful floral prints with big flowers can really swamp you if you're short and curvy, so do be careful about what you choose.
Instead try and opt for for a more ditsy print; that is a print with an irregular-looking pattern made up of small flowers or little shapes.
To deflect attention from a large, curvy bust don't choose busy colourful prints if you can help it, because this can add the illusion of more volume to your top half.
What should I wear if I have saggy arms?
If you have flabby upper arms and you're self conscious about them, then buy maxi dresses with three-quarter length sleeves or long sleeves.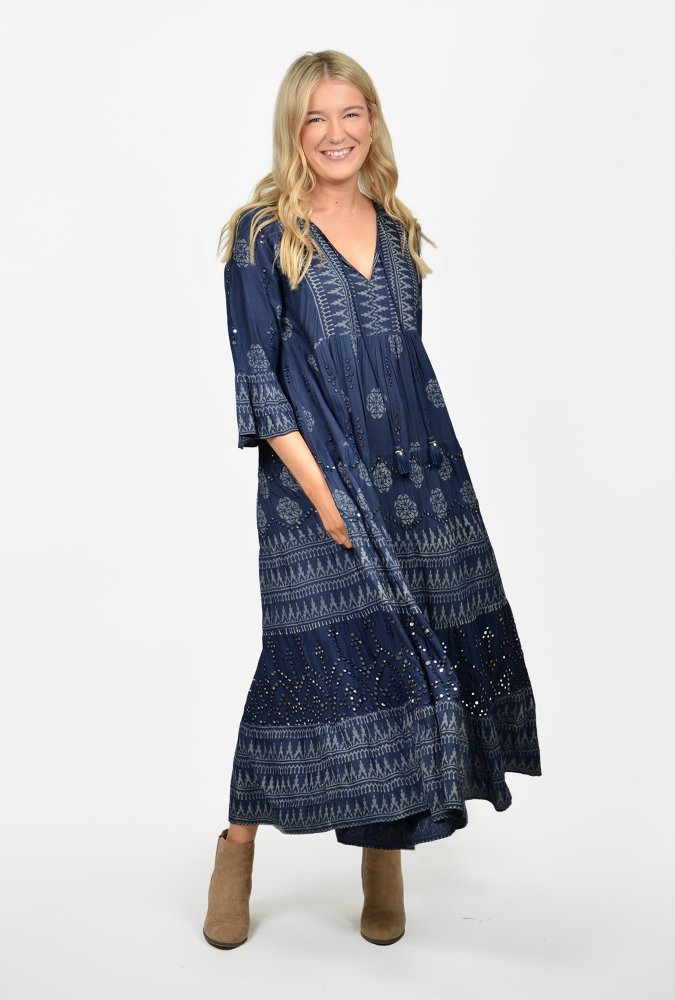 For short curvy women cap sleeves are definitely something to avoid. Rather find a sleeveless maxi dress and team it up with a short bolero cardigan or wrap, or a hip hugging leather jacket or denim jacket.
Best dress for big tummy and hips
Maxi dresses are a great style if you want to take the focus off the bottom half of your body.
So if you want to conceal your tummy and hips then this dress shape is the perfect option because they skim gracefully over any problem areas.
Overall, the maxi dress is a great choice for anyone looking for something that's comfortable, versatile and lovely to look at.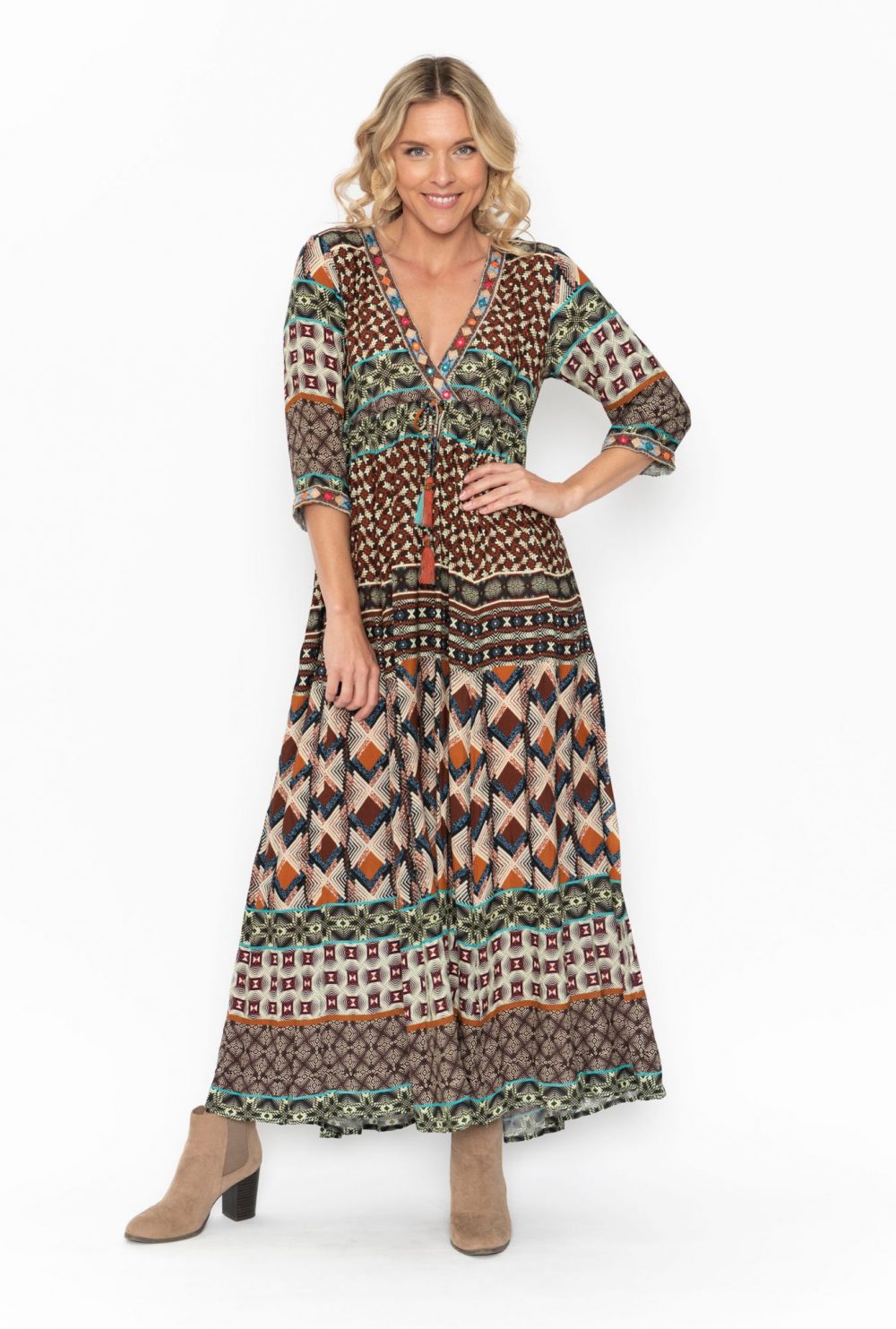 How to Choose the Best Maxi Dresses if you are Short and Curvy
Although I know you'll fall in love with the maxi style as I have, there is also the premise that if you are curvy and short it can be really quite difficult to find the perfect maxi dress.
And it's often the same problem faced by petite women of average height.
As we've said earlier, you're likely to find that this style of dress often encompasses long floaty designs, A-Line dresses, Empire waist dresses and smock style dresses, which can make you look rather large.
Some maxi dresses might swamp you altogether.
Others might be too busy for your frame.
While the best maxi dresses will actually make you look leaner and longer.
Ideally you want to enhance your gorgeous hour-glass shape and find a maxi dress that you not only love wearing, but which you can wear with confidence because you know it makes you look and feel fabulous.
Stick to dresses made from floatier fabrics, rather than stiffer cotton fabrics. Any fabric that moves and sways with you will enhance your fuller figure. Don't buy a denim maxi.
Always make sure that it's a super fit around your neck and shoulders, and that it has a low neck, preferably a V-neck.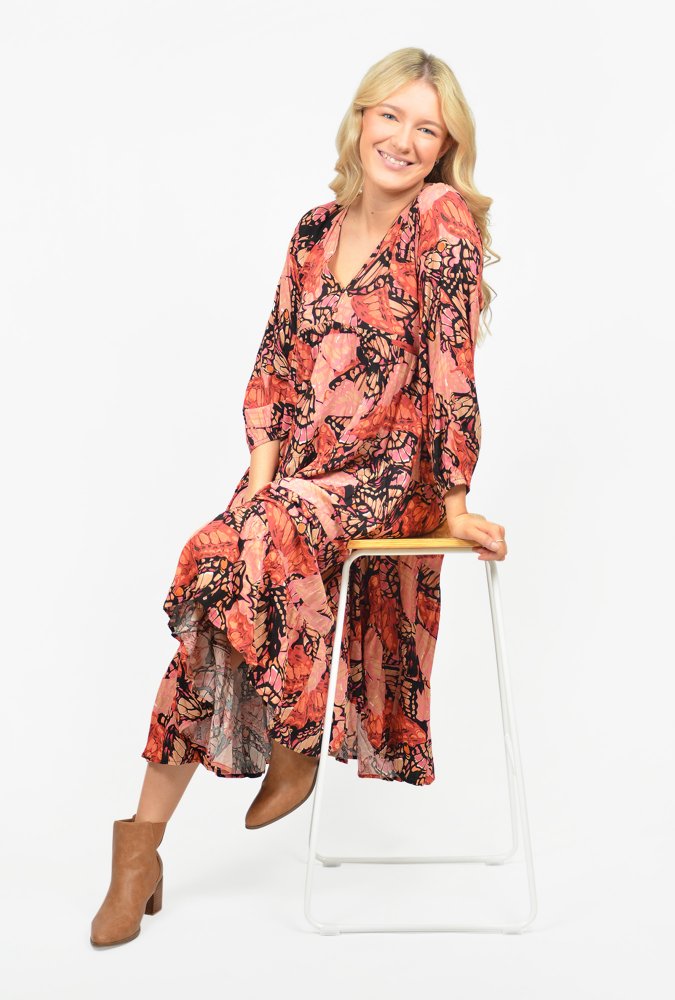 Why Buy a Maxi Dress?
Let me just say that I'm short and curvy and absolutely love maxi dresses. I wear them often, and I'm always buying them!
A great way to buy them is online because actually unlike pants or jeans they are an easy internet buy because the fit is not a deal breaker – don't you hate having to return online purchases because they don't fit? I do!
In most cases you can find a fabulous maxi online, and as long as you go by the sizing guide you'll be okay. I think the problem you'll have is that you'll find a brand you love, and want to purchase all the maxis in all the different colors!
The other place to look out for maxi dresses is at country fairs and markets, and let's not forget our favourite charity stores and thrift shops.
How to Wear a Maxi Dress in Every Season
Here are some outfit ideas for short ladies with curves who are thinking about choosing long dresses to wear all year round.
In the cooler months you might choose to wear a cardigan or blazer over your maxi dress. Make sure the overlayer either fits you perfectly, or it's made to be an oversize sloppy-joe type style.
I think because the maxi style dress is a casual style, it's easy to look as if you've thrown something over a maxi dress without too much thought, and the popular belief is that this will make you look unkempt.
So choose your overlayers carefully.
Depending on the style of your dress try different styles of cardigans and jackets.
A longer cardigan may go will with a straight maxi dress, but if it's an a-line dress or tiered then you may want to look for a waist or hip hugging cardi, or perhaps a short denim jacket.
Otherwise you could opt for a versatile piece, something like an oversize shawl or pashmina.
Scarves are lovely but if you are short and curvy with ample bosoms then scarves worn for effect, will only make you look bulkier.
However, I love scarves and will often wear a fashion or art scarf with a dress when I'm outside but take it off when I go indoors.
Fashion jewellery and indi jewellery look great, especially with boho style maxi dresses.
You might also like: How to Wear A Dress in Winter
What Shoes Can I Wear with a Maxi Dress?
Maxi dresses are remarkably forgiving when it comes to footwear.
Most of all you'll want to be guided by the style and colour of your, but in reality anything goes. I always prefer comfortable shoes that I can walk or travel in!
How to choose the perfect pair of shoes for your maxi dress outfit
Wear maxi dresses with open shoes in hot weather an closed shoes in cold weather.
If you enjoy wearing heels then do wear your maxi dress with high heels, especially for a special event.
You could also consider wearing wedge heels.
Remember that slightly wedgier heels are more comfortable and more stable than slim pin type stilettos.
A little bit of height with a long dress will make you look fabulous and you will appear to be slimmer and taller.
Boots, and ankle boots look great with maxi dresses whatever your shape, and in any season.
Any type of Boho style maxi dresses look great styled with leather sandals or anykind of strappy sandals.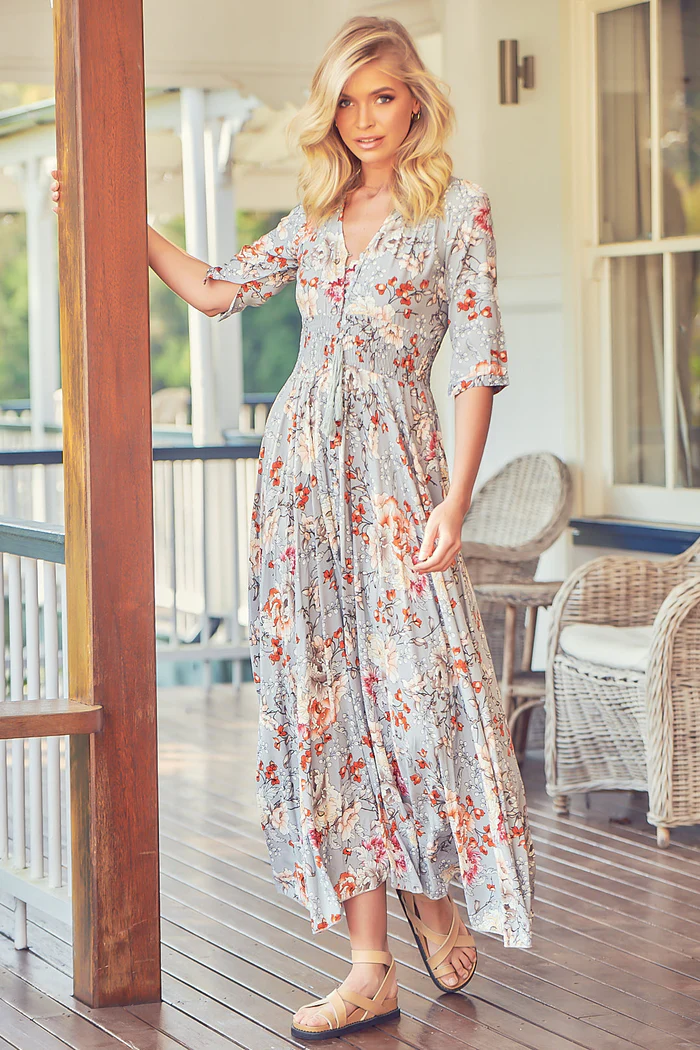 On trend maxi dresses can look great with fashionable sneakers, but please leave your trainers for the gym.
What are the Best Maxi Dresses for Short Women?
The best maxi dresses for short women are those that are not too long. They should always be at the right length for your height.
A flattering length for a shorter frame might come to just above the ankle.
Wrap dresses are universally flattering for the curvy body type, and for short women with a smaller frame.
The best maxi dresses for short and curvy woman are made from soft and floaty fabrics rather than stiff, tailored materials.
A good idea for shorter women is to wear heels, especially with floor-length dresses, not only to give them more height but to make sure the dress hangs beautifully.
When Can You Wear a Maxi Dress?
Maxi dresses are a great option for many different occasions. Not only day to day casual but also at more formal events when you want to not only feel comfortable but also look stylish.
They are not just for summer. They can be worn during fall and winter too. Maxi dresses are versatile and you can wear them to work, a party, or even a wedding.
Maxi dresses are a great choice for picnics on a summer day (you can easily sit down on a picnic mat!)
They are fabulous for casual lunches out with friends.
You can wear a maxi dress to work and still look professional.
You can wear a maxi dress to a wedding or other formal event and feel confident that you are dressed appropriately.
How to Wear a Maxi Dress and Be Comfortable
If you have a curvy body, a flowy maxi dress is a great dress choice because of its overall versatility and comfort.
Generally this style of dress will have an elastic or tie waist, with nothing that's tight or figure hugging, which means it's supremely comfortable to wear.
Maxi dresses have a fun, playful element to them. They can definitely shave years off your age!
If you want optimal comfort then choose a maxi dress that does not have a waistline. This type of dress will be loose and floaty and very easy to slip on and get moving in.
You don't have to wear a maxi dress with high heels, which means you can pop on your well worn-in boots, sandals or sneakers for a comfy day on your feet.
I hpe you've enjoyed this blog post, and found some useful style notes to help you find the prettiest and best size maxi dresses for your shape.
You might also like:
Dress to Impress Outfits That Will Make You Shine
How to Wear a Maxi Dress in Winter : Style Tips
9 Different Dress Styles to Make You Look Amazing!
Best Style Dresses to Hide Tummy
Best Boho Dresses and Affordable Boho Clothes
How to Style Boho Chic Summer Outfits and Look AMAZING!
The Best Dresses for Women Over 50
How to Wear Long Skirts without Looking Frumpy
Best Country Dresses to Wear with Boots
Pin for Future Reference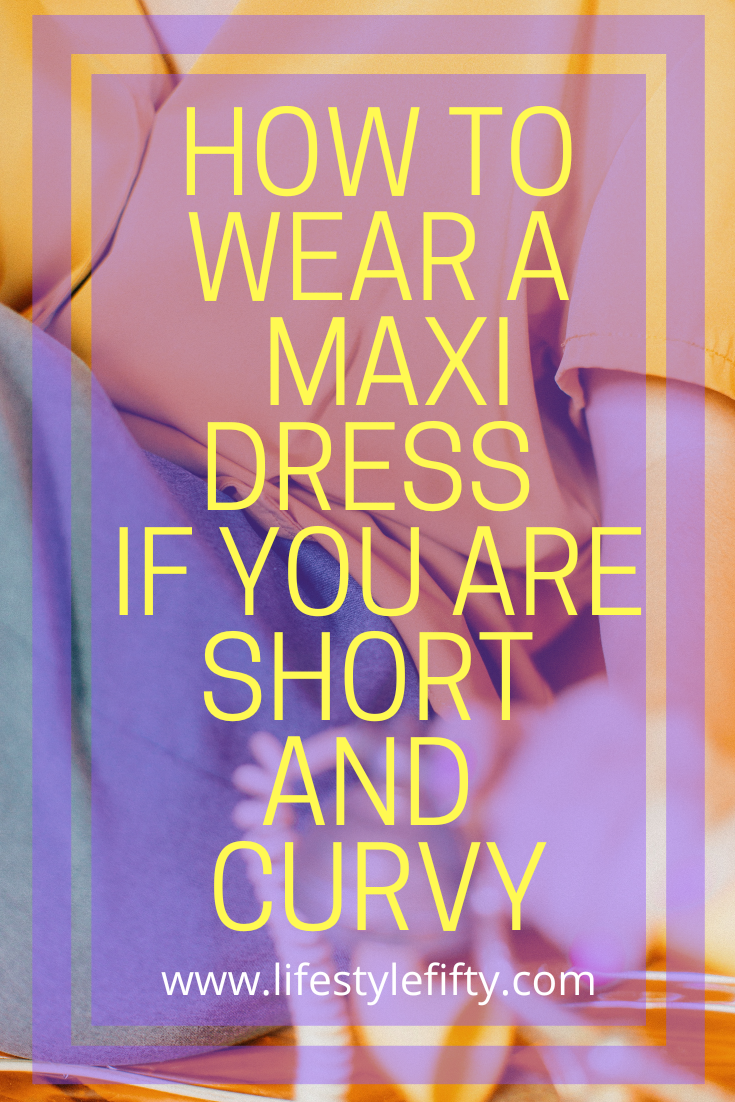 Disclaimer:This post "How to Wear a Maxi Dress if you are Short and Curvy" contains affiliate links from which I stand to earn a small commission but at no expense to you. Any gifted items are marked with an *. Lifestyle Fifty Website is a participant in the Amazon Services LLC Associates Program, an affiliate advertising program designed to provide a means for sites to earn advertising fees by advertising and linking to Amazon.com. Please read my full disclosure here. Cotton Dayz and Salty Crush kindly allowed me to use images from their websites to help illustrate this post.