Is your body pear shaped? Do you know what a pear shaped body type actually looks like? Are you searching online for the 'best dresses for pear shaped women' but struggling to come up with a dress style you think will really suit you?
Flatter Your Curves with the Best Dresses for Pear Shaped Women
Today's blog post is evergreen, and will always be relevant, because pear shaped bodies are here to stay! You are not alone!
We've got your pear-shaped figure covered! Today we're sharing our top tips and recommendations about how to flatter your curves with style.
In this article, we'll explore some of the best dress styles for pear shaped women over 50, and we'll be sharing tips about how to wear them, and how to accessorise.
My Story about Body Shape
When I was in my forties, I believed that my body had reached its age of maturity and probably wouldn't alter much after that.
Then at around the age of 50 came the dreaded menopause. Of course it was around this time that I got a bit of a shock as everything started to head south and my midsection spread!
It's a fact! As we age, our bodies change, and dressing for our body shape becomes increasingly important.
But we fabulous women come in all different body shapes!
And we all deserve to look fab and feel confident, no matter what our size or shape, no matter whether we are pre or post menopausal.
"Know your body shape, love it, and dress for it. Confidence is the best accessory."

Stacy London
Over the years though it's become obvious from your comments and emails that some of you gorgeous women over 50 struggle to find dresses you like, and that you often opt for separates and casual wear instead.
But fear not! With the right knowledge and a little bit of guidance, you can find the best dresses. Dresses which will make you feel confident and look ever more beautiful whatever your body shape.
When it comes to identifying your body type, it's helpful to bear in mind that the most common body types are pear, hour-glass, apple and banana.
Salty Crush have a wide range of dresses suitable for pear shaped figures – grab a cup of coffee and pop over to the website for a look-see! I'm pretty sure you'll be browsing for a while as there are so many lovely, reasonably priced dresses! Grab my discount code below for 10% off any clothing if you purchase (affiliate link – I stand to earn a small commission at no cost to you)
Today we're going to look at a range of near perfect dresses that create a perfect balance for pear shaped bodies.
"Style is not a size, it's an attitude. And everyone can rock a pear shape with confidence."

Unknown
Understanding the Pear Shaped Body
First, let's define what it means to have a pear shaped body and look at the characteristics of a pear body shape.
This body shape is characterized by a wider hips and thigh area compared to a comparatively narrow shoulders and bust.
Pear-shaped women often have a smaller upper body and a larger lower body, creating a lovely natural curve.
If we go one step further, then the best way to define a pear body type is to think about the proportions of a pear.
It's all about the difference between the upper and lower part. The top is narrower, while the bottom is wider.
If your body shape has these same characteristics, then you're most likely a pear shape.
The Best Dresses for Pear Shaped Women Over 50
Although I believe you must always wear what you love and what you feel confident wearing, there are several different styles of dresses that are particularly suitable for pear-shaped bodies.
The dresses I'm going to detail are all good options to enhance your beautiful pear shape, particularly the upper half of the body.
But For Now – Stop the Search: Here are some of the best dresses for pear shaped women!
A-Line Dresses
A-line dresses are a really great style for pear shaped women over 50 because they enhance your best features.
They are also known as flare dresses and will often have full skirts.
They flare out from the waist, skimming your hip area and are good choices especially if you have a small waist. Look for a-line dresses that have a defined waistline and a lovely flared skirt.
Wrap Dresses
By now you all know how much I love a wrap dress!
Wrap styles are a versatile option for pear shaped women over 50.
Wrap dresses cinch at the waist and flow over the hips, creating a flattering shape to show off your curves. Look for wrap dresses with a v-neckline because this can create the visual effect of elongating your upper body.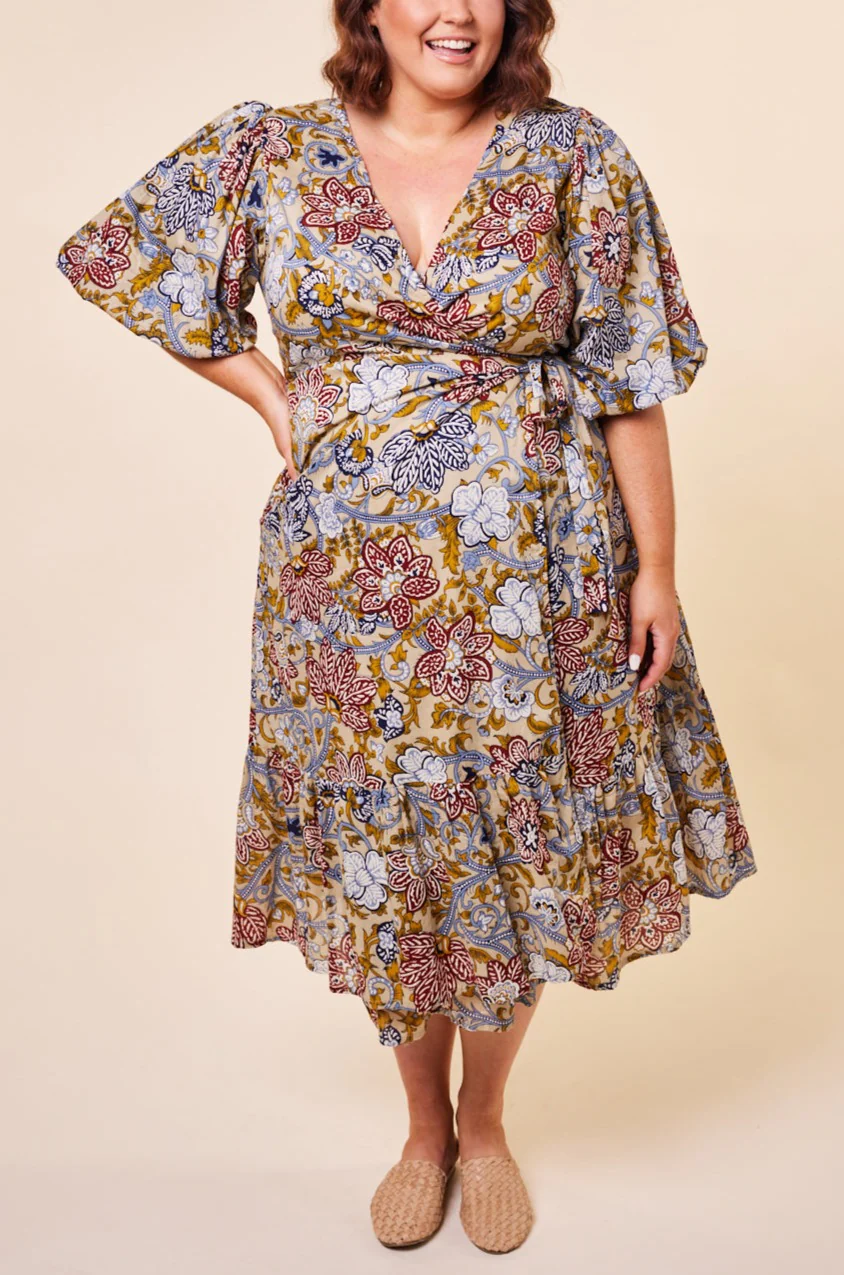 Empire Waist Dresses
Empire waist dresses are great for pear shapes because they feature a high waistline that sits just below the bust.
This style can help create the illusion of a longer torso while skimming over any lumps and bumps on the hips and thighs.
Shift Dresses
Shift dresses are a great option for pear shaped women over 50 who want to highlight their legs. Although our tummies may spread after menopause, our legs will often be our best feature.
Shift dresses are typically straight cut and fall above the knee, drawing the eye upwards and elongating the legs.
Maxi Dresses
Who doesn't love a long dress? This is one of my favourite everyday styles.
Maxi dresses are generally casual dresses designed in a Boho Style. They area a comfortable and stylish option for pear shaped women over 50, especially those looking for everyday summer style.
Look for styles with a definite waistline or ones with a material waist tie. Most maxi dresses will have a flowy skirt that skims over your hips and thighs, and ends at your ankles.
How To Draw Attention To Your Upper Body
While I don't advocate changing the way you look, sometimes I know that you do want to tweak things a little.
So if you want to enhance the appearance of your top half you can add some structure to your shoulders which will visually widen your shoulder line.
This can be achieved through various techniques such as wearing shoulder pads, or seeking out dresses that are tailored to fit and have well-defined shoulders.
You can also invest in dresses which have a fitted bodice, as this will draw attention to your waist. This style of dress helps to accentuate your pear shaped curves.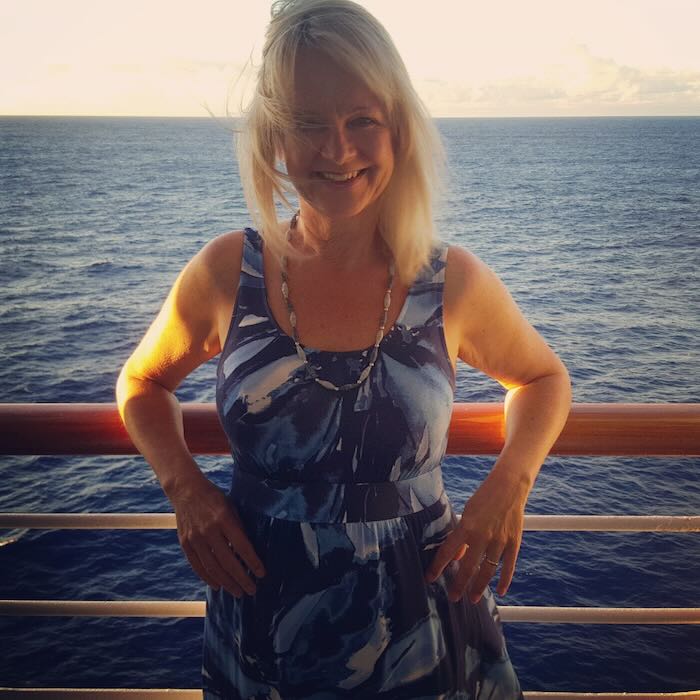 You can also experiment with belts of all descriptions which can further highlight your waist.
Don't be afraid to incorporate bright colors, eccentric prints, or captivating textures into your wardrobe. These elements can add interest and personality to your outfit, and help you stand out from the crowd.
Consider investing in a collection of push-up bras to lift your chest and create a cleavage.
Avoid wearing oversized dresses that hide your beautiful waist. Instead, opt for styles that showcase your curves and highlight your waistline.
As we have mentioned above, A-line, fit & flare, wrap, or empire dress styles are particularly flattering for the upper body.
How To Draw Attention Away From Your Bottom Half
If you're looking to take the attention away from your lower body, there are a few things you can try.
Dark colours are better than light colours because they can help create a slimming effect, and make your legs look longer.
When it comes to the details on your dresses, it's best to pass on anything with hip embellishments. Pockets, patterns, and other details can also add bulk to your lower half, so it's best to avoid those as well.
Finally, be mindful of your hemline. Mini skirts or any other hemline that finishes on your upper thighs, or any other full point of your leg should be avoided. Opt for hemlines that fall below the knee for a balanced overall look.
Hope these tips help you dress your lower body in a way that makes you feel confident and beautiful!
How To Accessorize Your Dress if You're a Pear Shape
Now for the fun part! Accessorizing your dress! There are a few tips to keep in mind.
Choose jewelry that draws attention to your upper body, such as statement necklaces or earrings.
Wear shoes or boots with a bit of a heel to elongate your legs.
Add a belt to define your waistline and create an hourglass shape. Go have fun choosing some different belts!
Wear pretty scarves around your neckline.
What To Avoid When Dressing for Your Pear Shape
Avoid dresses with too much fabric around the hips and thighs, as this can make you look larger than you are.
Steer clear of boxy or shapeless dresses that don't accentuate your curves.
Avoid dresses with a dropped waistline.
FAQ's About Pear Shaped Bodies and What to Wear
Q. What is a pear shape body?
The pear-shaped body type is defined by a narrower top half compared to a wider bottom half. It has a narrow waist and curvy hips and thighs. Overall, when looking face-on, the bust and shoulders are comparatively narrower than the width of the hips and thighs.
Q. What are the best dresses for pear shaped body with belly fat?
An empire waist dress, or a generously cut shift dress are both good options for a pear shaped body with belly fat.
Q: Can pear shaped women over 50 wear fitted dresses?
A: Yes! Fitted dresses can be a great option for pear shaped women over 50 if you feel confident wearing them. Look for styles with a defined waistline and a flattering cut that skims gently over your hips and thighs.
Q: Can pear shaped women over 50 wear prints and patterns?
A: Yes, absolutely! Prints and patterns can add interest and texture to your outfit. However, it's best to choose prints that are proportional to your body size. Avoid large, bold prints that can overwhelm your frame and opt for smaller, more delicate prints instead.
Q: Should pear shaped women over 50 wear shapewear?
A: Shapewear can help smooth out any lumps and bumps and create a streamlined body shape. However, it's not necessary for everyone.
If you feel comfortable and confident without constricting underwear, then there's no need to wear it. But if you want a little extra support, then shapewear for a lower belly pooch especially can be a great option.
Q. Best Brands for Pear Shaped Body?
Try the following clothing brands:
Salty Crush (Use Coupon Code LIFESTYLEFIFTY10 for 10% discount)
Styling You The Label (Get 15% discount on Styling You the Label clothes using this link, Styling You the Label, and use coupon code JOCASTRO15 at checkout.
Finding the best dresses for pear shaped women over 50 shouldn't be daunting.
It should be fun!
I hope these tips and recommendations will help you find a dress that flatters your curves and makes you feel confident and beautiful.
Remember to choose styles that accentuate your waistline, avoid dresses that add bulk to your lower half, and accessorize with jewelry, and shoes that elongate your legs.
With a little bit of effort and a pocketful of confidence, you can rock any dress style you choose.
Happy shopping!
Related Posts You Might Like
Beautiful Dresses for Cocktail Parties
How to Wear a Maxi Dress in Winter : Style Tips
How To Wear Summer Dresses in Winter Without Being Chilly
Fashion Tips for Women Over 50
9 Different Dress Styles to Make You Look Amazing
15 Super Life and Style Articles for Women Over 60
How to Wear Long Skirts without Looking Frumpy
The Best 57 Summer Dresses for Women Over 50
Best Style Dresses to Hide Tummy – Your Ultimate Guide
Best Boho Dresses and Affordable Boho Clothes for Over 50
How Many Clothes Do I Need? Results will Amaze You!
Resort Wear for Over 60 – How to Look a Million Bucks!
Disclaimer: This post "Best Dresses for Pear Shaped Women" contains affiliate links from which I stand to earn a small commission but at no expense to you. Any gifted items are marked with an *. Lifestyle Fifty Website is a participant in the Amazon Services LLC Associates Program, an affiliate advertising program designed to provide a means for sites to earn advertising fees by advertising and linking to Amazon.com. Some images in this post have been sourced, with permission from Salty Crush and Adrift Clothing websites. Please read my full disclosure here.