Cocktail parties are stylish events that call for chic and elegant outfits. Finding the perfect dresses for cocktail parties can be exciting and daunting, but fear not!
In this blog post, we'll guide you through the world of cocktail party dresses, offering affordable dress suggestions, tips and styling options to help you look your best and make a lasting impression.
Here's to flawless style, your way! And your ultimate style guide to dresses for cocktail parties!
Dresses for Cocktail Parties
In the realm of fashion, there's a versatile and timeless garment that exudes sophistication and charm: the cocktail dress.
From glitzy soirées to intimate gatherings, cocktail dresses have been prominent in women's wardrobes for decades.
These alluring ensembles blend elegance with an air of playfulness, making them the go-to choice for many special occasions. But what truly defines a cocktail dress, and how does it differ from other formal attire?
Read on as we embark on an enchanting journey to explore the captivating realm of cocktail dresses. 
From their intriguing history to contemporary trends, we'll unravel the secrets behind their allure and discover how these enchanting garments continue to inspire confidence in women worldwide. 
Whether you're a seasoned fashionista or a curious enthusiast, join us as we demystify elegance and unveil the magic of some affordable cocktail dresses that will hit the sweet spot.
What Is A Cocktail Dress?
At its essence, a cocktail dress is a knee-length or slightly above-the-knee dress crafted to captivate and empower.
Their design embodies the spirit of liberation, embracing a perfect fusion of flair and functionality.
Cocktail dresses boast an array of styles, fabrics and cuts no matter what your body shape.
While cocktail dresses share a common thread of sophistication, they can vary from classic little black dresses to dazzling sequined numbers, to trendy asymmetrical hems and everything in between.
Their versatility makes them ideal for semi-formal gatherings, cocktail parties, weddings, galas, and even corporate events, seamlessly transitioning from day to night affairs.
History of The Cocktail Dress
Initially introduced in the 1920s as a rebellious response to the constraints of traditional evening gowns, cocktail dresses have since evolved into a symbol of femininity and poise.
Cocktail party couture is laid down in the vaults of high fashion. Famous designers such as Coco Chanel, Jean Patou, and Elsa Schiaparelli helped popularise what would become cocktail ensembles and dresses featured in the glossy pages of Vogue and Vanity Fair.
"Christian Dior was the first to name the early evening frock a "cocktail" dress in the late 1940s, and in doing so allowed magazines, department stores, and rival Parisian and American designers to promote fashion with cocktail-specific terminology."

Dressing for the cocktail hour by Elyssa da Cruz
Understanding The Cocktail Dress Code
Before diving into dress options, it's crucial to understand the cocktail event dress code.
Timeless Elegance: Stunning Dresses for Cocktail Parties
Get ready to turn heads as we uncover some fabulous but affordable cocktail dresses for every occasion
Classic Little Black Dress (LBD)
When in doubt, the Little Black Dress is your savior. One of the hottest dresses for cocktail parties it is both timeless and versatile.
A black cocktail dress or LBD is a perfect dress and suits almost any cocktail event.
Choose a flattering shape that complements your body type for a perfect look.
Accessorize with statement jewelry, a clutch, and heels to elevate the look. Add a touch of flair with a pop of color, although gold and silver have a timeless elegance when teamed with black.
Little Red Dress
Another fabulous option to keep in your wardrobe as a cocktail outfit is a little red dress.
Select styles that fit you well and hug your curves rather than something that shows every lump and bump.
Of course, designer cocktail dresses are fabulous, but you can just as easily find something affordable online made with high-quality materials that will fit the bill.
A red dress that finishes at knee level and shows off a curvy hourglass figure screams, 'Look at my inner Diva!' And why not! Fashion is fun, and you should be too!
Elegant Midi Dresses
Midi dresses are a fantastic option for cocktail parties. They strike a good balance between formal and comfortable.
Opt for a fitted or A-line midi dress with sophisticated detailing, such as lace or sequins, to add a touch of glamour.
Pair it with heels and a sleek updo for a refined look.
Glamorous Sequin or Embellished Dresses
If you're attending a cocktail party with a more glamorous theme, consider a sequin or embellished dress.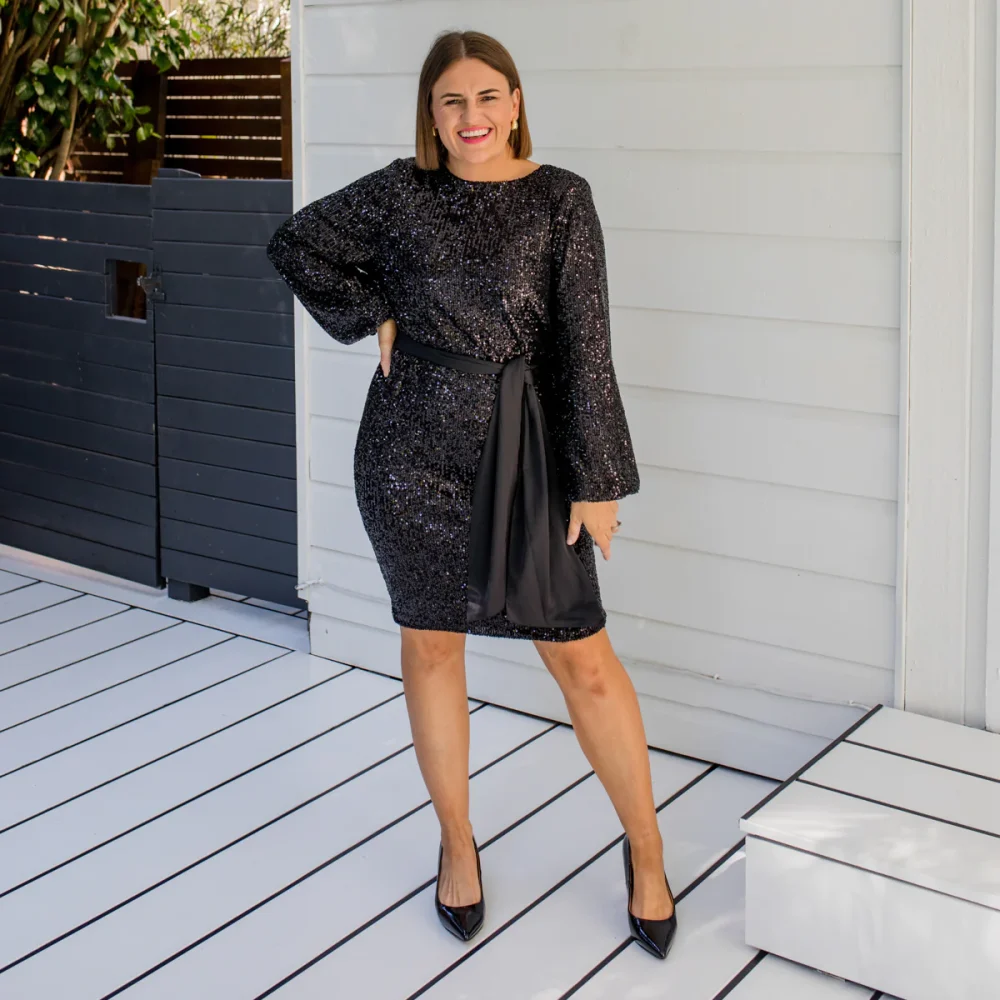 These dazzling options are sure to turn heads and make you stand out. Keep the accessories simple, and let the dress be the star of the show.
Sophisticated Sheath Dresses
Sheath dresses are an excellent choice for a tailored and polished look. They create a sleek silhouette that flatters most body types.
Opt for solid colors or subtle prints and pair a sheath dress with heels and a statement necklace for added elegance.
Playful A-line Dresses
For a playful and flirty vibe, consider an A-line dress.
These dresses cinch at the waist and flare out, offering a fun and feminine silhouette.
A-line dresses come in various patterns and fabrics, allowing you to express your own style effortlessly.
Stylish Wrap Dresses
Wrap dresses are universally flattering and incredibly versatile. They accentuate the waist and create an elegant silhouette.
Opt for a wrap dress with a touch of sophistication, like a wrap-style midi dress with subtle prints or one in a silky fabric.
Why Opt for Seasonal Fabrics?
Choose fabrics that suit the season of the cocktail party.
Light and breezy fabrics like chiffon and silk are perfect for warmer months, while velvet or wool blends work well for colder seasons.
Dressing appropriately for the weather shows your attention to detail, plus you'll feel much more comfortable.
Five Styling Tips for Timeless Elegance
Choosing the perfect cocktail party dress is an opportunity to showcase your style and personality so do embrace classic elegance with a Little Black Dress, or exude glamour with sequins and embellishments.
Remember to consider the dress code and the occasion when selecting your outfit.
With these tips and stylish options, you're sure to turn heads and make a lasting impression at any cocktail party. Cheers to your fabulous fashion sense!
Sip & Slay! Here's how to dress to impress at cocktail parties!
Wear statement jewelry
Elevate your cocktail dress by adding bold statement jewelry pieces. Opt for a sparkling necklace or chandelier earrings to draw attention to your face.
If your dress has a simple neckline, a statement necklace can give you a touch of drama.
Conversely, choose more subtle accessories to complement the look if your dress already has intricate details.
Add an elegant clutch or evening bag.
Complete your cocktail attire with an elegant clutch or evening bag.
Choose a compact, stylish design that coordinates well with your dress.
A metallic or embellished clutch can add a touch of glamour, while a classic black or nude one offers versatility for various outfits.
Slip on a pair of heels that pop.
Elevate your silhouette with a pair of chic heels that complement your dress.
Nude or metallic heels elongate the legs and go well with most outfits.
However, don't shy away from adding a pop of color with bold, vibrant heels that match your dress or add an exciting contrast.
Snuggle up in a wrap, shrug, or evening jacket.
If your cocktail party is held in a cooler venue or during the colder months, consider bringing a wrap or shrug that matches your dress.
You might opt for a stylish faux fur or lightweight cashmere wrap to keep you warm without compromising your style.
Or consider a glamorous, lightweight, non-structured evening cardigan like the limited edition ones below from Styling You The Label.
Balance your makeup and hairstyle.
Match your makeup and hairstyle to the overall vibe of your dress.
Consider an elegant updo and timeless makeup if your dress is sleek and sophisticated.
Experiment with bolder makeup looks and loose waves or curls in your hair for a more playful or trendy look.
Remember, the key to styling cocktail dresses is striking a balance between sophistication and personal expression while ensuring your accessories and overall look harmonize with the dress's theme and level of formality.
You Might Also Like
9 Different Types of Dresses to Make You Look Amazing!
Ultimate Guide to The Best Dresses for Pear Shaped Women
Best Style Dresses to Hide Tummy – Your Ultimate Guide
Best Dresses for Women Over 50 – Sizzle in These Styles!
Best Boho Dresses and Affordable Boho Clothes for Over 50
Disclaimer:This post "Gorgeous Women's Dresses for Cocktail Parties" contains affiliate links from which I stand to earn a small commission but at no expense to you. Any gifted items are marked with an *. Lifestyle Fifty Website is a participant in the Amazon Services LLC Associates Program, an affiliate advertising program designed to provide a means for sites to earn advertising fees by advertising and linking to Amazon.com. Some images in this post may have been sourced with permission from Styling You The Label, and Salty Crush websites (affiliates). Please read my full disclosure here.