Hello there, Lifestylers! Do you want to make your wardrobe work for you all year round? Have you ever wondered how to wear summer dresses in winter to get more wear out of them?
Well, if it's coming into that time of year when the colder months are rolling in, and the air is getting crisp and frosty, it's time to begin thinking about your winter clothes.
And if you begin to believe that your beloved summer dresses can't be worn as a winter outfit and have to take a backseat until the warmer months return, just hold on a moment!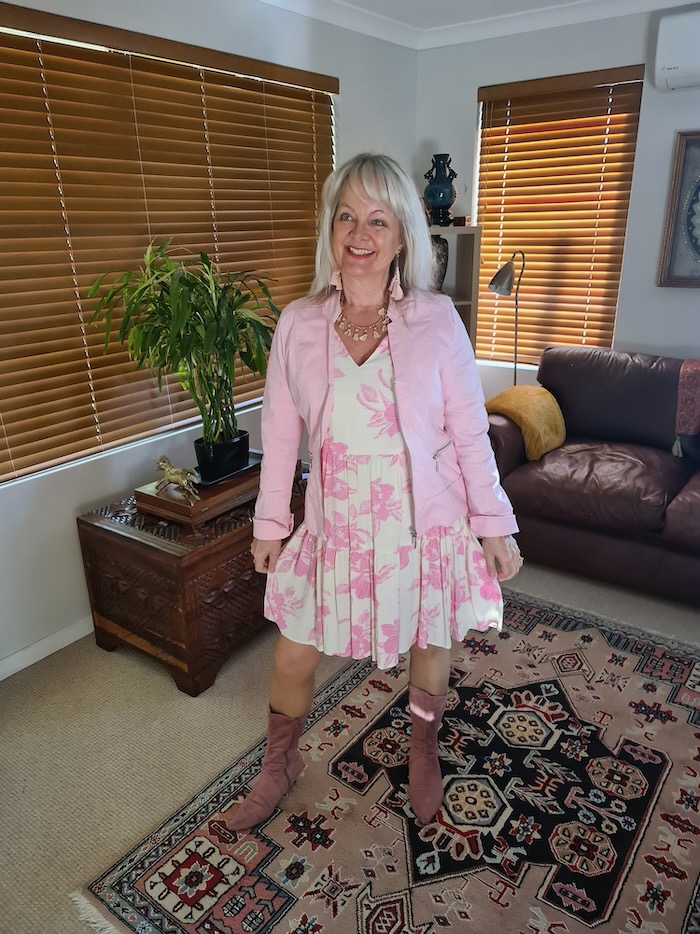 How to Rock Summer Dresses with Winter Flair: Your Ultimate Guide
Who said you must bid farewell to your favourite summer pieces just because winter is rolling in?
Let's face it. Our clothes should be worn and worn again, not chucked out to add to the landfill. After all, the more times you wear an outfit, the less it costs you.
With some creativity and clever layering, you can effortlessly transition your summer dresses into winter wonderland-worthy outfits with flair.
Let's dive into the ultimate guide on how to wear summer dresses in winter and stay both stylish and warm.
Start with a Solid Base
One of the most effective ways, and probably the easiest way, to winterize your summer dresses is by adding a pair of tights or leggings underneath.
Not only do these base layers provide an extra level of insulation, but they also add a chic touch to your outfit.
Opt for thicker materials like wool or fleece-lined tights for extra warmth to keep those legs cosy in colder temperatures.
A pair of plain black tights in a thicker material or thermal leggings can easily be hidden under a beautiful Boho maxi dress.
Choose between classic black tights or neutral colours for a versatile option if they are on show, or experiment with different colours and patterns to add a pop of excitement to your ensemble.
Layer Up with Long-Sleeve Tops
Adding a long-sleeve top underneath your summer dress is a genius trick to instantly transform it into a winter-appropriate outfit.
The possibilities are endless, whether it's a lightweight turtleneck, a cosy knit sweater, a fitted thermal shirt, or a body suit.
This layering technique not only provides warmth but also allows you to showcase your fashion prowess by playing with textures and colours.
Embrace the Power of Cozy Cardigans
Oh, the charm of a chunky cardigan in winter weather! Pairing a cosy cardigan with your summer dress is a recipe for sartorial success.
Opt for oversized styles for that trendy, effortlessly chic look. You can wear the cardigan buttoned up, belted, or open for different vibes.
Choose cardigans made from wool or other thick materials for an added layer of warmth. Don't hesitate to experiment with various lengths and textures to create a dynamic outfit.
Have Fun with Fashionable Sweaters
I love a cropped sweater worn with a maxi or midi dress. Don't be shy – experiment with styles and colors!
Whether it's a chunky sweater or something more demure, it's a great way to add a stylish extra layer of warmth over a flimsy summer dress or even over a shoulder-less dress.
So don't always reach for a cardigan or jacket, try those lovely snuggly jumpers too.
Top It All Off with Stylish Outerwear
A stylish coat becomes your best friend when you're stepping out into the winter chill.
Winter coats of all descriptions will provide warmth along with winter-worthy looks. All you have to do is choose a coat that goes with your style of dress.
If your summer dress boasts vibrant patterns, a neutral-coloured coat like the Stanley coat above, perfectly balances the look.
Lightweight dresses can often look spectacular with a stylish suede or leather jacket over them.
A classic trench coat or a long coat in a warm wool fabric are great additions for the winter months or a cosy faux fur coat – all fabulous options that keep you snug while elevating your fashion game during the winter season.
Wear Weather-Appropriate Footwear
Your choice of footwear is important for your winter dress ensemble.
Swap out those delicate summer sandals for weather-appropriate options and the proper footwear for winter, such as a comfy pair of boots.
Ankle boots look great with summer dresses. You can also experiment with tall boots – try classic leather knee-high boots.
I prefer a flat boot or a small block heel these days, but you might like something higher.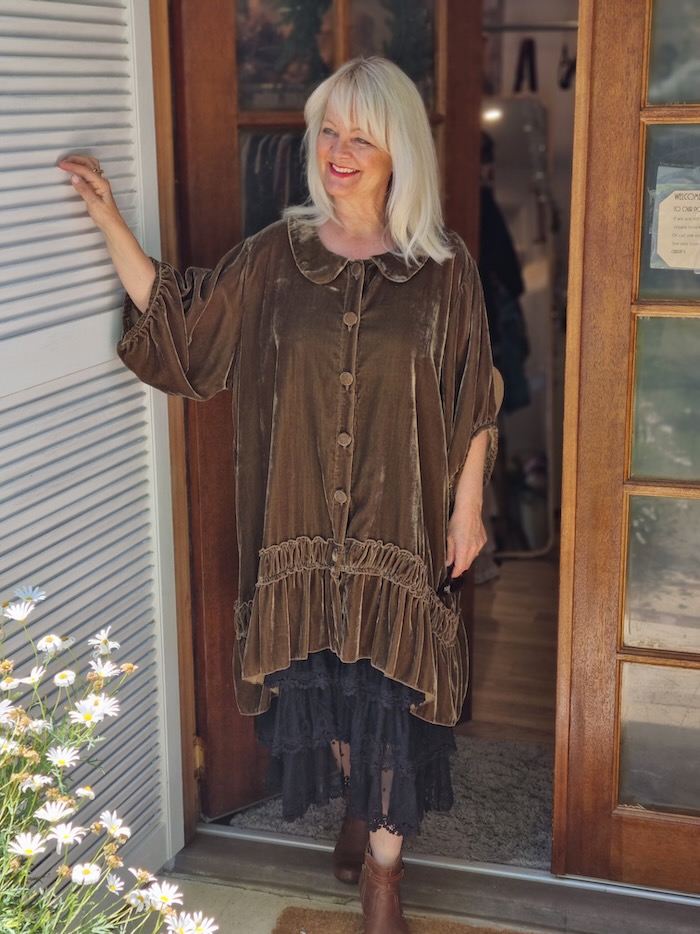 Black boots are a good winter colour, or even cowboy boots, which always add an extra touch of attitude and interest to an outfit in the depths of winter!
Stylish sneakers are another easy way to take a summer dress into winter. Choose leather sneakers for wet weather to give you a little bit more foot cover.
Not only do these choices keep your feet warm and dry, but they also add an element of sophistication and edge to your outfit.
Plus, you'll be more than ready to conquer any winter terrain that comes your way.
What Warm Accessories Will You Choose?
Accessories aren't just for summer – they're essential for winter too!
Complete your winter dress look in many different ways with the right accessories, such as chunky scarves, stylish beanies, and warm gloves.
An art scarf is a fabulous option to ramp up your personal style.
These elements not only keep you toasty but also add layers and textures that contribute to the overall aesthetic of your outfit.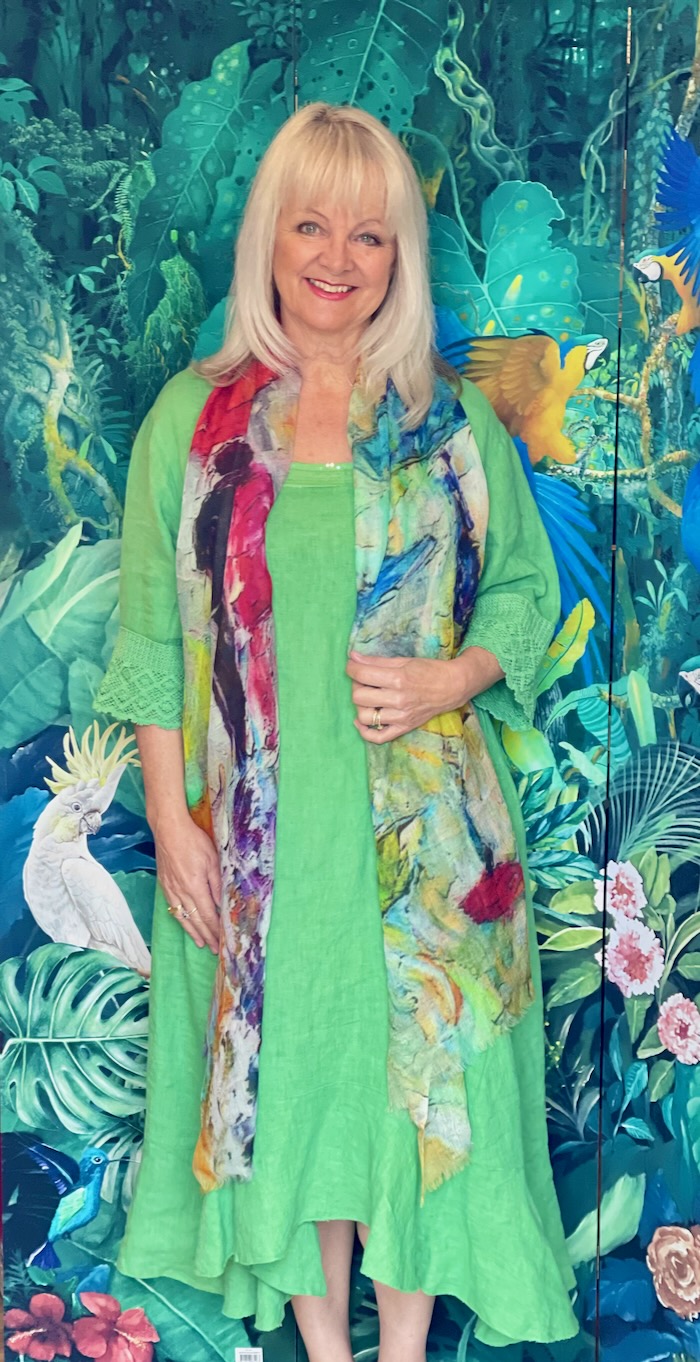 Play with Textures and Fabrics
It's always interesting to mix or match different fabrics and textures to take your winter dress ensemble to the next level.
Pairing a silk summer dress with a chunky knit sweater or a denim jacket adds depth and visual interest to your outfit. The best way to add more style is to experiment with contrasts – soft against rough, light against heavy – a great way to create a balanced and visually appealing look.
Cinch It with a Belt
Don't let your silhouette drown under layers of winter clothing. Use a belt to cinch in your waist and maintain that flattering shape.
A belt adds a touch of elegance and draws attention to your figure, ensuring your winter dress ensemble remains stylish and well-proportioned.
Experiment with Lengths
Who says your winter dress has to be the same length as your summer one? Experiment with longer hemlines for added warmth and drama.
Midi and maxi dresses provide extra coverage and make a strong fashion statement.
Pair them with high boots or chunky heels for a cosy and captivating outfit.
Confidence is Key
Last but certainly not least, remember that confidence is the ultimate accessory.
Own your winter dress look with a smile and a spring in your step.
Feeling good about what you're wearing radiates through your demeanour and completes your outfit in the best possible way.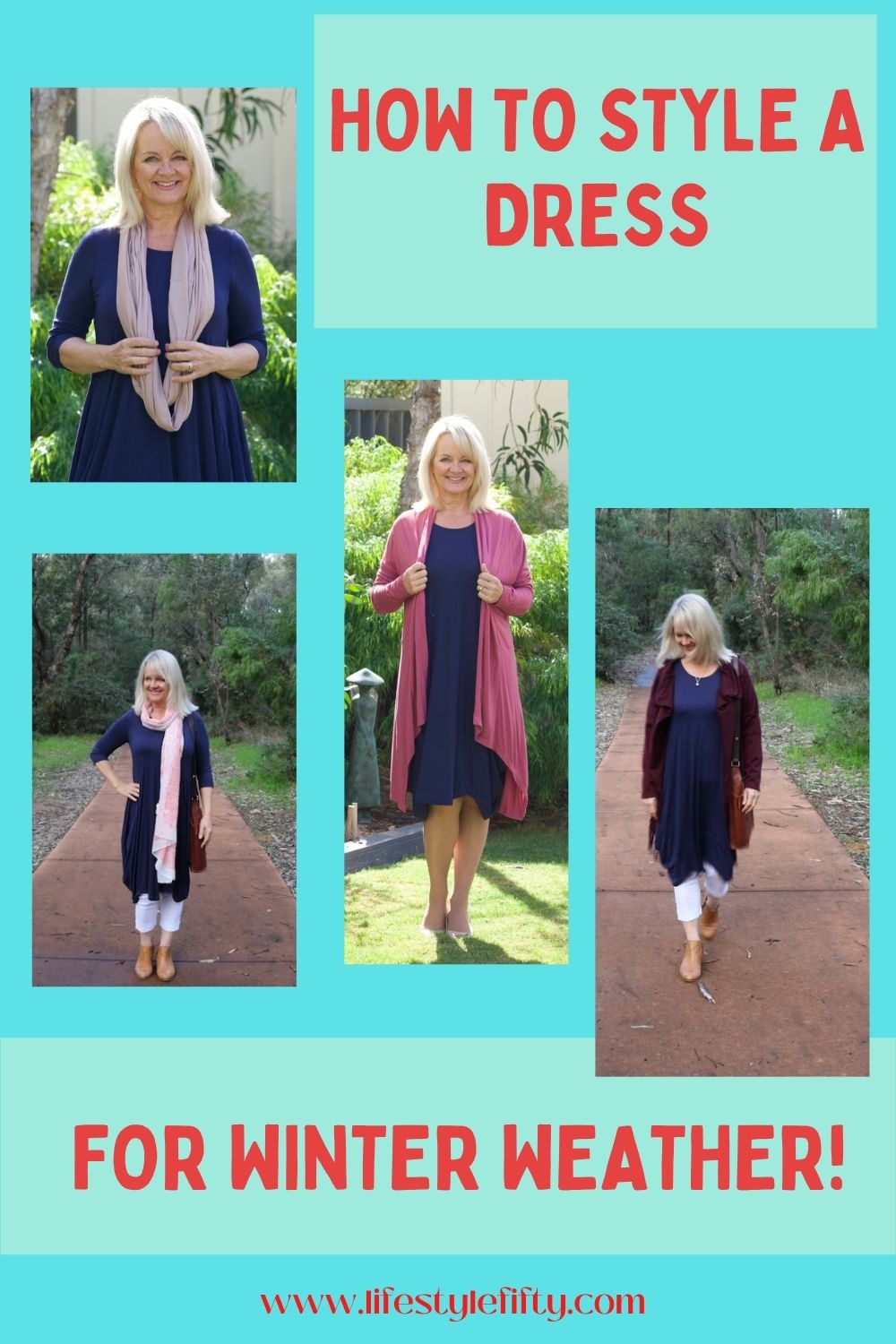 So there you have it – your comprehensive guide to wearing summer dresses with winter flair.
With some imagination and strategic layering, your loved summer pieces can easily transition into stylish winter ensembles.
Don't let the cold weather dampen your fashion spirit – embrace the challenge and turn heads wherever you go. Stay warm, stay chic, pop on those thermal tights and knee boots and enjoy experimenting with your favourite summer dresses that are now masquerading as your winter dress outfits!
Related Posts
Best Style Dresses to Hide Tummy
The Best Casual Wear for Women Over 50 – FAQs
How To Wear Leggings for Women Over 60 : Ultimate Guide
Ultimate Guide to The Best Dresses for Pear Shaped Women
How to Wear a Maxi Dress in Winter : Style Tips
Disclaimer:This post "How To Wear Summer Dresses in Winter without being chilly" contains affiliate links from which I stand to earn a small commission but at no expense to you. Any gifted items are marked with an *. Lifestyle Fifty Website is a participant in the Amazon Services LLC Associates Program, an affiliate advertising program designed to provide a means for sites to earn advertising fees by advertising and linking to Amazon.com. Some images in this post may have been sourced with permission from Styling You The Label, and Salty Crush websites (affiliates). Please read my full disclosure here.