Hello Lifestylers! How do you feel about wearing leggings? Do you love them? Or hate them? Either way, leggings have become a staple garment for older women, and many styles of leggings for women over 60 are totally acceptable as a wardrobe staple. Why? Because they come in all shapes and styles, and they're an excellent choice to have in your wardrobe due to their comfort and versatility.
Whether you're looking for a casual, sporty, or classy style, or if you just want to know how to improve your style to look chic and fashionable, then leggings are a great option and can effortlessly adapt to any occasion.
In this post I'm focussing on all kinds of leggings, not just active wear. I'm considering slim fit ponte pants as leggings too; the sort of pants you'll feel confident wearing.
Offering stretchy fabric and a comfortable fit, various styles of leggings offer both fashion and functionality for the mature woman.
So today I'll be sharing what I know about all kinds of leggings, and suggesting those that are suitable for travel, activewear, semi-formal functions and much more.
Is It OK to Wear Leggings as Pants?
You can wear leggings as pants, for instance, in place of skinny jeans. They can be a comfortable and stylish substitute, and with a little bit of know-how you'll discover how they can easily be dressed up or down, making them suitable for various different occasions.
A great pair of leggings can be paired with a long shirt, or an oversized sweater for a cozy and relaxed vibe.
Dress up the best black leggings you can buy with a flowing blouse and heels for a sophisticated touch.
Alternatively, a thick pair of black leggings can be layered under skirts, dresses, or tunics in winter.
The purpose of this blog post is to provide super style tips for staying stylish over 50, so that you can wear leggings confidently and with style.
While leggings are a versatile wardrobe essential, some women may feel uncertain about how to wear them in a way that flatters their mature figures. They may also worry that they should not wear them for social occasions.
Today, we hope to find you the perfect pair of leggings and show you the best ways to wear them for any occasion.
Overall, we'll address any concerns you might have, and aim to empower women over 50, 60 and 70 to wear leggings with panache!
The focus is on celebrating individuality, body positivity, and encouraging women to express their personal style while feeling comfortable and fashionable in leggings.
Dress them up! Have fun! Get out there! Enjoy!
Here's how to wear leggings for women over 60.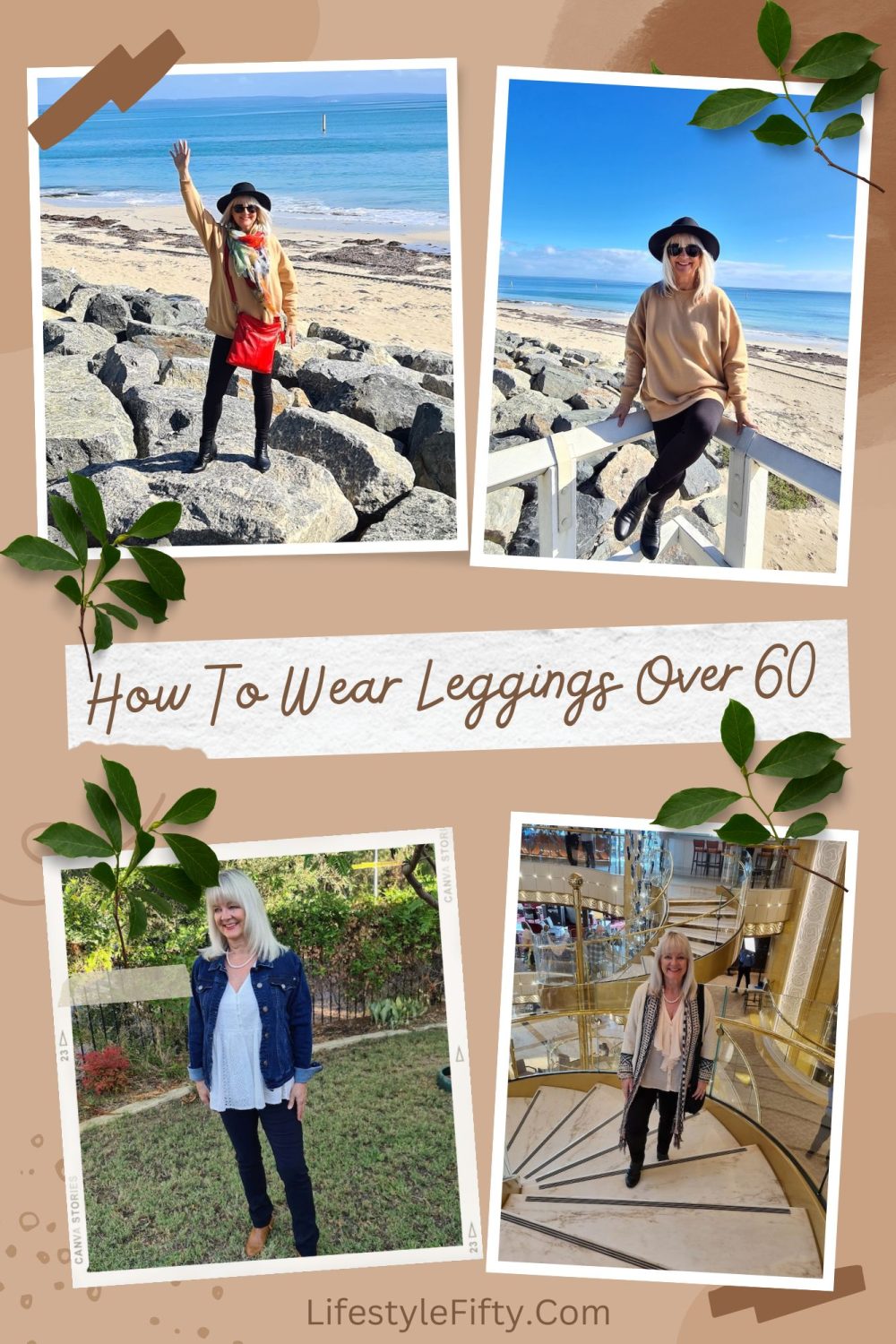 How to Select the Right Leggings
Leggings are no longer confined to gym sessions or lazy Sundays. They have stepped into the limelight, commanding attention with their sleek silhouette and unrivaled comfort.
But selecting the right leggings for the right job is crucial if they are to stand the test of time in your wardrobe.
The importance of quality fabric and fit.
When it comes to women's leggings, quality fabric and fit are of paramount importance. Opting for leggings made from high-quality materials ensures durability, comfort, and proper functionality.
Fabrics with good stretch and recovery, such as a blend of spandex and nylon, offer excellent flexibility and shape retention.
Additionally, choosing leggings with a supportive waistband helps maintain a secure fit throughout the day.
Proper fit is equally crucial, as badly-fitting leggings can create discomfort and compromise the overall look. Leggings that are too tight may be constrictive, while those that are too loose can appear sloppy.
By prioritizing quality fabric and a well-fitting design, women can enjoy leggings that not only enhance their style but also provide the comfort and confidence they deserve.
I love Ponte Pant style leggings and they are a super idea for going-out in. See below …
How to Choose the Right Length Leggings
Choosing the right length leggings is really a personal choice.
It's really up to you to decide which length of leggings is most suitable for your because choosing the right length of leggings depends on both personal preference and body type.
Ankle-length leggings, hitting just at or slightly above the ankle, are a versatile option that suits most body types. They create a streamlined look and are ideal for showcasing pretty sandals or trendy sneakers.
Cropped leggings, ending mid-calf, can be especially suitable for women with longer legs, as they accentuate their calves and balance the overall silhouette.
Full-length leggings, extending all the way to the ankles, are a classic choice that works well for most body types. They provide good coverage and can help elongate the legs, making you appear a little taller.
Ultimately, it's important to try on different lengths and assess how they complement your body shape and your personal style. Experimenting with different lengths allows you to find the perfect leggings that not only fit well but also make you feel comfortable and body confident.
How to Pair Leggings with Tops
Styling leggings with longer tops such as tunics, long shirts, and flowy blouses can create chic and comfortable outfits. The key is to find the right balance and proportion.
Tunics are a popular choice as they provide good coverage and a relaxed silhouette. Pair them with leggings in complementary colors and add a belt to define the waist if you like.
Long shirts can be tucked on one side into the waistband of the leggings, creating a polished yet casual look.
Flowy blouses can be left untucked or partially tucked to add movement and femininity. Accessorize with statement necklaces or scarves to elevate the ensemble.
Oversized sweaters and sweatshirts also look great with leggings.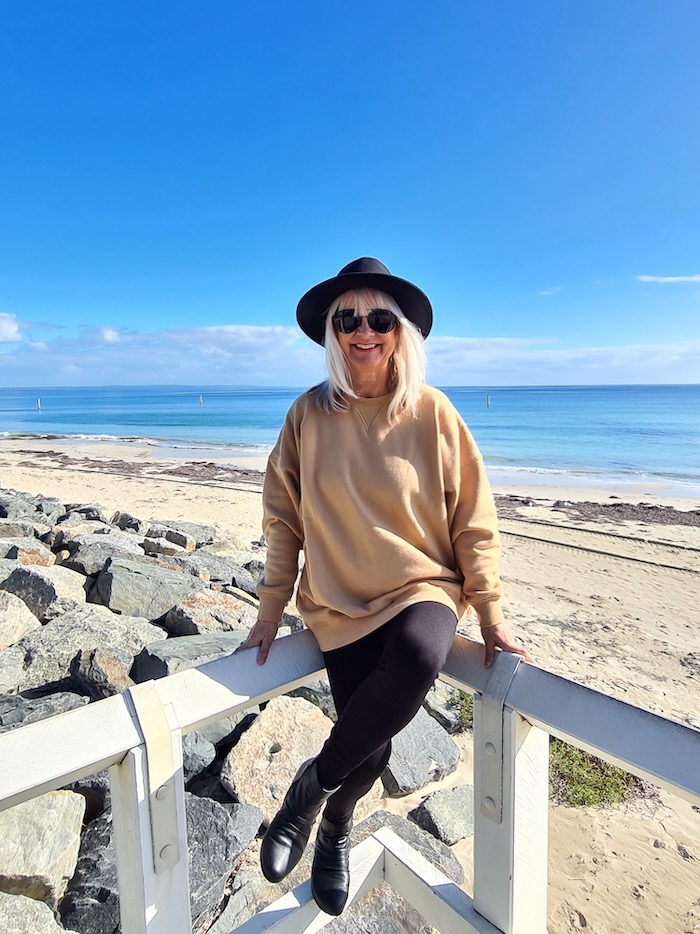 The combination of leggings with longer tops creates a stylish outfit that is versatile for many occasions, whether running errands or meeting up with friends for a casual lunch.
How to Layer With Cardigans, Jackets and Sweaters.
Styling and layering leggings with cardigans, jackets, and sweaters can add depth and dimension to an outfit while keeping you cozy and stylish.
For a casual look, pair leggings with a long cardigan or a chunky knit, long sweater. Allow the cardigan to drape open or cinch it with a belt for a more defined waistline.
When it comes to jackets, options like denim jackets, leather jackets, or bomber jackets can instantly elevate your look.
Layering a jacket over a fitted top and leggings creates a trendy and edgy vibe. Play with textures and lengths to create visual interest.
Experimenting with different layering techniques allows you to adapt your leggings outfit to different seasons and occasions.
How to Match Leggings With Shorter Tops
When matching leggings with shorter tops, you might want to think about how to maintain the balance and proportion in your outfit.
One key tip is to opt for leggings in a neutral or complementary color to create a cohesive look with the top. Also you might look for leggings a tie detail at the waist to take the focus away from your tummy.
If your top is shorter and more fitted, consider pairing it with high-waisted leggings to add better coverage.
An option I like is to layer a longer, flowy cardigan or a lightweight duster over the shorter top to add length and create a visually appealing balance.
Additionally, accessorizing with a statement belt can help define the waist and add a stylish touch.
Or you can tuck your top into the waistband of the leggings –
By carefully selecting and coordinating shorter tops with leggings and cardigans you can achieve a well-balanced and fashion-forward outfit that makes you feel confident and styled.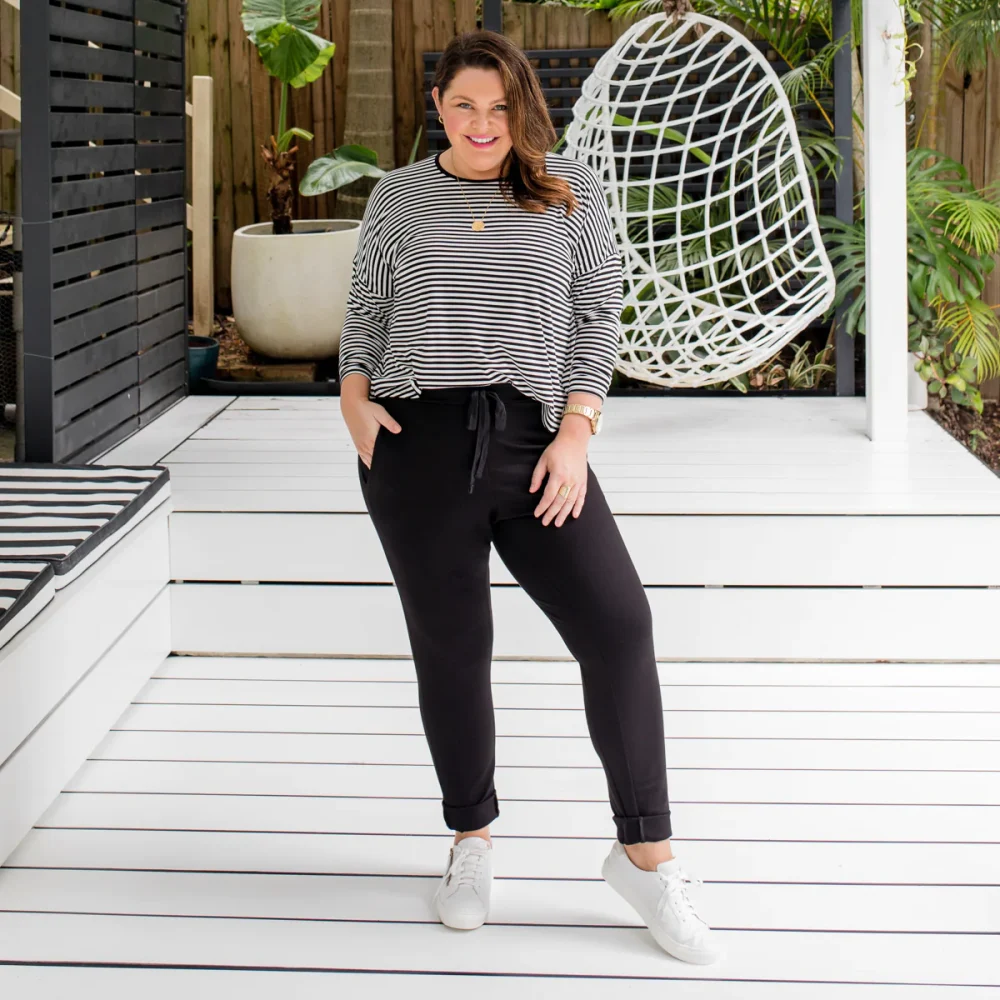 Accessories and Leggings
Let's have a look at what kind of footwear, jewelry, scarves, belts and hats you might choose to wear with your leggings outfits.
How to choose appropriate footwear to wear with leggings
When it comes to choosing footwear to wear with leggings for women over 60, options such as flats, sneakers, sandals, ankle boots, and low heels are the best options for comfort and style.
Flats are a versatile choice, offering ease of movement and a casual yet polished look.
Ankle boots add a touch of sophistication and can be paired with both casual and dressier leggings outfits.
Opting for low heels can provide a subtle lift and elongate the legs, without sacrificing comfort.
Consider the occasion and outfit style when selecting footwear to ensure a cohesive and age-appropriate look.
Ultimately, the key is to choose footwear that allows you to move easily, and complements the overall aesthetic of your leggings ensemble.
Below are my favourite ankle boots to wear with leggings for social occasions, from FRANKIE4 Footwear.
Adding statement jewelry for a touch of sophistication
Statement jewelry has the remarkable ability to elevate and transform an outfit, adding a touch of sophistication, personality, and visual interest.
Whether it's a bold necklace, a pair of eye-catching earrings, or a chunky bracelet, statement jewelry becomes the focal point, drawing attention and creating a stylish impact.
By incorporating statement jewelry into your outfit, you can instantly lift a simple or basic ensemble into something eye-catching. It serves as a conversation starter, expressing your unique sense of style.
Whether you're dressing up for a special occasion or adding flair to your everyday attire, statement jewelry adds that final touch of glamour and completes your outfit with a touch of flair.
Incorporating scarves, belts and hats for additional style options
Incorporating scarves, belts and hats can take tops and leggings to the next style level.
Scarves are not only functional because they keep you warm, but they also serve as a fashion accessory. You can drape a colorful scarf around your neck, tying it in different ways to create various looks, or even wear it as a headband for a bohemian touch.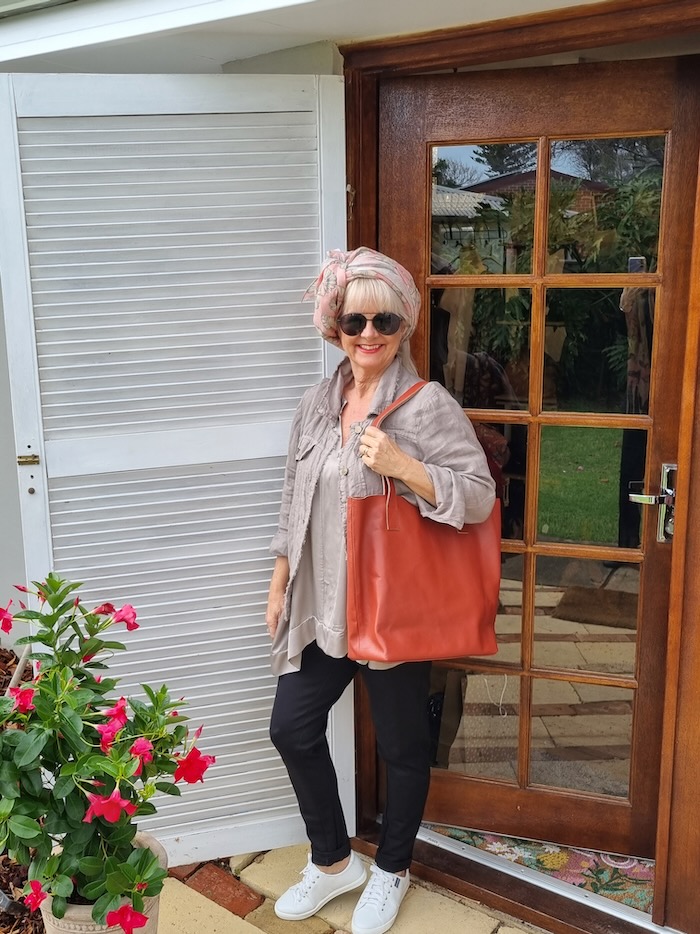 Belts, on the other hand, help define the waist and create a more tailored and polished appearance. Pairing a belt with a tunic or oversized top over leggings can instantly create a unique look. Opt for wide or statement belts to make a bold statement or choose a slim belt for a more subtle touch.
Whether you choose scarves or belts, incorporating these accessories offers endless possibilities to enhance your tops and leggings, adding an extra layer of style and personalization to your overall look.
A black wide brimmed hat with black leggings, black boots, a colorful scarf and crossbody bag, along with a colorful top gives you an instantly Bohemian inspired look.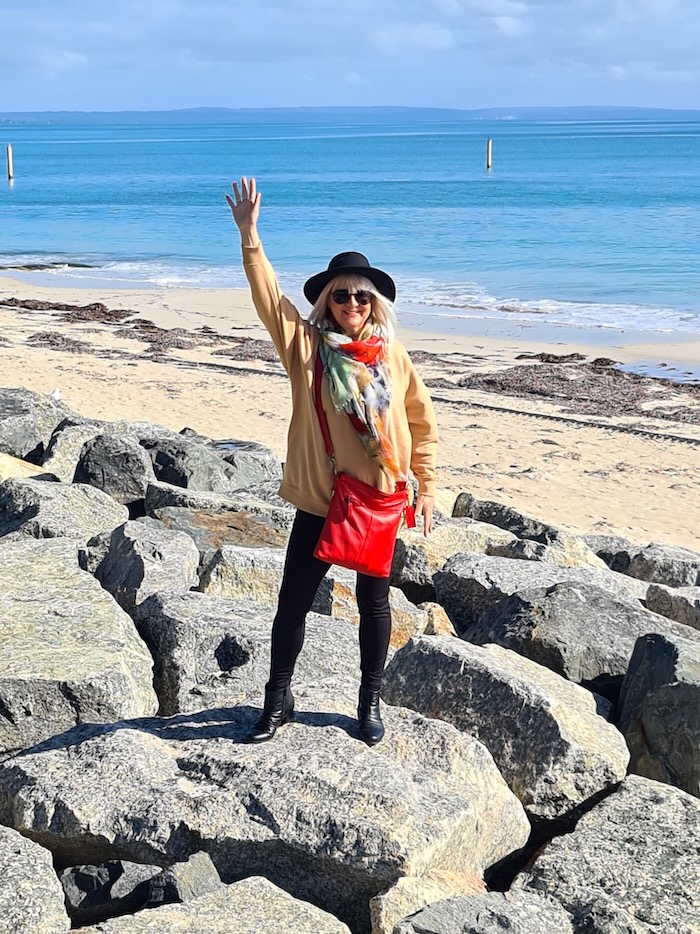 How To Create Complete Outfits
Dressing up with leggings: Combining with blazers or dressy tops.
When looking to dress up leggings with blazers or dressy tops, there are a few key tips to keep in mind.
First, opt for leggings that offer tummy control, as they can provide a more streamlined look which will probably make you feel more confident. (Or you might prefer to wear them with the best shapewear you can buy for tummy control, instead of normal underwear).
This helps to address any concerns about problem areas around your midsection and allows you to think about wearing blazers and tops that don't necessarily cover your tum or bum.
Next, ensure that the leggings fit well in the crotch area to avoid any discomfort or camel-toe looks.
Pairing leggings with a great-fitting blazer instantly adds sophistication and polish. A long-length double breasted blazer can look amazing.
Or your might prefer to wear a jacket that sits around your hips, and is nipped in at the waist. If you want to cover your bum when wearing this style of jacket, then wear a shorter jacket over a longer Tee.
Alternatively, choose a dressy top with interesting details or elegant fabrics to add more life to the overall outfit.
But let's not forget the power of patterns and prints!
Floral, geometric, or even animal prints can inject a vibrant dose of personality into your leggings ensemble. Just remember to balance the look by pairing them with solid-colored tops and accessories that complement rather than overpower the bold pattern.
By combining these elements, you can create a stylish ensemble that embraces the comfort of leggings while exuding a chic and put-together vibe.
Styling Tips for Specific Occasions
For specific occasions you'll need different kinds of leggings, and you'll want to style them differently too. Let's look at exercise and activewear, leggings for travel and leggings for social events.
Best leggings for activewear and tops to go with them
When choosing workout leggings for exercise, it's essential to choose comfortable leggings that prioritize functionality. Perhaps you need leggings for yoga, or gym classes, or walking the dog.
Keeping in good shape as we get older is so important, so it's a good idea to make sure that the outfits you choose to workout in make you feel good too.
Look for leggings made from moisture-wicking fabric to keep you dry and comfortable during workouts.
Choose leggings with a good amount of stretch and a secure waistband that stays in place.
Some women prefer compression leggings when it comes to activewear.
Consider the length that suits your preference, whether it's ankle-length, full length or cropped.
As for tops to wear with activewear leggings for women over 60, options like fitted workout tanks, tunic tops, breathable t-shirts, or lightweight, loose-fitting long tops are great choices.
If you're wearing black workout leggings then why not opt either for for tops in bright colors or a black top which enhances your overall length and can have a slimming effect.
Layering with a zip-up hoodie or a lightweight jacket provides additional warmth and flexibility.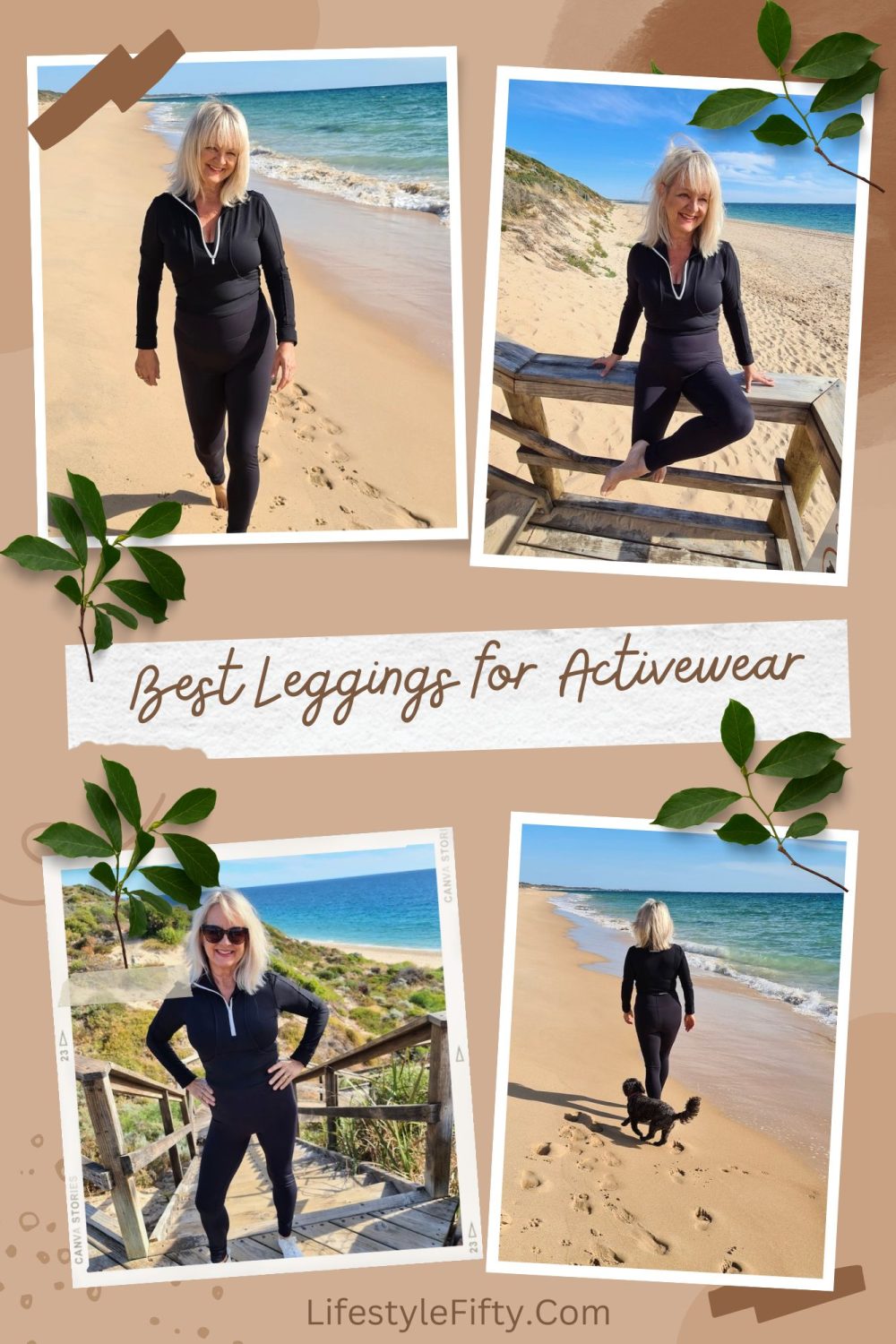 Overall, it's important to choose tops that allow for ease of movement and provide the necessary support and coverage during exercise.
For the older woman (like me!) comfort and functionality should be the guiding factors when selecting activewear leggings and tops for exercise, because this is a key factor in allowing you to stay motivated and comfortable while pursuing an active lifestyle.
High waist leggings are my preferred style because I feel comfortable and there is no muffin top to concern me!
Travel outfits: Comfort meets style for long journeys
Leggings are an ideal choice for long flights, train trips, road trips, and any form of travel due to their comfort and hard-wearing nature.
The stretchy and soft fabric of leggings allows for unrestricted movement, making them incredibly comfortable for extended periods of sitting or traveling.
Leggings provide a flexible and non-restrictive fit, allowing you to move freely while sitting or stretching during travel.
Additionally, leggings are lightweight and easy to pack, taking up minimal space in your luggage.
You might choose leggings made of a slightly thicker fabric if you're travelling to a cold climate. They can be paired with various tops and layers, making it easy to create different outfits while on the go. They wash and dry easily.
Whether you're exploring new destinations or embarking on a long journey, leggings offer the perfect combination of comfort and style, ensuring you stay comfortable and chic throughout your travel adventures.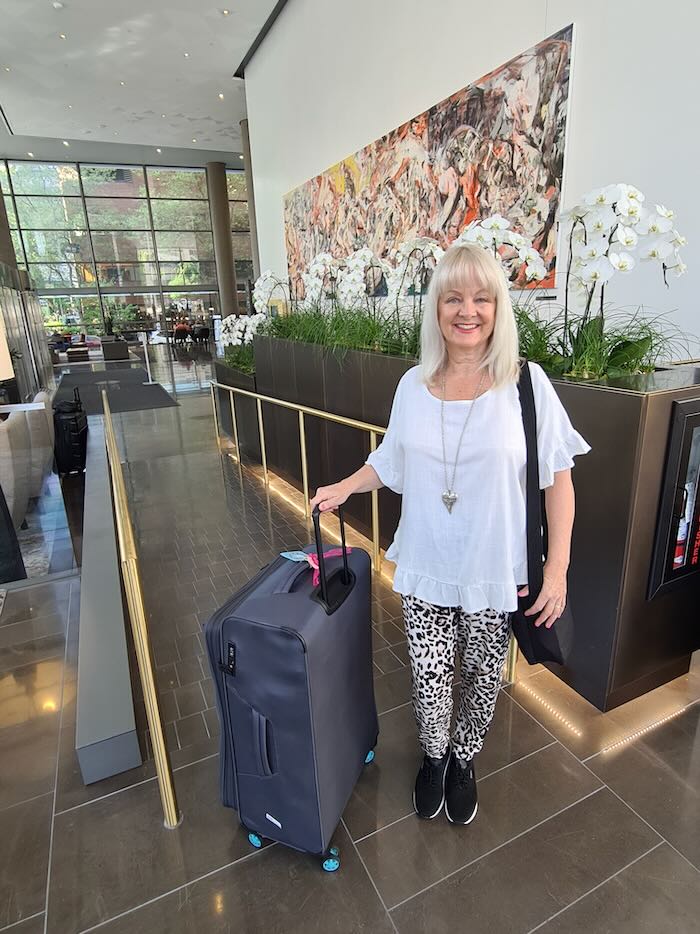 Dressing-up for social events: Formal or semi-formal leggings outfits
When it comes to dressing-up leggings for semi-formal social events, there are a few key considerations to keep in mind.
Firstly, look for leggings made from more expensive materials such as faux leather, velvet, or satin. These fabrics instantly enhance the overall look and lend a dressier vibe.
Pairing them with a tailored blazer or a chic, structured jacket adds sophistication and polish.
Choose a top that complements the occasion, such as a blouse with delicate details or a dressy sweater.
Complete the ensemble with statement accessories like statement earrings or a stylish clutch to add a touch of glamour.
Additionally, don't forget to wear sleek and elegant footwear like ankle boots or heeled pumps to add to the overall refined aesthetic.
By incorporating some of these ideas, you can dress up all kinds of leggings from faux leather leggings, to pure white leggings to extra support leggings, and wear them for semi-formal social events, striking the perfect balance between comfort and style.
Famous Fashionable Women Over 60 Wearing Leggings
Here are some women celebrities over the age of 60 who have been spotted wearing leggings:
These women celebrities demonstrate that leggings can be a versatile and stylish choice at any age, proving that comfort and fashion can go hand in hand.
1. Jane Fonda: The iconic actress and activist, known for her fitness routines, has been seen rocking leggings in her active wear looks.
2. Helen Mirren: The renowned actress has been photographed wearing leggings on several occasions, effortlessly combining comfort and style.
3. Madonna: The Queen of Pop, who has always been known for her bold fashion choices, has been seen sporting leggings as part of her edgy and unique ensembles.
4. Kris Jenner: The matriarch of the Kardashian-Jenner family is often spotted wearing leggings, showcasing her fashionable and modern style.
5. Sharon Stone: The acclaimed actress has been seen embracing leggings as part of her casual yet chic off-duty looks.
6. Diane Keaton: Known for her iconic fashion sense, Diane Keaton has been spotted wearing leggings paired with trendy layers and accessories.
What Are The Very Best Leggings?
It's important to note that opinions on the "best" leggings may vary depending on personal preferences and needs, some brands stand out and are known for their quality leggings and positive reviews:
From going-out leggings to fashion leggings here are some popular brands:
Emamaco : Emamaco is a popular brand that embraces female curves. From the material, the design, the cut, the sewing methods, the stitching and even the finish. Women love Emamaco activewear leggings because they have compression support, are made from the softest material, and they look incredible on.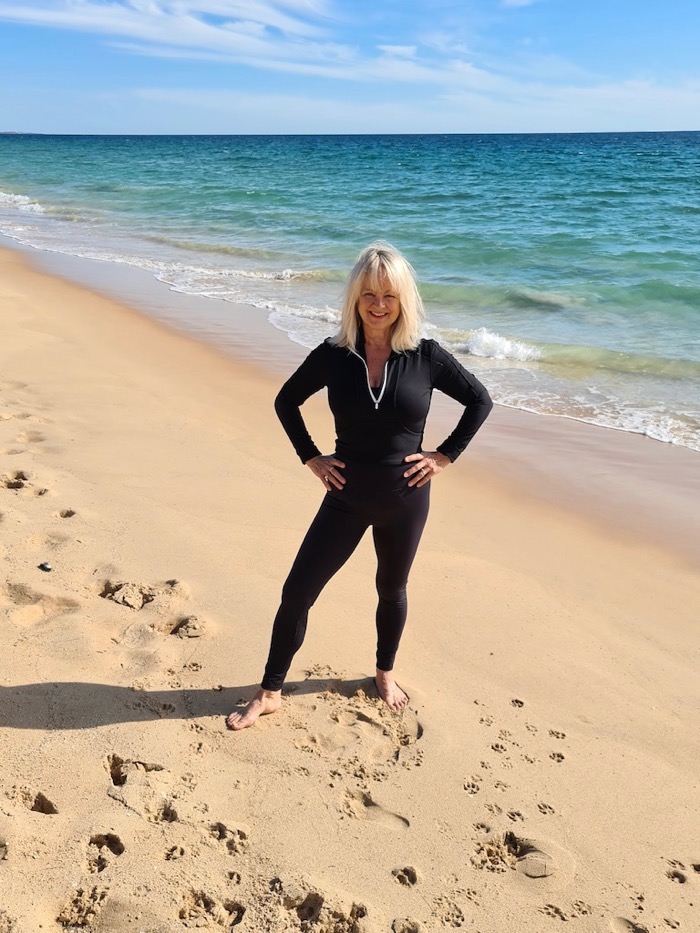 Lululemon: Lululemon is renowned for its high-quality athletic wear, including leggings. Their leggings are praised for their excellent fit, durability, and innovative features.
Styling You The Label: Nikki designs fabulous quality 'non boring basics' for mature and curvy women. Check out her comfy, luxurious legging cum ponte pant styles that can be worn both casually and for going out. If you use the code JoCastro15 at checkout, you'll get 15% discount on your purchase.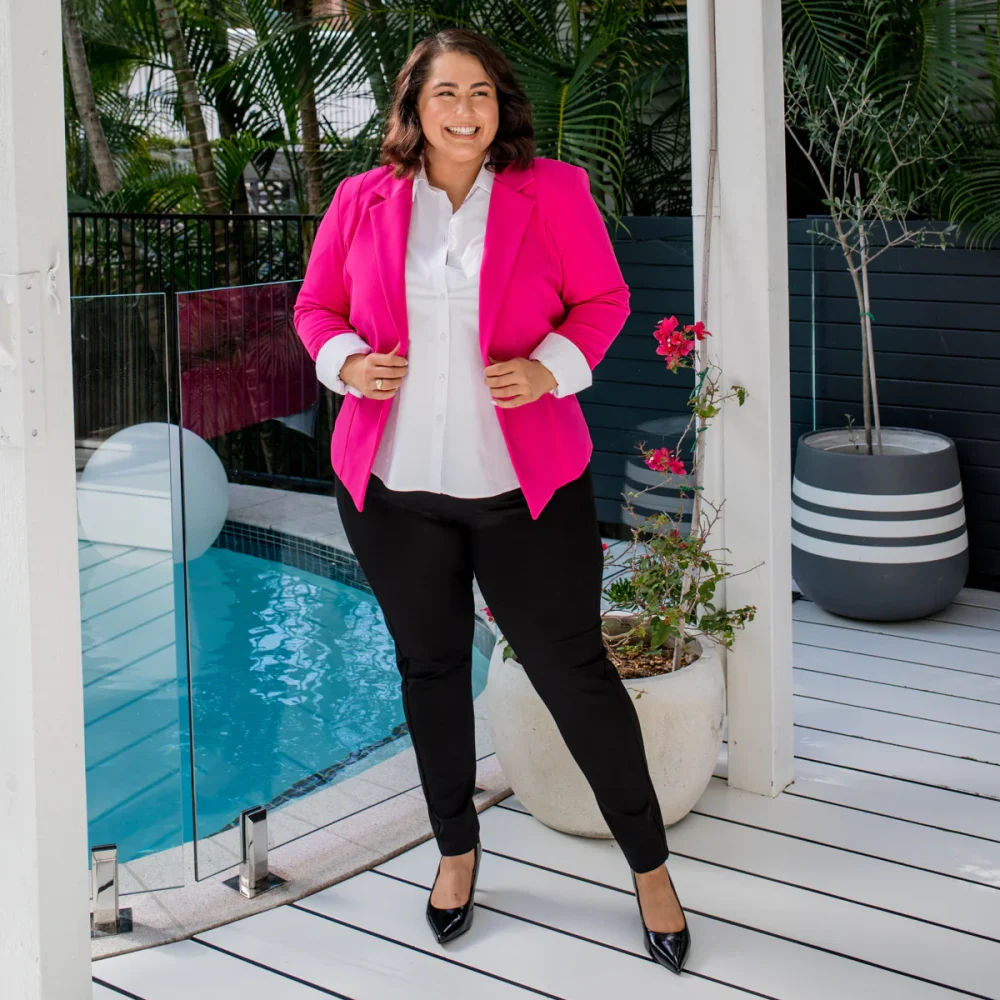 Athleta: Athleta offers a range of leggings designed for various activities, from yoga to running. Customers appreciate their comfortable fabrics, flattering designs, and inclusive size range.
Lyssé: Lyssé is a brand known for their fashion leggings that combine comfort and style. They offer a range of leggings with details like lace inserts, embellishments, or unique textures, allowing women to add a fashionable touch to their outfits.
Spanx: Known for their shaping and compression garments, Spanx offers leggings that provide support and a streamlined look. Their leggings are highly regarded for their tummy control and overall fit. Spanx also offers a range of fashion leggings that not only provide comfort but also feature trendy designs and patterns. Their leggings often incorporate unique details like mesh panels, faux leather accents, or printed patterns.
Nike: Nike is a trusted brand in the athletic apparel industry, offering leggings that combine performance and style. Their leggings are popular for their moisture-wicking properties, flexibility, and trendy designs.
Hue: Hue is a brand that specializes in legwear, including fashion leggings. They offer a wide variety of styles, colors, and prints, allowing women to express their personal style and stay on-trend.
Zella: Zella, a brand available at Nordstrom, offers fashion-forward leggings that blend style with performance. Their leggings often feature interesting cutouts, color-blocking, or trendy details that make them stand out.
Beyond Yoga: If you're wondering what to wear to yoga, then have a look at this brand. Beyond Yoga focuses on creating leggings with buttery-soft fabrics and comfortable waistbands. They are praised for their exceptional comfort and versatility, making them suitable for both workouts and casual wear.
Alo Yoga: Alo Yoga is known for its fashionable and high-performance leggings. Customers appreciate their quality materials, flattering fits, and unique designs that seamlessly transition from the gym to everyday activities. In addition to their athletic leggings, Alo Yoga also offers fashion leggings that are perfect for creating stylish and on-trend outfits. They feature unique designs, such as high-waisted cuts, mesh inserts, or trendy patterns.
Free People: Free People is a brand that embraces bohemian and eclectic styles. They offer fashion leggings that incorporate unique patterns, prints, and textures, perfect for those looking to make a fashion statement.
Nordstrom : Nordstrom needs no introduction. Here you can find a huge selection of quality fashion leggings and activewear.
Confidence and Body Positivity
I think it's imperative to emphasize the importance of self-acceptance when embracing fashion.
Confidence and body positivity are crucial aspects of self-acceptance and embracing personal style, and we must never fail to recognize that true beauty comes in all shapes, sizes, and forms.
Embracing one's unique features and celebrating individuality cultivates a sense of confidence that radiates from within.
By focusing on self-acceptance rather than conforming to societal standards, we can break free from the constraints of any external judgment, and embrace our personal style authentically.
Remember that confidence is not solely derived from physical appearance, and even women with the most seemingly perfect bodies have their doubts about what to wear. Your real beauty stems from self-love and acceptance.
I believe that when we embrace our bodies and appreciate the diverse beauty that exists in the world, we create a positive and inclusive environment where everyone feels valued and empowered.
By nurturing a sense of confidence and body positivity, we empower not only ourselves but also others to embrace their individuality and shine brightly in their own unique way.
Encouraging women over 60 to wear what makes them feel good
Women over 60 must feel empowered to wear what makes them feel good and confident. You are not invisible! You are YOU in all your uniqueness.
Age should never limit personal style choices or dictate what's considered appropriate and you can definitely wear leggings when you're over 60.
Fashion is a form of self-expression, and every woman deserves to wear clothing that reflects her personality and makes her feel comfortable and beautiful. If you want to dress younger, then do so!
Whether it's vibrant colors, bold patterns, or timeless classics, the key is to prioritize personal preferences and wear what brings joy and confidence.
By embracing personal style at any age, women over 60 can celebrate their unique journey and radiate self-assurance, inspiring others to do the same.
Remember, style has no expiration date, and true elegance lies in being true to oneself and embracing the beauty that comes with the wisdom and experiences of age.
Final Thoughts about Wearing Leggings Over 60
I really hope you've enjoyed this post, and that you'll wear your leggings with confidence. I hope you want to dress beautifully and feel good!
By offering practical tips on selecting the right leggings, pairing them with the right shoes, tops and accessories, and creating complete outfits, I hope this guide has inspired you to explore new styling possibilities.
The versatility and style potential of leggings for women over 60 is really only limited by your imagination, so do keep on exploring different outfit combinations and embrace your individuality!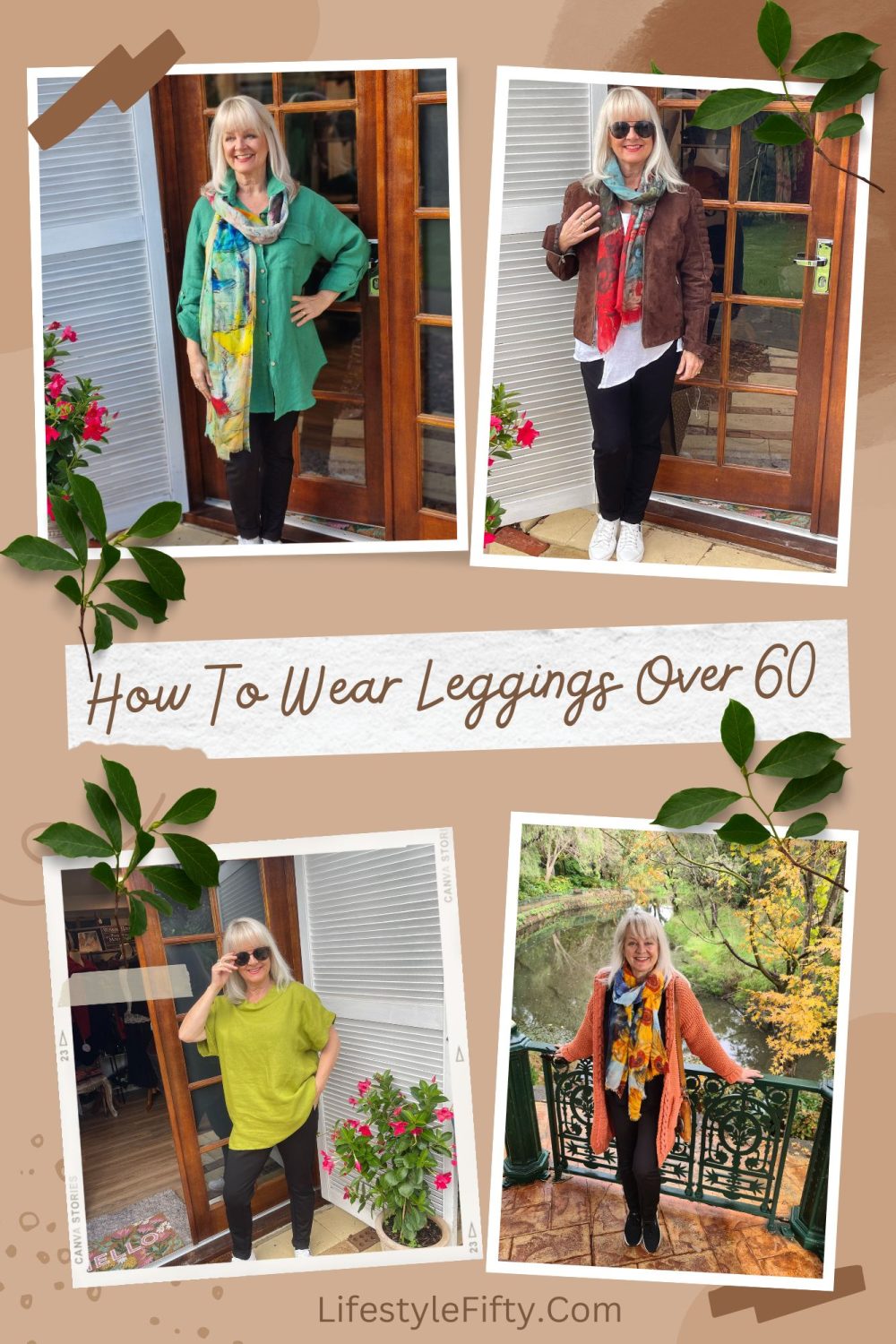 Disclaimer:This post "How to Wear Leggings for Women Over 60" contains affiliate links from which I stand to earn a small commission but at no expense to you. Any gifted items are marked either as gifted or with an * asterisk.  Lifestyle Fifty Website is a participant in the Amazon Services LLC Associates Program, an affiliate advertising program designed to provide a means for sites to earn advertising fees by advertising and linking to Amazon.com.  Some images in this post have been sourced with permission from Styling You The Label. Please read my full disclosure here.