Older women are wise and wonderful. We rock! But sometimes women over 60 feel invisible and the fashion industry can neglect our wants, needs and desires.
The good news is that at Lifestyle Fifty we are here to help you look fabulous, whatever your age – you do not have an expiration date when it comes to style!
But we must remember not to neglect keeping active and engaged with the world. Sometimes it's a struggle, especially getting up in the morning (for me at least!) but even if you are living alone it's important to Get Up, Get Dressed and Get Out!
Walk. Go to the Gym. Have coffee with friends. Volunteer.
Why?
Because you will feel good about yourself, and also increase your stamina, strength and fitness.
Read on for a roundup of our 15 fabulous best life and style posts for women over 60 to help you dress beautifully as you get older, whatever your body shape, and to help you feel good too! Scroll on down …
Best Life and Style Advice for Women Over 60
From how to dress stylishly to heart health, best walking shoes, best shapewear for lower belly pooches, how to notice if you have hearing loss, what are treggings, how to dress younger or look younger without really trying, best leak proof underwear, 60th birthday messages and quotations and so much more! Keep scrolling down!
Why Lifestyle Fifty when You're Over 60?
I believe that women of all ages should try and live a healthy lifestyle, and also go out of their comfort zone every now and then to adventure, and also to make simple lifestyle changes to keep well.
You see, old age as a concept for us older adults (now over 50 and 60 and 70) just doesn't exist! We intend our present days and our later years to be full and fabulous.
We want good health, fun adventures, and we want to look great. We don't quake at being a fashion icon like Iris Apfel if we feel the urge to dress up or dress unconventionally.
We admire stylish women like Susan Sarandon and Helen Mirren, who always inspire with their dress sense. We want a classy look sometimes, but at others, maybe a fun, frothy look.
We look up to inspirational women who guide us to be better people, such as, Michelle Obama and Queen Elizabeth II.
We're onto keeping fit and know that regular exercise and aerobic activity are good for us, especially our heart health.
We know that strength training tones up our muscles particularly those on our upper arms, and we're not afraid to show off our arms, or knees for that matter!
There are always new challenges that come with older age, but the best thing is that we keep on keeping on.
We don't believe that short haircuts or short hairstyles are the inevitable domain for older people, but we know that a good haircut and an interesting hairstyle can enhance the way we feel.
We don't say no to shorter skirts and activewear. In fact activewear is part of our lifestyle because it means we are more likely to get out and get active rather than sit in front of the TV!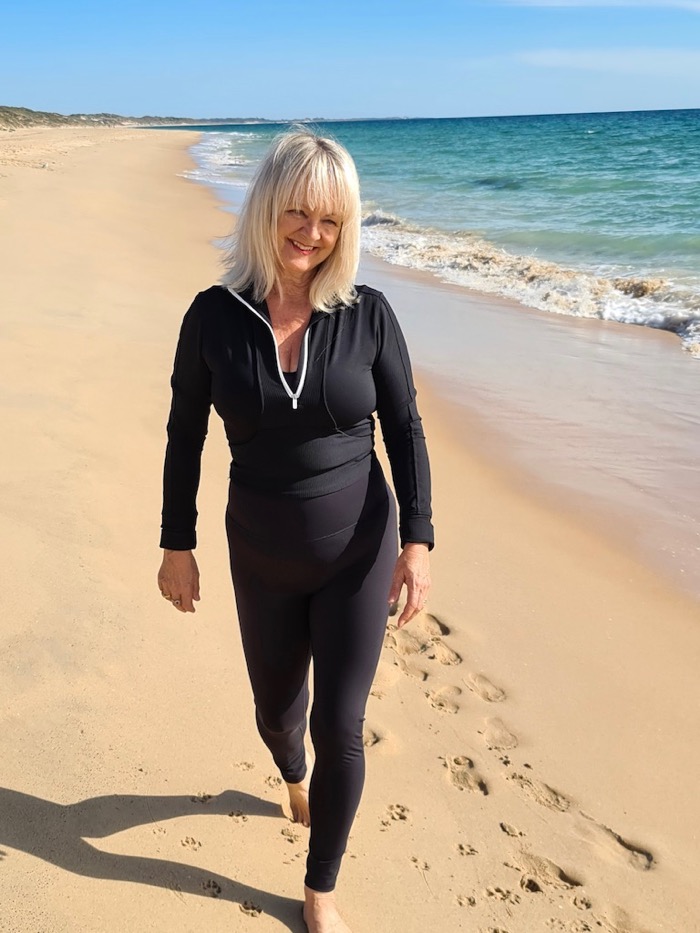 We no longer believe that Vitamin D only comes from spending long amounts of time in the sun, and then lathering up with baby oil to get a tan.
We are aware of our best features, and not afraid to go gray or show off our new white hair or natural gray hair color.
Read out survey in which 79 respondents talk about going grey.
We will try new things, and we don't mourn our younger years.
We understand that wrinkles and fine lines are a sign of normal aging but agree that the best way to combat dry skin is with good skin care and great moisturisers.
15 Best Life and Style Articles for Women Over 60
Read on for a roundup of our best posts to help you redefine who you really are after 60 years of age and to give you the freedom to just be YOU but with added confidence!
At Lifestyle Fifty we aim to help women of all age groups and if you sign up for my newsletter you'll get exclusive personal news, fashion tips and inspirational advice about healthy aging.
So if you've enjoyed this post and all the life and style tips for women over 60, then why not get the latest news, views, fashion shares, holiday tips and more and subscribe to the bi-monthly Lifestyle Fifty Newsletter?
Get it Here!
More Related Posts
How to Wear Leggings for Women Over 60
Disclaimer: This post "Women Over 60 : How to Dress Beautifully and Feel Good," contains affiliate links from which I stand to earn a small commission but at no expense to you. Any gifted items are marked with an *. Lifestyle Fifty Website is a participant in the Amazon Services LLC Associates Program, an affiliate advertising program designed to provide a means for sites to earn advertising fees by advertising and linking to Amazon.com. Please read my full disclosure here.