What are sneakers? And what does Plus Size really mean? Today's post look at both these fashion terms, and shares how to wear casual plus size outfits with sneakers.
We think you'll love the casual outfits we've chosen today.
You've come to the right place. Lifestyle Fifty is a great place to hop onto for no-nonsense advice, and some of the best tips about fashion for older women.
If your body type is curvy and you're looking for a casual look to wear with sneakers, then today's post is especially for you.
We want to help you enhance your personal style, and find gorgeous casual wear that you'll love wearing. And that goes for women over 50, women over 60, and older – for all body shapes, from long and lean to short and curvy, ectomorph, endomorph, or mesomorph, and most definitely the beautiful, curvaliscious, plus-size woman.
Fabulous casual chic plus size outfits to wear with sneakers
Today we feature some fabulous casual outfits to wear with your favorite pair of sneakers.
The fashion house we've chosen today is Styling You The Label, with clothes designed by Nikki Parkinson. Nikki's design ethos is that she designs clothes to suit all women, from size 6 to 20.
Nikki will show you the best way to wear garments like designer jogger pants, wide legged pants, jumpsuits, dresses and beautiful maxi skirts with your sneakers.
Buy Your Sneakers Here : FRANKiE4 and Puma, Adidas, Skechers and Reebok.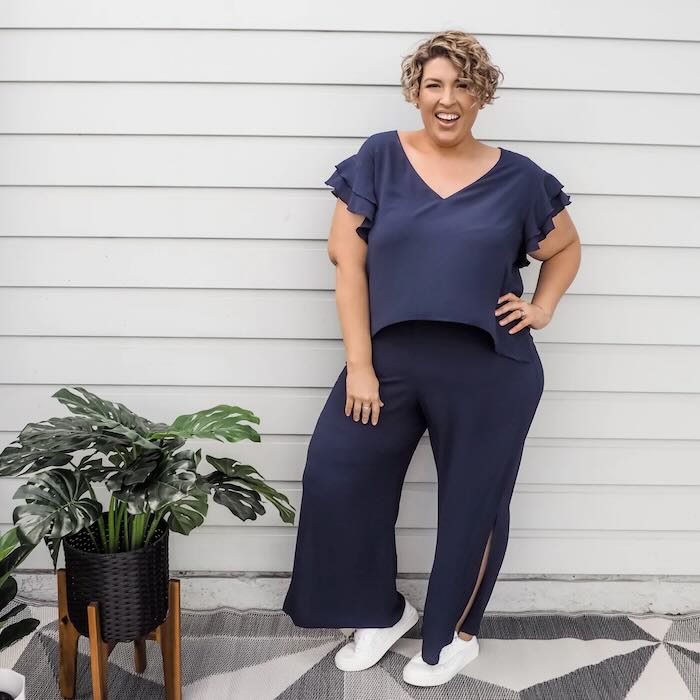 What are sneakers?
The term sneakers has evolved over time to include trainers, tennis shoes, gym shoes, athletic shoes, sports shoes, flats, running shoes and also runners.
They were primarily designed for physical exercise and sporting activities, but these days they are considered suitable for everyday wear, especially casual wear.
Modern sneakers are largely made from sythetic materials, although you will some made from leather too.
Sneakers became popular in the mid 20th century when companies like Nike and Converse started producing them and they gained popularity within the clothing industry.
Sneakers are the new heels. They're not only a modern trend, but also they represent a lifestyle.
Of course sneakers have been around for decades and although they've always been popular among athletes they haven't always been accepted as fashionable.
But now, they're becoming more and more popular across the board, especially amongst fashionistas and style icons.
So why are sneakers such a popular form of footwear? Well, the rise of sneakers is down to two things: Comfort and versatility.
Shoes & sneakers 101 – from heels to sneakers
When I was younger, "oh so much younger than todayyyy!" I wore heels. Pretty much always. Sneakers were called plimsolls and we wore them for gym lessons.
In those days nobody actually went running to keep fit, we'd never heard of trainers with spongey support and laces, and if you did go running, well you wore plimsolls!
They had little to no support, elastic at the sides, and just slipped on! Oh and you could choose white or black.
But nowadays we can opt for comfort along with modern style and wear sneakers. And there are so many kinds, so many different styles and so many colours.
So what can you wear sneakers with and which clothes look especially great on curvy women and which type of garments do not? Read on …
What clothes can I wear with sneakers?
It's never been easier to look chic and casual wearing sneakers than it is today in 2022!
They can be worn with anything from jeans to dresses to shorts to skirts. And they can be styled in so many different ways that it's hard to get bored with them!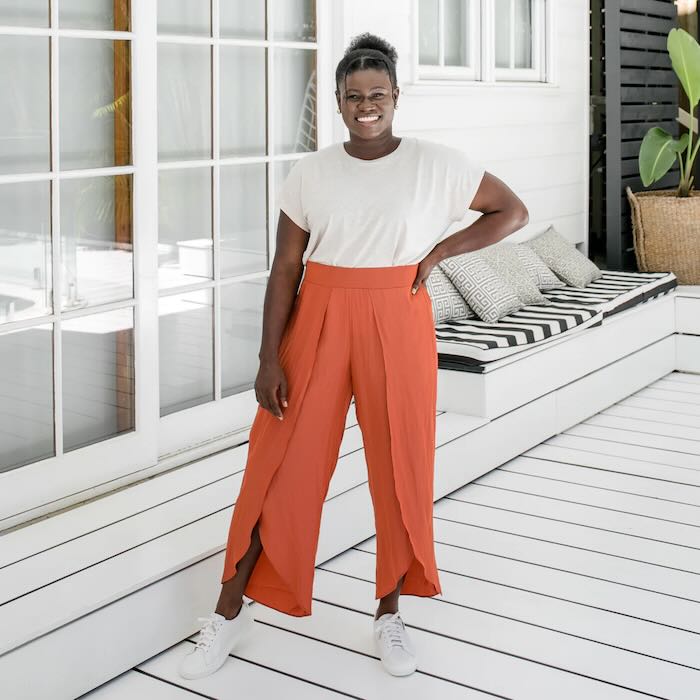 And you don't have to be young to wear the sneakers! They are not the domain of preppy students or 20 somethings as they once used to be. Mature women of all ages look just as good wearing sneakers.
I love white sneakers for their versatility, and white sneakers can go with almost anything.
Can you wear sneakers instead of heels?
Sneakers are becoming more and more popular in the fashion world.
In a recent article by Glamour, they explored the rise of the "sneaker girl."
And brands like Converse and Nike have dressed up their iconic silhouettes in luxury materials such as velvet, suede and velveteen. These designer sneakers are an example of just how much the basic designs have changed and why they can be just as fashionable as heels.
There is also a movement that has sprung up recently that sees sneakers not as just athletic wear, but instead worn as part of a fashionable outfit be it casual or dressy.
This has become especially true for brands like Adidas and Nike, who produce various styles ranging from casual to dress shoes for women.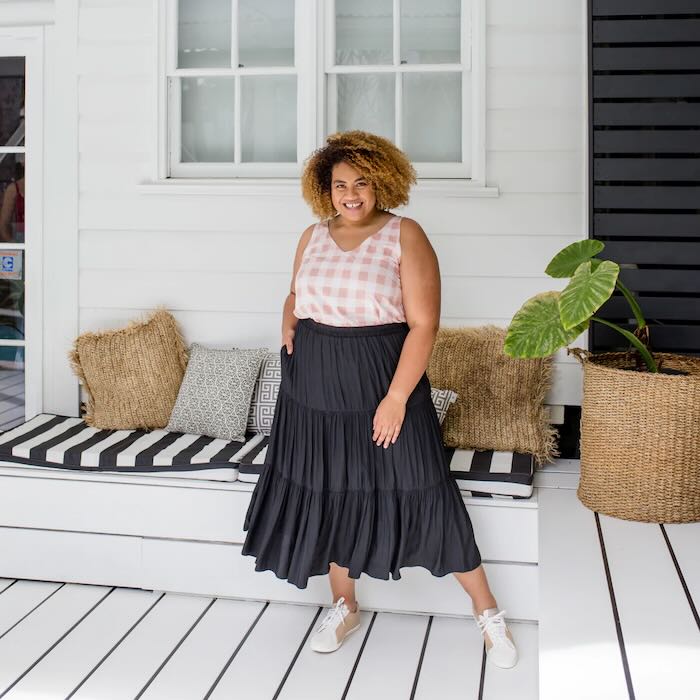 Is it ok to wear sneakers with a dress?
Absolutely. Although the answer to this question is subjective, because if you don't feel right wearing your sneakers with a dress then it probably doesn't look good and you won't feel great.
If the dress is a formal dress, then it's not appropriate to wear sneakers with it, and it probably it just wouldn't look right anyway.
But if the dress is not formal, then it is fine to wear sneakers. Especially with today's beautiful floaty boho dresses of which there are so many around.
You can wear sneakers with a shift dress and look fabulous. A shift dress is a great option for plus-sized women so too is a more tailored shirt dress, like the one below.
Should you wear socks with sneakers?
The debate about whether or not to wear socks with sneakers has been going on for a while. Some people say that wearing socks with sneakers is a must, and others say it's a fashion faux pas. But what does the science say?
Wearing socks with sneakers may help to reduce the risk of blisters, as well as protect your feet from the cold. One study found that wearing socks can provide better cushioning than without them. It is also important to remember that there are some brands of sneakers that are designed specifically for wearing socks, such as Nike's Air Max series.
Some people might think it looks weird to wear socks with sneakers, but in reality it can be quite practical and comfortable.
What to wear with sneakers – 10 Suggestions
10 garments you can pair with sneakers to look stylish and trendy.
Skinny jeans
Mom jeans
Palazzo Pants
Jumpsuits
Gypsy style skirts
Shift or shirt dress
Boho maxi dresses
Shorts
Capri style pants
Jogger pants
Frequently Asked Questions
What is plus size fashion?
Plus size is a term used to describe clothing that is larger than the standard size for the wearer's body type. Plus size clothing is typically made from more generous cuts of cloth than those used in regular sizes.
The term "plus-size" can refer to anyone who falls outside of the fashion industry's standard sizes, from curvy women to tall women or pregnant women.
What flatters a plus size figure?
When it comes to pants and jeans the perfect base might be straight-leg, bootcut, or tailored look pants and jeans, all of which can be pared with sneakers.
Don't always wear unstructured clothing but rather choose garments that give you shape.
Wear the right fit. You might like to try a-line, or fit-and-flare skirts.
Although they are supremely comfortable as lounge wear, do try and stay away from shapeless skirts or track suit pants that hide your figure.
Layering is a great trick to help you feel fab. Wear skinny jeans with a large Tee that comes down over your bum (you could cinch the Tee with a wide belt at the smallets part of your waist) then layer on top a hip length jacket, or a long-line duster cardi.
I love the luxe layered look below.
Wear bright colors – they'll make you feel happy!
Alternatively neutral colors are always your friend because they don't draw attention and they always look classy.
How can I make my plus size look thinner?
While I'm not an advocate for looking thinner (I'd rather we all dress up the body we have to feel and look great) this is a question that many of you ask.
Let me be straight on this. There is no dress code for larger women. Throw away the rule books, but pay attention to what looks good on you and what you feel comfortable wearing.
Plus size women will always look as fabulous as size 6 nymphets, and today there are many brands making fashionable clothing in larger sizes.
If you absolutely want to appear thinner than you really are then some tried and tested things to wear are:-
Black jeans, high rise jeans and trousers
Black tops
Vertical stripes
Tunic tops
Long scarves around your neck that fall low on your body when tied
Long necklaces.
Don't squeeze into tight clothes but do wear clothes that fit.
Wear the best bra you can find.
Pop on some sculpting shapewear underwear for lower belly pooch.
A white tee looks great on anyone. Wearing it with a black blazer and black jeans will give a curvy figure great definition.
Look for clothes that you love, that you want to wear and that you feel good in. Then get out and get on with your day.
Casual plus size chic clothing to wear with sneakers
The dress pictured below has a high waist and is very easy to wear. From Styling You The Label it's a winner for several reasons – not least because of it's gorgeous bright color, but also because it looks great worn casually with sneakers and you can opt to cinch the waist with a belt.
How to Wear Casual Plus Size Outfits With Sneakers : Final Thoughts
So for your next date night, or lunch out with girlfriends get a little creative.
Why not wear a beautiful v-neck tee with a cute denim jacket and a pair of jeans, or how about a leather jacket with a casual dress and high fashion sneakers?
How about a beautiful floaty boho dress draped with a pashmina scarf, and leather sneakers instead of sandals?
Why not pop on your best jeans and wear them with a tailored white shirt cinched with a wide belt and add a pair of comfy sneakers?
Oh and definitely don't be shy – show off your legs!
Where can I buy these clothes? Shop all the looks featured today at Styling You The Label (availability dependent – they sell out fast!)
I hope you've enjoyed these casual outfit ideas to wear with sneakers in today's post "casual chic plus size casual outfits with sneakers," and if you have please Pin this post to one of your Pinterest fashion boards.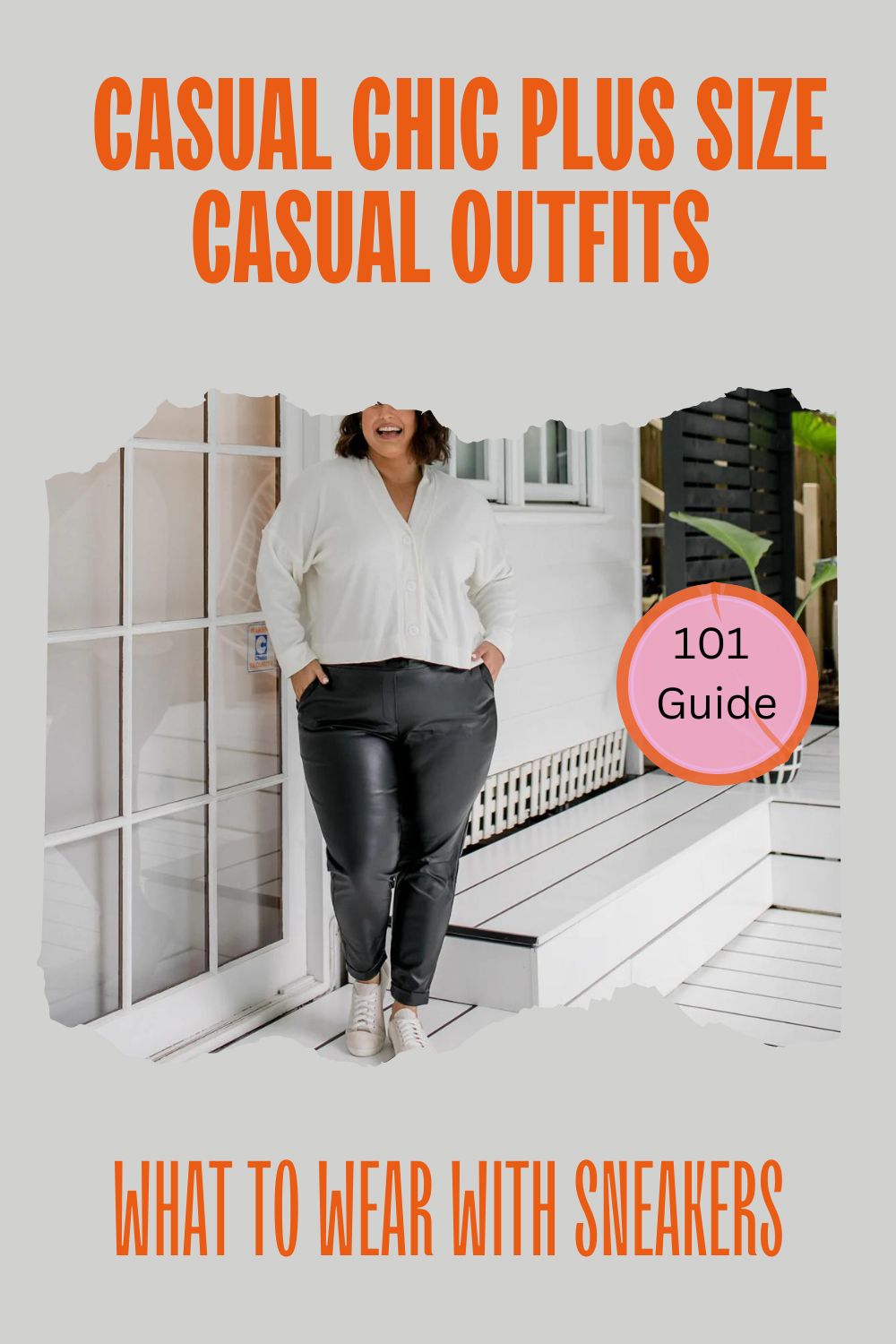 Disclaimer: This post "How to Wear Casual Plus Size Outfits With Sneakers," contains affiliate links from which I stand to earn a small commission but at no expense to you. Any gifted items are marked with an *. Lifestyle Fifty Website is a participant in the Amazon Services LLC Associates Program, an affiliate advertising program designed to provide a means for sites to earn advertising fees by advertising and linking to Amazon.com. Nikki Parkinson at Styling You, and Styling You The Label, kindly allowed me to use some images from Styling You The Label website to illustrate this post. Please read my full disclosure here.