Now I'm over the age of 50 I can't stand clothes that cling to my body, or are too tight around my waist, or those that are just overall too finnicky. Like many mature women who've reached menopause and raised children I have lumps and well fed bumps that pay homage to a life well lived so far!
No longer does my body type match the clothes on sale at high street chainstores, and no longer is my personal style influenced by younger women with taught bodies wearing teensy-weensy garments.
Instead, I now demand sensational casual clothes suitable for women over 50 years old at affordable prices, that I can wear and wear and wear.
But fabulous casual outfits for an older woman can be hard to find.
Many suppliers think that our age group is mostly interested in buying things like high-waisted jeans with elasticated waists, or mom jeans, or big oversized dresses. Some seem to think that fifty plus women's fashion consists of fitted clothes in a retro classic style – that can actually age us. I want to dress younger, not older, without looking outrageous or silly.
Clothes for Older Women
In recent years I've come to demand more from the clothes I choose for casual style. I've looked at how many clothes do I really need and pared down my wardrobe as a result.
Yes I want a great pair of jeans in a perfect fit that I look good in, and a classic white shirt, but I don't want 10 pairs of jeans in different styles and itsy-bitsy tops that really don't suit me anymore.
Older women demand more. We want a classic look for special occasions that will make us look smart and trendy but we don't want our wardrobe to consist only of boring timeless pieces.
We want non boring basics.
We want to try clothes in different colors, and not just stick to camel, black, white or navy.
We don't want fleecy jackets and elasticated jogger pants in plain colors! (Although we might wear them for walking the dog!)
We want to wear animal print joggers, treggings, and skinny jeans to go out in.
We want new looks that will suit our body shape.
We want clothes in bright colors that will give our complexion a boost.
We don't want to wear high heels thank you very much, or our daughter's jeans!
We want a favorite pair of jeans that we can depend on.
We don't want to wear baggy clothes that completely disguise our shape.
We do want clothes that skim our perceived body flaws but which don't swamp us.
We want a best dress, and long skirts that don't make us look frumpy.
We don't want a 1950s look (as portrayed in the TV series Mad Men). No thanks to a pencil skirt, tight blouse and stiletto heels for me! After all we probably wore those kind of things in our early twenties – I know I did! Trit-trotting off to work at the newspaper in high kitten heels and a tight pencil skirt with a slit in it!
You might also like this post: Resort Wear
You might like to take a look at the boho label Salty Crush – ships worldwide or take a look at my Boho Chic Outfits style post.
What is a Signature Style?
For me, signature style is wearing clothes that you love to wear, which make you feel great. That being the case you are likely to get compliments about the clothes you choose, and you may also be considered a trend setter as a result.
The best way to develop a signature style is to experiment.
My daughter said I should steer away from leopard print, but secretly I love it!
If you want a look that is casual but also the epitome of chic style, I don't think you can go wrong with animal print pants, in a comfy style that can be matched with different tops to provide a unique look.
The gorgeous animal print joggy pants I'm wearing below from Styling You The Label have become my best friend when it comes to casual pants that I can dress up or down to suit the occasion.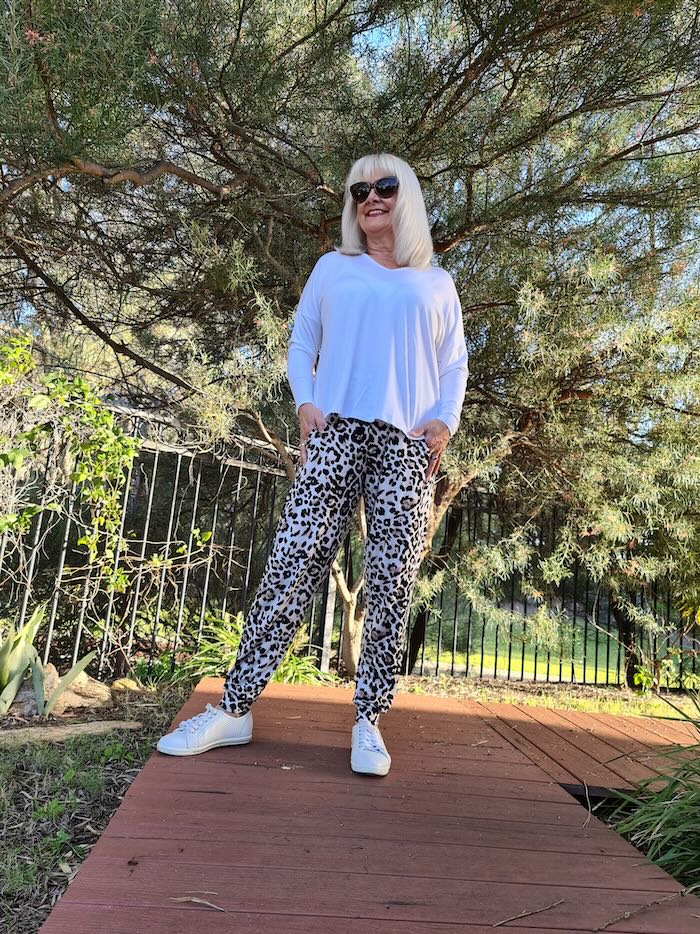 For a casual daytime look I love wearing these sleek, relaxed fit pants with white sneakers and a long sleeve tee. They are so comfortable, and the feel is silky smooth.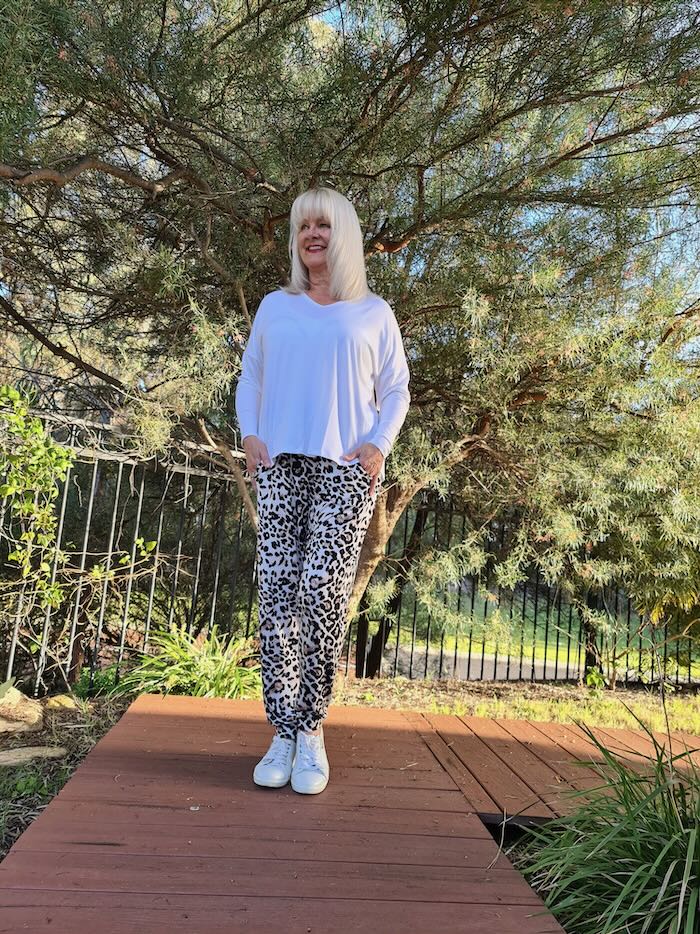 I love the long sleeves of the Sharon tee because this look elongates my arms, covers up my tuck-shop upper arm, and flows down beautifully from my bust line in an elegant sweep that just covers my tummy nicely and finishes in exactly the right place.
For special events, or evening wear I would team these pants with a silky black shirt and ankle boots, and add a hat for summer functions that are out in the sunshine.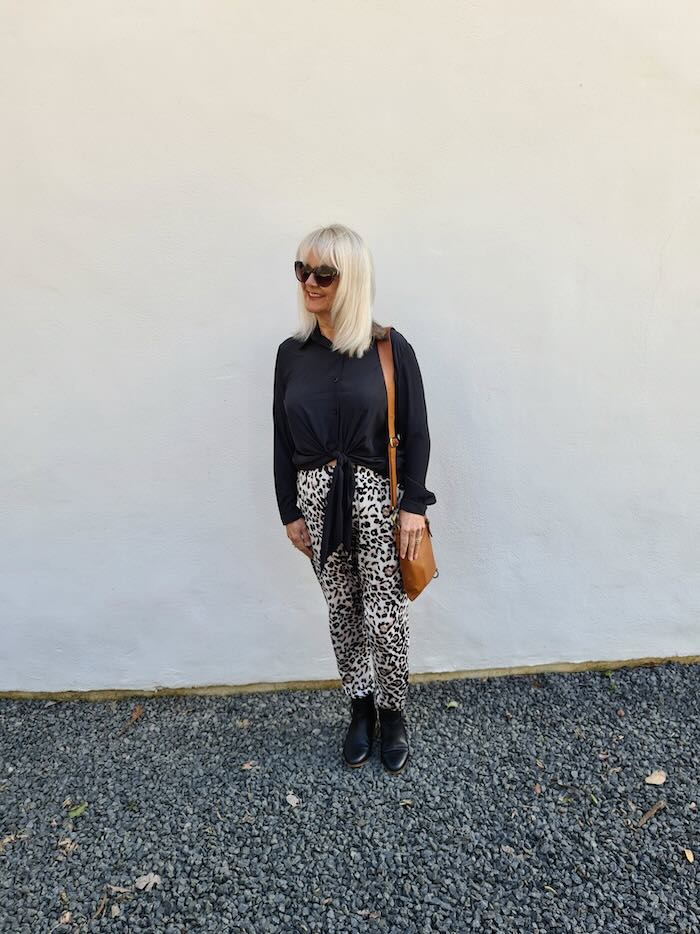 The Cate technical shirt is made in a beautiful silky fabric that doesn't need ironing. You can actually tie this shirt in several different ways, or wear it long and flowy. I prefer to knot it at the waist and let the tie hang down which neatly disguises my belly a bit!
What I love about a look like this is you can change it up by adding different tops, different footwear and different hats – or how about just popping on some different sunnies and grabbing another handbag?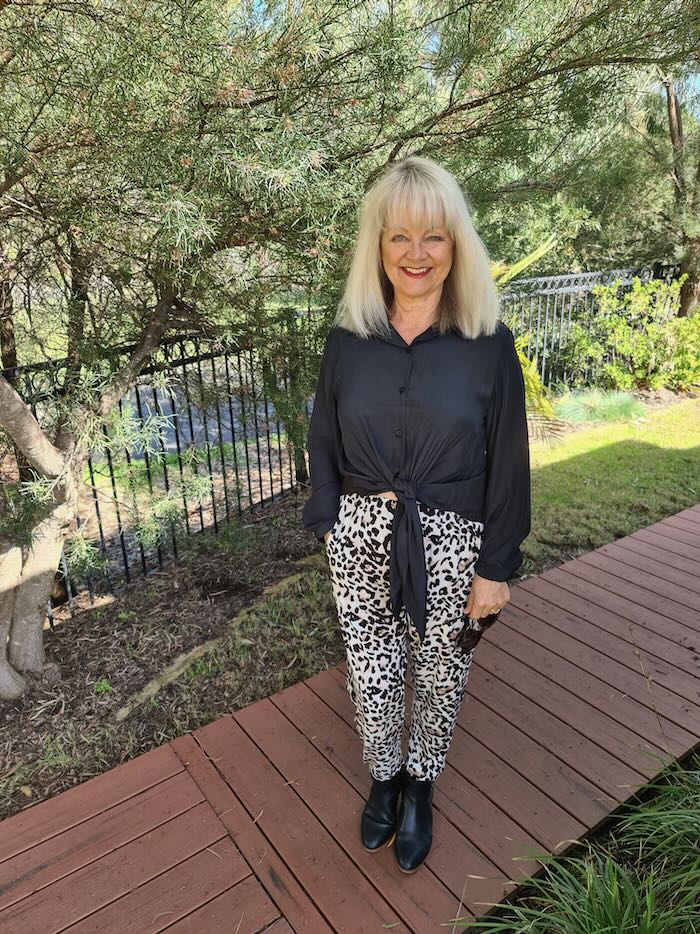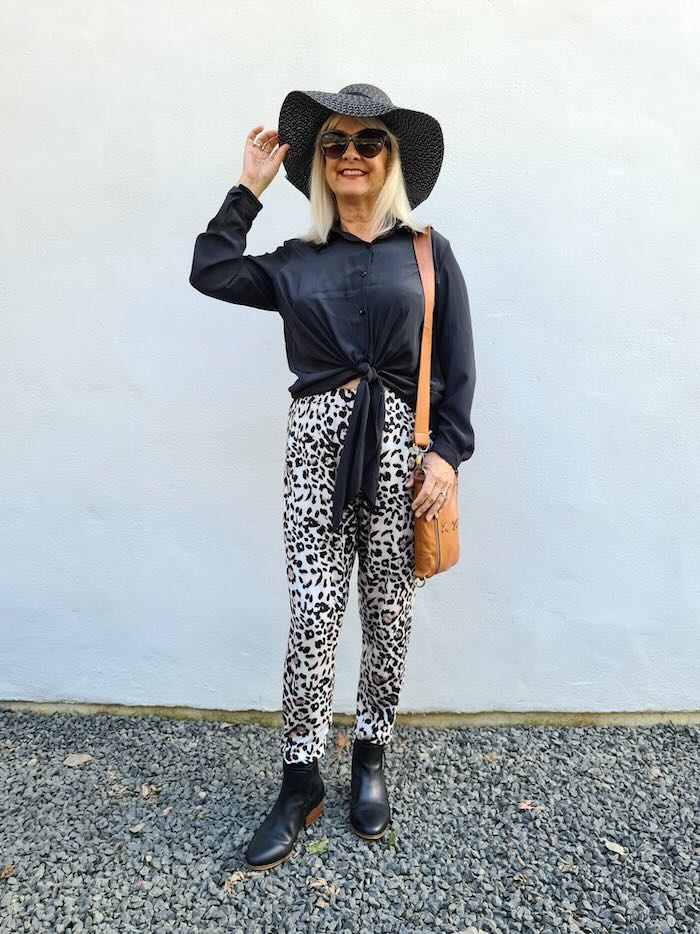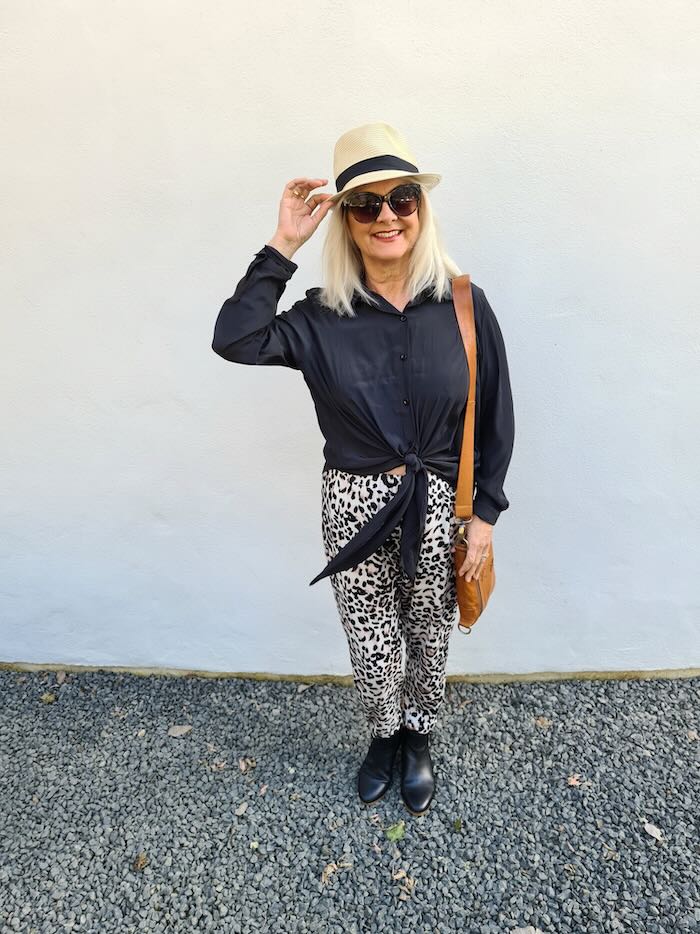 For a great look in daytime with these animal print pants I might choose different crop tops that finish on the waistline, and then add a big shirt as a jacket, to add extra flow and an warm layer on top.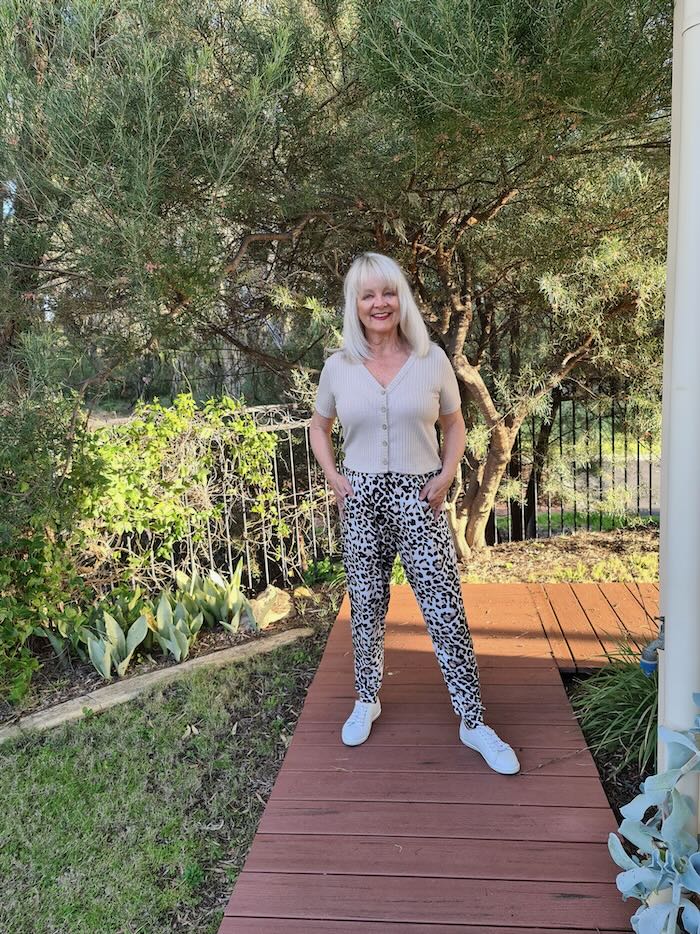 Here it is with the Cate technical shirt worn as an outer layer.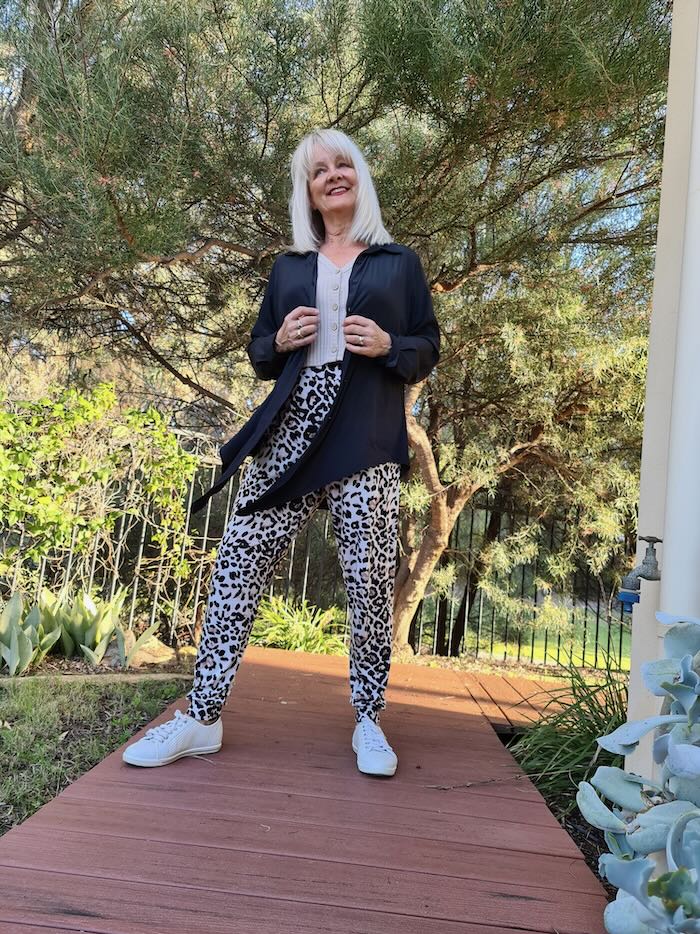 These pants could also be styled for daytime casual wear with a black t-shirt like the Louisa Crew Neck Tee from SYTL below, worn by Jan from Retiring Not Shy.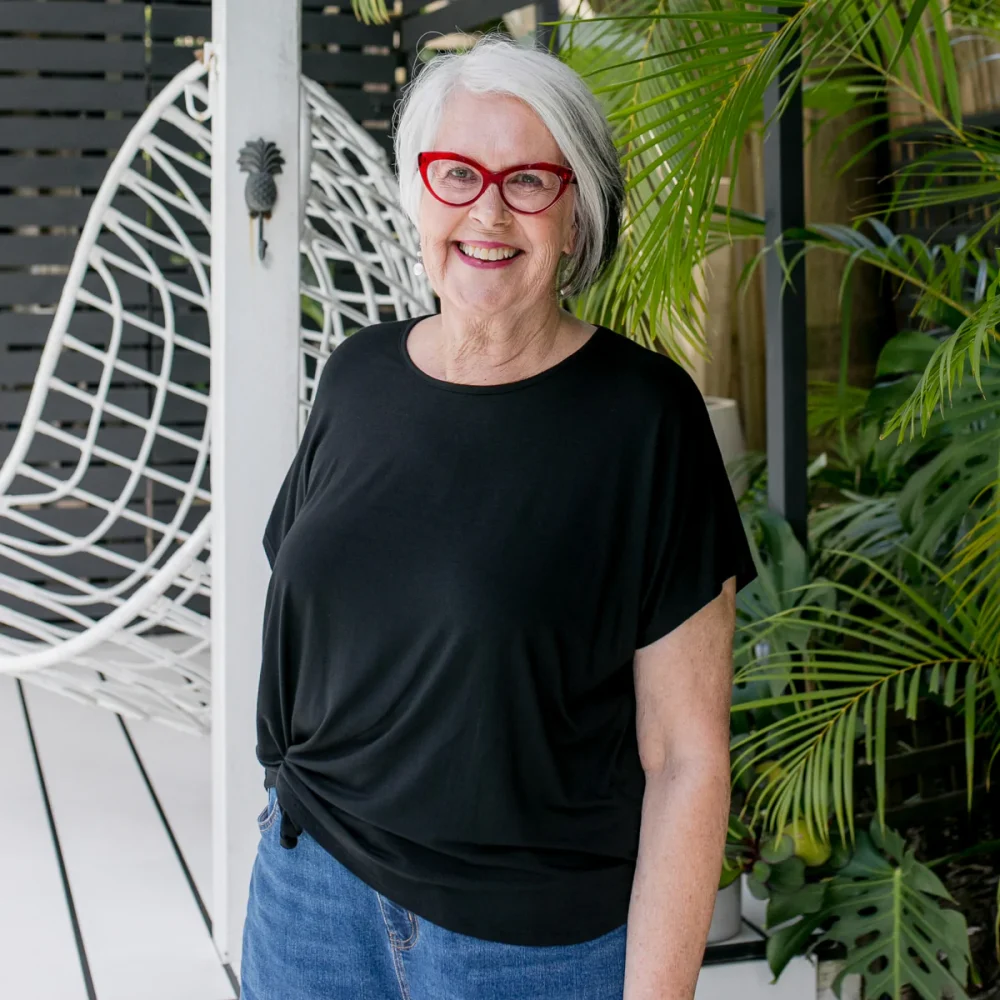 Casual Outfit Ideas for a Million Dollar Look
Now you've reached the age of no return don't be afraid to try different clothes!
A good idea is to think outside the box and discard any preconceived style ideas that you've had for a long time. Then have a good clean out of your wardrobe and discard old, dated, or tatty clothes, and why not make a bit of cash selling your old clothes?
Some of the most helpful style tips I've received from fashion bloggers is to experiment with different garments that are in fashion.
Clothes like wide-leg pants, which might perhaps make some of us cringe.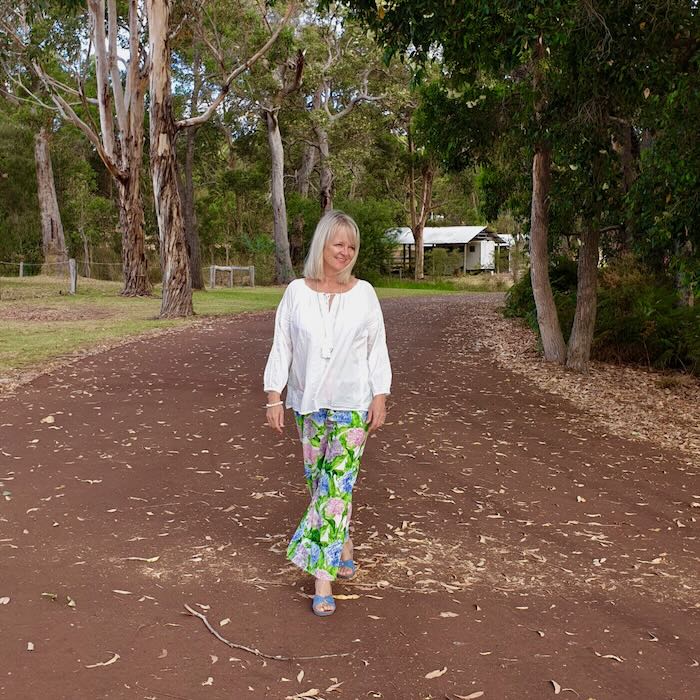 I think many of us steer away from this particular cut thinking that they make us look stout or shorter. But when you consider the overall look, an attractive blouse worn with wide-leg pants can make you look like a fashion icon!
It's a glamorous ensemble that is both comfortable and on point, and can be one of the most practical outfit choices for mature women because it's not going to hug your bum, tum and upper thighs.
Wear cut off pants with stylish boots in winter, or fashionable sneakers in summer.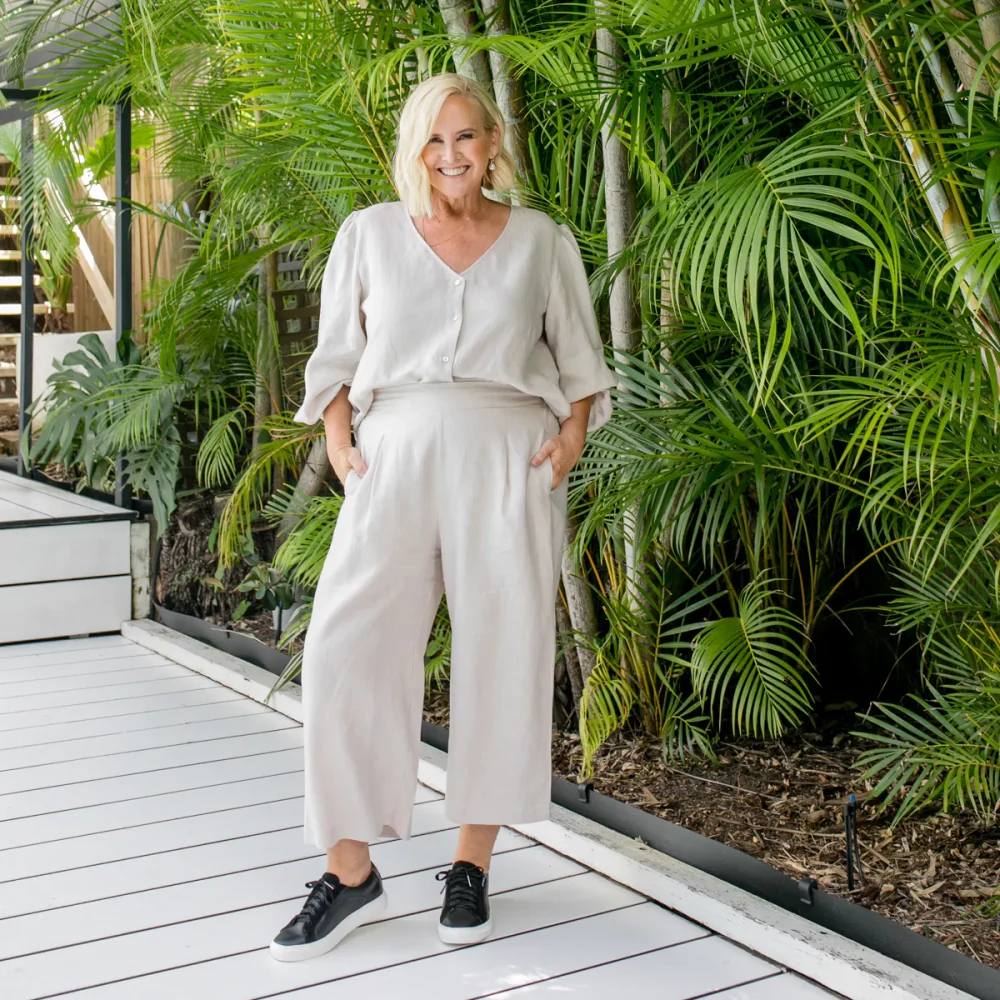 My idea of truly chic style often defers to something a French woman might wear.
And nearly all the stylish women I can think of own a blouse or a Tee in a navy blue and white stripe.
It's just such an easy to wear garment that goes so well with jeans or block colour pants, and it offers such a fresh, clean look.
Well cut striped tees worn with skinny jeans, straight-leg jeans, and even block colour jogger pants can make you look effortlessly smart – but casual at the same time.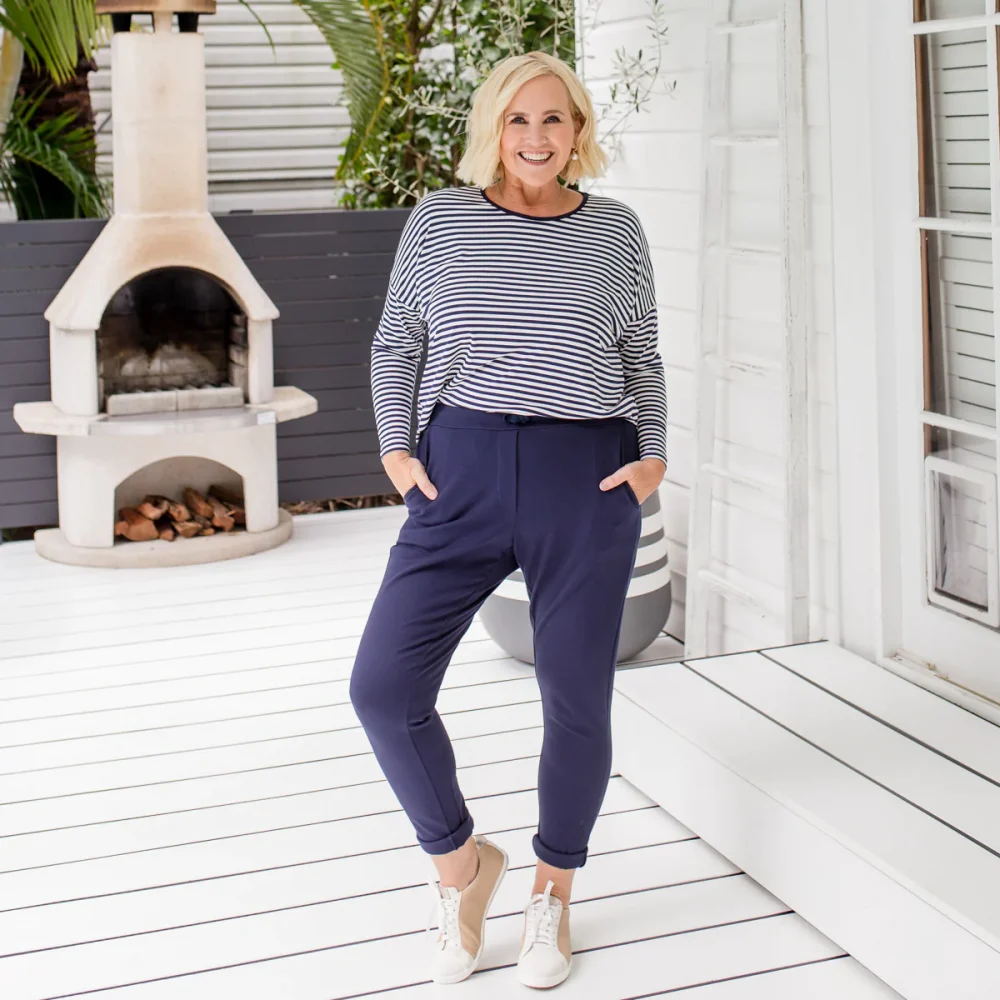 I love white pants. One of the best things about white pants is that they are versatile, and are always a stylish addition to your wardrobe.
Wear them with a pretty blouse and comfy pair of shoes for a casual look that can show off your best features.
My added bonus tip about white pants is to always have two pairs in your wardrobe as you are likely to be washing them more frequently than nearly any other colour.
Easy to Wear Clothes for Women Over 50
I've been following style icon Nikki Parkinson and her blog Styling You for years.
A few years ago she began designing clothes and selling them under Styling You The Label.
Nikki not only has great style, but she also designs clothes in a wide range of sizes from size 6 to 20.
Sensational Affordable Designer Clothes
If you're after sensational, mid-price designer clothes then check out Styling You The Label.
These clothes pay close attention to the needs of curvy women, and all garments are generously cut to accommodate womanly contours, and are suitable for women of all ages – not just those of us over 50!
Styling You The Label's mission is to help women feel less stressed about what to wear because they have a considered wardrobe of comfortable, quality pieces that make them smile every time they get dressed. Clothes are ethically made in Australia. You might also like to check out the SYTL Sisters Facebook Group.
Nikki's tips for dressing for your shape are:
1. Buy Clothes you Love.
2. Wear Them.
Casual Style Ideas for a Big Shirt
There are several ingenious ways to wear, and knot, one of my favourite and very adaptable SYTL shirts.
Cate, comes in black and white and is made from a super no-iron technical fabric that drapes and falls beautifully.
Because it is so adaptable you can wear it several ways: Tucked, draped, knotted or loose … see below.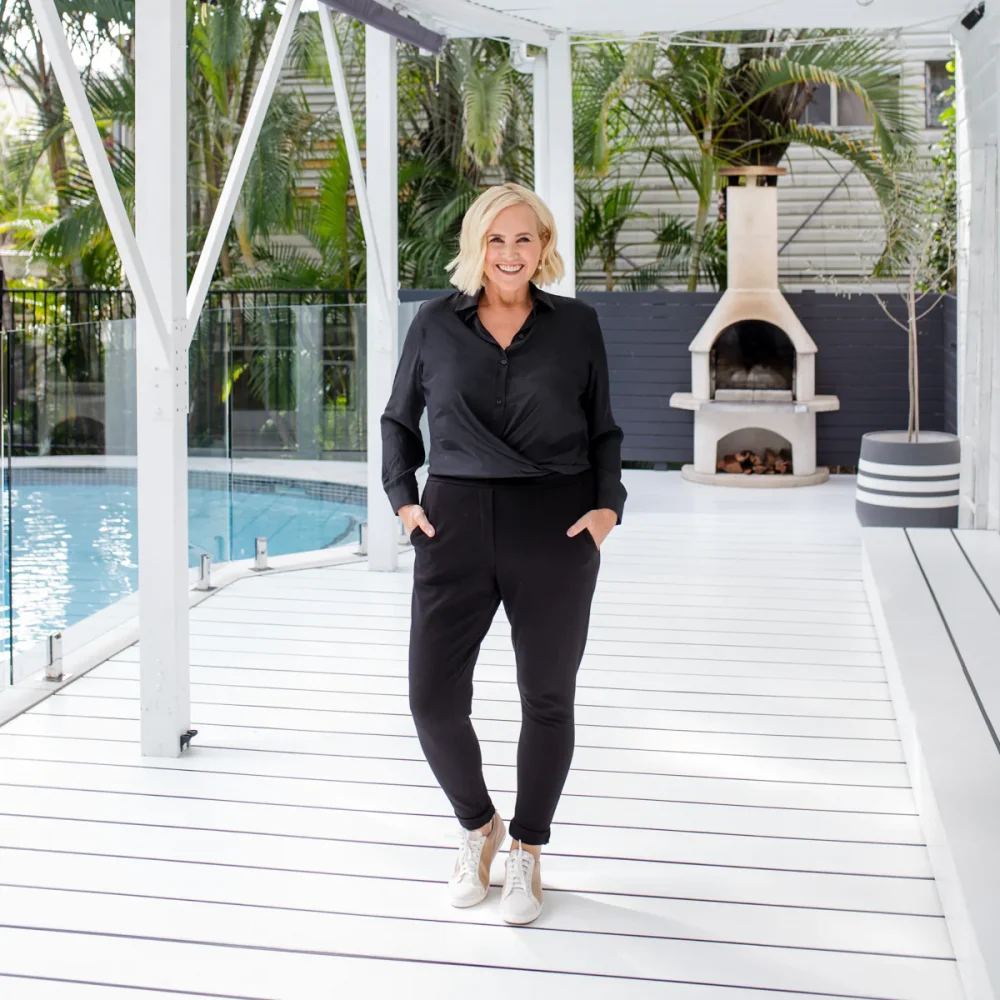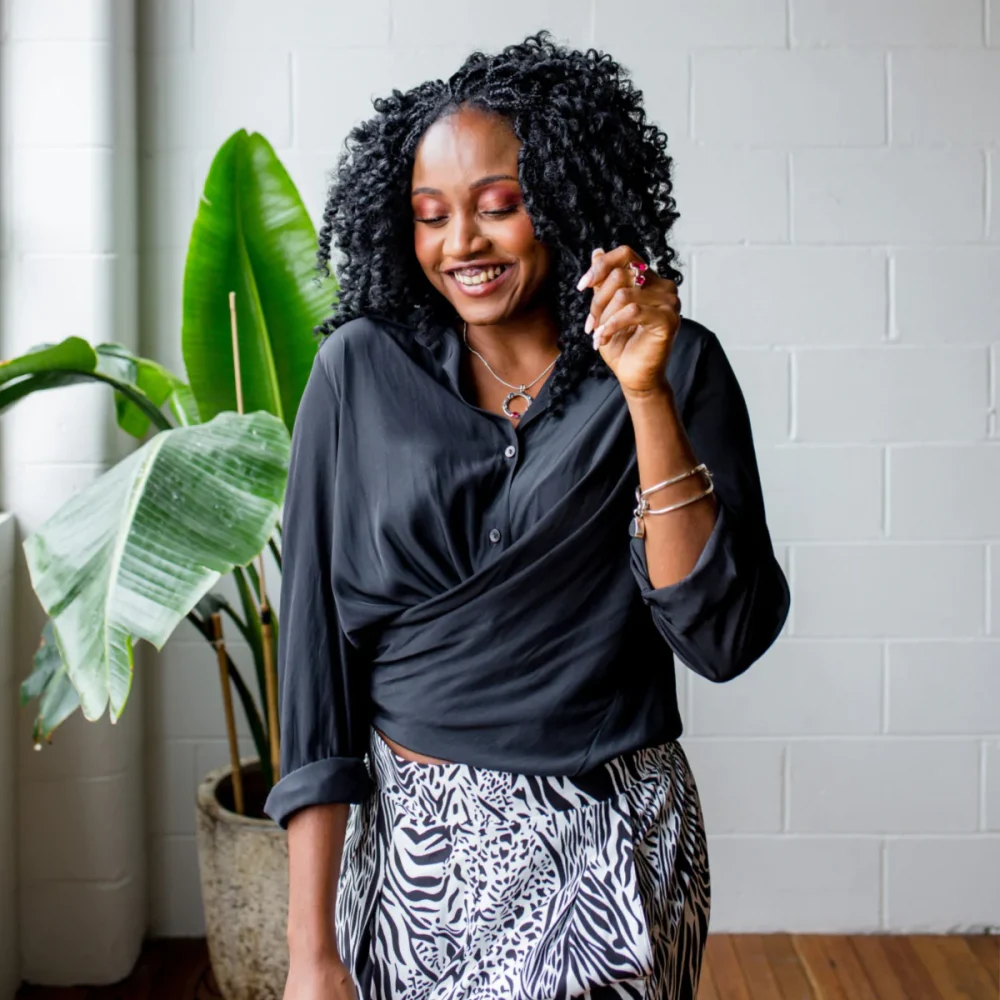 Pin This Post!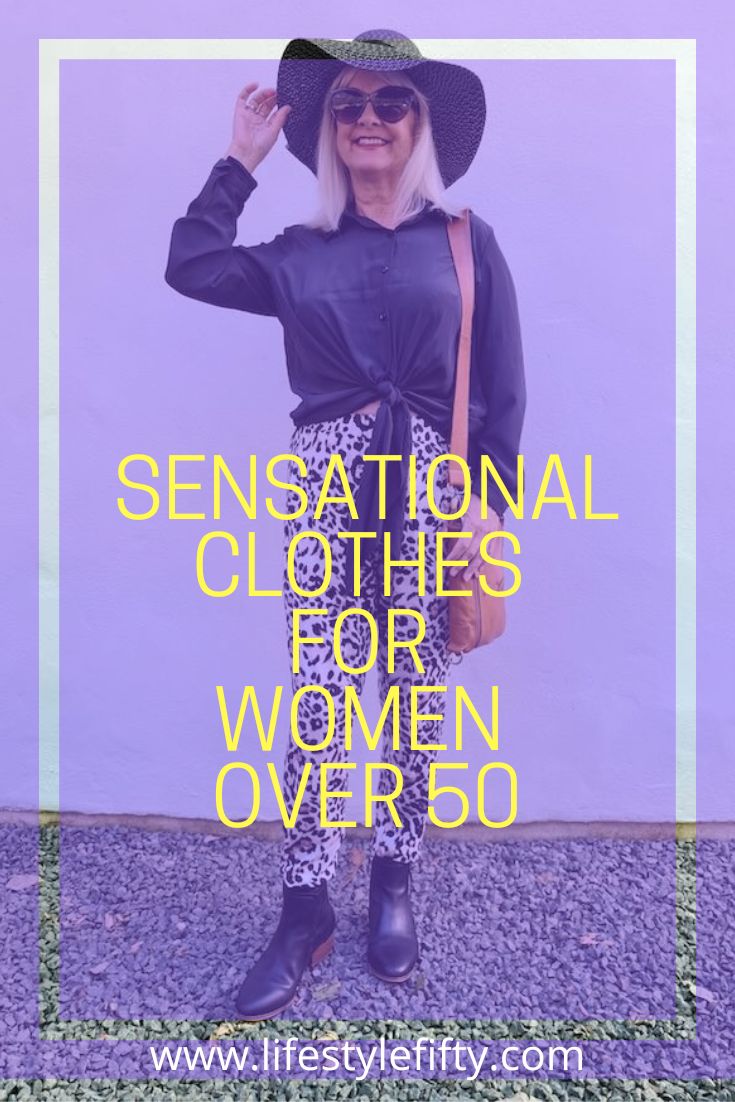 Related Posts you Might Like
How to Style Boho Chic summer outfits
Best Boho Dresses and Affordable Boho Clothes
Disclaimer:This post "Sensational Clothes for Women Over 50 Years Old" contains affiliate links from which I stand to earn a small commission but at no expense to you. Any gifted items are marked with an *. Lifestyle Fifty Website is a participant in the Amazon Services LLC Associates Program, an affiliate advertising program designed to provide a means for sites to earn advertising fees by advertising and linking to Amazon.com. Please read my full disclosure here. Styling You kindly allowed me to use images from their website to help illustrate this post.