I love long skirts, maxi skirts, and midi skirts. But sometimes, at a certain age, you can pop on a long skirt and feel rather frumpy. In this post we'll look at simple style tips and show you how to wear long skirts without looking frumpy!
Long Skirt Outfits
The trick to wearing a long skirt without looking old fashioned is to pay attention to what's in fashion, but not be a slave to it. And certainly don't follow what the 20 somethings are wearing. Take your cues from over 50 fashion posts and magazines and adapt them to suit your body shape.
The good news though is that there are so many ways to look effortlessly youthful in long skirts without showing lots of skin, without wearing pelmet mini skirts, and without wearing dated long skirts that make you look or feel like an aged aunt from the English shires.
Long skirts are so versatile, and easy to wear, and you definitely should keep on wearing them with aplomb, and without looking frumpy, after the age of 50.
But if you're looking for some long skirt outfit ideas that you can pull together to look super trendy, and feel super confident wearing, then here are some suggestions.
The long skirt with T-shirt look
A simple white tank top, or a plain sleeveless top looks great with a long skirt on warm summer days if you're happy showing off your arms and shoulders – the reason this look works so well is that your whole silhouette is elongated from top to bottom.
I love wearing the slim-fit geometric print, long skirt (pictured below) with a longer length white tee that slightly skims my hips and belly. It's fitted without being tight, and not too baggy to look frumpy. Teamed with a pair of modern sneakers, a designer leather bag, silver chain and a pop of colour with a striped hat and I'm ready to go!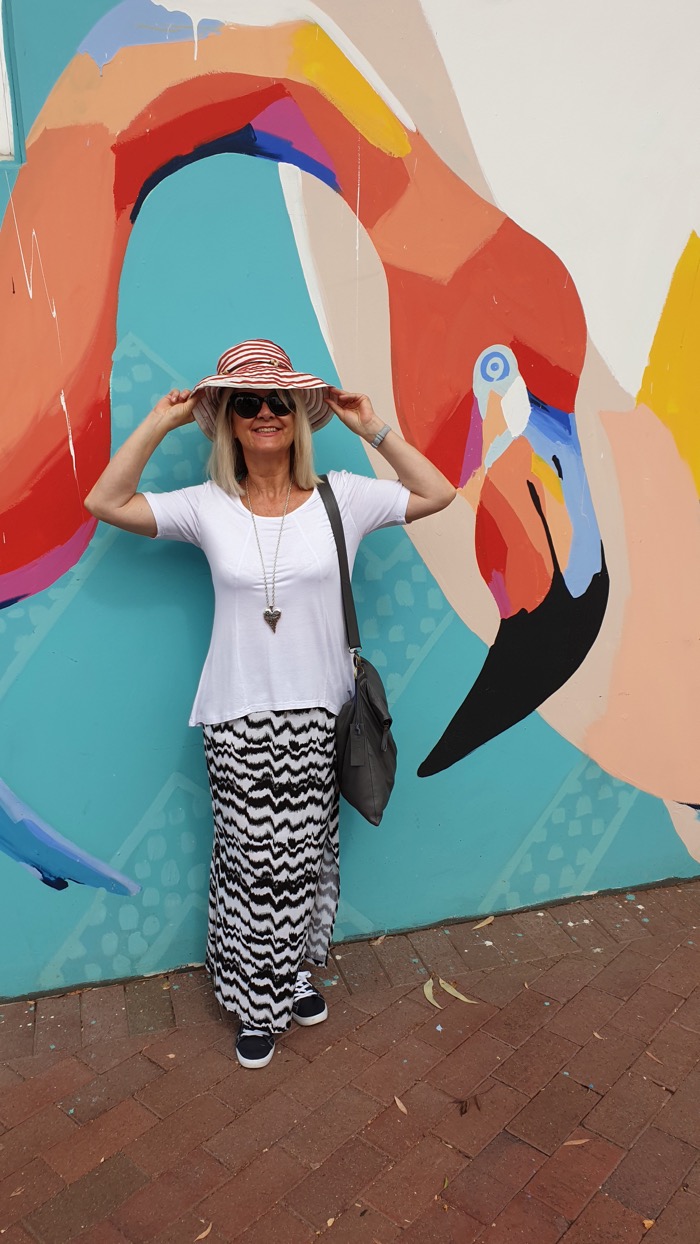 A word of warning when it comes to cropped tops and belly buttons – Don't show too much skin if you want to look elegantly chic wearing a maxi skirt. Although we've come a long way in fashion trends over the years, I still think that when it comes to what an older generation should or shouldn't wear,the bare skin belly look is best kept for the under 40s who are maybe looking for super cute ways to ensure a look-at-me personal style.
Long skirt with denim jacket look
Wearing a long skirt with a denim jacket will always make your outfit look on trend. Of course you could substitute a classic leather jacket for the denim, and if you have a cute bomber leather jacket then this is also a great look.
For now though we'll stick to denim, because there are so many to choose from online and you'll find it easier to find something affordable that you like.
I would suggest always to choose a hip-hugging jacket if you're wearing a long skirt because it provides a great way to enhance your body shape and show off your waist instead of swamping the overall look.
Denim maxi skirts
Denim maxi skirts come in all shapes, sizes and different quality denims.
For a longer skirt you can either choose a lighter weight denim which may be better for summer, or a heavier weight denim which would be better for winter. Heavier weight denim can be less flexible, so this is something to consider. Personally, I'm not too fond of maxi skirts that don't move with me.
Try to think of your denim skirt like a pair of jeans and style it accordingly. You could also choose a classic look of white T and a denim jacket.
What top to wear with a long floral skirt
The best kind of tops to wear (for casual occasions) with long floral skirts are block colours, preferably short white tops. You might also choose to wear a chic crop top in a colour that matches one of the shades in the print of the skirt.
There are some beautiful floral print maxis on the market, so choose something that makes you feel happy wearing it!
"A floral maxi skirt is a timeless garment that always looks chic. The style is especially ideal for achieving a gorgeous bohemian appearance.

To create this look, opt for a flowing maxi with a softly coloured floral print. Also, be mindful of how the flowers appear. Small and delicate florals are perfect for a boho look while big and bold blooms are better suited to more modern outfits.

Once you have your skirt, partner it with cute and comfortable items, such as a camisole top and flat sandals, and add accessories like beaded necklaces and bracelets."

The Trendspotter
What to wear with a pleated maxi skirt
Pleated maxi skirts were super fashionable in the late 1970's. I was a hotel receptionist at the time and my colleague rocked a royal blue pleated maxi skirt, which she wore with a crisp white long sleeve shirt.
The pleated look is super classy and would easily take you from office to sundowners.
Tops to Wear with Maxi Skirts – Tried and Trusted
So what kind of tops to wear with long skirts?
The best tops to wear with maxi skirts range from tight tank tops in a cotton or polyester blend, to short slightly more relaxed crop tops in cotton jersey fabrics, to flowy tops in beautiful floaty materials such as silk, chiffon or georgette.
You could add visual interest to a plain long skirt by wearing it with a smart casual white shirt and adding statement jewellery in bright colors for added effect.
When it comes to colours, then white tops or ivory tops always look classy whatever you're wearing, especially if your maxi skirt has patterns or prints on a top base of black, navy, grey, white or ivory.
However, an all white outfit – such as white blouse with a long white maxi skirt is hard to carry off especially for everyday wear, and this is a look which should probably be kept for red carpets and movie stars! I'm not saying don't wear it though – on a summer's day, why not wear all white, if you feel confident in it?
The right top to wear with a long skirt will suit your mood and the occasion. For instance for a boho style, a plain tank top in a block colour worn with a flowing Eastern-print maxi skirt will give you the edge on Bohemian.
Or a tummy forgiving, layered top in a pretty print worn with a floaty maxi in a georgette material can look pretty for a lunch date.
A fitted black T-shirt top above a tiered maxi skirt can make for a great look, and if you're wearing anything that has a full skirt then try to wear anything to voluminous on top.
How to Wear Maxi Skirts : Outfit Ideas
How to wear a long skirt on special occasions
For special occasions maxi skirts can look super glamorous, especially worn with designer-wear, long skirt tops. For a special occasion you could think about wearing a velvet maxi skirt with a soft silky blouse.
The golden rule for formal wear is not to go overboard with patterns all over. But having said that there are some gorgeous maxi skirts for special occasions and cocktail parties  that can be dressed up accordingly.
How to look trendy in a maxi skirt
If you're after a super trendy look then perhaps you'd should take a look at some sheer maxi skirts. Worn simply over beautifully tanned bare legs, with your feet in pretty strappy sandals of a different color. A silk or satin top in a complementary colour would give your overall look a touch of pazazz.
A long fitted skirt worn with a long coat and combat boots (or chunky boots like Doc Martins) will ensure unique style for the winter season!
Long trendy skirts in a modern breezy style can be worn with a graphic-t-shirt for a high fashion look.
A patterned skirt can be worn with a denim shirt for a country-style look.
Or opt for a frou frou appearance, and find a torn and frayed natural silk top to wear with a high waisted maxi skirt.
One of my go-to maxi skirts is the crossover maxi in the photo below. I like to wear it with a crop top, and a long matching jacket. I'll either add sneakers for summer or ankle boots in winter.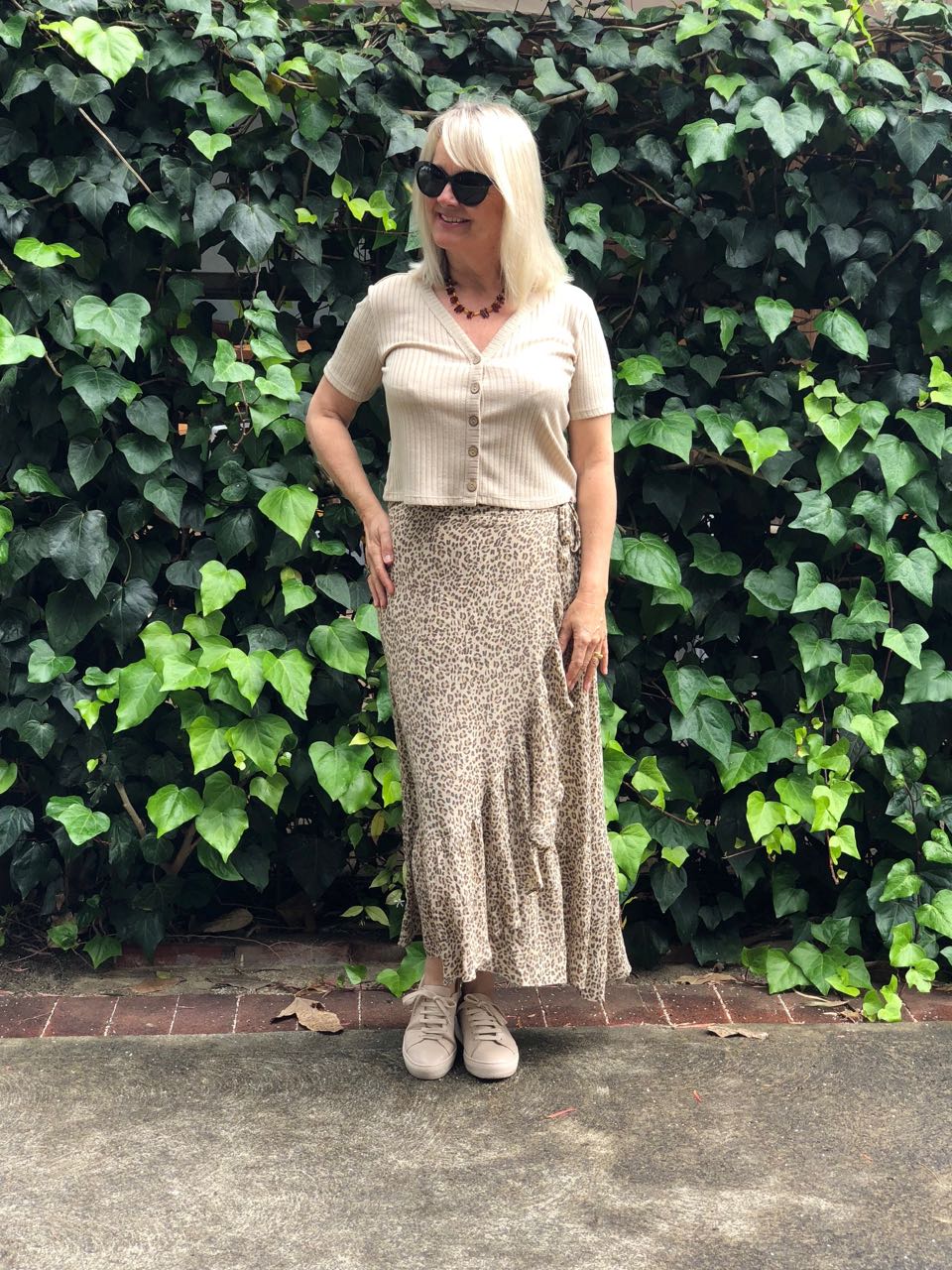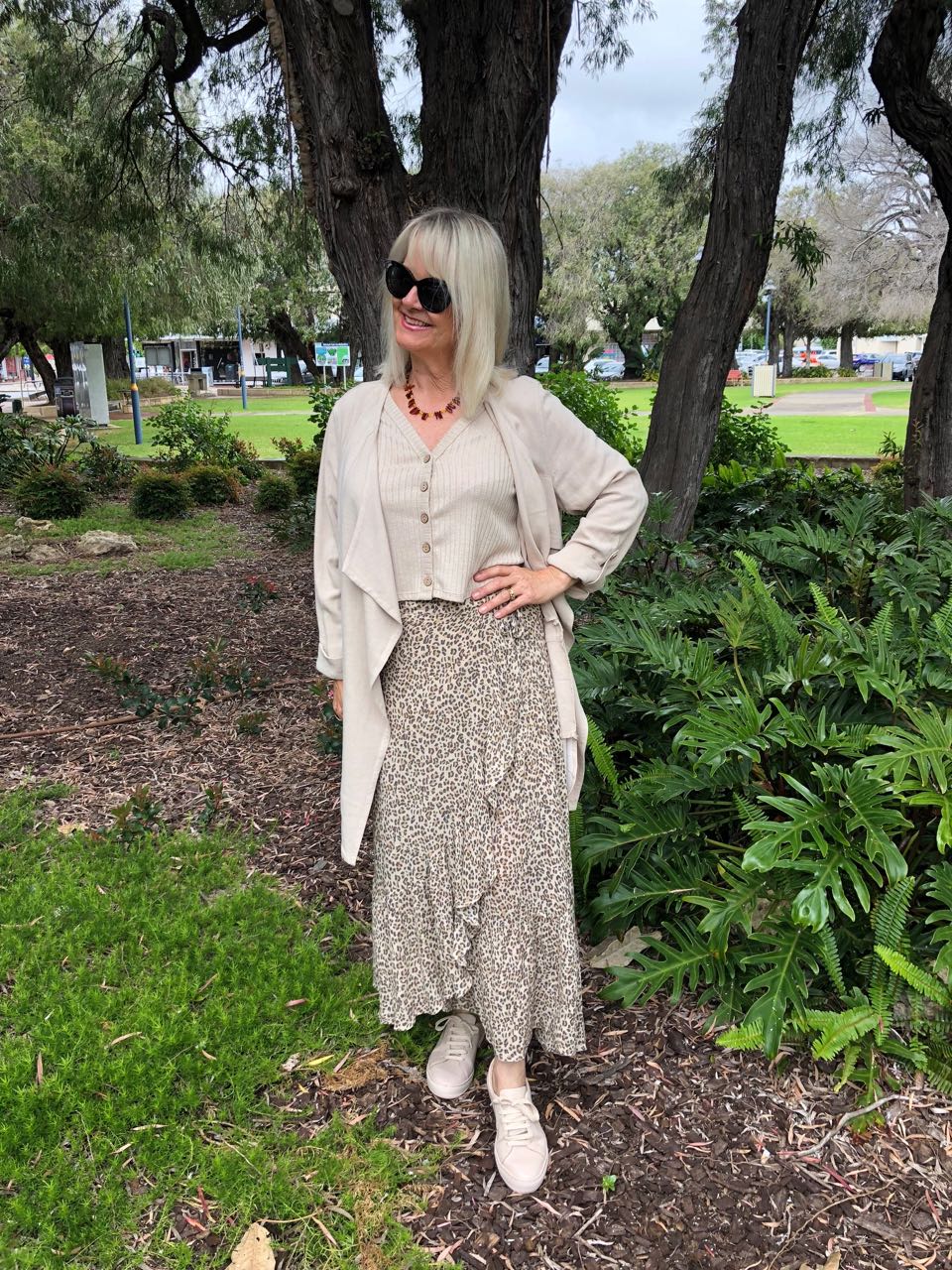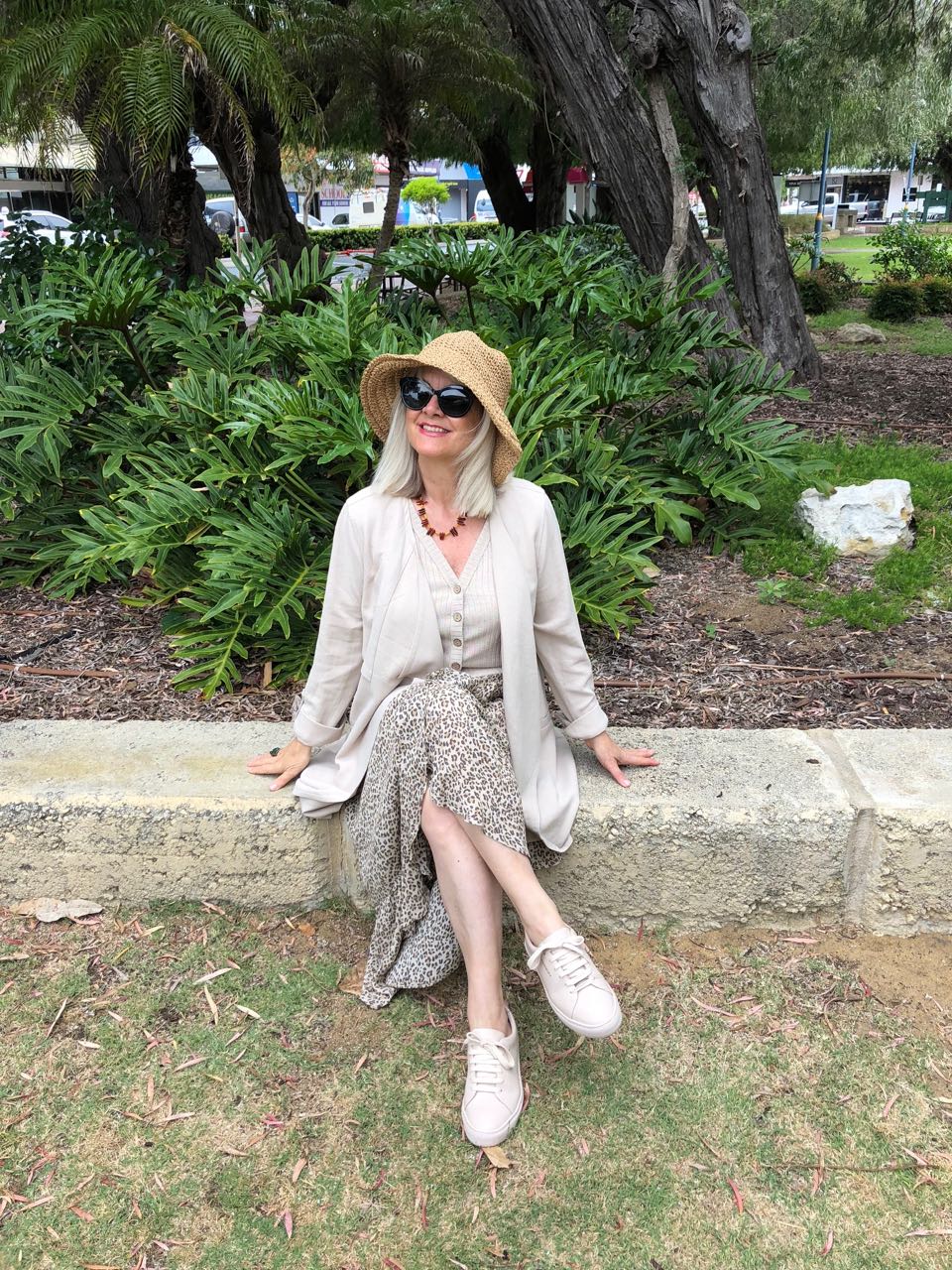 How to wear long flowy skirts
Flowy skirts are best worn with fitted tops because you always need to bear in mind balance – if the bottom half is long and flowy, the top half is generally better fitted.
However, this isn't a rule laid in stone!
Sometimes you might want to wear a flowing top with a maxi skirt and for a date night your best option then is to wear a gorgeous silky top that has good flow, and high heels on your feet to give you some height.
Maxi skirts and formal events
For more formal events the better option for an elegant look is to keep to a neutral colour palette.
A slim fitting long black skirt and a classic white collared blouse shout confidence. Top it with a calf length black jacket and you are dressed ready for any event.
You could pair a navy maxi skirt with a sleek, well cut, classic, but simple tee and top it all with a chic navy and white scarf, and look smart and chic.
How to wear long skirts in winter
Longer skirts look great with ankle boots, and ankle boots are great for winter days. You can choose boots with a chunky heel if you're going to be walking long distances, or a high slim heel if you're only going from car to restaurant and back!
A good quality black or camel overcoat is a useful staple to have in your winter wardrobe, and they will look great with your maxi skirts in winter. Otherwise choose long-length cardigans in complementing colours to pop over the top of your skirt and blouse on chilly days.
On cold days wear your long skirts with soft, luxurious, long length jumpers featuring a cowl or polo neck. A polo neck will have the effect of drawing out what could be a more chunky look and make you look instantly taller.
How to wear a maxi skirt in summer
The best maxi skirts for summer are made of lightweight material that falls beautifully and gives a little bit of swish when you move.
Maxi skirts are lovely because they can and often do create a nice swing to your gait so it's worth paying attention to the fabric you choose.
Lightweight summer maxi skirts go well with crop tops, and T shirts, although a chic button down shirt cinched with a wide belt at the waist can look fabulous too.
Long skirt outfits for summer can be beautifully casual and colourful; think ice cream colours, floral prints, bright summer accessories, and cotton crop tops to match.
For cooler summer evenings you can get creative with layers, and choose bright scarves to suit the season.
You could choose a skirt in a cotton mix fabric featuring a nice breezy slit at the side, like the one I'm wearing below.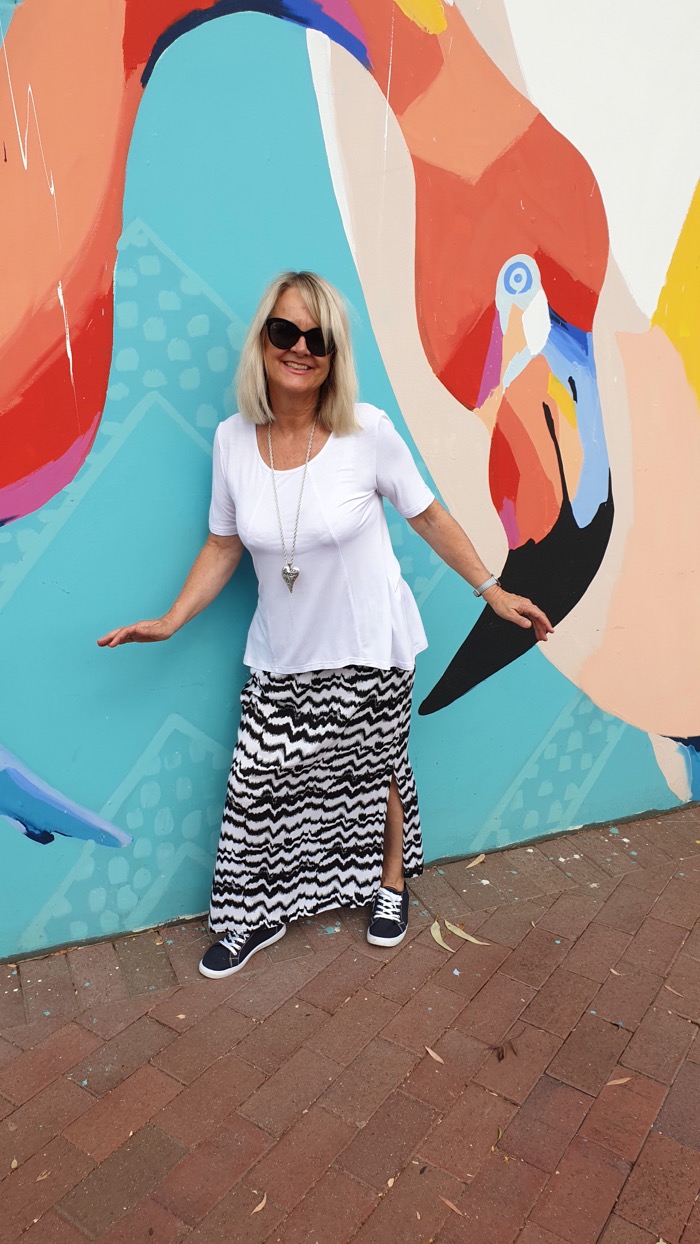 Long skirts for curvy bodies
If you have a curvy body type with wide hips (such as a pear shaped body) then long skirts with a vertical stripe will make you appear longer and leaner.
Try not to choose a skirt with an elasticated waist and loads of material to it, because this can have the effect of increasing your overall girth – but if you love the skirt and you've got a top to wear with it, then just wear it and love it!
How to wear long skirts casually
For a casual look you could team a plain, block-coloured, long maxi skirt with an expressive graphic tee shirt. The tee will add the show pony, 'wow' feature and the plain long skirt will just shout 'classy'.
You could match a casual, long denim skirt with an oversized sweater in bold colors for a youthful appearance.
The right way to style casual outfits is always not to look as if you're trying too hard. The best part about 'casual' is that it should look as if you've just thrown it all together and you're popping out to the shops!
We hope you've enjoyed this post about how to wear long skirts without looking frumpy, and that you'll be wearing them for many more years to come!
Please share any tips you have, and please feel free to share any photos of you wearing long skirts or ideas about how to wear long skirts without looking frumpy on Lifestyle Fifty's Facebook Page.
If you've enjoyed this post, you might also like:
Fashion Tips for Women Over 50 – Look Sensational!
Best Style Dresses to Hide Tummy
How to Style Boho Chic Summer Outfits
Sensational Casual Clothes for Women Over 50 (affordable designer clothes)
Best Dresses for women over 50 (styles, trends and where to buy)
How to Dress Younger and Shave Years off Your Age
How to Wear Ponte Pants and Look a Million Dollars
The Best Advice About Cruise Clothes
How to Wear a Leather Jacket with a Dress
What are Treggings and How to Wear Them
This post, How to Wear Long Skirts without looking frumpy," contains affiliate links from which I stand to earn a small commission but at no expense to you. Any gifted items are marked with an *. Lifestyle Fifty Website is a participant in the Amazon Services LLC Associates Program, an affiliate advertising program designed to provide a means for sites to earn advertising fees by advertising and linking to Amazon.com. Please read my full disclosure here.