For my complete cruise clothes packing list for a world cruise, scroll on down, or click here. Many of you have been asking me for general tips about cruise outfits, what to wear on a cruise and what to pack for shorter cruises, so this post gives some extra hints and suggestions about cruise clothes.
In answering your questions I'll include :
7 top tips about packing for a cruise.
Ideas for casual cruise outfits and cruise dresses.
What to wear on cruise excursions.
Top Tips for Cruise Clothes
Take lightweight clothes and layer.
Preferably non iron garments.
Mix 'n match everything.
Comfortable always.
Think 'Resort Wear'.
Cut-off or Capri pants are versatile and hard wearing.
Well cut black evening pants that go with lots of tops are a good bet.
What to Pack and What Not to Pack for a Cruise
These are my top tips for cruise packing.
So what clothes should you bring on a cruise?
If you don't have to fly to your departure port, you don't have to worry about the weight of your suitcases but although you can, at a push, fit four medium suitcases under the bed (if it's a double) in your stateroom, I wouldn't suggest this!
Particularly as you'll find that you'll probably wear less rather than more on a cruise, and garments that mix and match will see you through lots of different situations.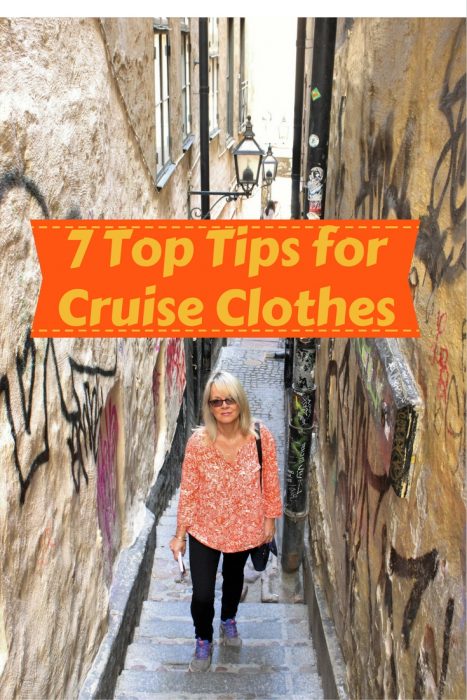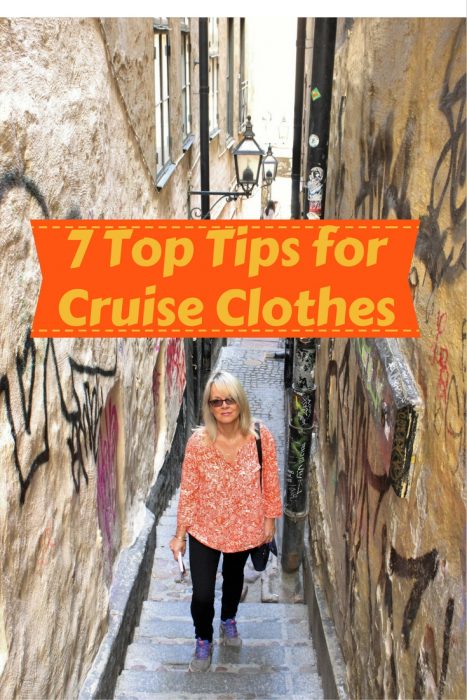 What should I Pack for a Cruise?
When it comes to purchasing cruise clothes onboard, there are likely to be boutiques which will tempt you to buy cruise clothes – both with designer gear (more expensive) and (reasonably priced) casual gear.
For instance, I bought a couple of stripey nautical tops and a sweatshirt for AUD$24.99 reduced from around AUD$60 which I thought was pretty good. You can also occasionally buy T-shirts, trousers, sun dresses, active wear and jewellery in ship sales as well.
Pack Lightweight No-Iron Clothes
Pack lightweight clothes that can be layered and don't require ironing. This will save you a ton of time so that you can indulge in drinking cocktails or watching the world go by – literally! You don't want to be in the laundry room queuing for an ironing board. No siree. So think crinkle cut fabrics that you can twist and knot after washing and then just hang out, or fabrics which naturally look pretty much wrinkle free after washing.
Take garments which mix 'n match.
Try to stick to a colour theme so that everything you have can be mixed and matched. Yes, add a couple of 'show pony' pieces in bright or contrasting colours, but keep your base palette pretty tight and create a working capsule wardrobe.
No you won't lose weight on a cruise!
Don't take anything that's too tight before you start a cruise in the hope that you might squeeze into it later. You probably won't.
Opt for comfort.
Resort Wear is the Name of the Game
Depending on the cruise your dress theme should probably be 'resort wear,' both casual and formal.
However, don't just take white cut-off pants for shore excursions – be a bit inventive – how about khaki, or navy, or patterned or floral? Something patterned can be teamed with different block coloured blouses.
Take one pair of beautifully cut black pants for evening wear that you can wear with different coloured tops.
Cruise Clothes Tips in General
I think that although there's a case for packing a couple of sundresses, a couple of cocktail dresses and a formal gown, separates should feature strongly in your cruise wardrobe.
Pack slacks that can be worn with different tops, for instance as in the photos below.
I'd also be thinking about packing a black pair of pants for more formal evenings, and a more funky pair for casual evenings, as well as cut-offs or capri pants for on shore excursions.
Take your best jeans – ones which look great and are comfortable.
Make sure they work well with comfortable flat shoes – like Sketchers which come in lots of colours and are comfy for walking because you won't always want to wear heels on the ship, and certainly not on shore excursions. I love Sketchers for their comfort.
Buy Sketchers
Check out Best Prices & Reviews Here
What do you wear on a Casual Cruise?
For a casual cruise think about what you'd wear to a resort. Cruise wear should consist of classy casuals that are comfortable and cool (for hot weather cruises), which can be layered for cold nights (and inside where there's air conditioning).
Below I'm wearing Joseph Ribkoff casuals. Love these ponte pant styled trousers. I love ponte pants and I've written a whole post explaining what they are and how to wear ponte pants, here.
The blouse above would be perfectly suitable with these quirky patterned slacks (or block black or white pants) for a meal in the formal dining room.
Tops that are lightweight and which don't cling to my tummy are top of the pops for me, as are tops that cover the top of my arms.
I'm wearing FRANKiE4 sandals which are great for walking around the decks, comfortable for walking up and down the stairs and very stylish too. FRANKiE4's are my go-to travel shoes.
FRANKiE4
Buy FRANKiE4 Sandals direct
Clothes for Cruise Shore Excursions
The white blouse below would be a great shore excursion garment – lightweight and comfortable in hot weather but offering good sun cover.
I love Joseph Ribkoff clothes. They are a great fit, hang beautifully, they're versatile, and mostly don't crease – ideal for travelling. Check out similar Joseph Ribkoff styles at great prices below.
Joseph Ribkoff
Check out gorgeous styles at great prices here
Cruise clothes for shore excursions should be practical, comfortable and look smart. You are an ambassador for the country you've come from, so don't look scruffy.
Choose clothes which flatter your body shape but don't cling in an unsightly way. Be aware of the country you're visiting and make sure that you are sensitive to the culture and any clothing rules. Wherever you alight on a cruise, I would opt for sensible, conservative clothes above high fashion. Save your cossie-culture cruise clothes for around the pool.
A comfortable deck and excursion shoe, which could also be worn in the gym or in exercise classes is the Futsoles range.
Onboard Boutiques
On Sea Princess there was a boutique showcasing Joseph Ribkoff cruise outfits, which are clothes that really go the extra mile.
The cuts are fabulous, the fabrics are lovely, and as one passenger told me:
"The black pants I bought a few years ago have gone on and on and on and on."
This fits well with my strategy of cruise wear for women consisting of really good staple wardrobe items which you can mix and match with less expensive show pony additions that you might want to change more frequently.
Tip : When it comes to staple items, make sure you take at least 3 bras with you. A dressy bra, a comfy day bra and a sporty exercise bra. Read our Ultimate Guide to Fitting and Buying the Best Bras for your life and body shape.
Formal Cruise Dresses
When it came to packing cruise dresses, I packed some frocks for daywear around the ship, and other more dressy options for evenings – both formal and casual (more to come in a future post).
Vivid and Yesadress from Vivid International have a good range not only of casual cruise clothes, but also cruise dresses like the lace dress below which features a beautiful chiffon coat too.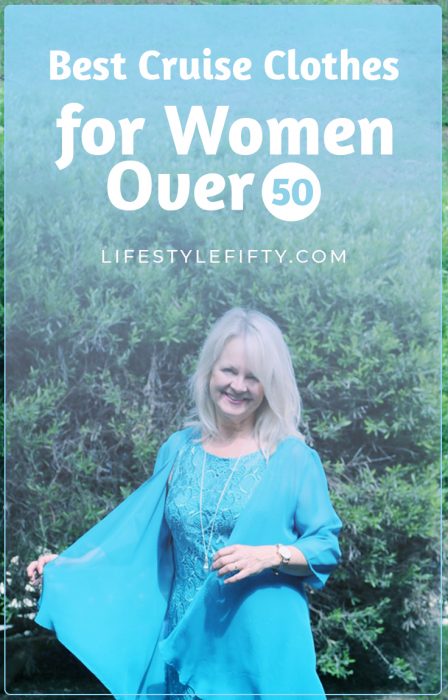 Cruise Daywear
Keep it cool, keep it non-iron! The relaxed fit A-line midi dress below is Cherry Blossom by Adrift Clothing. I love it's length, I love that it has sleeves to protect you from the sun, and I love that you can wear it with flat shoes.
It's all-time favourite shape is in a beautiful, intricate Amalfi print. The fabric is a gorgeous silky material, making it comfortable and wearable yet effortlessly stylish.
For casual daywear the Bamboo Swing Dress by Vivid International below, is super cool, non-iron, and easy to team with flat shoes for an excursion, or wearing on deck. I love the A shape and the way it moves.
Moving away from dresses, here are some of my fave separates fit for a cruise to any destination.
The pretty wave inspired print top below is the Bonny Bamboo Swing Top from Vivid International, which I've teamed with white bengaline 7/8 ponte pants style capri bottoms, and black sneakers with white laces.
In the following photos the separates are from Vivid International and Adrift Clothing.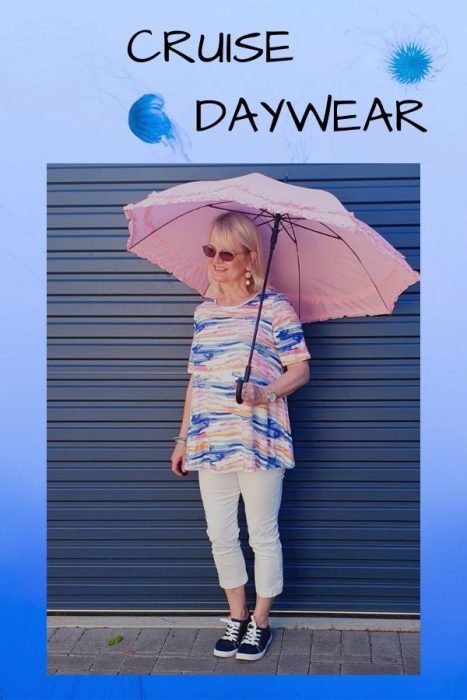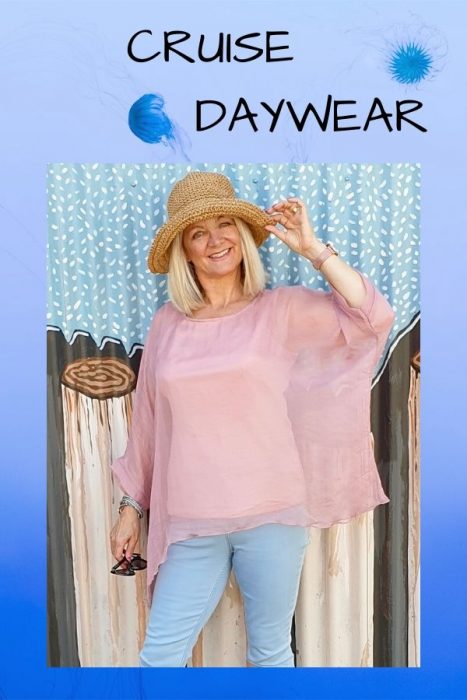 Cruise wear dresses for Captain's Cocktails
I loved the ladies cruisewear Joseph Ribkoff dress below which fits snugly, gives me curves where I really want curves, and at a pinch went okay with my flat FRANKiE4 sandals. Although I probably would have teamed this dress with black shoes with a bit of a heel or wedges, if I'd had them with me on the ship (I didn't have any with me – big mistake!)
This kind of dress is great for ship events like captain's cocktail parties and more formal dining, not only because it's comfortable and moves with you, but also because the fabric is stretchy but firm and helps hold you in a bit. I think it's really flattering. I love the slimming side panels too.
Cruise Packing Check List
Want the full checklist for clothes to pack for a cruise?
Read my world cruise packing list here – it can be adapted for any length of cruise.
For more cruise tips and stories about what to wear on a cruise you might like:-

Fashion at Sea – Fashion onboard Sea Princess

Cruise Tips – This is the page where you'll find many more posts about cruises and cruising.
If you'd like more fashion tips and style advice check out my post, "The Ultimate Guide to Fifty Plus Women's Fashion."
Disclaimer: This post contains gifted products, and affiliate links from which I stand to earn a small commission if you buy from them – but at no expense to you. Lifestyle Fifty Website is a participant in the Amazon Services LLC Associates Program, an affiliate advertising program designed to provide a means for sites to earn advertising fees by advertising and linking to Amazon.com.