So you're going to Alaska on a cruise! How exciting! This post will provide tips and insights about what to wear, and also specifically include a packing list for an Alaska cruise in May.
When deciding what to pack for an Alaska cruise in May I was aware that my comfort and enjoyment would be closely aligned to making sure I'd packed the right clothes.
If I'm too cold I'm bad tempered, it I'm too hot I'm even more bad tempered! If my clothes are too tight or don't look right, then I'm niggly! You get the drift?
Dressing right for the occasion is important for me as I get older, so I spent a long time wardrobe planning and deciding what to wear for this cruise, and I really hope that the results about what to pack are helpful for you too.
Introduction: What to Pack : Alaska Cruise in May
I was fortunate to be hosted by Princess Cruises on the Discovery Princess in May this year (2023) on an amazing 7 day cruise to Alaska from Seattle.
At this time of the year you might expect warmer weather (as I did) because essentially it's springtime, however, the weather can change really quickly so layering is essential.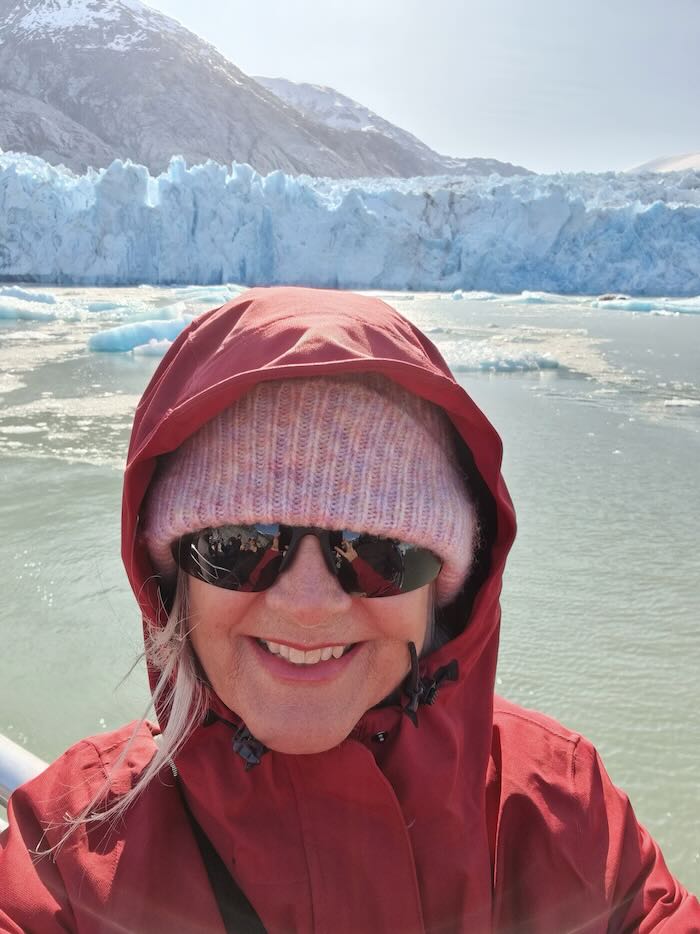 One minute you can be basking in sunshine, and next the grey and cold can come sweeping in from the winter wonderland around you.
So be warned, the weather in Alaska can be unpredictable, ranging from warm days to cold and rainy weather, and you need to be prepared for a variety of weather conditions whatever time of year you sail.
Fashion Meets Adventure on Your Alaska Cruise
I knew that I'd need fashionable resort wear for around the ship, and suitable all round weather gear for adventurous shore excursions, as well as cocktail gear for glitzy formal nights.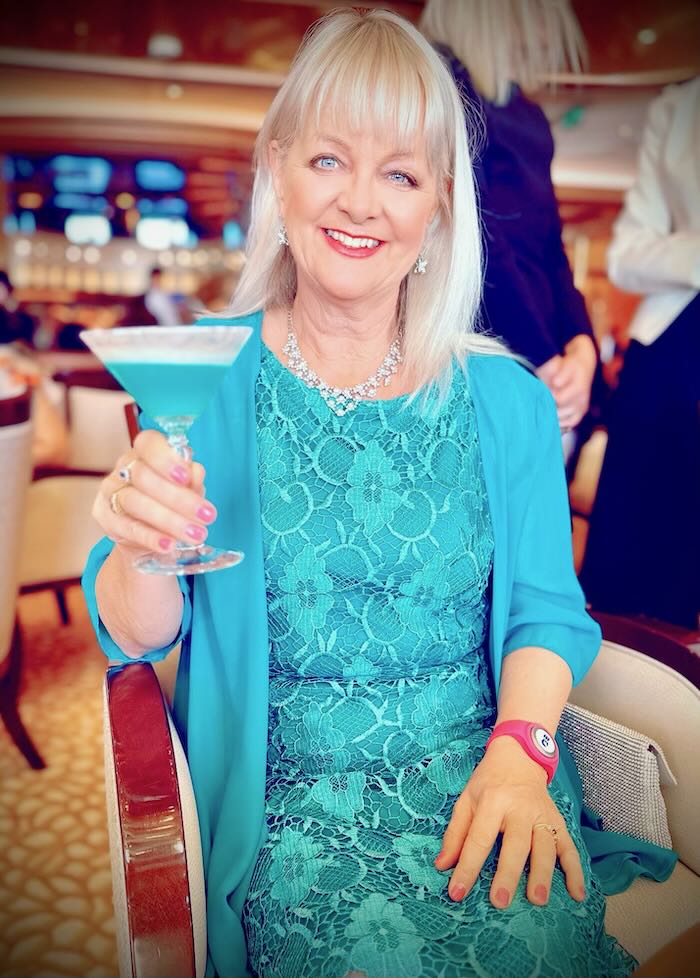 From a bathing suit (for the hot tub) to a thermal base layer (for cold days on deck ) to a water-resistant jacket (for shore excursions) and water resistant walking shoes, you'll find that your suitcase space will be used up pretty quickly!
If you need to fly to the cruise departure point then airplane baggage restrictions may also hamper your packing decisions when it comes to how much you can take with you.
Ultimately, this means that you probably won't have much room for any excess, especially excess weight, in your suitcase.
The Alaskan cruise season generally runs from May to September, coinciding with the warmer months in North America. During this time, you can expect the best weather and longer daylight hours.
However, keep in mind that Alaska is known as the last frontier, and this should warn you that nothing can predict the weather you'll encounter.
Even during the warmer months, it's important to pack for potential cold and wet weather.
When it comes to shoes, then pack practical rather than pretty!
Sure you'll need a nice pair of dress shoes for formal nights and for nights when you dine at a specialty restaurant, but the remainder of the time you'll need to be comfortable, so have a good think about what are your best travel shoes.
On shore excursions make sure you have well worn in walking shoes or hiking boots. I took my Merrell walking boots and Asics trainers.
On the ship you need comfy deck shoes that won't slip. I took stylish but comfy, FRANKIE4 sneakers.
For night time around the ship a pair of smart leather ankle boots like these below, from FRANKIE4 with a small heel, are perfect.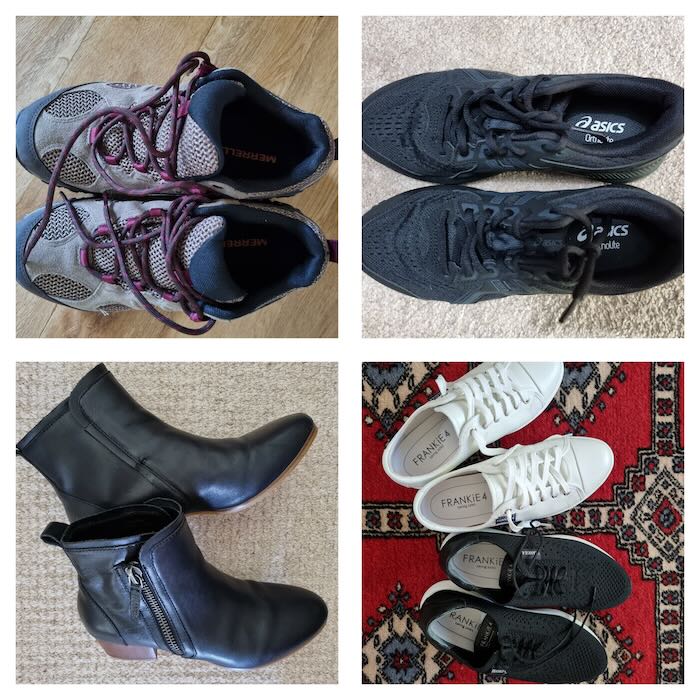 Packing List for Alaska Cruise in May Explained
Overall, I hope this post will help you pack wisely, and make sure that you pack the most important things for any cruise in Alaska from April to September with Princess Cruises.
But specificlly I'll include the essential items to pack for an Alaska cruise in May including daytime clothing, formal clothing, and accessories.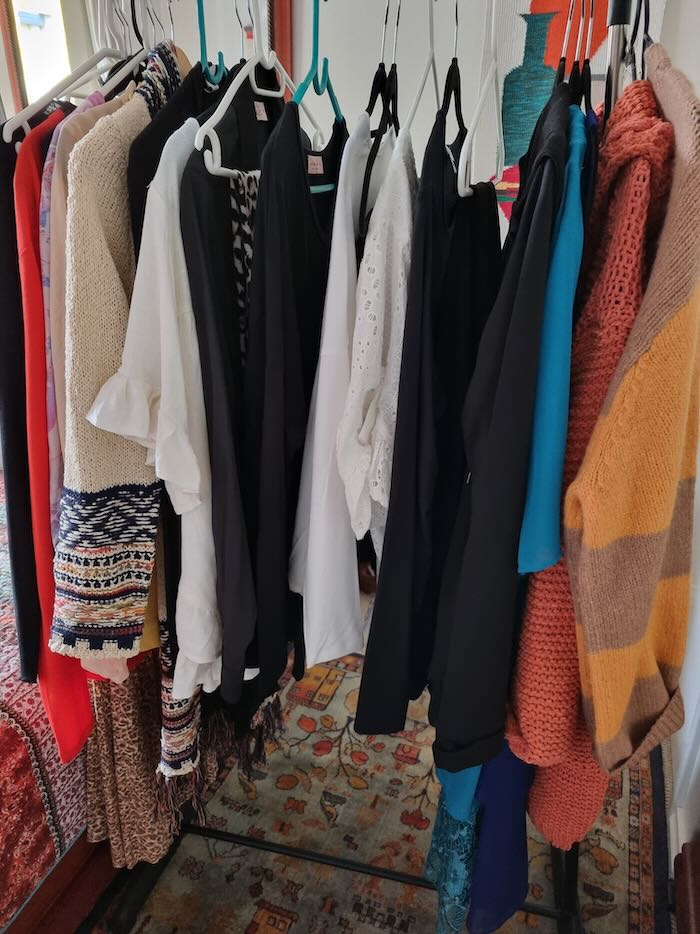 Embarkation Day Clothing
We stayed a couple of nights in Seattle, USA prior to the cruise, so that we could acclimatise after the long flights, and the time difference in Western Australia.
By the time we actually left home I'd realised I needed a larger suitcase that could carry a little more in it, so you'll notice that the image below on embarkation day, shows a different suitcase to the one I had pre-packed on the day we actually left home! Yes my last minute re-pack was a bit of a rush, but I got there!
However, even with the bigger suitcase, I was still well under the 23kgs flight allowance, and I think I came in at around 20kgs. Having said that, I had some bulky gear in my case!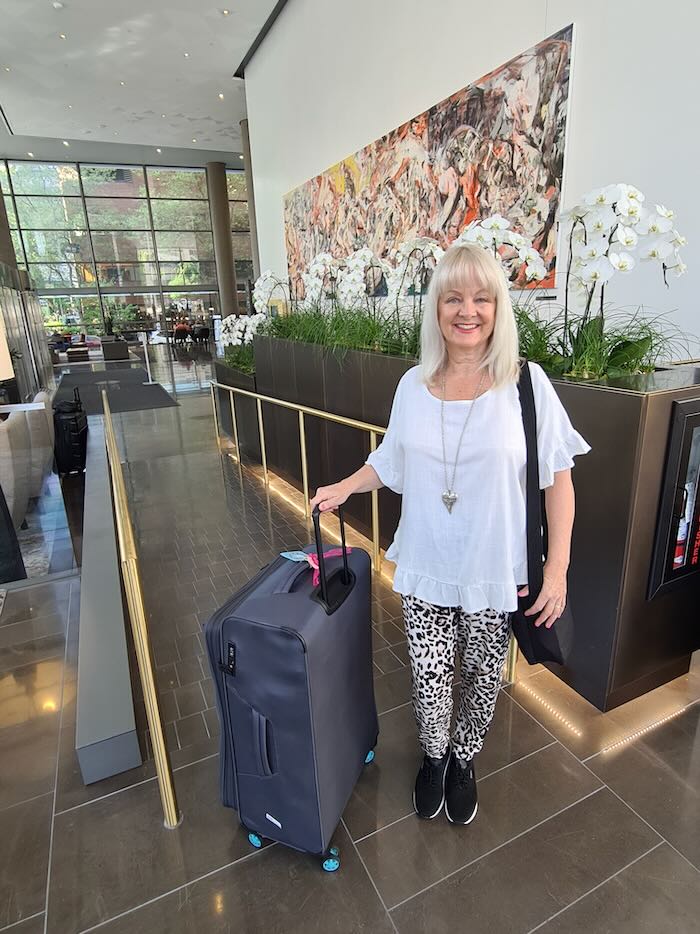 Videos : My Resort Wear for Around The Ship
The clothes you'll wear around the ship should essentially be smart casual.
Princess Cruises specify 'resort wear' which is really just another way of saying clothes you might wear to a holiday resort, neither too flashy nor too basic.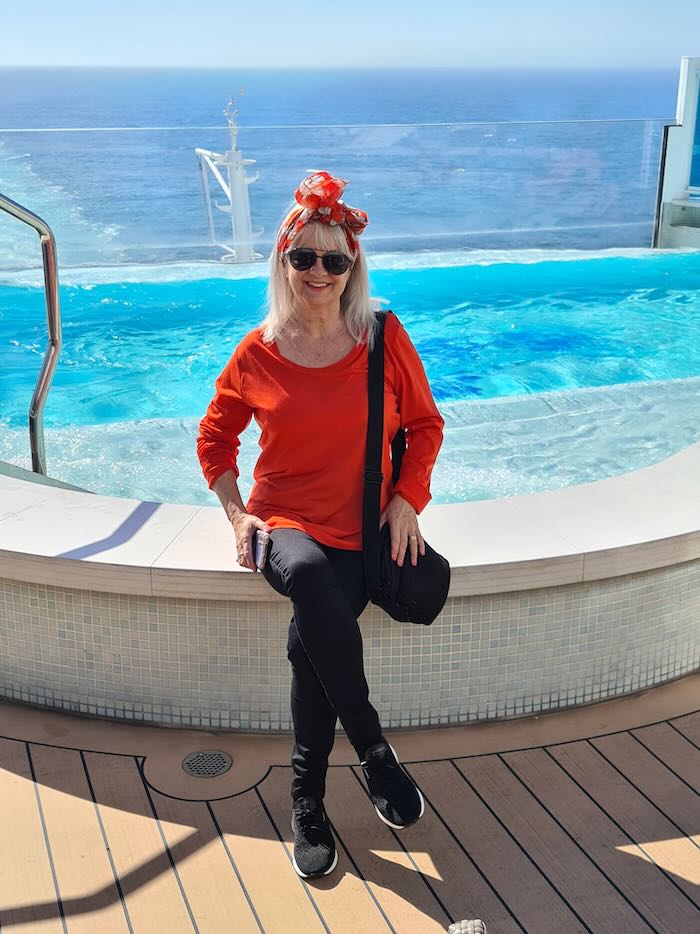 The air temperature inside the ship is generally at an ambient termperature, but sometimes you'll need a cardigan or shawl in the air conditioning especially during the evenings.
I focused on ponte pants, smart jeans, base layers such as long sleeved Tees, and smart pants and blouses for evening wear.
For formal nights and formal diining I chose to take two cocktails dresses.
And for another dining/evening option I packed a pair of floaty wide legged pants that could be worn with a couple of different blouses.
My miscellaneous clothing consisted of sweaters, fleecy jumper, hats (beannie and a warm black hat with a brim) activewear, toiletries, underwear, poncho, reading glasses and sunglasses, swimsuit, day back pack for excursions and a cross body handbag for excursions (lightweight, big enough to carry my phone, glasses, tissues, credit card/money and small sunscreen).
Important Item Check List General
Dress to Chill: Packing list for your Alaska Cruise.
When it comes to clothing, layering is key for an Alaska cruise in May, and any cruise around Alaska during the months May to September.
Do pack a variety of casual wear clothing options from Tee shirts to thermals to waterproofs to accommodate different weather conditions.
Base layers such as long-sleeved shirts and long underwear are great for providing warmth on colder days.
Pack some pretty evening blouses or button down shirts, and a black evening shawl.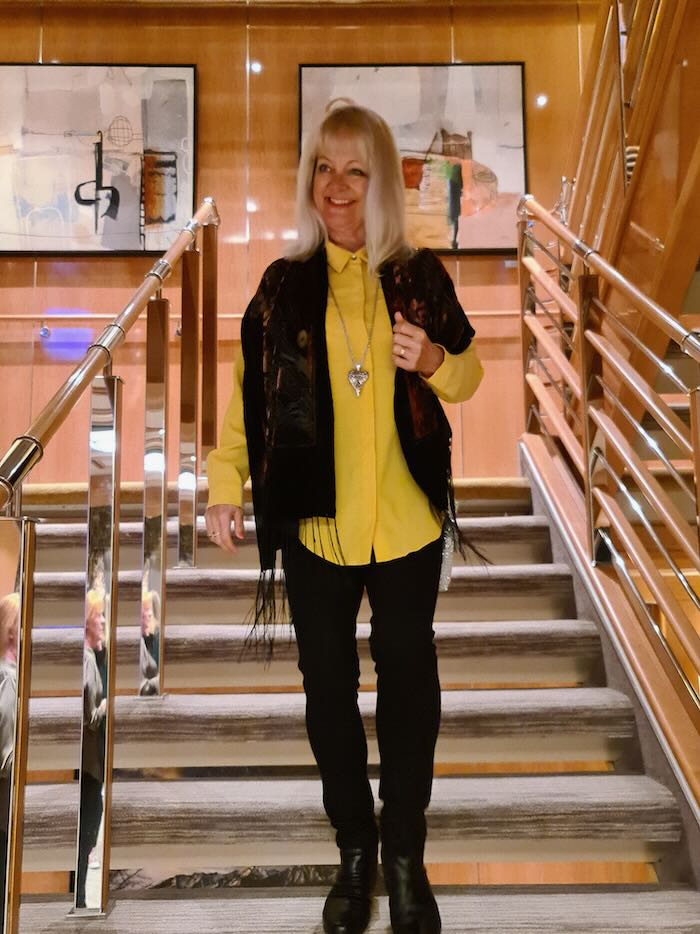 Bring a few pairs of your most comfortable and best jeans or ponte pants for daytime, and a couple of pairs of dress pants for casual nights and formal wear.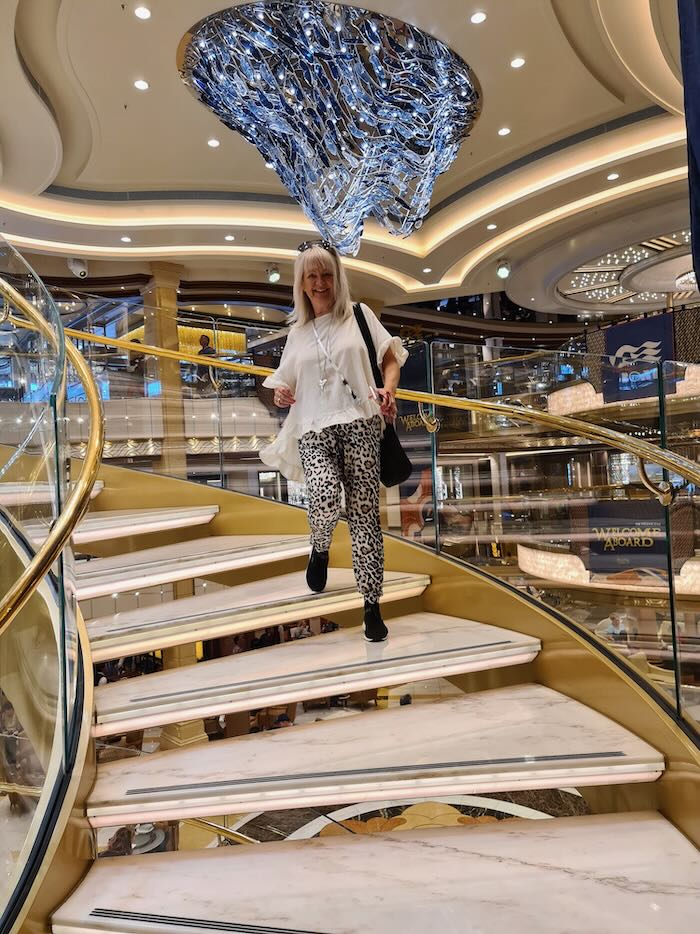 For warmer days, you'll need T-shirts, lightweight tops, and a casual dress.
Don't forget a swimsuit for enjoying the hot tub or indoor pool on the cruise ship.
Activewear is always a good option – Zumba, Pilates or Yoga, or a gym workout perhaps?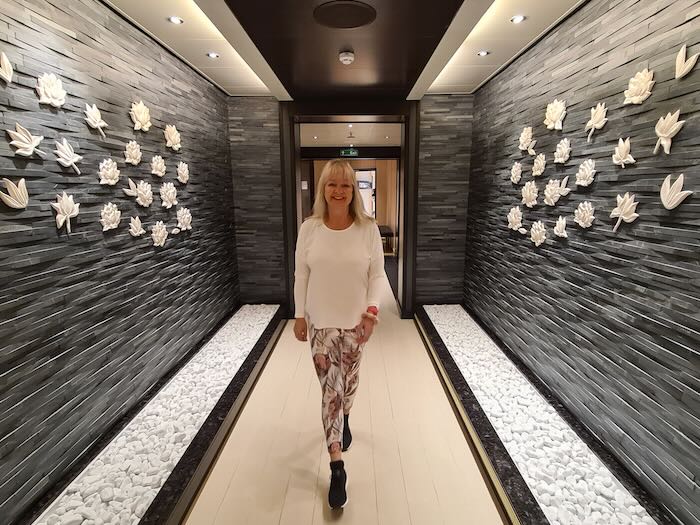 A fleece jacket or woollen sweater is also a good choice for added warmth.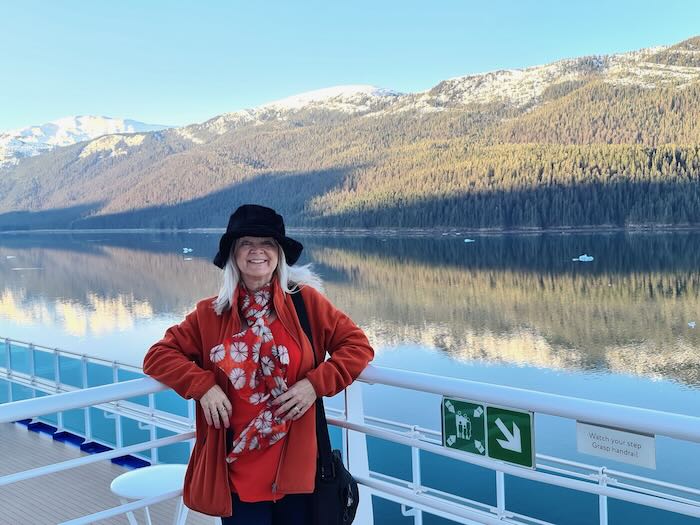 Scroll on down for the packing list.
Outerwear
Alaska's weather can be chilly, especially in the evenings or during outdoor activities.
It's crucial to bring a waterproof rain jacket as your outer layer to protect against rain and strong winds. A waterproof layer is essential to keep you dry in case of heavy rain, and remember it can rain heavily and often.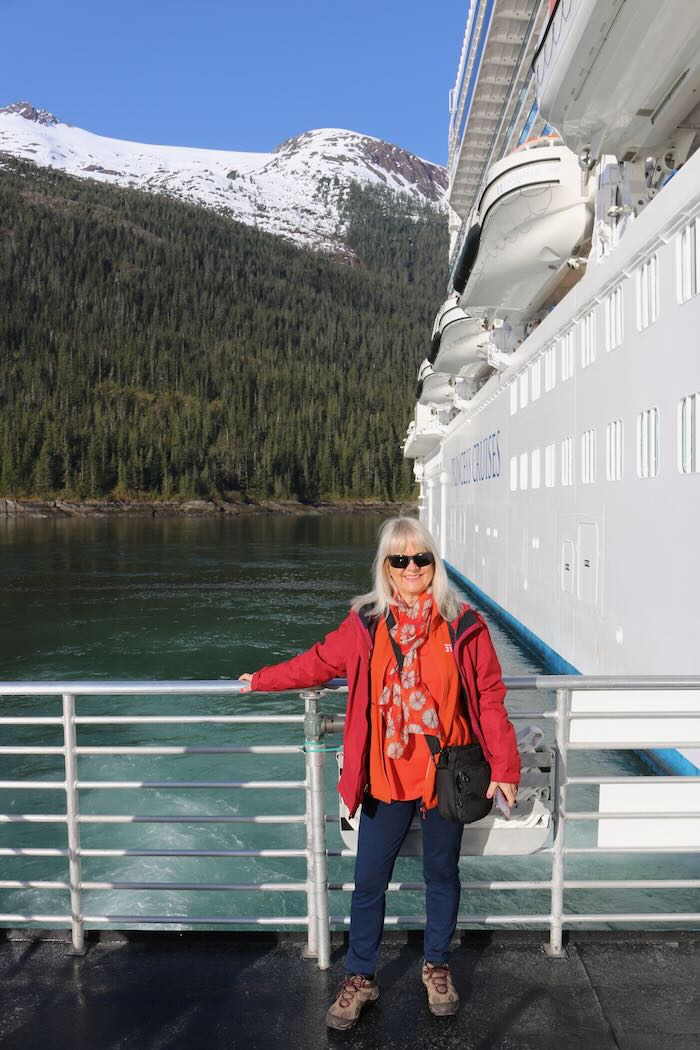 Additionally, pack a warm hat, gloves, and wool socks to stay cosy in colder temperatures.
A good pair of waterproof shoes or boots is also recommended for outdoor excursions and walking around ports of call.
Accessories
Certain accessories are indispensable for an Alaska cruise.
Start with sun protection items like sunglasses, sunscreen, and lip balm, as even on cloudy days, the sun's rays can be intense.
If you plan on wildlife spotting or taking in the beautiful scenery, a zoom lens and binoculars can enhance your experience.
Bring a reusable water bottle to stay hydrated on shore excursions.
A portable charger for your cell phone and other electronic devices will come in handy, especially during longer shore excursions.
Scarves – a silk scarf, an evening shawl, and a warm woollen scarf are great accessories to take with you. Roll them up and stuff them in your shoes to save space when packing!
Miscellaneous
In addition to clothing and accessories, there are a few other important items to consider packing.
A first aid kit is always a good idea, including basic medications, band-aids, and insect repellent. There will be a ship's doctor onboard, and probably a shop selling basic pharmaceutical necessities, but both will be expensive, so rather come prepared.
Consider bringing a dry bag to keep your electronics or small items dry during rainy days or water-based activities. This is essential if you intend to go dog-sledding or kayaking.
Magnetic hooks can be useful for hanging up wet clothing or keeping important documents easily accessible in your cabin.
If there are formal nights during your cruise then do pack cocktail dresses (or a suit/jacket and tie for men) to comply with the dress code in the main dining rooms.
Black blouses for dining on the ship are always a good staple to pack. They can be worn at night, and then re-worn during the daytime so that you get good wear out of them.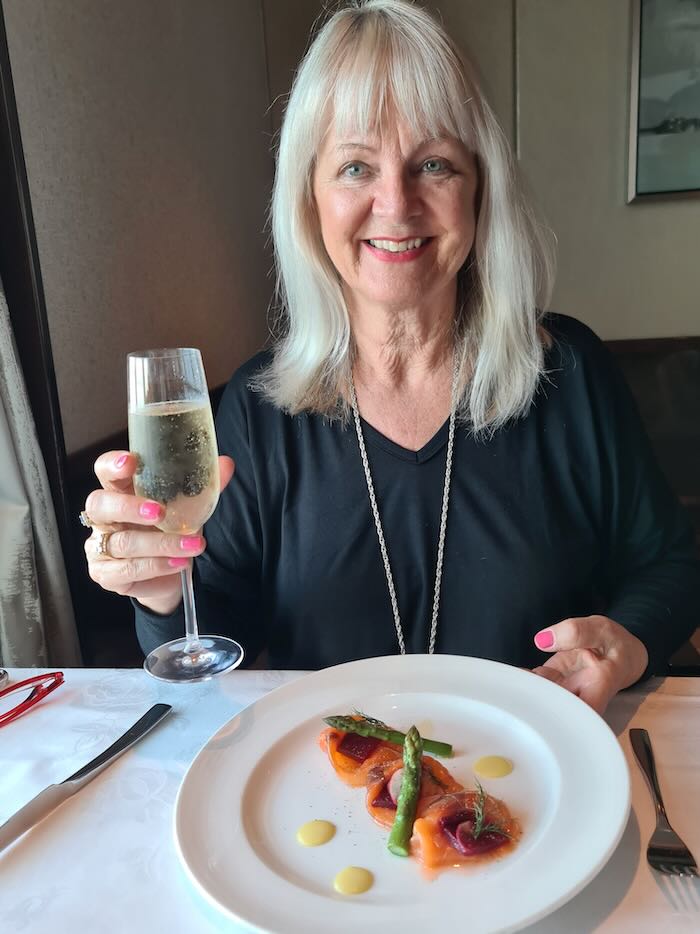 Cruise-Specific Considerations
Different cruise lines may have varying amenities and services, so it's important to research the specific details of your cruise.
For example, if you're traveling with Princess Cruises, they offer enrichment opportunities and cultural experiences from whale watching on luxury yachts, to dog sledding in the snow, to historic land-based tours. Each excursion might require a different set of clothing, so do be guided by the tours you intend to go on.
Depending on the itinerary and destinations, you might be exploring the Inside Passage, Southeast Alaska, or even venturing into the Yukon and British Columbia on shore excursions.
Keep these locations in mind when planning, check the long-range weather forecasts, and make sure to pack appropriate clothing and gear for the activities you'll be doing. Keep re-assessing your packing list for Alaska cruise.
Checklist: Clothing to Pack for an Alaska Cruise
Layered clothing: Alaska's weather can be warm, wet or very cold, so pack a variety of clothing options for layering, including T-shirts, long-sleeve shirts, sweaters, and a waterproof jacket.
Warm outerwear: Bring a heavy coat or parka, gloves, a hat, and a scarf to stay warm during colder days and evenings.
Waterproof pants: If you'll be kayaking or hiking on shore excursions you might consider packing waterproof pants or rain pants for more intense outdoor activities.
Comfortable walking shoes: Bring sturdy, comfortable shoes for walking around deck, exploring ports of call, and outdoor shore excursions.
Hiking boots: If you plan on hiking, bring waterproof hiking boots with good ankle support.
Swimwear: Princess cruise ships have heated pools and jacuzzis, so pack your swimwear if you plan to use them.
Formal attire: Check if your cruise has any formal nights and pack appropriate attire, such as a cocktail dress or a suit.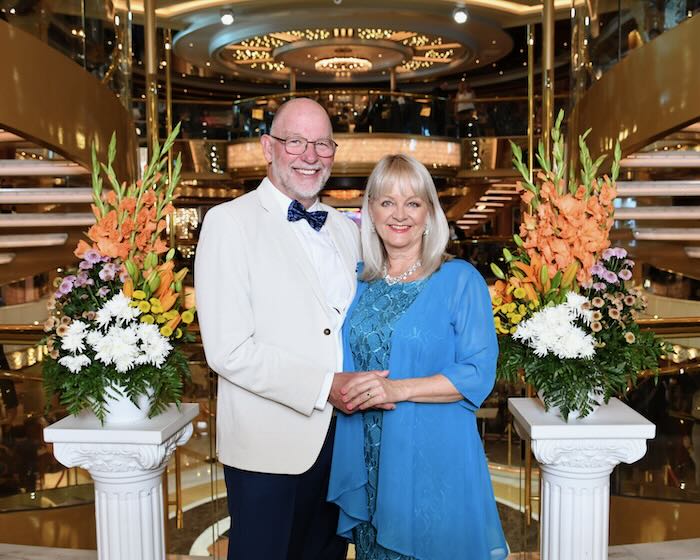 Checklist: Accessories to Pack for Alaska Cruise
Sunglasses: Protect your eyes from the sun's glare, which can be intensified in snowy conditions.
Sunscreen: Even with cool temperatures, the sun's rays can still be strong, especially when reflecting off snow or glaciers.
Binoculars: You'll have the opportunity to spot wildlife and take in breathtaking scenery, so bring binoculars for a closer look.
Camera: Capture the stunning landscapes and wildlife encounters, and don't forget extra memory cards and batteries.
Power adapters: Alaska uses standard US outlets, so bring power adapters if you're traveling from a different country.
Phone chargers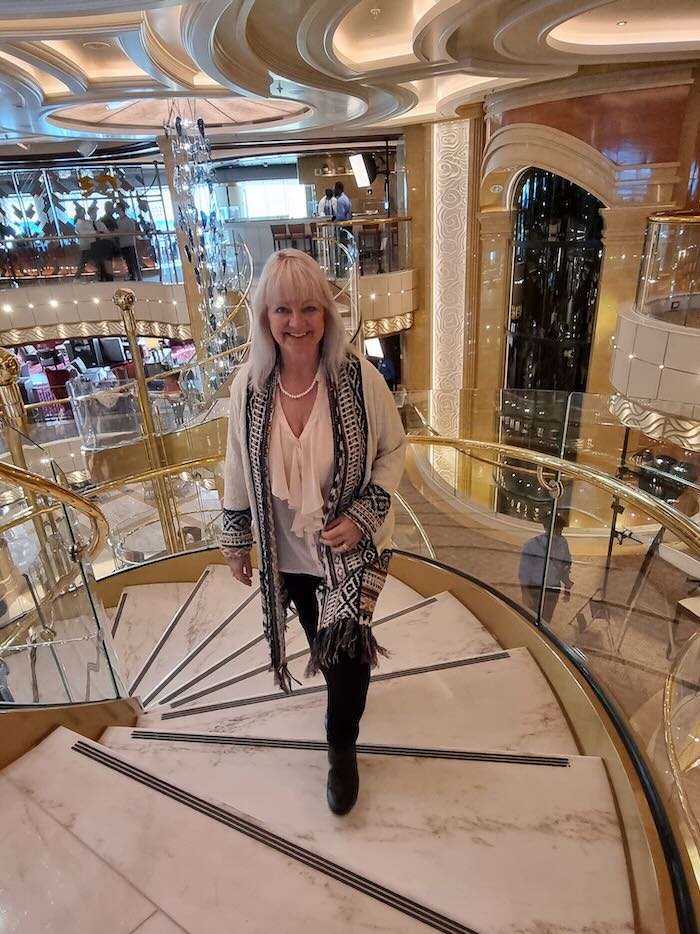 Checklist: Miscellaneous Items to Pack for Alaska Cruise
Medications: Pack any prescription medications you may need for the duration of your cruise, along with a copy of your prescriptions.
Travel documents: Bring your passport, driver's license, cruise tickets, visas, covid vaccination certificates, and any other necessary travel documents.
Money and cards: Carry some cash for smaller purchases and emergencies, as well as credit/debit cards for larger expenses.
Backpack or day pack: Useful for carrying essentials during shore excursions and outdoor activities.
Travel-sized toiletries: Pack essentials like toothpaste, toothbrush, shampoo, conditioner, and any personal care items you may need.
Motion sickness remedies: If you're prone to motion sickness, consider bringing medication or remedies like wristbands or patches.
Mosquito repellant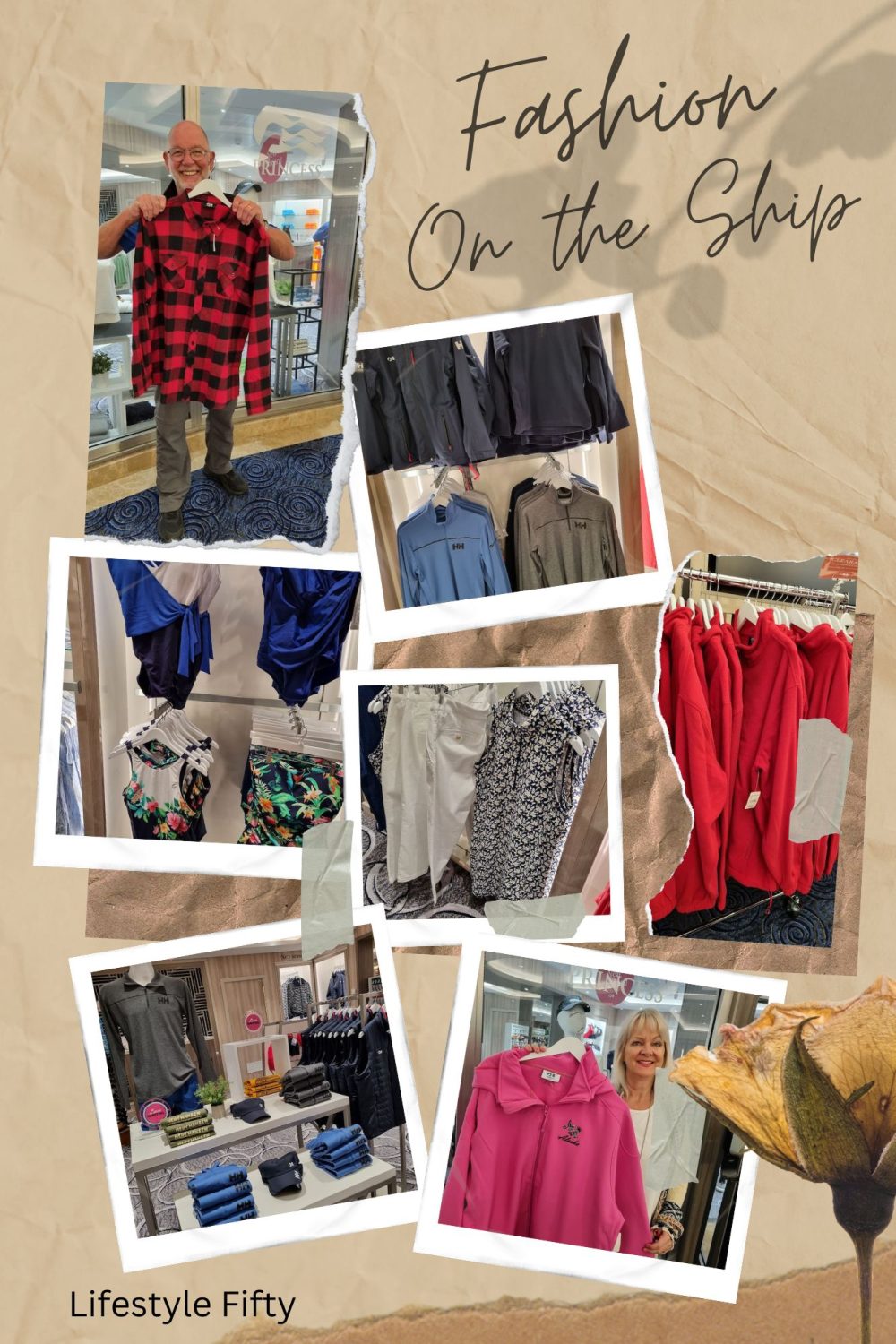 Final Tips
Here are a few final tips to help you prepare for your Alaska cruise in May.
Check with your cruise line for dress codes or requirements, especially for formal nights or dining rooms.
Do purchase travel insurance to protect yourself from any unforeseen circumstances or additional costs.
Make a printable packing list and stick to it, rather than throwing in a lot of 'what if clothing.
Remember to check the specific guidelines provided by your cruise line and consider any additional activities or excursions you have planned.
It's always a good idea to pack smart and dress in layers to adapt to changing weather conditions in Alaska.
Enjoy Your Cruise!
My Tested Packing List
When I pack for any kind of trip, my modus operandi is always the same. It makes Dave laugh (he's a fast and immediate packer!) but it's my way, and it makes me feel comfortable.
First of all I take all the clothes I think I'll need, into the spare room. Some I fold on the bed, or lay on the bed, and the shoes I line up in a row. Hanging clothes I put on velvet hangers in the spare room wardrobe.
At this stage I have wayyyyyy to much!
So then I take a little rest! I think about things. Look at the weather predictions. Think about the shore excursions, and what I will need for the journey.
Then I beging to eliminate items, and back they go to their proper hanging or folded places in my (quite small) wardrobe space.
This stage is quite brutal. I love clothes, and I find it hard to choose 'this' over 'that' but I begin to match items together.. Outfits are formed. Clothing is chosen because it can do two jobs – it might work as night time wear to begin with, and then be worked into a daytime outfit.
Pants most defintiely have to do two jobs. Blouses should go with at least two different pant outfits. The only garment that is likely to be worn just once is my formal night outfit.
Here's what I packed:
1 Cocktail dress with a sheer jacket for the formal night. Accessories: Sparkly necklace and earrings.
1 cocktail midi dress that could be worn standalone with a shoulder-scarf for formal dining.
1 pair of sparkly shoes for formal occasions. (These fell apart during the cruise! They were old, but I loved them! I wanted to replace them but there was not a shoe shop on the ship! This meant I had to go 'grunge' and wear the second dress with black ankle boots! So be warned!)
1 pair of comfy but smart pants – I took Styling You the Label Suzie ponte pants. They were fabulous for night-time to begin with and then daytime wear.
1 pair of smart black pants.
4 stylish blouses to wear with black pants and wide leg pants. (I took a black Styling You the Label technical shirt (doesn't need ironing) a Salty Crush linen/cotton swing blouse that could be worn both day and night, a silky little number I found in a thrift store, and a mustard button up shirt my daughter told me I had to buy on a bit of a spree in Busselton!)
1 pair of wide leg pants.
1 pair of designer joggie pants – animal print – Styling You The Label
1 pair of smart skinny black jeans (for night-time and then daywear).
1 pair of dark blue jeans – these are actually Uniqlo ultra stretch high rise denim leggings pants and I love them – so comfy for shore excursions.
1 pair of baggy harem pants – I wore these on the long haul flights because they are so roomy and comfortable.
1 black cardigan
1 show pony cardigan – The Pasadena from Salty Crush (Just love it with black or navy pants)
2 woollen sweaters
1 fleecy sweater
1 long sleeve baggy orange Tee (a show pony piece) to wear in the daytime
1 white long sleeve Tee and 1 black long sleeve Tee both Styling You the Label – luxe basics to wear with many things.
1 daytime, 3/4 sleeve, patterned blouse to wear with jeans on warm days.
1 fluffy black hat with a brim (warm and also a bit of sun protection) from City Beach.
2 scarves – 1 art, silk, scarf from Travel and Living Collection and 1 black woollen scarf from City Beach.
1 Jacket (rain and windproof) with a fleecey (detachable) lining from Kathmandu.
1 waterproof poncho (which I kept scrunched up in my jacket pocket)
2 pairs of activewear bottoms (1 black, 1 pink flowery)
Shoes : walking boots, sneakers, trainers, ankle boots and night-time sparklies.
Hair shampoo and conditioner.
Face creams, cleanser and shower cap.
Make-up and toiletries.
Sunscreen.
Small medical kit including panado, ibuprofen, antiseptic cream, plasters, bandage, medical tape, eye drops, mosquito repellant gel(not a spray because you can't fly with a spray).
Lightweight cross body bag, and small daypack.
Swimsuit
Beannie
Silver handbag for night time.
Black evening shawl.
2 pairs of sunglasses. 2 pairs of reading glasses.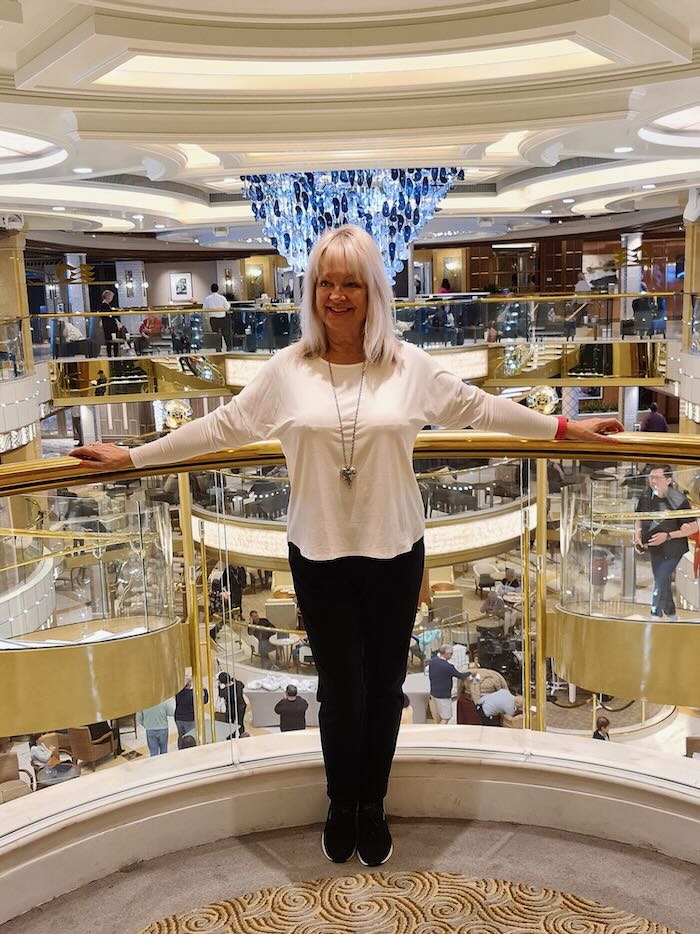 My Alaska Stories and Reels on Instagram
If you'd like to read more about cruising in Alaska, maybe you'd like to check out my Instagram posts, stories and reels here on Instagram : Lifestyle Fifty Instagram.
Related Posts
Princess Cruises Alaska Cruise Review
Will Princess Cruises help YOU Come Back New?
What to Wear on a Cruise- Insider Packing Hacks
Style Tips and Confessions of a Personal Shopper (and Cruise Addict)
Dining onboard Sea Princess World Cruise
Cruising Like a Boss – How to Save Money on Your Next Cruise
Why is Cartagena Cruise Port Colombia a Fabulous Cruise Stop?
The Best Advice About Cruise Clothes
What to wear on a European Barge Cruise
13 Things You'll Love about a Barge Cruise in France
Please Pin this Post!
Disclaimer: I was a guest of Princess Cruises. This post "Packing list for Alaska Cruise" contains affiliate links from which I stand to earn a small commission but at no expense to you. Any gifted items are marked either 'gifted' or with an *. Lifestyle Fifty Website is a participant in the Amazon Services LLC Associates Program, an affiliate advertising program designed to provide a means for sites to earn advertising fees by advertising and linking to Amazon.com. Please read my full disclosure here.