Why book a barge cruise in France?
A luxury barge cruise in France is an idyllic, worry free, all inclusive way to slow travel through a specific region. Barge holidays offer classy, elegant travel at a slow pace, with fine wines, fabulous food, interesting culture and history thrown into the mix.
European Waterways offers a selection of canal holidays in France on luxury barges, and we've just spent 6 carefree days cruising to the Champagne region of France, from Paris to Conde Sure Marne on the luxury hotel barge Le Panache.
Ahh such bliss!
Six days of unadulterated laid back pleasure; cruising quiet waterways, sightseeing, and enjoying gastronomic food, fine wines and champagne. It was everything, and more than I anticipated when I wrote this lead-up post: "News, Interviews & Barge Cruises in France "
We cruised on Le Panache. Once a commercial freight barge built in 1959 this boat was converted to a luxury floating hotel in 1998. With adequate deck space and spacious cabins, we really enjoyed the understated elegance and comfort of the boat as well as its history.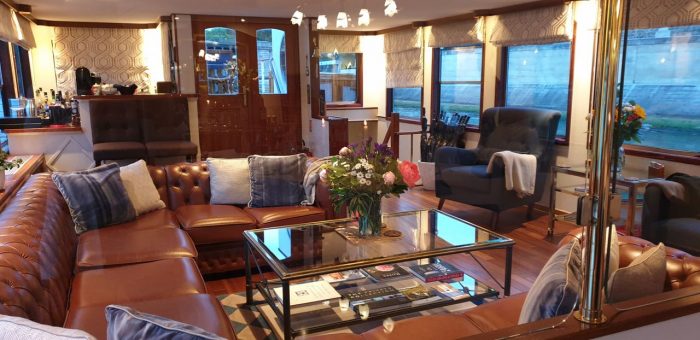 Canal Holidays in France
We were in for six days of excitement, relaxation and fabulous service. We had a friendly and super efficient crew of 6 to take care of us – Our Cruise Manager/Guide: Florian, Pilot: Andre, Chef: Arnie, Hostesses: Diana and Regina, and Deckhand: Judith. As cliched as it sounds, they really did cater to our every need.
Canal trips in France don't get much better than this. It was definitely a fabulous trip to remember forever, and I'll soon be writing more about the itinerary and excursions in a future blog post.
Why you'll love a Barge Cruise in France
First of all a barge cruise is not a 'kiss me quick' experience. You are not going anywhere fast. But you will be given a deliciously in depth appreciation of the wine wine, food, culture and history of the region you're travelling through.
People who enjoy barge holidays are the sort of folk who enjoy finding out the small detail and taking photos of undiscovered places. Barge boats tend to moor in out of the way villages and small towns, where the pace of life is gentle and truly authentic. You won't be queuing to take photos of famous Instagram spots, or jostling jowl to cheek with thousands of other tourists.
Nevertheless, on a barge cruise in France you will most definitely see some interesting sights, such as the Chateau de Vaux le Vicomte, below.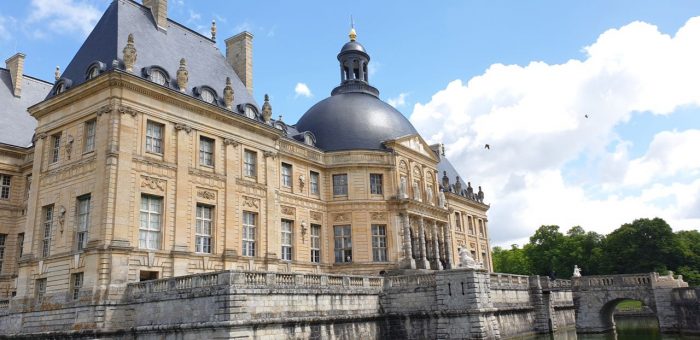 To enjoy being on a barge you are the sort of person who might enjoy being on a road, river or canal less travelled, where the pace is slow and the wine is varied.
Barging converts dislike busy crowded boats and seek out more personalised experiences. Barges are smaller than both river boats and cruise boats. Although there's less space overall, there are still places to get away from it all and read a book or just watch the world go by.
Most of all people who book barge cruises like exclusivity. On Le Panache there will be no more than 12 passengers with 6 well informed crew members. There are also likely to be 12 bikes, a hot tub, a skilled chef and a bar full of complimentary booze. The feeling on a barge cruise is cosy and you can expect sophisticated social interaction amongst fellow passengers.
You might also like:
13 Reasons to book a barge cruise
It's All Inclusive
Barge cruising is an all inclusive way to travel. Expect a well-stocked open bar, a wide variety of gourmet food, plus wines and cheeses of the region.
All our excursion admissions and land tours were included, and the only out of pocket costs were gratuities for the crew (who deserved every Euro) and our own personal spending ashore.
Slow Travel
On the European Waterways barge cruise in the Champagne Region we travelled slowly, and were treated to an informed introduction to the wine, cheese and champagne of the area.
We tasted many fine wines with our meals as well being given interesting snippets of information about a multitude of French cheeses and wines. The cruise was a slow taste sensation of the region's gastronomic delights as well as the culture, with a focus on learning as well as feasting.
Fabulous degustation menu
Three lavish meals a day, plus canapes at sunset. The portion control was fabulous – there was never a super-size-me pile of chips for instance, but a generous taste of so many different foods, prepared for us by Arnie, our talented and inventive chef who hailed from Latvia.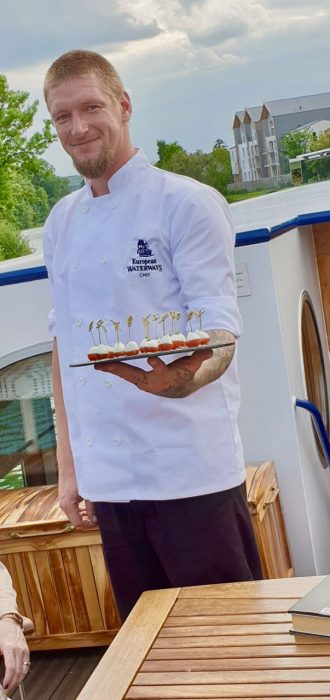 On a barge cruise the focus is on fine dining, and discovering little known facts about the region's food, wines and cheeses.
Meals on Le Panache tended to be long and lazy with engaging conversation around the table to complement the fantastic cuisine served. During these times we got to know our travelling companions really well, had much laughter, discussed big ideas, and enjoyed finding out about each others' lives.
Small groups
Generally Le Panache can accommodate 12 passengers and 6 crew. We were lucky to be part of a group of only 8 passengers. The crew to passenger ratio was amazing!
Of course if you have a group of family or friends, then all the better, because you could consider chartering the whole barge as well as having a little more say about the itinerary and excursions.
Meet New Friends
On our trip we had the honour to travel with a rich diversity of people with diverse career backgrounds including TV and media, financial, architectural, and a nuclear scientist.
Experiencing the cruise with these fun and intelligent people added significantly to the experience.
With one long dining table in the salon, you eat meals together. This led to some long, lively and lovely conversations, and for each meal we would tend to swap seats to give us each the chance to talk to and get to know everyone, before enjoying time on deck as the boat cruised gently onwards.
Small groups encourage fast and lifelong friendships and ours was no exception. Barge cruise passengers are mostly well travelled and sophisticated, eager to get to grips with the culture, food, ideas and wine of a particular region.
No Seasickness
Because you're travelling on canals and rivers you hardly feel the boat is moving – which means no motion sickness.
"Many people would love to cruise but may be prone to motion sickness or may feel claustrophobic on a ship. The odds of getting seasick on a barge are slim because the barge doesn't have the sway of larger ships, hardly even making waves at all."

Irene Levine – 6 Types of Travelers who will love barge cruises.
Gentle exercise in scenic settings
At our country moorings we had the chance to hop off the barge and discover the quiet backroads of small French villages. We walked up to the ruins of a fort dating back to Roman times, which got our heart rates up before aperitifs and dinner …
… and at designated places we had the opportunity to bike or walk along canal or river paths.
Luxury ensuite cabins
The junior suites on Le Panache are all below deck, about 150 square feet (13.9 square metres) in size, with comfortable beds, good wardrobe hanging space, bedside cabinets, a small writing desk and a large window just above river level which often saw us face to face with beautiful white swans.
Air-conditioning kept the temperature at a constant level, and the en-suite bathroom had a full size shower, double sink with cupboard space below, and classy L'Occitane toiletries.
The twice a day housekeeping service was unobtrusive and very lovely – beds made in the morning and turned down at night with fine chocolates on our pillows.
Great Facilities on Board
Spa Pool (hot tub) for 6 passengers on the sundeck
Hi-fi Stereo system wiht integrated CD player radio and iPod dock
12 Bikes
A small library of books and maps
A collection of board games
TV with built in DVD in each suite
Comfortable Convenience
Once you're on board and unpacked, your every need is catered for. Your suitcases are stashed under the bed and you can kick off your shoes, put on your slipper socks and feel right at home. Barging is a no frills experience and comfortable casual is the dress code.
Exceptional Excursions
Excursions during our trip through the Champagne region were planned to give us an insight into the area. We visited the city of Reims, a War Museum at Meaux, a fabulous 16th Century Chateau, the Moet et Chandon cellars, Champagne Henriot – one of the oldest family owned houses in Champagne, and we enjoyed a fabulous night time cruise through Paris.
While cruising with European Waterways, there is a full, though not-too-strenuous, itinerary off the barge, where you'll be taken to vineyards, castles, museums, and markets. Where ever the barge is moored for the day is where you'll disembark to discover something new.

Laura Lynch writing on Mapping Megan – 6 Reasons to go on a Barge Cruise
Travel along roads (canals and rivers) less travelled
We cruised along the River Marne and a canal tributary. I was surprised at the lack of river traffic or pleasure crafts. We passed riverbank fishermen and the occasional walker or bike rider but on the whole it felt as if we were on routes less travelled, while passing through some of the most exquisite riverine scenery.
Really get to know a region and learn about it
I'd heard of the Champagne region of France, but in reality I knew little about it. Our Captain, Florian was a mine of information and gave us detailed insights into the history of the area and what makes it tick – mostly vineyards and champagne – about which we also learned as we expanded our knowledge beyond just Moet et Chandon champagne.
I loved finding out about the history of the magnificent baroque Chateau de Vaux le Vicomte as well as visiting Meaux where we passed the battlefield where the Allies finally turned back the German army as they marched to Paris – just 34 kms away.
On our excursions we enjoyed magical small moments and learnt big facts. And we tied together names, places and historical events on the map.
Overall
If you're thinking of a barge cruise – then think 'luxury'. With absolutely everything included, except items you choose to buy ashore, you can just sit back and enjoy the ride. The passenger to crew ratio is 2:1, the service is attentive and personalised, the food is fine dining at its best, and the excursions are hand picked to delve deep into the culture of the region.
"Because it is a fully-inclusive travel product, the cost per day of barging tends to be higher than river or ocean cruising, except in luxury suites."

Irene Levine from More Time to Travel : European Waterways Barge Cruise Through Alsace & Lorraine
Prices
Prices for a 6 night cruise aboard hotel barge Panache include all gourmet meals, fine wines, daily escorted excursions, local transfers and an open bar for the duration of the cruise. Full barge charters are also available for families and groups.
Check out current prices on the website: European Waterways
European Waterways is the biggest hotel barging company in Europe and was established in 1974. They offer cruises in 9 countries across Europe and have a fleet of 17 vessels accommodating between 6 and 20 passengers.
Tel: 01753 598555 : Toll Free from Australia 1 -800-828-050
Read More
Next Week's Post : 6 day cruise, itinerary and excursions, Paris to Conde sur Marne
Interested in reading more about barge holidays in France? Check out next week's post when I take you on a journey of discovery as we cruise for 6 delicious days from Paris to Conde Sur Marne.
What others are saying
Making deliciously slow progress through Champagne aboard @europewaterways barge #Panache as we savour fine wines, delectable delicacies and mouthwatering views. #thisisthelife pic.twitter.com/ceCysRrcW2

— Sara Macefield (@SaraMacefield) June 19, 2019
A superb first day on the La Belle Epoque with @europewaterways. Relaxing cruising down the canal, a falconry demo, a castle tour and delicious food and wine pairings. I could really get get used to this.#slowtravel #bargecruise#europeanwaterways #france pic.twitter.com/ODGzmgjxyd

— Quiltripping (@quiltripping) June 17, 2019
What's it like on a European Waterways #barge #cruise through Alsace & Lorraine? @MoreTime2Travel shares her experience.https://t.co/Wqom7Y65Mr #France #travel @europewaterways pic.twitter.com/I1tqsOe6AO

— Janice & George (@SandInSuitcase) September 28, 2018
My trip was sponsored but all opinions are my own.