Revamp your vacation clothing with some trendy and relaxed resort wear. Today's blog post uncovers some fabulous fashion finds for women over 60, suitable not only for languid holidays lazing around in the sun at a hotel pool, but also for special events, summer vacations at tropical destinations, and luxury cruises. From pretty summer dresses to kaftans and fashionable wide leg pants. You're going to love today's resort wear for over 60 tips and suggestions!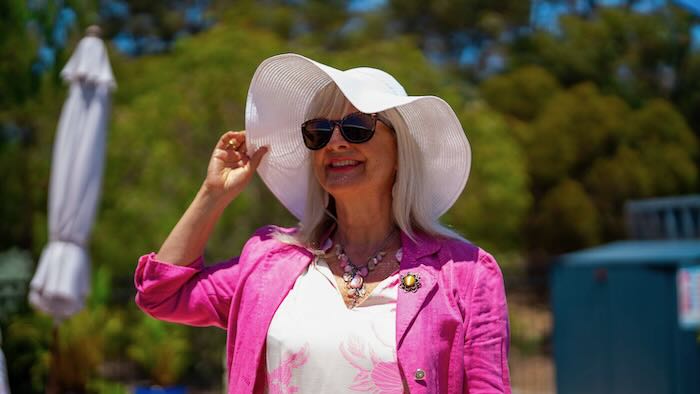 What is Resort Wear?
So what is meant by 'resort wear?'
Typically, resort wear is considered to be relaxed and comfortable, consisting of comfortable pieces of clothing that are both casual but also smart. It's an appealing style of clothing, available in designer gear as well as high street stores, and is especially a great fashion for women over 50 and 60.
It's the kind of clothing women might wear at hotel resorts, on cruises, at beachside destinations or at any kind of leisure focused event while on vacation.
It's designed to look great, but also it's got to be practical and comfortable for different activities.
You might choose resort wear for lunch with friends at a wine estate, or for walking along a chic beach boardwalk somewhere exotic, or perhaps for sightseeing in Europe, or cruising in the Caribean, or just lying by the pool under a brolley with a cocktail in hand (obviously!) on a tropical island at a boutique resort! The ideas are endless!
Historically, resort wear was created by fashion houses for wealthy jet setters especially those embarking on cruises, nowadays the term signifies relaxation, and a touch of affluence.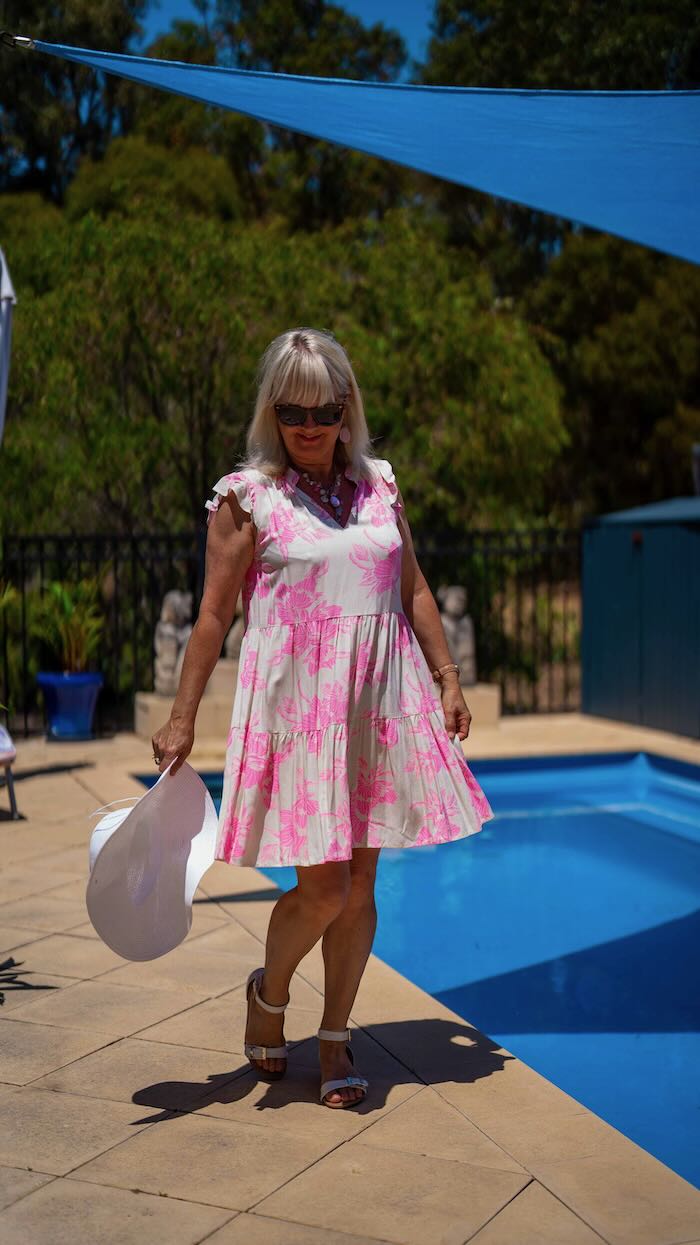 Resort wear is really just a slightly upmarket, and perhaps more stylish take, on more general summer vacation clothes, such as; sundresses and summer dresses, capri pants, ponte pants, wide leg pants, swimsuits, kaftans, Bermuda shorts, summer tops, and pretty blouses in cotton or linen, and other kinds of lightweight garments made from breathable fabrics suitable for warmer weather.
The term "resort wear" can also refer to clothing designed specifically for tourists and travellers on active holidays. Those who are specifically looking for vacation outfits that include features such as sun protection, quick-drying materials and moisture-wicking fabrics which also found in casual wear garments.
Resort wear accessories can include sunglasses, costume jewellery, hats, hair ties and clasps, flip flops and sandals or sneakers, and of course big bright beach bags.
Get Ready to Turn Heads with These Resort Wear Picks for Over 60
I truly believe we need to stick to the mantra that looking fabulous at any age is our right, and not something we give up around the time of menopause.
If you find something you love the look of, then buy it, wear it, rinse and repeat!
I'm all for buying clothes that make me feel confident and chic, and let's not forget 'cool', in all its guises! Around menopause cool is a term with a dual meaning!
You might want the best style dresses to hide your tummy area so that nothing clings around your torso in hot summer weather. You might want to dress for your body shape, be it pear shaped, apple or hourglass. D check out this post, 9 Different Types of Dresses to Make You look Amazing.
If you want to wear a crop top with a pair of shorts, then go for it! You are not too old! Just add a pair of statement earrings and a statement necklace. Pop on a large pair of sunglasses, a wide brimmed hat and add a slick of bright red lipstick to your lips. Add a trendy cross body bag, flip-flops, sandals or sneakers and you're ready to go.
Designer Vivienne Westwood once said, "You have a more interesting life if you have impressive clothes," and I think we should adhere to that as we get older!
I also believe that we should ditch fashion rules, and live by our own designs!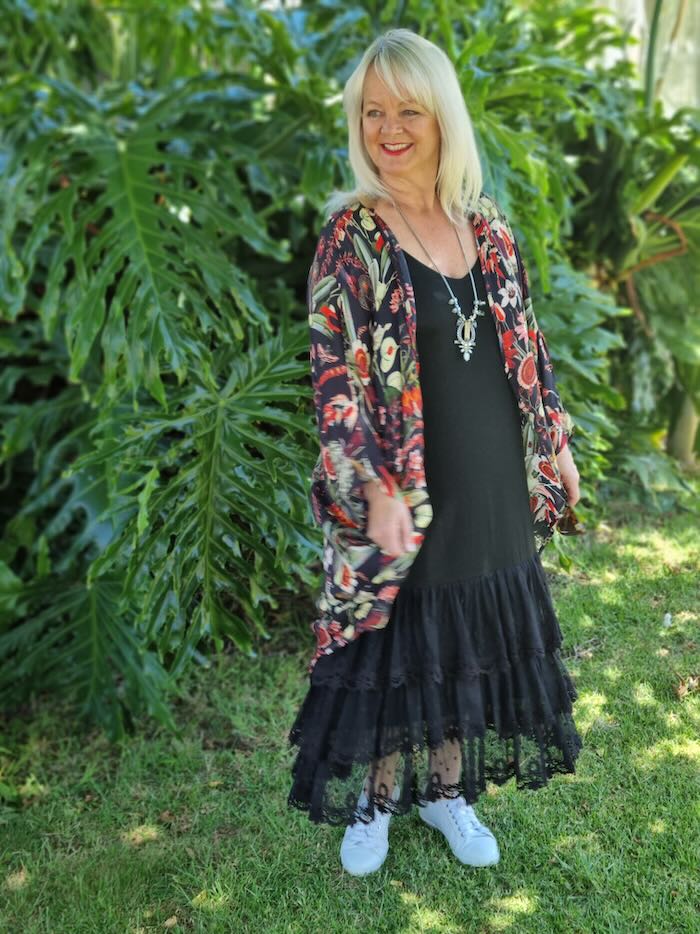 Find Your Inner Goddess!
Yes, it's time to make a deal with your inner Goddess and set her free with these chic and trendy resort wear options for over 60.
There's nothing I love more than lightweight long sleeve dresses that fall to my ankles. Why? Because I think they are stylish, comfy and also they help protect my skin from the sun.
Here are some suggestions for long and short sleeve maxi dresses:-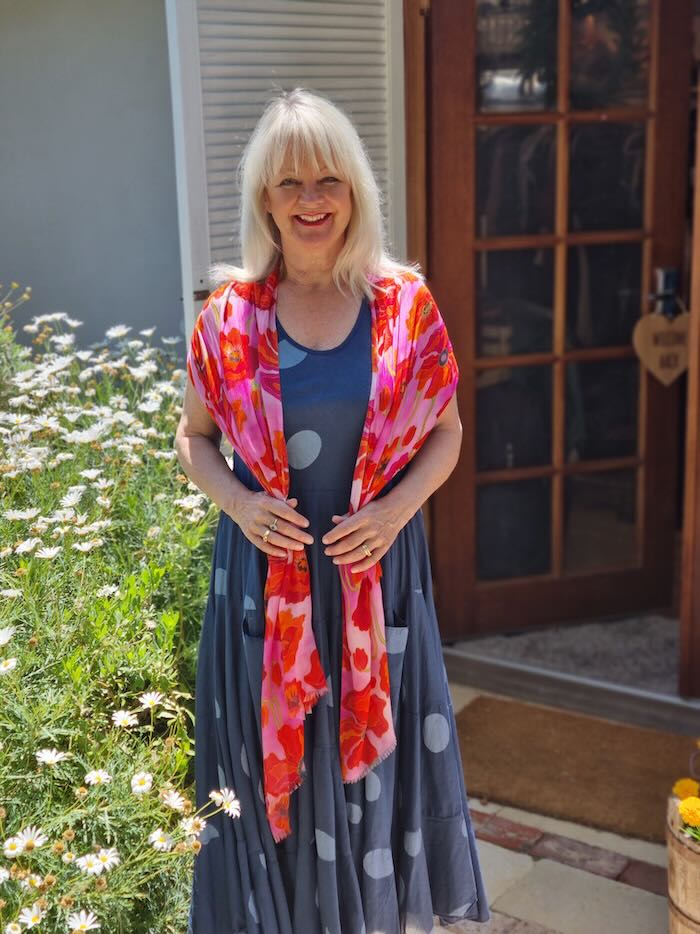 Where to Buy the Best Resort Wear
There are many places online where you can find fabulous resort wear for mature women. You'll also find resort wear in department stores, specialty boutiques, and small country retailers.
Don't let your age hold you back! These resort wear picks for over 60 will have you feeling like a million bucks!
Here are 10 online suggestions for some gorgeous resort wear choices:
Nordstrom Rack: Nordstrom is a department store that carries a wide range of resort wear for women, including many options for mature women. You can shop online or in-store. Currently, as I write, there is free shipping on orders over $89.
Chico's: Chico's is a specialty boutique that carries a variety of resort wear for mature women. They offer both online and in-store shopping options.
Talbots: Talbots is a department store that specializes in clothing for mature women. They have a selection of resort wear that may be of interest to you.
Eileen Fisher: Eileen Fisher is a clothing brand that offers a range of resort wear for mature women. You can shop online or at one of their retail locations.
Lands' End: Lands' End is an online retailer that carries a variety of resort wear for women, including options for mature women.
Salty Crush: Beautiful maxi dresses in all kinds of shapes, sizes and colours.
A brand that makes dresses for curvy figures is Styling You The Label. Check out their styles and Get 15% discount on Styling You the Label clothes using this link: Styling You the Label. Use coupon code JOCASTRO15 at checkout. Australian designed and made, inexpensive designer wear – look out for seasonal updates and collections that include super easy-to-wear,. resort travel wear.
3rd Story The Collection – so many lovely, easy to wear styles suitable for mature women who want to look great.
Adrift: An Australian label that stocks beautiful resort style, tropical designs, suitable for all body shapes.
7 Simple Styling Ideas for Women's Resort Wear!
Resort wear clothing is generally worn during vacations or summer getaways, and it can be both stylish and comfortable.
Here are some super styling ideas:
Maxi dresses: A maxi dress is a long, flowy dress that can be dressed up or down depending on the occasion. They are perfect for the beach or pool, and can be worn with sandals or dressier shoes for a more formal look.
Sundresses: Sundresses are a staple of resort wear, and come in a variety of styles, including strapless, spaghetti strap, and halter. They are lightweight and perfect for hot weather.
Shorts and a blouse: Pairing shorts with a lightweight blouse or top is a great way to stay cool and stylish. Choose shorts in a neutral color and pair them with a bold or printed top for a chic look.
Rompers and jumpsuits: Rompers and jumpsuits are versatile pieces that can be dressed up or down. They are comfortable and perfect for a casual day out exploring a new destination.
Lightweight pants: Lightweight pants, such as linen or chinos, are a great alternative to shorts and can be dressed up or down depending on the occasion. They can be paired with a blouse or a casual top for a stylish, yet comfortable look.
Accessories: Don't forget to accessorize your resort wear with items like sunglasses, hats, and sandals. These can add a touch of style and personality to your outfit and help protect you from the sun.
Swimsuits: A swimsuit is an essential piece of resort wear, and there are many styles to choose from, including bikinis, tankinis, and one-pieces. Look for swimsuits with fun prints or bold colors to make a statement on the beach or pool. A kaftan dress or swimsuit cover up is also a great idea.
What to Wear When You're Over 60 (and going on Vacation!)
The best resort wear for women over 60 is always going to have 'comfort' high on the list of priorities.
Show off Your Style with These Stunning Resort Wear Options for Over 60s.
For an evening at a beach bar, in a tropical paradise you might choose floaty clothes with bright colors or a tropical print.
For lunch on a cruise ship perhaps a pair of Bermuda shorts and a crisp linen shirt.
Tunic tops look great with Treggings and capri pants.
Silk tops pack well, plus they are light and glamorous to wear.
Long maxi skirts are always so versatile. They are great for evening wear dressed up with a beautiful blouse, high heels and statement jewellery, or dressed down during the day and worn with a white crop T-shirt, sandals, and a big sun hat.
Great items to add to your resort collection are straw hats and big floppy sun hats because they always shriek 'resort holiday!'
Another great option for older women to take on vacation is a large scarf that can be worn in lots of different ways with different outfits, and even worn as a shoulder cover up when nights are cool.
I don't think any of us are happy squeezing ourself into clothes anymore, especially when the weather is hot.
Remember the days of lying flat on the bed to do up your jeans? Literally trying to pour yourself into them! Not any more! My clothes these days must let my body breathe!
But at the end of the day, just keep in mind that age is just a number, and I believe that you should wear what you love!
Super Resort Wear Ideas
These resort wear picks for over 60 will have you feeling like a million bucks.
Here are some ideas ranging from cheap and cheerful to luxe-designer. I hope you find something you like!
What to Pack for a Beach Resort Vacation
When you're traveling, the clothes you wear can make or break your trip. They might be one of the deciding factors between a great trip and a terrible one! Let's face it, you don't want to be underdressed, overdressed, or uncomfortable.
Also, if you're overseas remember the way you dress can give people a distinct first impression about who you are as a person, and if you're travelling in a country with a different culture you definitely don't want to transgress any cultural dress rules.
However a beach resort vacation is likely to be much more relaxed. Lighweight skirts, dresses, capri pants, active wear and jeggings all travel well. They are easy to move in and they dry quickly. Also they take up less space in your luggage which is always a plus.
The most important things to consider when packing for a beach vacation, are the climate and the activities you'll be participating in. Remember to pack light and choose items that can be mixed and matched to create a variety of outfits.
Here are some general guidelines to help focus your packing list:
Take light, breathable clothing: It's usually hot and humid at the beach, so opt for lightweight and breathable materials such as cotton or linen. Avoid heavy fabrics like denim or leather, which can be uncomfortable in the heat.
Swimsuits: Bring a few swimsuits so you have options for different activities and can rotate them to allow them to dry properly between wears. You might choose a long sleeved swimsuit for long days in the sun, or a tankini or bikini for stints by the pool. Take swimsuits you love, and which make you feel confident. If you want one with a skirt, that's fine – feel confident and you'll have fun in the sun.
Cover-ups: A lightweight dress, skirt, or pants can be a good option for covering up when you're not in the water. Kaftans are also great.
Sun protection: Don't forget to pack a wide-brimmed hat, large sunglasses, and 50+ sunscreen to help protect your skin from the sun's harmful UV rays.
Beach shoes: Flip-flops or sandals are a must-have for the beach. Choose a pair that is comfortable and can withstand getting wet. Pack fashionable sneakers and comfy shoes for walking in.
Casual dresses: A sundress is a versatile option that can be dressed up or down and worn over a swimsuit or with sandals for a casual evening out.
Light layers: Even if you're heading to a warm destination, it's always a good idea to bring a lightweight sweater or cardigan for cooler evenings.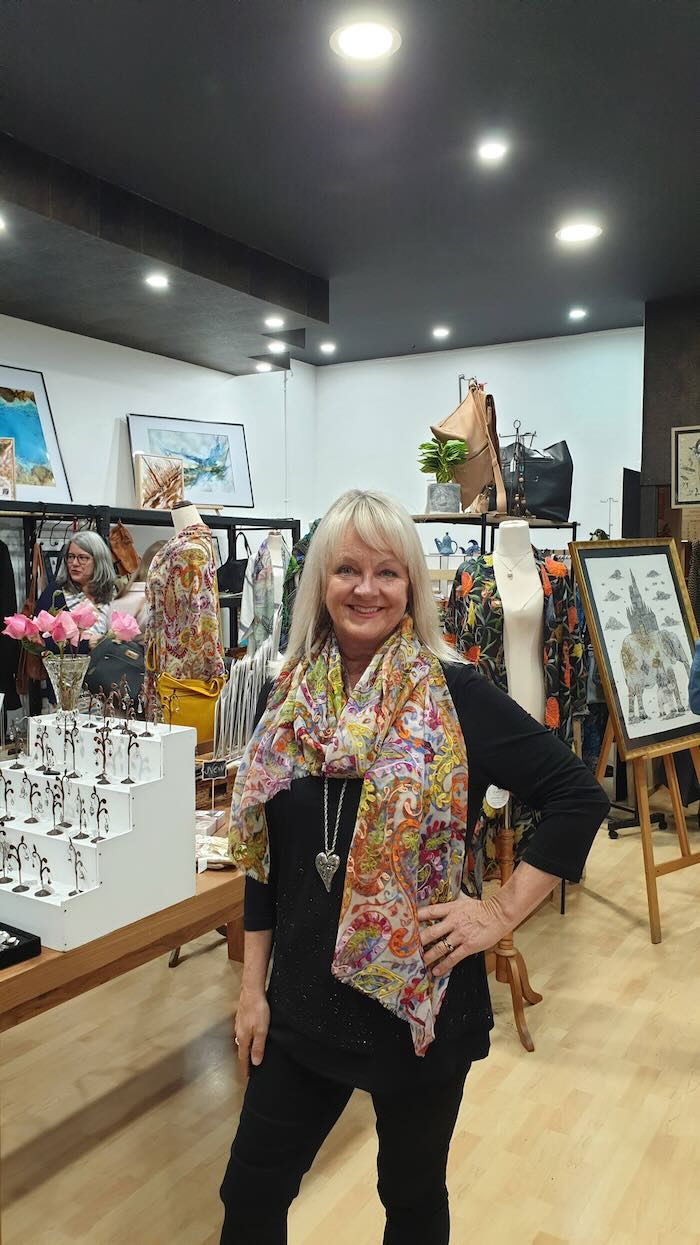 Resort Wear Over 60 on a Budget – Our Best Money Saving Tips
We all like a bargain, don't we? And most of us like to save money where we can, whilst not sacrificing on style.
You don't have to spend a fortune on your wardrobe items to look good, and you don't have to keep on re-hashing old looks in the interests of thriftiness.
I think when you're over the age of 60 you're allowed to look fresh and vibrant and a little bit new when you go on vacation! It's our time!
Don't be afraid to treat yourself, but do read on for some money saving tips!
5 Super Smart Ways to Save Money on Resort Wear.
Trawl your local thrift stores and charity shops. You'll find some super bargains far below the regular price charged at fashion boutiques. They may be last year items, but who's going to notice when you're on holiday at a gorgeous tropical getaway?
If you're buying new from a store then choose good quality garments made with good quality fabric. Why? Because although they might be more expensive, wear for wear they will provide the most economical solution. Your resort wear is likely to get washed more often, and will need to withstand some tough daytime wear too, so make sure it's going to stay the course and not look tatty after the first wash, or worse still start falling apart at the seams!
Get alerts and notifications for online sales. Sign up to your favourite brands newsletters.
You may not be able to wear your resort wear all year round, so how about swapping clothes out with friends?
Buy designer gear, wear it on vacation, and then sell it again online.
I won't be selling my designer outfit below gifted by Australian designer Nikki Parkinson from Styling You The Label which I wore on a European Waterways Luxury Hotel Barge Cruise in Italy.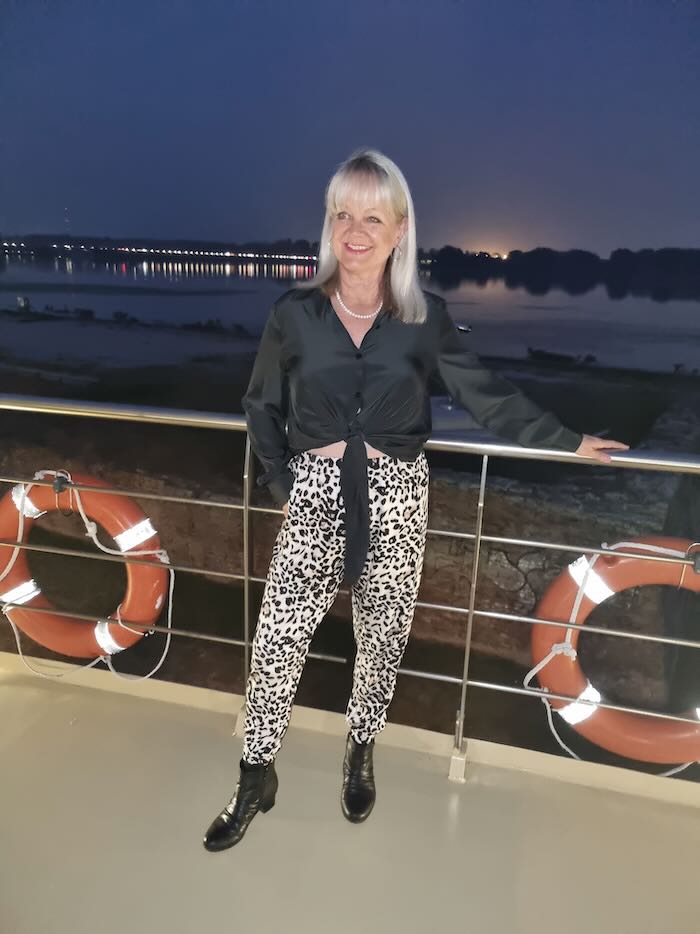 Frequently asked Questions
What to wear over 60?
My answer to this is wear what makes you feel confident and comfortable and something that makes your heart sing! Don't buy fashion items just because they are in fashion, but also don't not buy fashion items because you feel you're too old for them. Buy items that make you look good and feel good.
Can I buy vacation clothes from stores my daughter would shop at?
Yes of course. Wear what suits you, though you might find that the cuts of some clothes designed for younger women are not as forgiving for a mature woman, but many items are suitable for all age groups and can definitely be considered.
What to wear at a resort?
Basically, resort wear equals slighly more posh holiday wear. What you might wear to take the grandchildren to the beach on holiday is not the same as the more upmarket look you want for lunch at a tropical resort. Think smart or Boho, stylish and comfy, look-at-me holiday casual, and you've got the look!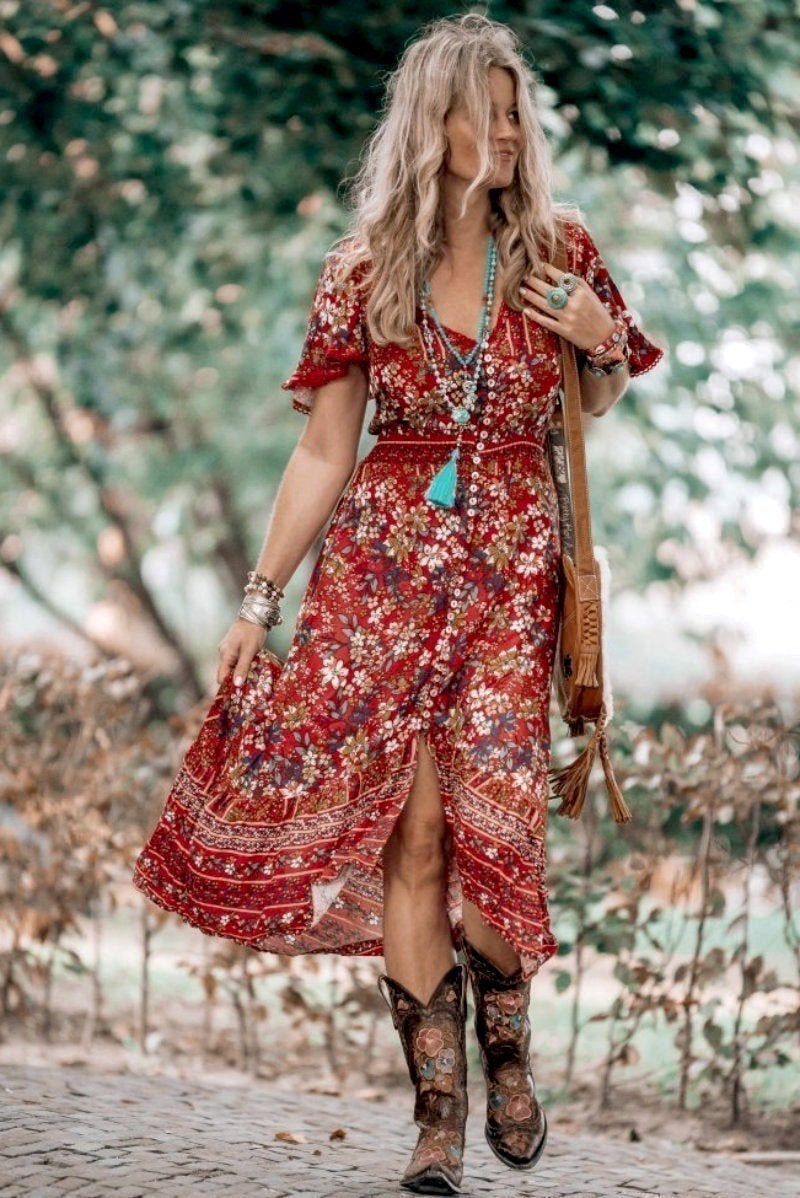 What is resort casual for a woman?
Resort casual means smart but casual clothes you can move around in. This includes garments such as cut off pants worn with pretty blouses, summer dresses, wide legged harem style pants, knee length shorts and smart Tees. It's a variation of relaxed vacation wear with the accent on style.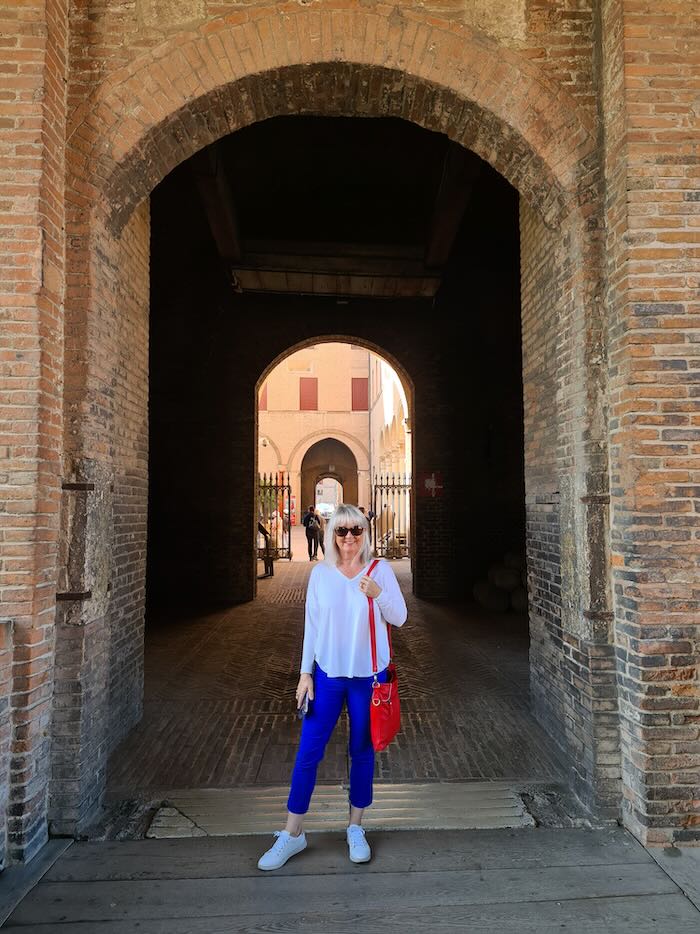 What are the best clothes to travel in?
The best women's travel clothes are non-crushable skirts, dresses, capri pants, active wear and jeggings. These types of clothing are easy to move in and they dry quickly so they don't get ruined if they get wet or dirty. They also take up less space in your luggage which is always a plus when traveling by plane or train.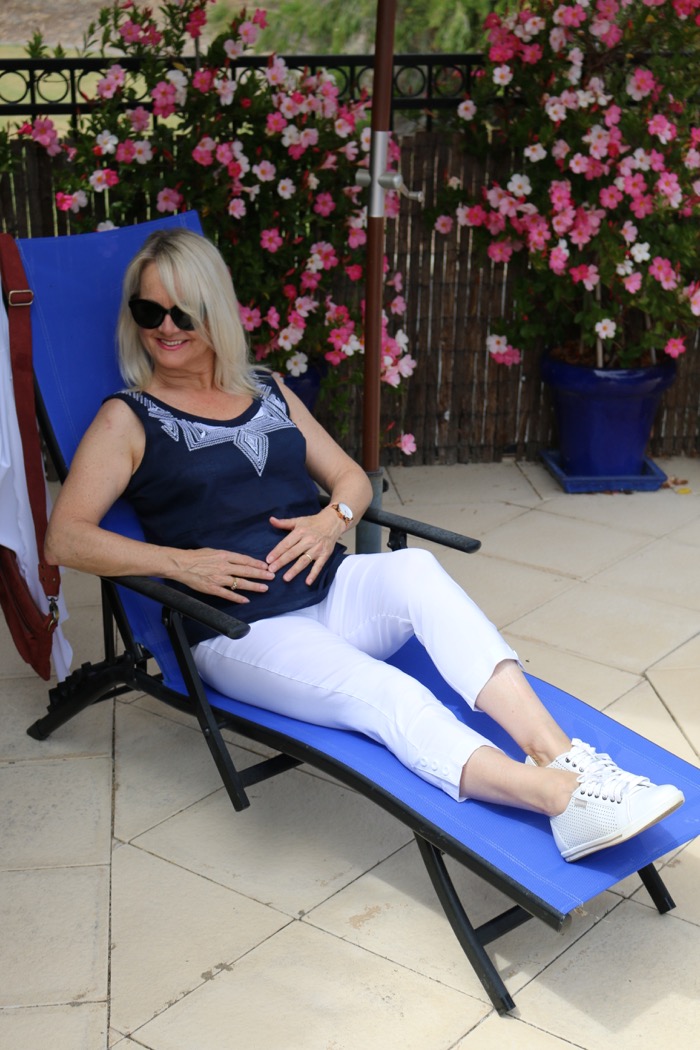 Where can I find resort wear Australia?
Look at labels like Styling You the Label, Adrift, 3rd Story, Salty Crush.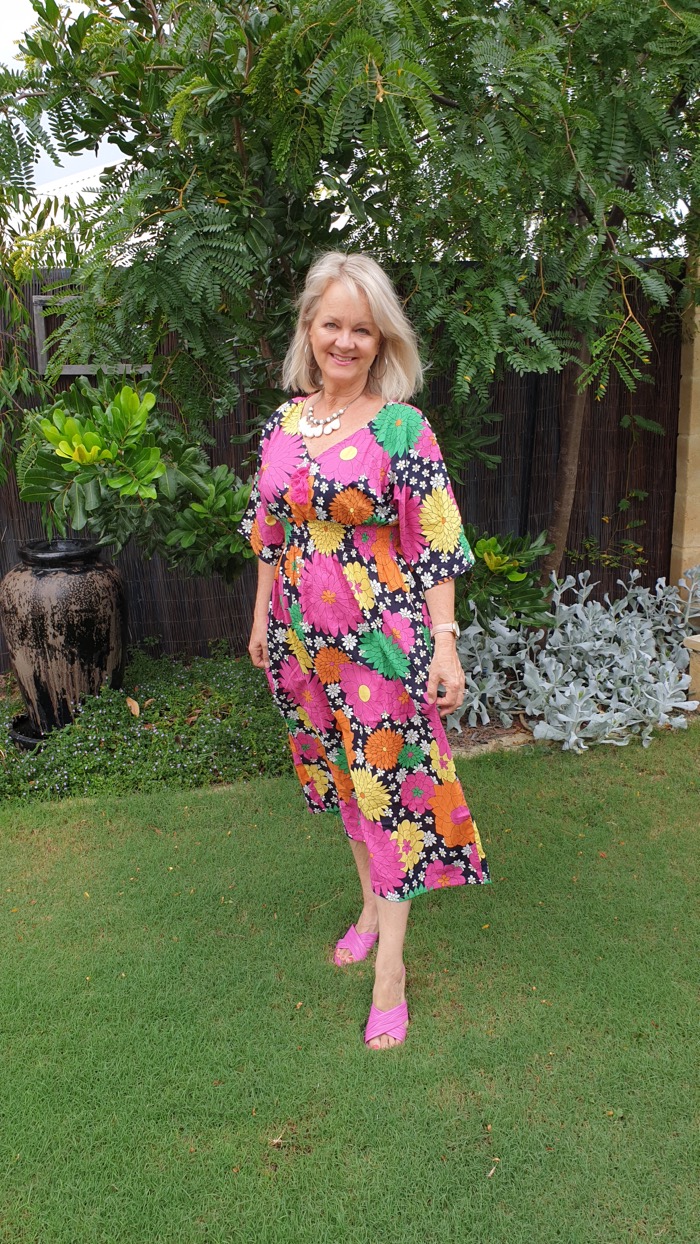 What should I wear on a Cruise ship vacation?
Why, resort wear of course! Resort style clothes are perfect for cruise-ships, both around the ship and for shore excursions. Check out these posts: What to Wear : Alaska Cruise : Ultimate Packing List and What to Wear on a Cruise – Insider Packing Hacks and The Best Advice about Cruise Clothes – 21 Insider Tips. You'll find plenty more resort wear tips in these posts.
I hope you've enjoyed this post, and found some fabulous fashion buys.
Don't Let Your Age Hold You Back! Have fun with your clothes!
Pin this Post!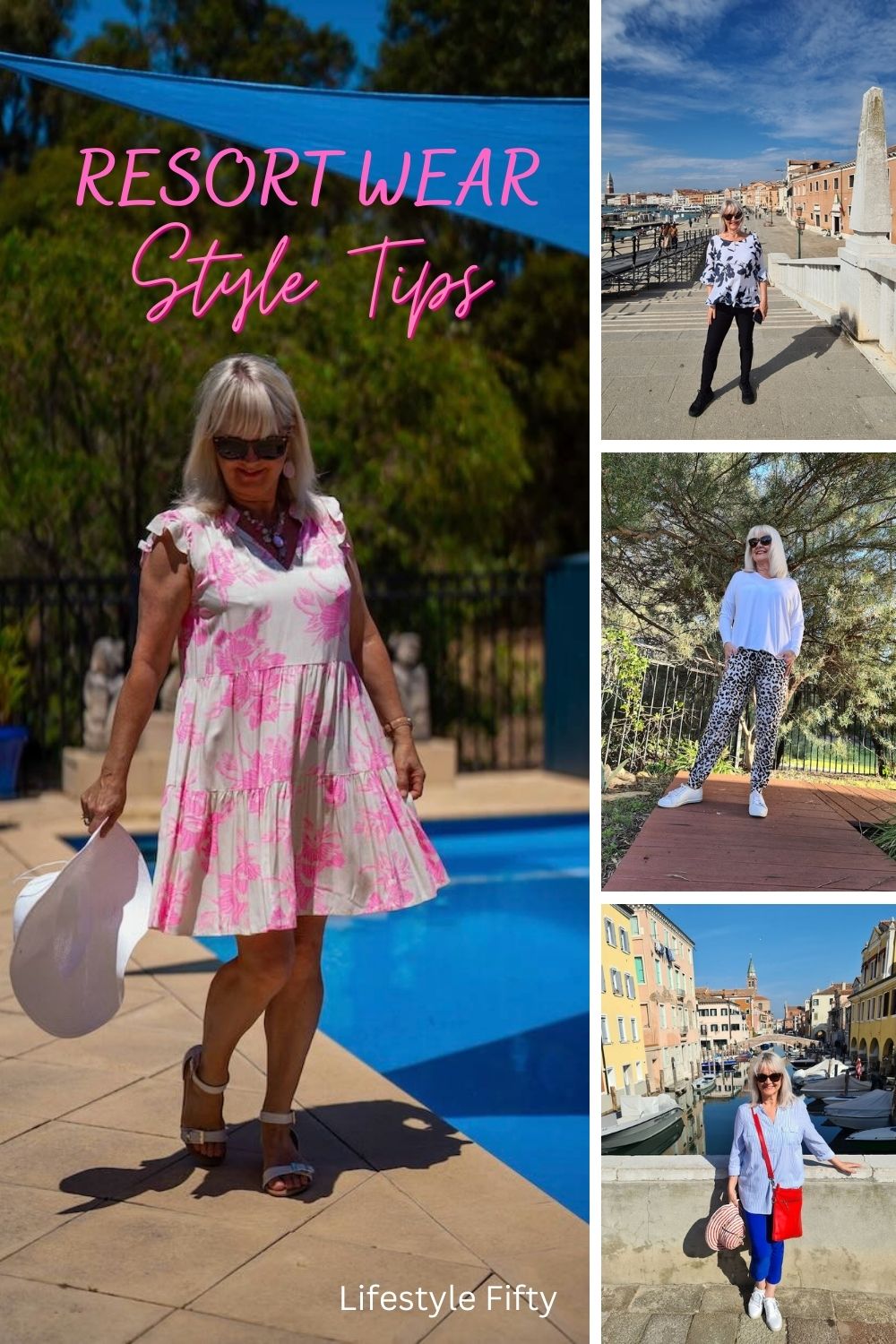 You Might Also Like
Fashion Tips for Women Over 50
How to Update Your Wardrobe for a New Stage of Life
Your Guide to Wearing Wide Leg Pants Over 50 : How To and What You Need to Know.
Wardrobe and Style Tips for Women over 45
The Ultimate Guide to Fifty Plus Womens Fashion
Women over 60 – How to Dress Beautifully and Feel Good!
Disclaimer: This post "Resort Wear for Over 60," contains affiliate links from which I stand to earn a small commission but at no expense to you. Any gifted items are marked with an *. Lifestyle Fifty Website is a participant in the Amazon Services LLC Associates Program, an affiliate advertising program designed to provide a means for sites to earn advertising fees by advertising and linking to Amazon.com. Some images kindly supplied by Salty Crush and Travel & Living Collection. Please read my full disclosure here.