Although I'm no stranger to travel, I tend to be a terrible ditherer when it comes to packing. My travel clothes are not neatly folded in the cupboard ready for the next adventure but they are all over the place. A travel dress here, my best travel pants there, my quick dry clothing in my exercise gear drawer, and let's not begin to talk about what can be found in the ironing or washing pile.
The Best Travel Clothes
But I love travelling, and Dave is always urging to me to travel light – which for me is an impossible task.
So I'm always looking for hints and tips on the best travel clothes for women, the sort of clothes which will double up and be highly effective in a number of situations, or which can just totally be relied upon so that you don't need to take two of the same thing!
I thought I'd throw open my quest for the best travel clothes to some of my travel blogging buddies and see what they had to say.
They've come up with some fantastic ideas; convertible travel clothing, great packable dresses, reversible clothing for travel, travel jeans, and even the best travel pants for men.
Without further ado here are suggestions for the best travel clothes from some seasoned travellers.
Best Sneakers for Travel
By Mayuri Kashyap – To Some Place New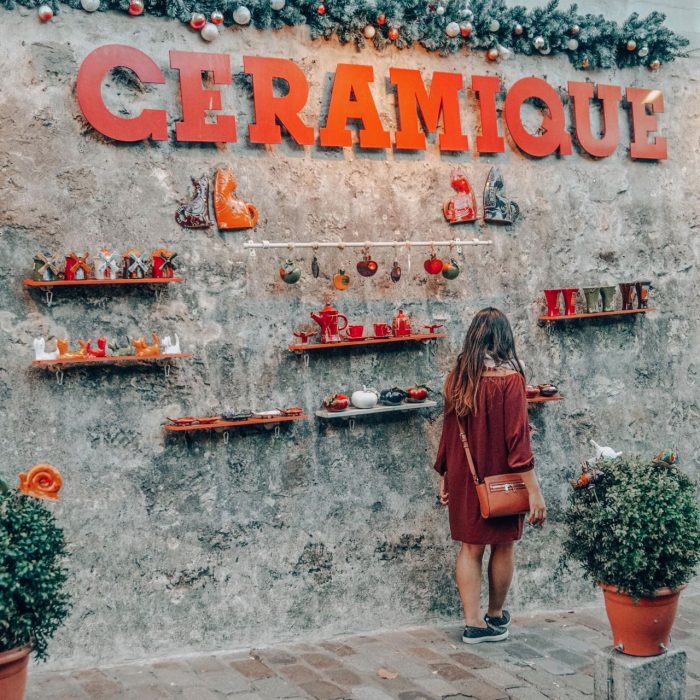 Walking is the best way to explore and get lost in a new city. And so shoes are important.
I love my black sneakers from Steve Madden and they have traveled with me to Cuba, France, Netherlands, Iceland, Belgium and Canada.
They have a decent grip so walking in cobblestone lanes in old towns of Europe is easy.
The sneakers don't have laces – thank God – just slip inside them and you're good to go. (I hate laces especially when some airports require you to remove your shoes.)
The black colour makes it a perfect match for jeans and dresses.
Merino Wool Garments
By Rand Shoaf – Well Traveled Mile

Merino wool garments are a must have piece of travel clothing on any trip for me. Merino t-shirts and underwear are two of my favorite pieces since they are next-to-skin clothing that benefit the most from the advantages of merino wool.
Not only does Merino wool feel super comfortable against your skin, it has exceptional wicking capability and feels dry to the touch even when damp.
Merino is quick dry clothing, and Merino wool is antimicrobial which helps to keep your clothes from getting a funky smell.
An added bonus is that it is anti-wrinkling, so you won't have to worry about stuffing it away in your luggage or pack.
The Skort – Skirt and Shorts in one
By Cristina Garcia – Travel For Wildlife
Whenever I pack for a safari, the clothing item that always makes it into my bag is my skort.
I don't go anywhere without it. A skort is the most genius fashion invention since the zipper.
A skort is a skirt and shorts in one! It's like wearing cyclist pants under your skirt.
Since it is two clothing items in one, a skort is very versatile.
You can wear it almost everywhere: on a city outing, you can dress it up with a cute shirt and hit the safari lodge for dinner, or you can even wear it hiking as the shorts component will make you feel you are wearing your hiking shorts.
After trying your first skort you might just need to get yourself a second one!
Best Sweater Dress
By Mel – TravelingMel
A few years ago I splurged on a sweater dress from prAna. I had been wanting one for awhile, but didn't want to pay for it. I have worn it so many times, that I think it must be one of the best deals I ever got.
This grey sweater dress is fitted in places and loose in other. It's flattering and comfortable. Since it is a light sweater material is doesn't wrinkle and holds up well in a suitcase or after sitting on an airplane, bus, or train. If it's cold, I wear leggings and boots. If it's mildly warm, just sandals.
My favorite thing about this dress is that it can look dressy or casual, so it works for almost all situations when it comes to travel clothes.
Best Travel Jacket for Women
By Micki – The Barefoot Nomad
My favorite piece of travel clothing is the SCOTTeVEST Chloe glow travel jacket for women. I love the 15 hidden pockets, which give me a lot of room for storing electronic gadgets, travel documents, and other gear.
I've worn it for the past two years, and it's taken me through plenty of countries, including the USA, Canada, Ecuador, Mexico and Belize. It's indispensable, and makes a unique travel gift!
The Chloe Glow hoodie front zipper zips all the way up across the face, so you can completely block out light on long flights. I found it too hot to do this, but if you're less claustrophobic, you may love it.
My only real issue with this jacket is that it's made for cooler weather, so you'll be quite warm if the temperature is over 18 degrees Celsius (65 Fahrenheit).

Best Travel Purse

By Constance – The Adventures of Panda Bear
My leather flap purse is one of my favorite travel items. Not only is the perfect size, but the exterior flap and the zipper interior pocket allow my valuables to stay safe. The flap and the zipper work as great pickpocket deterrent since they would have to work past two features in order to get to my valuables.
I also love how it has a zipper pocket on the flap because I can also store things safely there.

Plus I love how classy the purse is, it can easily go from daytime excursions to a nice dinner outing at night. The purse is easily dressed up or down depending on where you're going. It's definitely one of the best purchases I've ever made and I can't travel without it!

Best Travel Boots
By Lee LeeMusic – Music Hoarders United
When I was in my teens I was given a pair of Doc Martin boots as a birthday present. I loved them so much that I basically lived in them.
At eighteen I set off to London but I was so ill prepared that I didn't pack half of what I needed. Out of pure luck rather than sensible planning the boots made the journey. Aside from making me look super cool (most important at eighteen), they were extremely comfortable and warm and could be worn in any situation.
That pair of Doc Martin's went on to leave a foot print all over the USA and Europe and since then a second and third pair have trampled all over Asia, New Zealand and USA and Europe again. Great boots!
Best Crossbody Bag
By Audrey Chalmers – Gumnuts Abroad
I prefer the easy access of crossbody bags over backpacks, and the Travelon Crossbody Bucket Bag is my favourite.
It's super practical with stain resistant material and lockable compartments that are sturdy and slash proof. There's even a side pocket that holds water bottles. I carried this bag from continent to continent on our a 13-month career break abroad. It's stylish enough for the streets of Europe, yet practical enough for climbing volcanoes.
At the end of our trip it returned home dusty but still in workable order. (The bag not us!) But I'll be buying a new one for our next trip as I want a more colourful bag than my current black one.
Best Ponte Pants
By Carolyn – Holidays to Europe
My go-to travel clothes are a pair of ponte pants or leggings, a loose fitting t-shirt and a cashmere or merino poncho or long cardigan. Not only are these clothes comfortable on a long haul flight, they can also be worn throughout my trip.
I prefer pants or leggings with an elasticized waist for flying and these can be dressed up or down with different tops and accessories during my travels.
By choosing a merino or cashmere cardigan or poncho I have the added bonus of keeping warm (I hate getting cold on planes) but not overheating, and again I can mix and match this outer layer with different pants as needed.
Best Moccasin Ankle Boots
By Lauren Monitz – The DownLo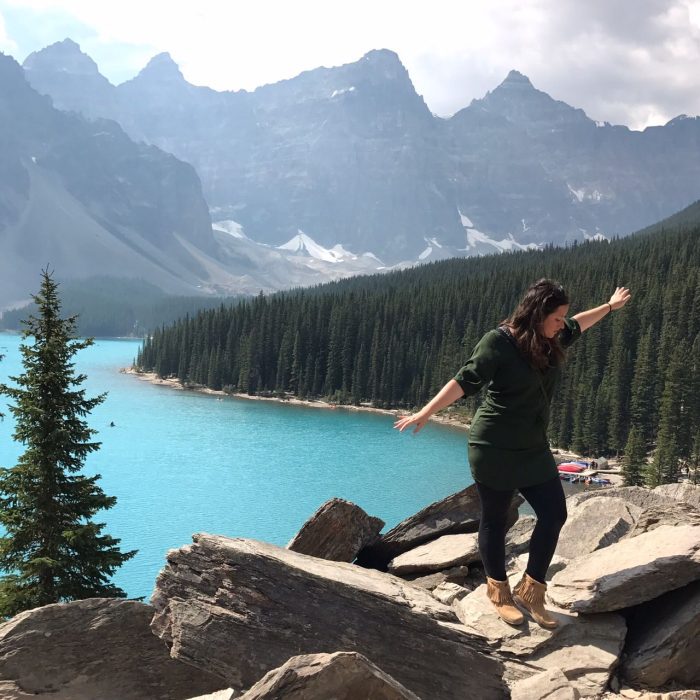 Everyone looks for those perfect travel shoes that are comfortable enough to survive long days of walking and exploring the city streets but still look cute enough they can be dressed up for evening wear.
For me, that's Minnetonka moccasins. I'm so obsessed I have them in three styles – flat slip-ons, ankle booties, and tall boots. They match virtually everything and the decorative fringe spruces up any outfit for a boho chic look. I've even worn them hiking when I'm really trying to pack light (but don't recommend it).

Best Travel Sandals
By Pam Baroro – Hey, Miss Adventures!
I usually just pack one pair of shoes plus a pair of slippers or sandals when we travel.
My favourite is a pair of Merrell Waterpro Maipo, which are perfect for traveling around my country, the Philippines.
They are perfect for all terrains because water just drains out of them if they get soaking wet.
My trusty pair has been with me for more than 4 years now and I've taken them with me through mountains, rivers, beaches, and cities. They have saved me a lot of luggage space and money – an essential when you travel around with little kids, just like we do.
Best Tote Bag
By Jan – Retiring Not Shy


My essential piece of travel apparel is a tote. I always travel with one and whilst I don't use it every day I do use it every time I get on a plane or a train.
My tote carries my travel life – my laptop, passport, travel tickets, purse, sunglasses, lipstick, tissues etc.
It is essential that the tote can be zipped closed for storage in overhead luggage compartments, and that it be spacious but not too heavy.
Good internal pockets are also required to prevent loads of scrabbling around looking for things.
The Case for Casual Outdoor-Style Clothing
By Mary Beth – MB Sees.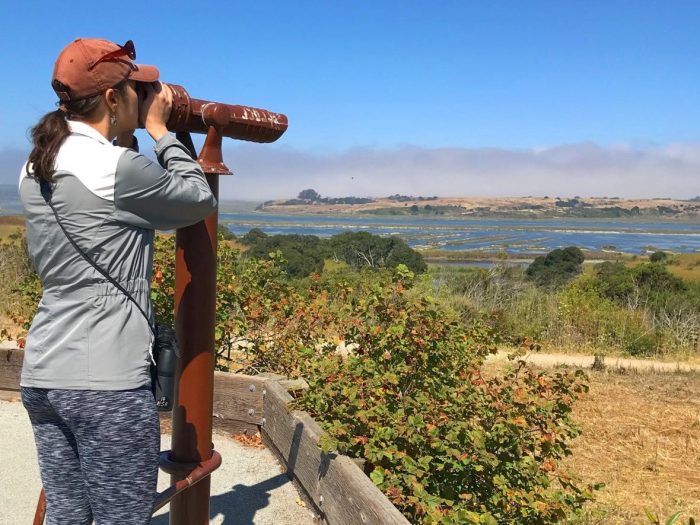 I wear casual outdoor-style clothing when I travel because it suits my active lifestyle and it does double-duty! I like to travel as light as possible, so choose to take clothing I can wear for any occasion, whether it be hiking or dining.
When it comes to my travel clothes I'm not one to interrupt my activities midday just so I can return to my accommodation to shower and "get ready" for a meal out. I want to go on a hike and then straight out to dinner… no changing necessary!
My go-to colors are blacks and greys because they transition the easiest and match everything. And let's be honest, dark/neutral colors look more dressed up for a night out, even if they're just on a sporty top!
Best Reversible Print Wrap Skirt
By Gemma – A Girl and Her Dog on The Road
When I'm packing travel clothes it must be said that I don't go on any trips without my reversible print wrap skirt. Handmade by Ananda Clothing on Etsy, these are comfortable, colourful, lightweight for packing and, best of all, you get two outfit options in one.
They have a removable, zippable pocket that is great for safely storing cash.
If the weather is chillier, pop on a pair of leggings underneath but still keep a funky splash of colour.
With a one size fits all design with adjustable poppers, if you have a travel buddy that needs an emergency outfit they can borrow yours!
Best Travel Dress
By Helen Foster – Destination Differentville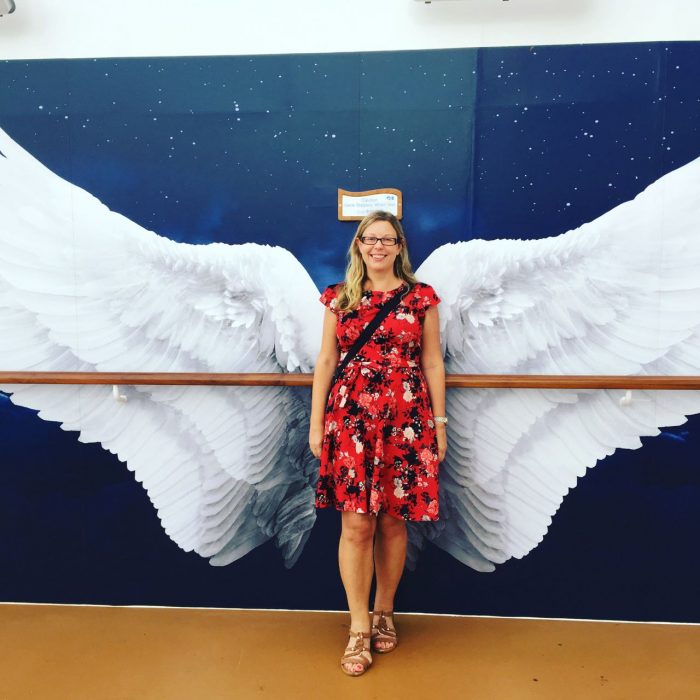 I have a dress I pack on holiday that I always end up doing something very 'undress like' it – like climbing Camelback Mountain in Scottsdale, Arizona. Don't worry, just the sensible bit with the path – I'm not mad (and I did check with the ranger first).
All these hikers were coming down in proper gear – and I'm looking like I'm off to tea. We just happened to drive past the entrance to the trail and I didn't have time to get changed!
It came from Dorothy Perkins in the UK and it's great because it weighs barely anything, doesn't crease and works as well as a sundress as it does to go to a wedding – this means I wear it a lot. Hence ending up on mountains! It's also been on a cruise!
I have to say my Dotty P dress comes top of the list of travel clothes for me!
Best Travel Pants for Men
By Andrew John Virtue Dobson – DobbernationLOVES

Men looking for comfortably trendy pants to wear when flying or traveling for long stretches at a time… let me introduce you to Zanerobe.
From brash beginnings in Sydney, Australia to a confident, innovative, and global brand today, Zanerobe has clothed an audacious, independent youth movement for over a decade.
Founded by Leith Testoni and Jonathan Yeo in 2002, their Aussie fashion brand is now known around the world as a specialist in stretch-cotton joggers and artisan washed denim worn by contemporary men who are affluent, fashion savvy and self-assured.
For travel clothes I always pick my Zanerobes because they are made of a comfy material, designed with a stretchy waistband, and are available in a plethora of patterns and colours.

Best Travel Sandals
By Mary Chong – Calculated Traveller Magazine


My favourite piece of clothing that always goes into my suitcase on every single trip are my Birkenstock EVA Sandals.
They have the same styling and contoured foot bed as the regular Birkenstock Gizeh cork sandals, but since they are made of EVA plastic, they are super lightweight and completely waterproof.
I wear them as slippers in my hotel room, they go to the beach and by the pool, I take them camping with me, and I slip into them in the evening with my sundresses.
They are pricier than cheap throw away flip-flops, but I feel that the extra cost is worth it since they are made to last, and are better for your feet due to the contoured arch support.
Stylish Travel Sneakers
By Ingrid – Fabulous and Fun Life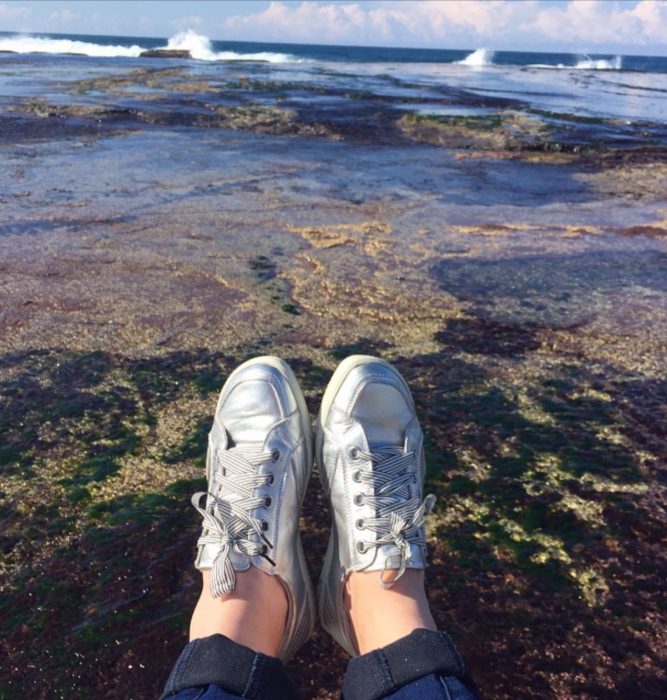 The first item of clothing I pack regardless of my destination is my trusty silver FRANKiE4 Ellie shoes.
Not only does the silver look stylish especially when paired with the white and black striped ribbon laces but they are the most supportive shoes ever.
Designed by a podiatrist and physiotherapist my Ellie shoes have heel support, arch support and forefoot cushioning enabling me to stay on my feet all day long sightseeing without developing any back or leg pain.
The stylish silver colour looks a lot dressier than the average sneaker type of shoe and enables me to easily pair it with dresses and skirts as well as pants and shorts.
Best Hat for Travel
By Masha – Fingertip Travels
A straw wide brimmed hat is a staple in my go-to travel style. I can wear any uninspiring or dirty outfit, put on my hat, and instantly transform into an inexplicably chic adventuress!
My hat can hide my greasy hair, and it protects my face, ears, and neck from the sun. It's my most useful article of clothing. My favorite thing about it, however, is how photogenic it is! Just tilt it up and stare into the distance for epic travel photos! A straw wide brimmed looks adventurous and romantic, and I make sure to always bring it with me on my travels.
Black Jeans for Travelling
By Melissa- The Family Voyage
I never travel anywhere outside of the tropics without my black jeans! They're versatile enough to wear for daytime or dinners out and easy to mix-and-match with the other pieces in my travel capsule wardrobes.
I like to choose a pair that skinny or slim in cut with a little bit of stretch for comfort. I've worn them hiking in Patagonia, to nice restaurants in Paris, and just about every activity in between.
I like pairing them with TOMS slip-ons for a great balance of comfort and style, but they match just as well with my trail runners or d'Orsay flats.
My Best Travel Clothes
By Jo – Lifestyle Fifty
My best travel dress has to be one that doesn't need ironing and is an easy wear crinkle cut. The Kelly Dress is a great choice for me in hot weather, especially for lazy day barefoot beach walks. I also team it with comfortable sandals for day walks and sightseeing too. Use the code LSFTAKE30 for 30% discount when you buy using this link.
For the Best Quick Dry Clothing I like to look around a bit and find the best prices because often this kind of gear is expensive in high street stores. So I'll generally check out quick dry hiking pants and quick drying sun smart tops at the more well known Hiking and Camping stores, and then shop for similar less expensive items online.
When it comes to the best travel pants for women I like comfort above all else, especially for flying. Loose fitting Bohemian style Harem pants are generally top of my list because they don't restrict my tummy too much, and as they are baggy around the leg I can comfortably sleep in them on long haul flights.
My extended family live in England, and I try to visit as often as I can. However, I choose slightly different travel dresses for Europe than I would for say travelling in Asia or Australia. In the southern hemisphere I wear more relaxed fits, but in Europe I'll generally choose something a little dressier. Perhaps a jersey crossover dress – which is very forgiving but looks smart. Jersey dresses are extremely packable dresses because they don't crease – I roll them up in my case, then unpack and hang out.
These days I seem to wear skirts less often when I travel, but previously my very best travel skirt has always been a wrap-a-round. I love this style because you can wear it as a sarong/cover up, lay it on the beach if you don't have a towel – and yes, even use it as a towel if you have to! This reminds me, I really need to buy another wrap around skirt and I particularly have my eye on this lovely boho, wrap travel skirt.
The best kind of travel clothes are those that do two jobs in one. I love convertible travel clothing as it's a great space-saver. Quick Dry convertible travel pants which also double up as shorts are a winning combination, and are definitely my all-round choice for the best travel pants for hot weather when it comes to active holidays.
The other kind of very practical gear to think about is reversible clothing for travel. A rain poncho is something I'll always pack, and if it's reversible you can get double the wear out of it. I really love the colours of these reversible rain ponchos online.
My travel jeans need to be hard wearing, comfortable and a great fit. I like jeans that lift my bum and control my tum and recently I've come across Crazy4Jeans which have a fabulous array of styles and choices. Use this link and you'll get 15% discount for a limited period.
What's your favourite piece of travel clothing?
Cruise Packing List
Going on a cruise? Check out our suggestions and packing check list here : What to wear on a cruise and packing checklist
Pin this post for future reference
This post contains affiliate links from which I stand to earn a small commission if you buy from them, at no cost to you. Lifestyle Fifty Website is a participant in the Amazon Services LLC Associates Program, an affiliate advertising program designed to provide a means for sites to earn advertising fees by advertising and linking to Amazon.com.