Weekend wear should be all about boosting your confidence and making you feel great.
What you wear at the weekend shouldn't consist of clothes that have been relegated to the back of your wardrobe as too old, or a bit tatty, or are clothes that you've worn time and time again and feel are a bit past their prime.
Just don't do it! Not at all!
Not unless you're painting the house or digging up the garden that is.
Weekend Wear for Confidence
Weekend wear should make you feel confident and happy and stylish.
Many of us are guilty of keeping our best clothes for 'best' occasions, which means much of our wardrobe never gets worn.
Guilty as charged! I've donated quite a few items of clothing over the years to charity shops because they've gone out of fashion entirely and I've only worn them about once!
To get the best value for money from your clothes you need to wear them, understand what goes well with them, and realise that there is value in looking your best even on a laid-back Sunday afternoon with just your closest family around.
This doesn't necessarily mean dashing out to buy a whole new weekend wardrobe although it can be a good idea to occasionally update your weekend wear to give you a few new options.
Consider adding a key piece to your wardrobe and sharpening up your everyday style with something basic added to your capsule wardrobe.
Something from which you'll get a lot of wear like these cropped pull-on bengaline pants in a block colour which you can top with a patterned or a block coloured blouse, like the Lucy Layer Top I'm wearing.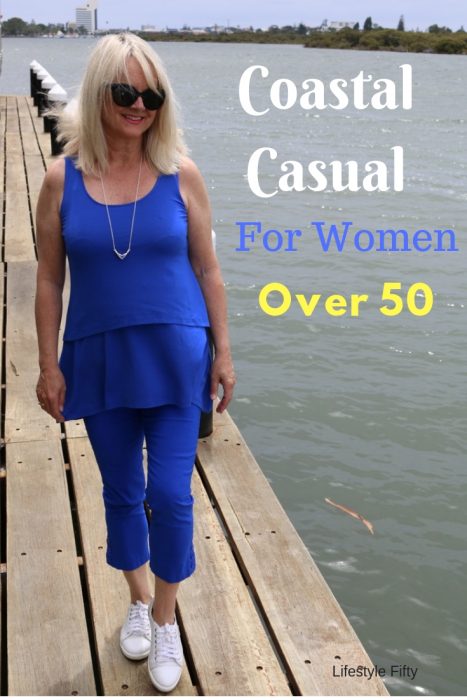 The bengaline pants in the images are practical for weekend wear, especially for an active weekend and a great staple for boosting your confidence and style.
Cropped length.
Pull-on.
Stretch for comfort.
Slim leg.
You might also like these Bengaline Pants.
Accessorise your Weekend Wear for personal style
To add a little added personal style I'm wearing a FredLoves Necklaces heart necklace from Travel & Living Collection's, a Bohemian at Heart range.
The hands clasped together are a little different, and people often comment on this novel and individual piece of jewellery.
The addition of something striking, or personal, or a talking point offers added value in looking and feeling your best.
"Personal style is having the confidence to be who you are, not necessarily flamboyant or eccentric. It can be as simple as turning up a cuff or the contradiction of a weathered motrocycle jacket slung over an elegant evening dress. It's taking a risk, trying something unexpected, and having fun with fashion but always being true to yourself."

Ralph Lauren
Weekend wear means comfy feet for me, without foregoing style.
Say hello to my favourite flat addition to my shoe arsenal, POLLY!
POLLY by FRANKiE4 Footwear have become my go-to shoe whether it's for all day wear with a pair of classic pants or jeans or with a casual day dress.
You can pair them with low-cut invisible socks to keep your legs bare and chic in the summer months or wear them with denim or leggings for a preppy look in winter too.
With a customised footbed with arch support, heel cradle and forefoot cushioning, POLLY is a great investment if you're looking for an all round, stylish sneaker to add a bit of comfort and style to your weekend footwear.
Weekend Wear Mantra
Don't let outdated notions of guilt and saving things for best stop you from looking your best at the weekends.
Wear your wardrobe my friends. Wear the clothes until they wear out rather than go out of fashion.

Jo Castro
What's your favourite weekend wear style?
This post contains gifted products for editorial consideration, and affiliate links from which I stand to earn a small commission if you buy from them, at no cost to you. Lifestyle Fifty Website is a participant in the Amazon Services LLC Associates Program, an affiliate advertising program designed to provide a means for sites to earn advertising fees by advertising and linking to Amazon.com.