Hello, Lifestylers! Today, we're having a fashion face-off! Blouse vs Shirt! We're going to look at the differences between a blouse and a shirt and share style tips and suggestions to help you dress with even more panache and confidence.
Blouse vs Shirt: Decoding the Differences
Just the other day, I pondered a completely insignificant world conundrum. As I dressed, I looked through my wardrobe and wondered, "blouse or shirt? "
And it got me thinking about the differences between each and when to choose one over the other.
I jokingly asked a fashion-conscious friend, "Do you know the difference between a blouse and a shirt?" She replied, "Of course I do! A shirt has buttons and a collar, and it's more manly than a blouse." Well, I thought, that's pretty good because I would have said the same! But I decided to dig a little deeper and discovered a whole lot more.
So today (in the interests of humanity!), we'll explore the differences between a Blouse and a Shirt and offer tips and suggestions about some of the best and grooviest you can buy online.
A Brief History
Let's take a quick trip back in time to understand the origins of blouses and shirts.
The 19th Century and the Birth of Shirts
Shirts have been a part of women's fashion since the late 19th century. Initially influenced by men's shirt style, they were considered a groundbreaking innovation in women's clothing.
The Evolution of Blouses
Blouses, on the other hand, have evolved over the years with varying styles and decorative elements. They have become a significant part of women's fashion, offering various choices for different occasions.
Blouse vs. Shirt: Exploring the Differences
With various styles and designs, it's important to know when to reach for that classic button-down shirt or when a trendy blouse will work better for your outfit.
So, whether you're heading to a formal event or enjoying a casual day out, we've got you covered with all the key differences and style tips you need to make the perfect choice!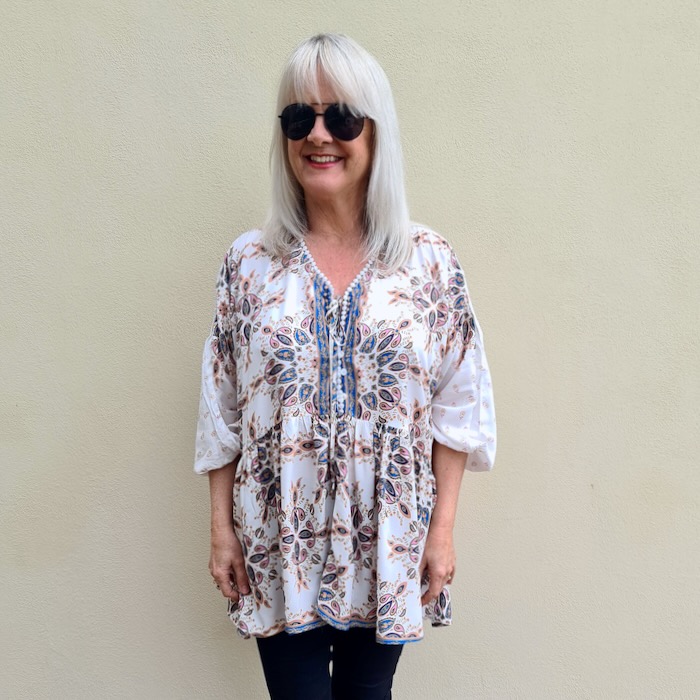 The Basics: What is a Blouse?
A woman's blouse is a versatile, typically lightweight garment worn on the upper body, often with buttons or a front opening, and usually designed with a feminine and fashionable style.
Every woman should have blouses in her wardrobe. They are versatile and come in various styles and fabrics, making them popular for formal and casual occasions.
20 Different Types of Blouses
Of course, there are many styles of blouses! Here's a list of some different types of women's blouses:
Button-Up Blouse
Peasant Blouse
Ruffled Blouse
Wrap Blouse
Off-Shoulder Blouse
Halter Neck Blouse
Bell Sleeve Blouse
Bow Tie Blouse
Kimono Blouse
Tunic Blouse
Lace Blouse
Smocked Blouse
Sheer Blouse
Boho Blouse
Cold Shoulder Blouse
High-Low Hem Blouse
Embroidered Blouse
Cape Blouse
Flared Sleeve Blouse
Fringe Blouse
Phew! Who knew there were so many?
These are just a selection of the various styles and designs in women's blouses, each offering a distinct look and feel to suit different occasions and personal preferences.
Choose Your Style: Sleeve Length and Fabric
One of the main differences between blouses and shirts is the sleeve length. Women's blouses often feature long sleeves, perfect for an elegant and sophisticated look. They are an excellent choice for more formal events or perhaps when you want to add a touch of classiness to your outfit.
Blouses also feature fabrics from silk to chiffon and lace to cotton. These fabrics can add a touch of delicacy to an outfit, making blouses a fantastic choice when one wants to feel feminine and stylish.
Decorative Elements and Collar Styles
Blouses are known for their decorative elements, including ruffles, bows, and intricate embroidery.
These decorative features can add a touch of flair and uniqueness to your outfit, making blouses an excellent choice for special events or when you want to make a statement.
Additionally, blouses often feature a variety of collar styles, such as the classic button-down collar or the elegant bow blouse.
These different collar options allow you to choose the style that best complements your taste and body shape.
What is a Shirt, Exactly?
A woman's shirt is a practical, versatile top designed for the upper body. It typically buttons down the front, has a collar, and has long or short sleeves. Various styles make it suitable for casual and formal occasions.
They are timeless pieces of clothing suitable for various occasions, available in multiple styles and fabrics, each offering a distinct look.
11 Different Types of Shirts
Here's a list of different types of women's shirts:
Polo Shirt
Dress Shirt
Flannel Shirt
Henley Shirt
Peplum Shirt
Tunic Shirt
Denim Shirt
Oversized Shirt
Ruffled Shirt
Popover Shirt
These are just a few examples of the many types of women's shirts available, each with unique styles and characteristics.
Sleeve Length and Fabric
Shirts typically come with long sleeves, but you can also find them with short sleeves, which are great for casual wear. A classic shirt's fully buttoned vertical opening gives it a formal touch, making it an ideal choice for business-casual looks or more formal events.
Regarding fabric, shirts are often made from sturdier materials like cotton or linen. These fabrics offer a more structured and professional appearance, making them perfect for the office or a put-together look.
Collar Styles and Simplicity
Shirts are known for classic collar styles, such as the pointed or spread collar. These collar options create a polished and refined appearance, making shirts the go-to choice for a more formal look.
What sets shirts apart is their simplicity. Shirts usually lack blouses' decorative elements and frills, providing a more understated and professional appearance, which makes shirts a top pick for corporate settings and business meetings.
When to Choose a Blouse or a Shirt
Now that we've covered the key differences let's look at some occasions you might wear a blouse or a shirt.
Formal Occasions
Opt for a long-sleeved blouse in elegant fabric and decorative elements for formal events like weddings or cocktail parties. Wear it with a tailored skirt or trousers, and you'll be ready to make a lasting impression.
Shirts can also work for formal events, especially if the dress code demands a more traditional or conservative look. They're also eminently suitable for working environments.
Casual Occasions
When you're enjoying a casual day out, consider a short-sleeved shirt. It's perfect for pairing with skinny jeans, tennis shoes, or sandals for a comfortable, laid-back outfit. Blouses can also be dressed for a more casual look, especially if they come in a straight fit and feature simpler designs.
"Navy and white is always a winner because of its fresh, classic look. A recent addition to my wardrobe is the Navy and White Pintuck Shirt from Fella Hamilton in the image below. It has quickly become a favourite of mine as you can wear it for casual occasions with white or navy pants or shorts and dress it up with pearls and evening pants for dinner or more formal wear. The pintuck detail is a lovely design detail and, combined with the A-line fit and short sleeves, is perfect for hot Queensland summers." Sue Loncaric – Women Living Well After 50
Scroll down to the bottom and learn more about Sue – and how to keep in touch with her!
Everyday Wear
Both blouses and shirts can be your go-to for everyday wear. Blouses offer a softer, feminine touch to your outfits, while shirts provide a crisp, professional appearance. Choose based on your style and what makes you feel most comfortable.
What's not to love about the floaty boho blouse in the images below. For me the 70% linen Alyx blouse is a perfect all-year-round casual-wear staple. It's a beautifully relaxed smock style blouse ideal for pairing with basic skinny jeans or a maxi skirt for an ultimate boho look. The model is wearing a size S-M, and I am too. Its features include a round neckline that you can wear either high or low, a ruffled hi-low hem, and 1/2 bell sleeves with ruffle cuffs. Use my 10% coupon code LIFESTYLEFIFTY10 for 10% discount on garments at Salty Crush (not ON sale items).
Different Styles and Fabrics
The fashion world constantly evolves, offering various styles and fabrics for blouses and shirts.
Different Types of Collars
As mentioned, shirts come with classic collars like pointed or spread collars. In contrast, blouses offer various collar styles, including the classic button-down collar and the elegant bow blouse. These different collar options allow you to adapt your upper garment to your outfit and style.
Different Types of Fabrics
Blouses are known for their delicate fabrics like silk, chiffon, and lace.
Shirts, however, often feature sturdier materials such as cotton or linen. Depending on the occasion, select the fabric that feels best and complements your look.
Body Shape – Blouse vs Shirt Tips
When choosing between a blouse and a shirt, you must consider your body shape and the best fit.
Straight Body Types
Blouses and shirts work well on a straight body type. Shirts can provide a more structured appearance, while blouses can add curves and softness to your figure. Experiment with different styles to see what suits you best.
Curvy Body Types
For curvy body types, blouses with decorative elements like ruffles and bows can highlight your curves flatteringly. Shirts with a tailored fit can also provide an attractive silhouette.
A Word on The Bottom Half
When it comes to the bottom half, you can pair both blouses and shirts with a variety of options.
If you wear tighter garments after a certain age, you may feel more comfortable wearing a blouse or shirt that covers your tum and bum.
However, if you feel comfortable wearing shirts or blouses tucked in, you may be more confident choosing well-tailored trousers or skirts made from quality fabrics that don't hug in all the wrong places.
Skinny jeans, denim jeans and Ponte Pants are versatile choices that complement shirts or blouses, while pencil skirts can add a touch of sophistication to your outfit.
Play around with different combinations to find what suits your style best.
New Collections and Trends
The fashion world is ever-changing, and new collections are constantly emerging. Be on the lookout for the latest trends and styles in both blouses and shirts to stay up-to-date with the current fashion scene.
The Rise of Crop Tops
Crop tops have become more prevalent in recent years. They are a fusion of blouses and shirts and offer a trendy, youthful look. Their shorter length is excellent to avoid tucking in a shirt or blouse or wearing pants or skirts with a high waist.
Plaid Shirts for a Casual Day
Plaid shirts are a classic choice for a casual day out. Whether you wear them fully buttoned or open with a basic t-shirt underneath, they offer a laid-back and stylish appearance.
Halter Tops and Knit Blouses
Halter tops and knit blouses are part of the new collections that cater to various preferences. Halter tops provide a unique style with shoulder straps, while knit blouses offer a cozy and relaxed fit, perfect for chilly days.
Blouse vs Shirt: Unraveling Women's Fashion
Choosing between a blouse and a shirt can significantly impact your overall look in women's fashion.
Understanding the main differences and when to opt for one over the other is essential for creating the perfect outfit for any occasion.
Whether aiming for a formal, professional appearance or a relaxed, casual style, the variety of styles and fabrics allows you to express your style and feel confident in what you wear.
So, when next pondering "Blouse vs Shirt, " you'll be armed with expert knowledge about which to buy to suit the occasion and your style.
Now go ahead, mix and match, and let your wardrobe showcase your unique taste in fashion!
Welcome Sue!
Big thanks and welcome to Sue Loncaric (who features in our Blouse vs Shirt post). Sue is an Australian Over 50 lifestyle blogger and the founder of Women Living Well After50 and the WLWA50 Podcast. A qualified PT and Group Fitness Instructor, her mission is to encourage and inspire women Over 50 to live life their way by living a fit, fabulous, healthier and happier lifestyle. Connect with her via her blog or Instagram and Facebook: Instagram: @womenlivingwellafter50 Facebook: Women Living Well After 50
Disclaimer: This post, "Blouse vs Shirt, " contains affiliate links, from which I stand to earn a small commission but at no expense to you. Any gifted items are marked either gifted or with an asterisk *. Lifestyle Fifty Website is a participant in the Amazon Services LLC Associates Program, an affiliate advertising program designed to provide a means for sites to earn advertising fees by advertising and linking to Amazon.com. Some images may have been sourced, with permission, from Salty Crush. Please read my full disclosure here.