Hello fabulous over 50 fashion lovers! Have you ever found yourself standing in front of your overflowing closet, feeling overwhelmed by the sheer number of clothes, yet struggling to put together a polished and stylish outfit for work? If you've been there, fret not; you're not alone! But here's the good news: The solution is just a few neutral colors and some carefully selected classic pieces away. Welcome to the world of the capsule work wardrobe!
Cheers Lifestylers!
In this blog post, we'll share style tips that take you into the professional world of capsule work wardrobes and inspire you with some easy ideas you can emulate.
"Buy less, choose well," said Vivienne Westwood. And this is the basis of creating a capsule wardrobe.
You'll soon see why you absolutely need a small but efficient selection of clothes in your wardrobe to rely on.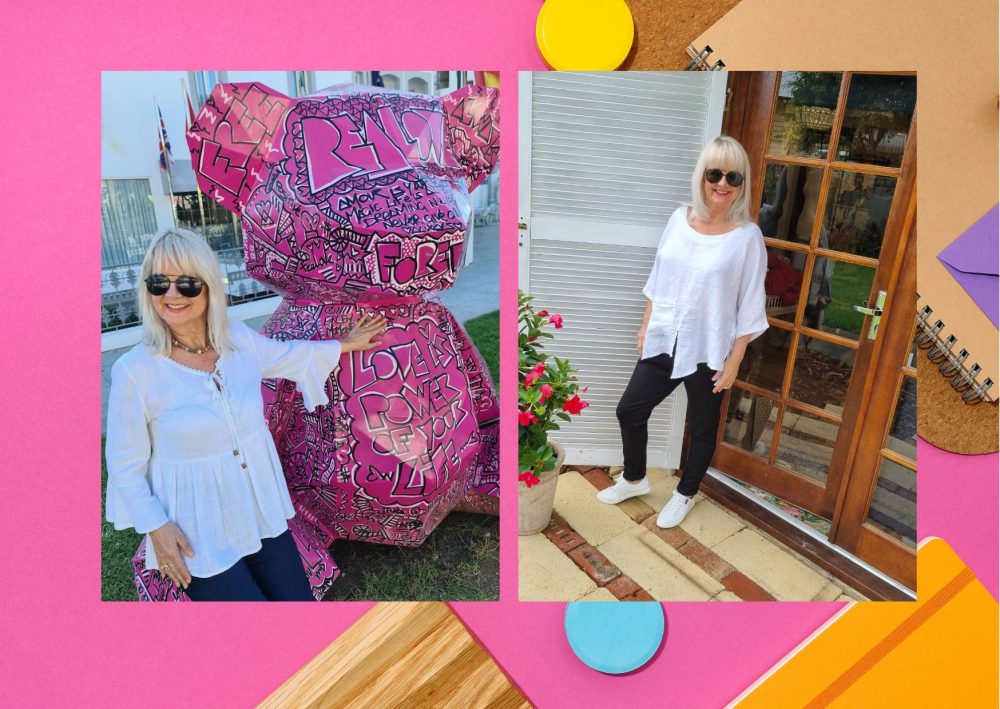 What is a Capsule Wardrobe?
"A capsule wardrobe is a minimalist collection of clothes that can be put together in different ways to cover a variety of outfits and occasions. The aim is to have an outfit suitable for any occasion without owning excessive items of clothing." Wikipedia
So today we'll explore the magic of minimalism, where less truly is more, and discover how curating a collection of versatile pieces can make your mornings a breeze.
Say goodbye to the days of standing in front of your closet, scratching your head in confusion.
With a well-planned capsule work wardrobe, you'll have a curated selection of outfits that not only make you look effortlessly chic but also save you precious time and energy.
I'll share some fantastic outfit ideas to get your creative style juices flowing!
So, if you're ready to simplify your life, embrace the power of neutral colors, and personalize your work attire with statement pieces, keep reading.
Your wardrobe edit begins here, and I can't wait to share this fashion journey with you!
What Exactly Is A Capsule Work Wardrobe?
A capsule work wardrobe is a carefully curated collection of essential clothing items designed to create a versatile and efficient closet for the workplace.
It typically consists of timeless, high-quality pieces in neutral colors. Pieces that can easily be mixed and matched.
The goal is to streamline your daily dressing routine, reduce clutter, and make getting dressed for work a breeze.
By focusing on quality over quantity and selecting items that work well together, a capsule work wardrobe promotes a more sustainable and minimalist approach to fashion, while ensuring you always look polished and put together.
But why bother creating one?
Well, a beautifully curated work wardrobe is a powerful asset, especially for women over 50 who want to exude professionalism, confidence, and style.
Let's explore how a capsule wardrobe is not just a minimalist trend but a practical and elegant solution that saves time, space, and helps you look and feel your best.
You're going to discover key elements and principles, along with the statement pieces and other versatile garments that make up the ultimate capsule work wardrobe for women over 50.
How to Build a Capsule Work Wardrobe
Let's start with five tips about how to build your capsule work wardrobe.
1. Define Your Style and Needs.
Start by identifying your personal style and the specific requirements of your workplace.
Understanding the specific dress code, and the types of outfits you feel most comfortable in will guide your choices from now on.
2. Invest in Quality Basics.
Choose neutral-coloured, high-quality basics like a well-fitted blazer, tailored trousers, crisp white shirts, and comfortable yet stylish shoes. These form the foundation of your capsule wardrobe and can be mixed and matched with other pieces.
3. Select Statement Pieces.
Incorporate a few statement or designer garments that show-off your style, and add personality to your outfits. These could be a bold-colored designer blouse, a unique accessory, or a standout pair of shoes which breathe life into your work wardrobe.
4. Consider Versatility.
Opt for versatile pieces that you can wear in multiple ways. For example, a classic sheath dress can be dressed up with a blazer for meetings or dressed down for a more casual day at the office.
5. Regularly Edit and Update.
Keep your capsule wardrobe fresh and relevant by periodically reviewing your items and decluttering.
When adding new pieces, ensure they complement your existing collection, and consider donating or selling things you no longer wear.
Building a capsule work wardrobe takes time, but it simplifies your daily routine, reduces decision fatigue, and ensures you always look polished and professional at the office.
Building the Foundation of Different Outfits
Building the foundation of different outfits in a capsule work wardrobe relies on some versatile essentials.
Classic pieces like neutral tops, well-fitted bottoms, and timeless outerwear create a canvas to which statement accessories and complementary items can be added.
This approach allows for endless outfit possibilities while maintaining a minimalist, clutter-free closet.
Classic Pieces for Your Body Type
Understand your body type and only ever buy work outfits that fit well. Don't buy anything too tight or too baggy. A capsule work wardrobe must suit you as soon as it's in your closet.
1. Timeless Blouses and Shirts.
A well-rounded work wardrobe begins with high-quality pieces, mainly classic pieces like a crisp white blouse, various tailored button-down shirts, and elegant silk blouses.
These versatile items can effortlessly transition from formal meetings to casual Fridays.
2. Tailored Blazers.
A collection of tailored blazers is a cornerstone of any capsule wardrobe. Opt for neutral shades like black, navy, and grey to create a sophisticated and put-together look.
3. Well-Fitted Trousers.
Invest in well-fitted trousers that provide comfort and style. Neutral colors such as black, navy, and khaki can be mix 'n matched with different tops and accessories.
How to Select Versatile Colors
Try and keep your color palette tight. This means that nearly everything hanging in your wardrobe should mix and match with other garments.
I know you'll say, "Boring, Boring!" but essentially, it will save you so much time and energy.
The best way to do this is to have one color palette for winter and another for summer, or change your colors each year so you don't feel bored with your outfits!
For now, let's focus on the most versatile colours.
1. Stick to A Neutral Color Palette.
Neutral colors such as black, white, navy, and gray should form the backbone of your work wardrobe.
These hues are not only timeless but also wonderfully versatile, allowing you to create many different outfits easily.
2. Choose Complementary Accent Colors.
To infuse a touch of personality into your wardrobe, incorporate a few complementary accent colors into your color scheme. These can include soft pastels, earthy tones, or bright colors such as bold jewel colors to add vibrancy to your outfits.
Why Choose High-Quality Fabrics?
I'm always saying choose high-quality fabrics over man-made materials, though sometimes I fail myself.
So it's helpful to keep on reminding both you and me!
1. The Significance of Quality Materials
Invest in high-quality fabrics that not only look luxurious but also feel comfortable against your skin. Fabrics like silk, cashmere, merino wool, and other fine wool can elevate the overall look of your outfits, and they are much better at regulating your body temperature than manufactured materials.
2. Comfort and Durability.
The next thing to consider is comfort because, let's face it, comfort is vital, especially when you're over 50.
Choose fabrics that allow for ease of movement and which feel nice against your skin. Buy fewer pieces but good quality pieces that will more likely be durable and stand the test of time.
Mix and Match Outfit Ideas
I love mixing and matching. I don't know about you, but I very rarely wear the same item of clothing with the same thing over and over again.
I put together an outfit that looks fabulous, and the next time I come to wear the same garment, I will likely choose something else to match it up with. This is both good and bad!
Overall, it's essential to have many mix 'n match garments in your wardrobe rather than one-off show pony pieces.
Here are ten mix-and-match outfit ideas for women using the items from a capsule work wardrobe.
1. Classic Chic
Black trousers, a white button-down shirt, a black blazer, and pointed-toe heels.
2.. Effortless Elegance
A tailored sheath dress, with or without a jacket, and ankle boots.
3. Casual Fridays.
Dark denim jeans, a striped Breton top, and white sneakers.
4. Power Pairing.
Pencil skirt, silk blouse, a statement necklace, and pumps.
5. Cozy Professional.
Turtleneck sweater, wide-leg trousers and trench coat.
6. Boho Vibes.
Flowy maxi skirt, fitted turtleneck, and ankle boots.
7. Monochromatic Maven.
Black pants, and ivory blouse with ankle boots.
8. Preppy Perfection.
Pleated skirt, cable-knit sweater, and ballet flats.
9. Layered Sophistication.
Tunic dress, long cardigan, and knee-high boots.
10. Springtime Delight.
Pastel-colored blazer, white trousers, and a floral blouse.
These outfit combinations showcase the versatility of a well-planned capsule wardrobe, ensuring you're ready for any occasion with minimal effort.
Why You Should Create Multiple Outfits from Fewer Items
A capsule wardrobe is all about maximizing the potential of your clothing pieces. With a limited selection, you can access the correct elements to create an array of stylish outfits that suit various occasions in less time.
How To Co-ordinate Pieces for Different Looks
Think of your wardrobe as a puzzle, where each bit of clothing is designed to fit with others – no matter what their shape!
By coordinating your clothes, you can easily create different looks for different days in different ways.
Match pieces together, making sure that there are no orphaned garments in your wardrobe.
Put different combinations together using investment pieces designed to wash well and last well. A professional capsule wardrobe should never appear shabby.
Why is Layering Your Secret Style Weapon?
Layering is your secret style weapon because by adding layers such as jackets, cardigans, scarves, or vests, you can adapt your outfits to different seasons and occasions.
The 5 Essential Items for Mix-and-Match Success
Here are 5 garments that you will always wear, providing you choose well, providing they fit you perfectly, and providing they are in neutral colors.
1. Versatile Dresses.
Choose dresses that can be dressed up for night-time work events or parties, and dressed down for workdays.
A classic shift dress or wrap dress can be your go-to choice. You might also include a little black dress as a staple option.
2. Tailored Pants
A pair of black pants are essential. Choose the best you can afford.
3. Skirts That Go with Everything
A well-fitted pencil skirt, a black skirt, or a flowing A-line skirt are versatile options that can be paired with various tops.
4. Statement Accessories
Invest in statement necklaces, earrings, and scarves to elevate your outfits without cluttering your wardrobe.
5. Comfortable Footwear
Opt for comfortable and stylish footwear, like block-heeled pumps, chic loafers, or fashion sneakers, suitable for extended workdays.
Outerwear Options
A tailored coat, a trench coat, a wool coat, a leather jacket or a stylish blazer can provide the finishing touch to your outfits and keep you warm when needed. You don't need all of these – instead, choose a couple you'll want to wear repeatedly.
The Importance of Comfortable Clothing
Comfort should never be compromised for style in the work environment.
My advice is always to choose clothing that allows you to move freely, sit comfortably, and feel at ease throughout your work day. It will make you feel more confident and professional.
The Role of Tailored Fits
Tailoring your clothing to fit your unique body shape can make a difference. A well-fitted garment not only looks better but also boosts your confidence.
Highlighting Personal Style
Your work wardrobe is an extension of your personality. You should definitely add some pieces that reflect your own personal style and give a touch of professional va-va-voom!
Boosting Confidence Through Wardrobe Choices
Dressing well can significantly boost your confidence and self-esteem. When you look and feel great in your work attire, you'll approach each day with a positive and empowered mindset.
How to Accessorize for a Polished Look
Accessories are the finishing touches that give life to your outfits. Belts, scarves, and statement necklaces can take a basic outfit to the next level.
Invest in quality, statement jewellery pieces that can make a strong impression in the workplace. A classic pearl necklace or bold earrings can improve your overall look. In contrast, the latest trends in costume jewellery are only sometimes best for work style.
The Power of Scarves and Belts
Scarves and belts are accessories that can be worn in different ways, perhaps to cinch your waist, or just add some color, or provide warmth when needed.
Handbags and Shoes as Style Essentials
Quality handbags and shoes are essential. It's a good idea to choose classic designs that match multiple outfits and invest in comfortable, supportive footwear to keep you going throughout the day.
How to Transition A Capsule Work Wardrobe for Different Seasons
Adapting your capsule wardrobe for different seasons is essential. Rotate seasonal items in and out to ensure your wardrobe is practical year-round.
Layering and Swapping Out Items
Layering is a simple yet effective way to adjust to changing temperatures. Cardigans, lightweight jackets, and scarves can be added or removed.
Making the Most of Your Core Pieces Year-Round
Ensure your core, timeless pieces can be worn in various seasons by pairing them with the appropriate accessories and layering options. Even white Tee shirts can be worn during the colder months.
Wear a pair of tailored pants or wide-leg trousers with a vest as a base thermal layer under a classic white Tee, and then top it off with a bright jacket and a scarf for a smart outfit to have at hand in your winter work capsule collection.
Tips for Work Wardrobe Organization
Maintain a clutter-free current wardrobe by organizing your clothes by type, colour, or season. This makes it easier to find what you need and helps prevent over-purchasing.
The One-In, One-Out Rule
To maintain the integrity of your capsule wardrobe, adopt the one-in, one-out rule. When you add a new item, remove an old one to keep your collection manageable with fewer clothes.
Caring for Your Clothing for Longevity
Proper care and maintenance of your clothing are vital, especially if you're following the principal of 'buy less, buy better.' Follow care labels, store your garments correctly, and periodically inspect for damage, repairing or replacing as needed.
Shopping Smart – Where to Find Quality Items
Look for quality pieces at reputable retailers, both online and in-store. Consider brands known for their craftsmanship, the materials they use, and their attention to detail. Make the most of sales, and sign up for notifications or loyalty programs.
Budget-Friendly Shopping Tips
Quality doesn't always mean expensive. Shop sales, outlet stores, and consignment shops. You may well discover some high-quality items at a fraction of the cost.
Sustainable and Ethical Fashion Choices
Consider sustainable and ethical fashion brands prioritizing eco-friendly materials and fair labor practices.
Your fashion choices can definitely make a difference. Decide whether you want to have a positive or negative impact on the environment.
Personalizing Your Capsule Wardrobe
A capsule work wardrobe is a canvas for your personal style and should be adapted to suit your own unique dress sense. Add different pieces that reflect your personality, whether it's a pop of colour, a unique accessory, or a distinctive pattern.
Incorporating fashion trends without overwhelming the conformist capsule is essential. You don't want to look old-fashioned, so do stay current and pay attention to fashion's new season shapes and colours without becoming a slave to them!
Related Posts You Might Like
A Minimalist Wardrobe : Create Your Ultimate Capsule
Best Capsule Wardrobe Planner : Tips To Make Your Closet Simple and Stylish
Capsule Wardrobe Planner (How to Create a Capsule Wardrobe and 31 Fabulous Garment Ideas)
How to Create a Basic Wardrobe for Women Over 60
Frequently Asked Questions
Here are quick answers to some frequently asked questions about creating a capsule wardrobe.
How do I build a capsule wardrobe for my style?
Start by defining your signature style – is it classic, boho, minimalist, etc. Then, choose versatile, quality pieces that match your vibe. Stick to a neutral color palette and add a pop of your favorite hue, then get creative and simply mix and match.
How Many Clothes Should Be In a Capsule Wardrobe?
The number of clothes in a capsule wardrobe for women can vary, but a common rule is around 30-40 items, including tops, bottoms, dresses, and outerwear. The key is to have versatile pieces that can be mixed and matched to create numerous outfits.
Capsule Wardrobe Checklist
Here's a general checklist for a capsule work wardrobe to help you organise your closet.
This checklist provides a foundation for a versatile work wardrobe. Feel free to customize it based on your style and workplace dress code, but aim to keep it minimal and timeless.
Tops:
White button-down shirt
Black shirt
Blouse in a neutral color
Silk blouse in neutral color
V-Neck Tee
Sweater
Cardigan long
Cardigan short
Bottoms:
Tailored pants
Knee length pencil skirt or long skirt, depending on your style.
A-line skirt
Dressy jeans or trousers
Dresses:
Shift dress
Wrap dress
Little Black Dress
Midi or Maxi Dress
Outerwear:
Trench coat or classic coat
Tailored blazer
Lightweight jacket
Shoes:
Black pumps
Comfortable flats
Neutral heels
Ankle boots
Fashionable sneakers
Accessories:
Statement necklaces
Classic watch
Scarfs
Leather belt
Bags:
Disclaimer: This post "Capsule Work Wardrobe for Women Over 50" contains affiliate links from which I stand to earn a small commission but at no expense to you. Any gifted items are marked with an asterisk *. Lifestyle Fifty Website is a participant in the Amazon Services LLC Associates Program, an affiliate advertising program designed to provide a means for sites to earn advertising fees by advertising and linking to Amazon.com. Please read my full disclosure here.